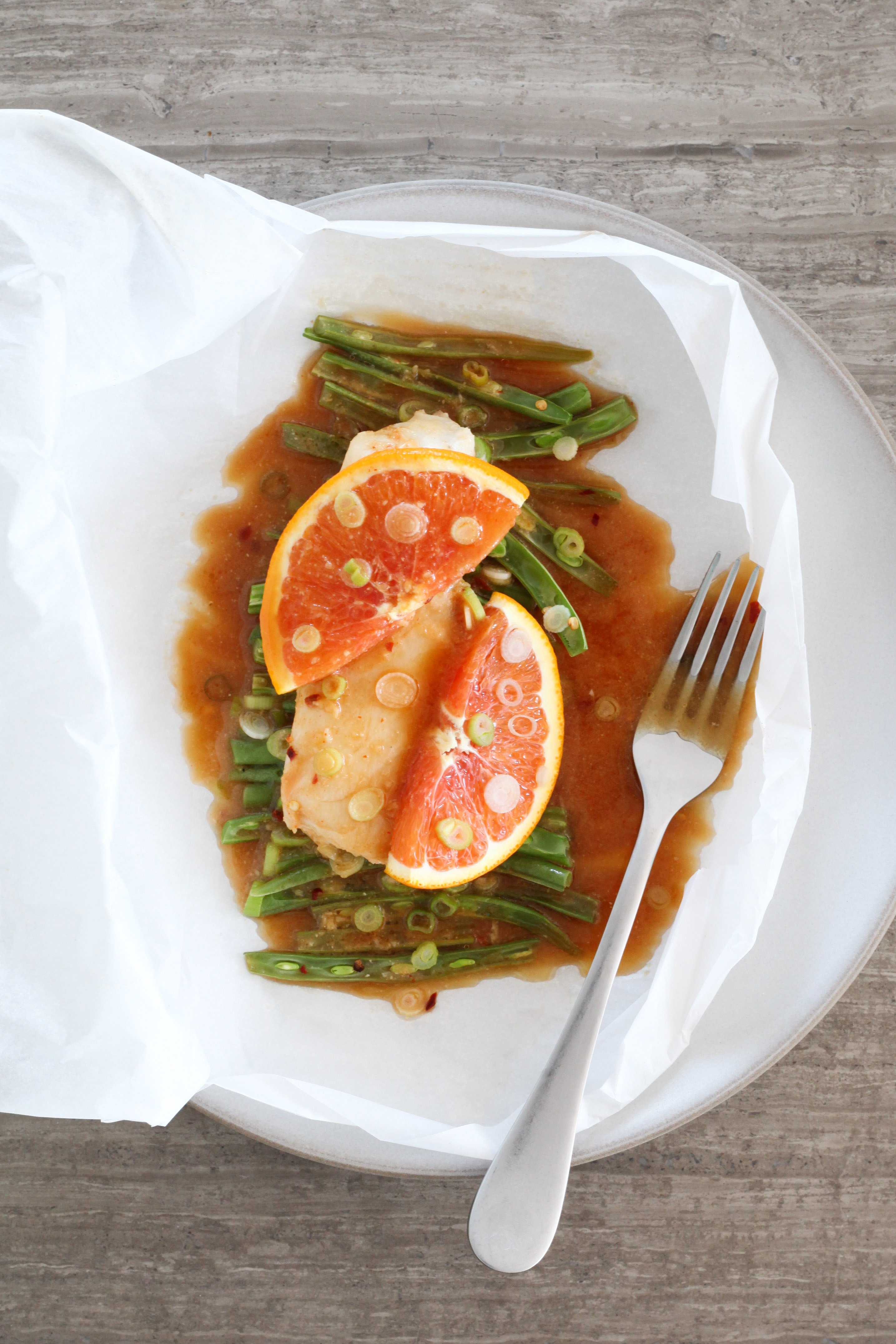 Cooking en papillote is one of my favorite weeknight strategies, particularly when it comes to preparing seafood, like cod, salmon, or shrimp. The name may sound fancy, but the method is simple: fold a sheet of parchment paper in half, layer vegetables, protein, and a small amount of saucy ingredients on top of one half, and then fold the parchment into a pouch surrounding it all. (The parchment pouch traps in steam, creating a moist environment in which everything gently cooks.)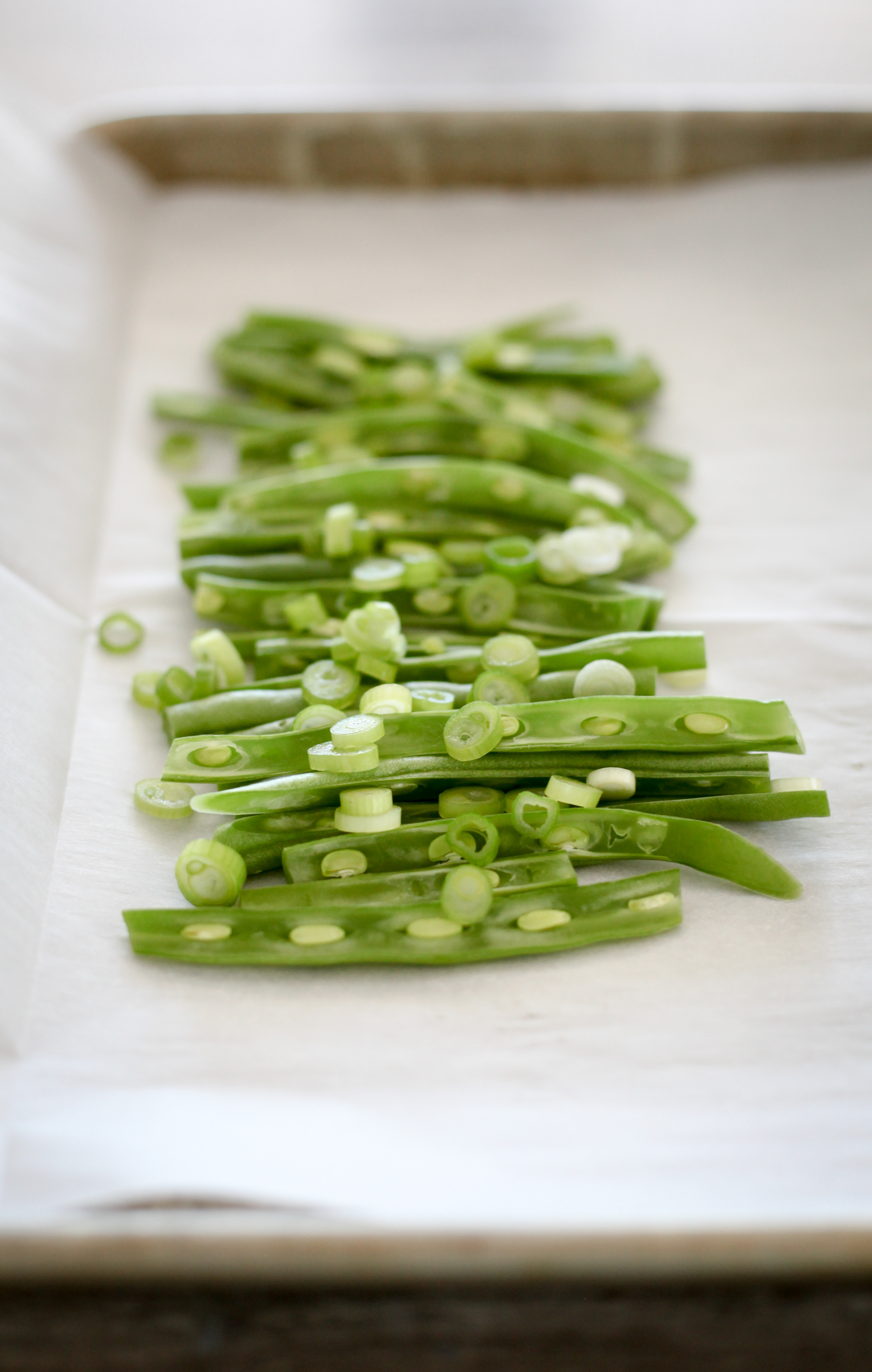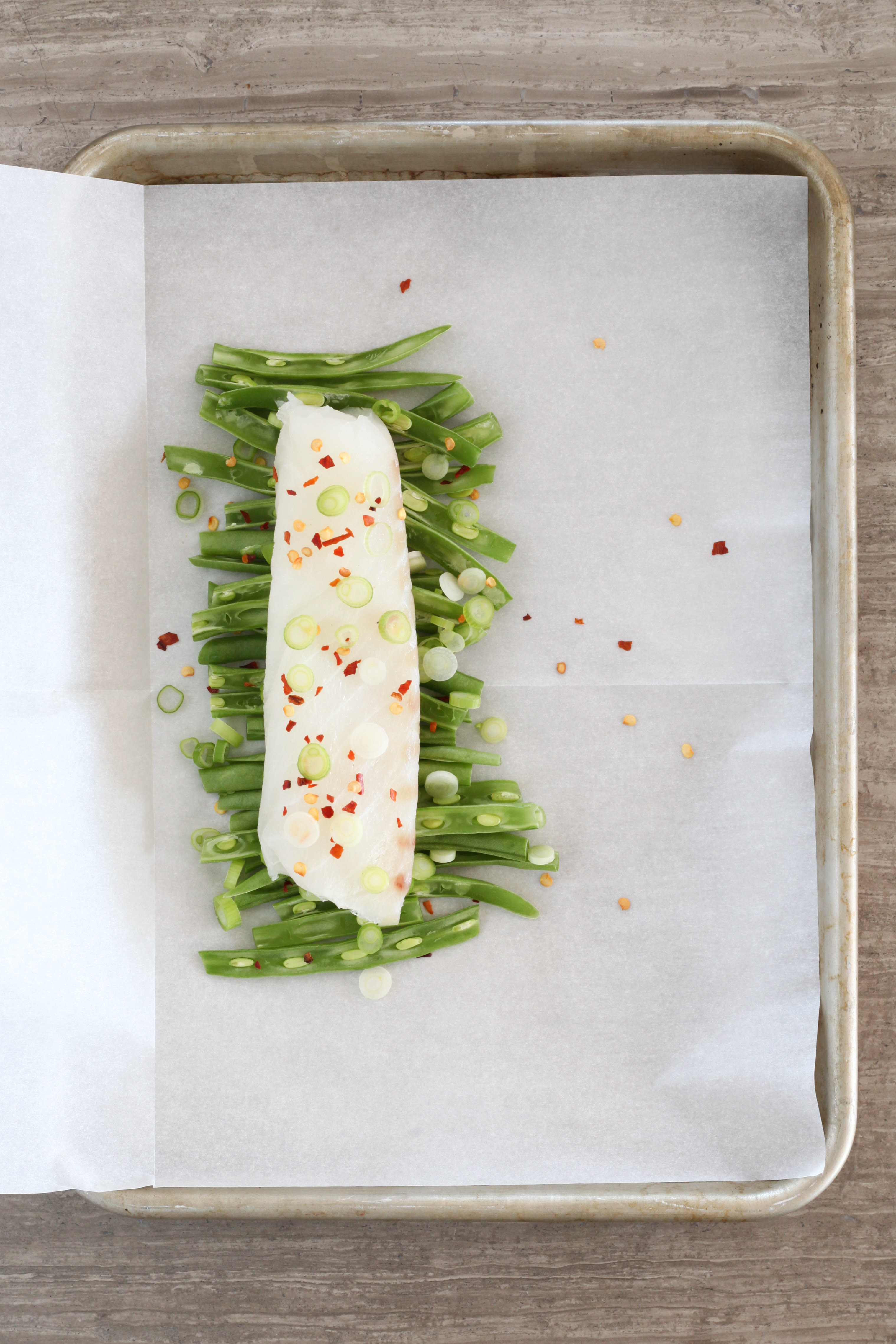 Here, I've taken an excellent recipe from Love & Lemons and tweaked it ever so slightly by swapping green beans in for mushrooms and bok choy. Not because I have anything against mushrooms or bok choy, but because the first time I made this recipe I omitted the vegetables altogether and paired it with spicy Szechuan green beans, a move that proved to be a winning choice. If you have a few extra minutes to spare, I recommend doing just that, but if you're looking for a super-speedy (a mere 20 minutes or so) weeknight option, this one and done sort of situation is the ticket.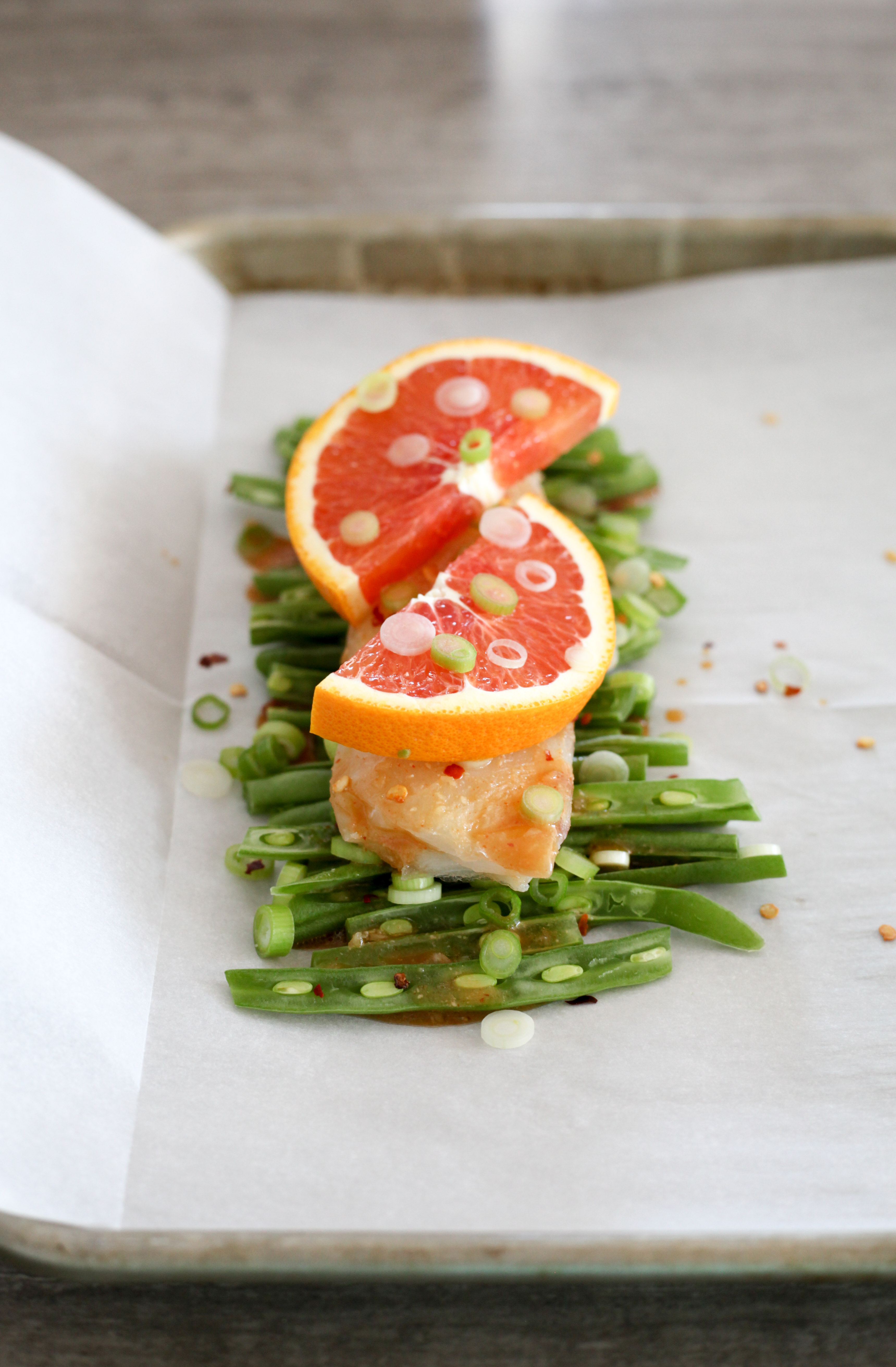 This technique works well for a variety of delicate proteins, just keep in mind that browning will not occur. A few recipes I'm eager to try next: salmon with cherry tomatoes, fennel, and olives, Thai steamed fish with lime, garlic, and chiles, and red snapper en papillote with herbs, lemon, and white wine. If you have a favorite I'm missing, let me know in the comments!

One-Pan Miso-Citrus Cod With Green Beans
Ingredients
For the citrus-miso sauce:
1 1/2 tablespoons freshly-squeezed orange juice (from about 1/4 an orange)
1 tablespoon rice vinegar
1/2 tablespoon miso paste
1/2 tablespoon soy sauce or tamari
1/2 tablespoon runny honey or agave
1/2 tablespoon toasted sesame oil
1 clove garlic, minced
A splash of sriracha (optional)


For the cod:
A large handful of green beans (about 3 ounces)
1 scallion, thinly sliced
1 (5-6 ounce) piece of cod
A pinch of red pepper flakes (optional)
2 slices from a small orange or 1 slice from a large orange cut into 2 half-moons
Instructions
Preheat the oven to 375°F.
In a small bowl, whisk together all of the citrus-miso sauce ingredients.
Trim the ends of the green beans and cut each in half length-wise (this will promote even cooking).
Cut a piece of parchment to fit a quarter-sheet pan (or use a parchment sheet); fold it in half width-wise.
Arrange the green beans in one layer close to the fold of the parchment. Sprinkle with most of the scallions. Top with the cod, sprinkle with the remaining scallions and the red pepper flakes. Spoon about half of the citrus-miso sauce over the cod and green beans. Top with the orange slices.
Fold parchment over ingredients; folding overlapping pleats to seal.
Roast for 10 minutes. Remove the pan from the oven and let sit for about 1 minute before checking to see if the fish is fully cooked; it should be opaque on the outside, and slightly translucent in the center. If it's not cooked fully, reseal the parchment and let steam in the package for a couple more minutes (it won't need to go back in the oven unless it is very undercooked).
Serve with the remainder of the sauce poured over.
Notes
This recipe can easily be doubled (arrange two parchment packets on a larger half-sheet pan). To make gluten-free, use gluten-free soy sauce or tamari and
gluten-free chickpea miso
.