One-Pan Sesame Salmon With Shiitake Mushrooms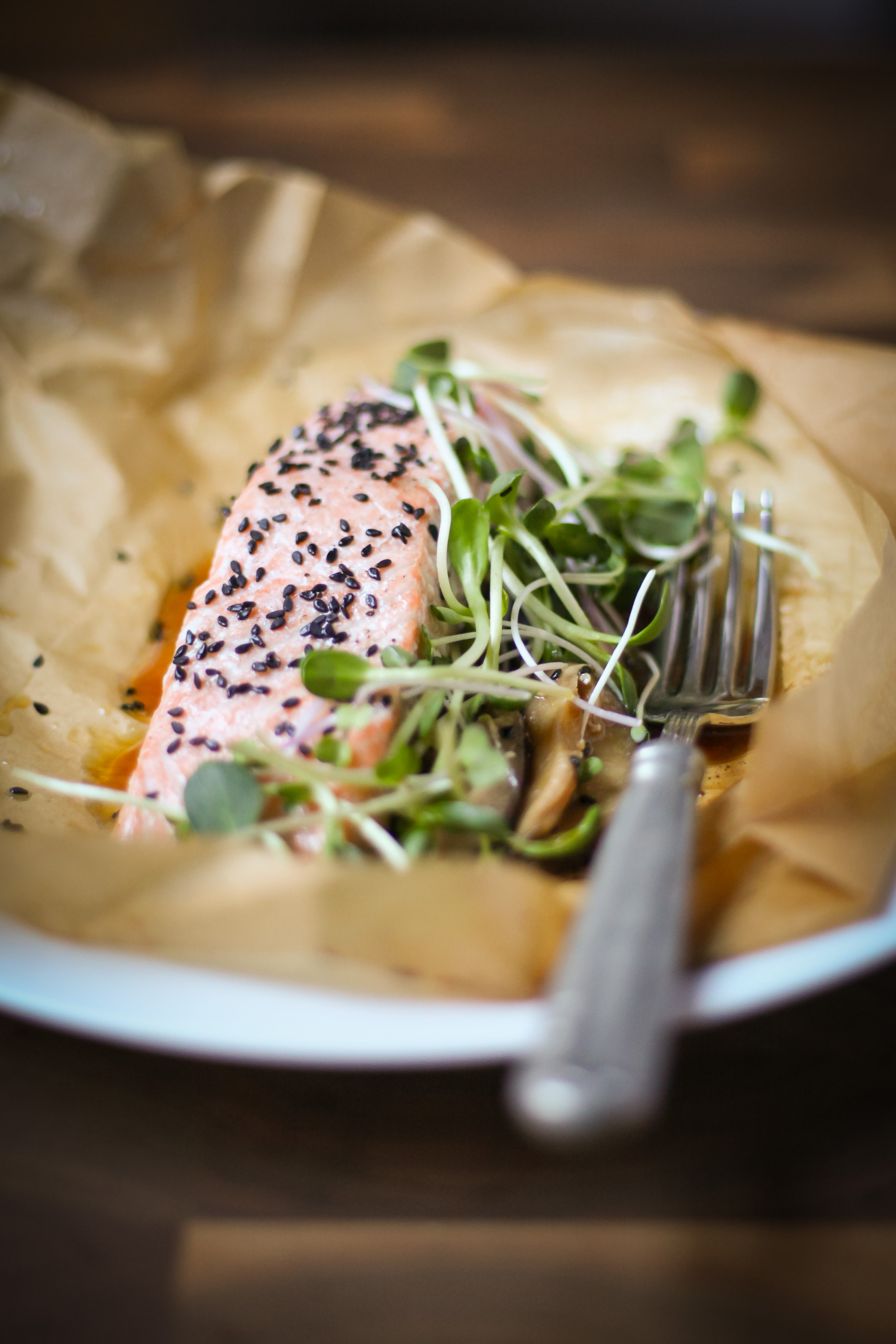 1 tablespoons soy sauce
2 teaspoons minced fresh ginger or ginger juice
2 teaspoons freshly-squeezed lemon juice
4 ounces (2 cups) thinly-sliced shiitake mushrooms
2 salmon fillets, preferably wild (5 ounces each; 1 inch thick)
Kosher salt
1 teaspoons toasted-sesame oil
1/2 teaspoon black sesame seeds
A heaping 1/2 cup (1 ounce) pea shoots or microgreens
Preheat oven to 400°F. Cut out two 11-by-17-inch pieces of parchment; fold each in half crosswise to form a crease, then open. Arrange on a half-sheet pan.
Whisk together soy sauce, ginger, and lemon juice in a small mixing bowl, add the mushrooms and toss to coat. Divide evenly among 2 parchment pieces, arranging mixture on one side of each crease. Lay a salmon fillet on top of each of the piles of mushrooms. Season each fillet with 1/8 teaspoon salt and drizzle with sesame oil. Fold parchment over ingredients; folding overlapping pleats to seal.
Bake for 10 to 11 minutes for medium-rare or 12 minutes for medium. Unwrap and top with sesame seeds and pea shoots.
I used an assortment of microgreens, as my market didn't have pea shoots in stock, but have tried it with both and both are excellent. To make gluten-free, use gluten-free soy sauce or tamari.
Recipe by
A Modest Feast
at http://www.amodestfeast.com/2016/02/24/sesame-salmon-with-shiitakes/