Radicchio Salad With Manchego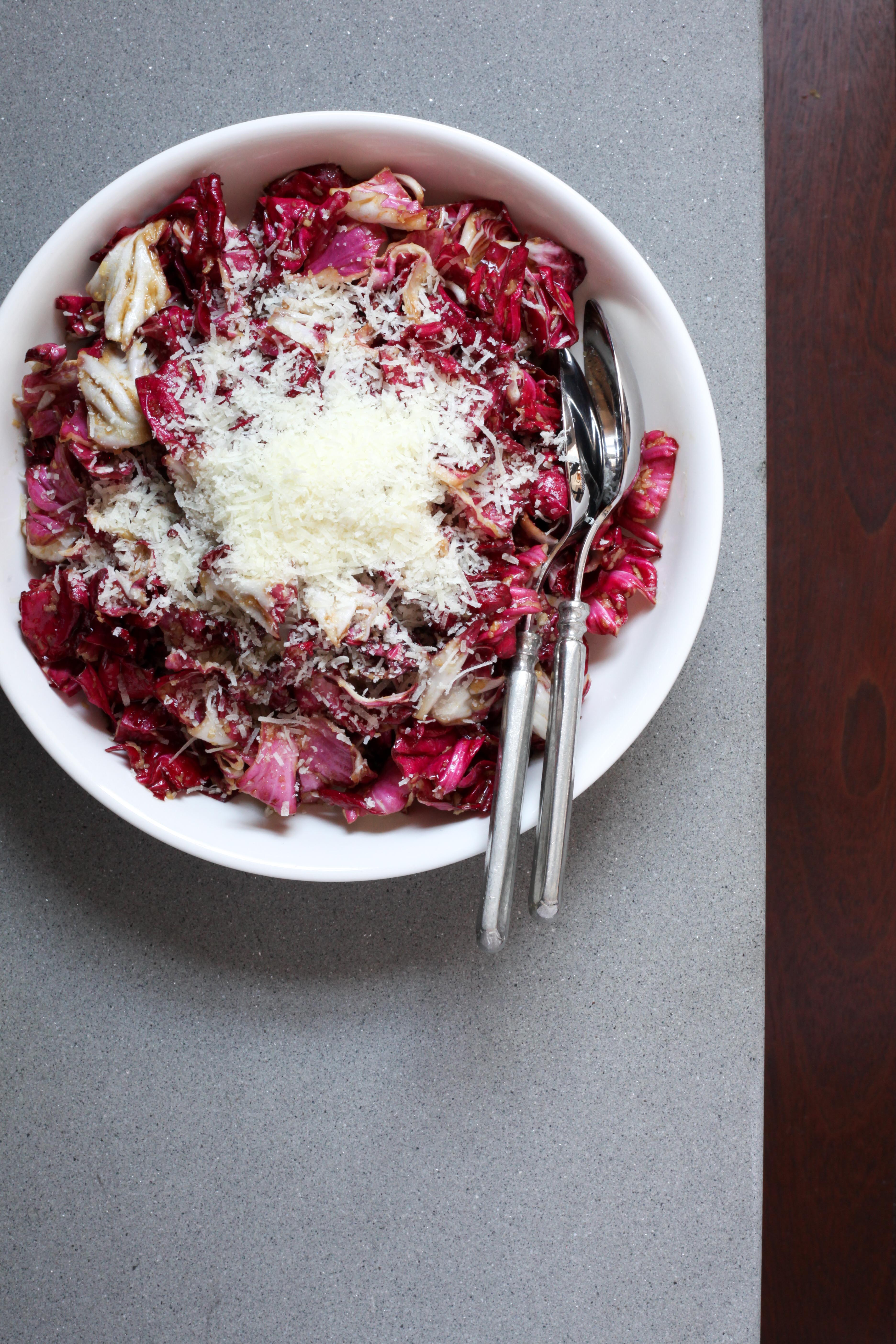 1/4 cup balsamic vinegar
1/4 cup sherry vinegar
1 red onion, chopped
1 tablespoon honey
3/4 cup extra-virgin olive oil
Salt, to taste
2 to 3 heads radicchio
1 1/2 cups finely grated Manchego, divided
Add the vinegars and onion to a mason jar, seal the lid, and gently shake to distribute the vinegar. Infuse for about an hour, shaking once or twice, then strain out the onion (reserve it for another use). Add the honey and the olive oil, seal the lid, and shake to make an emulsion. Season to taste with salt.
Meanwhile, remove any damaged outer leaves from the heads of radicchio, then cut out the cores before chopping into roughly 1-inch-square pieces.
Fill a large mixing bowl with ice water. After 5 or so minutes, remove the ice (a spider skimmer makes easy work of this), and add the radicchio. Swish it around in the water and let soak for about 15 minutes before draining (this makes the radicchio less bitter). Dry thoroughly in a salad spinner.
Wipe out the large mixing bowl before adding the radicchio to it. Add about 2/3 of the dressing, and 1 cup of the cheese, toss to coat. Add more dressing, as needed (you may not use it all). Sprinkle the remaining cheese on top of the salad and serve.
Toss together the salad shortly before eating. To make ahead: infuse the vinegar with onion and make the salad dressing up to a week ahead of time.
Recipe by
A Modest Feast
at http://www.amodestfeast.com/2016/03/08/radicchio-salad-manchego/