Indian Red Lentil Soup With Spinach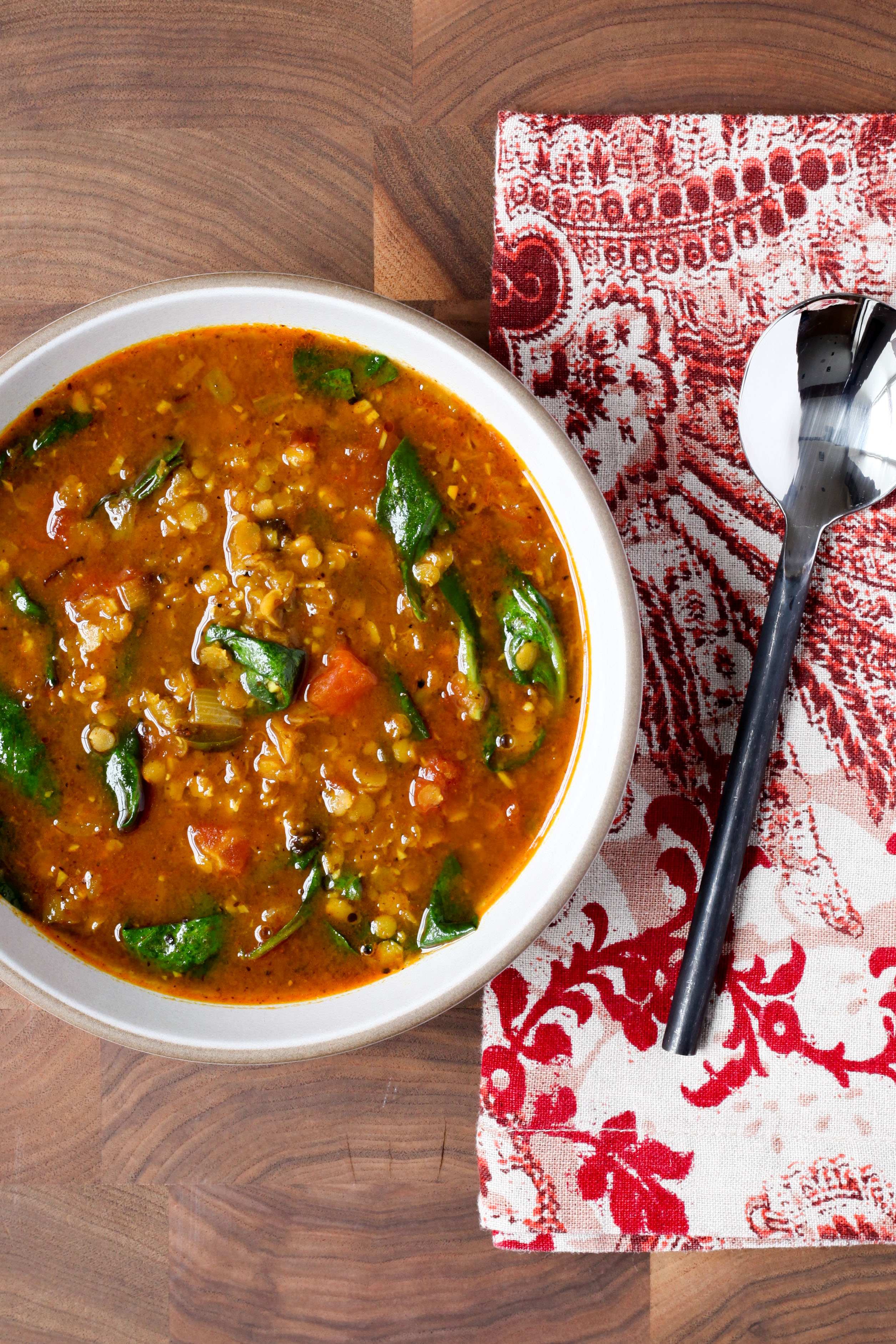 2 teaspoons cumin seeds
1 teaspoon mustard seeds
1 teaspoon coriander seeds
1/2 teaspoon nigella seeds
3 tablespoons coconut oil
1 teaspoon ground turmeric
1 teaspoon garam masala
1 teaspoon curry powder
1/2 teaspoon cayenne, optional
1 large onion, diced
1 medium jalapeño pepper, thinly sliced
Kosher salt
5 garlic cloves, minced
1 cup diced canned tomatoes
1 1/2 tablespoons minced ginger or ginger juice
6 cups boiling water
1 cup red lentils, rinsed and drained
1 5-ounce package baby spinach
Freshly-squeezed lime juice, to taste
Toast the cumin, mustard, coriander, and nigella seeds over low heat in a small skillet until they're very fragrant and beginning to pop.
Coarsely grind the toasted spices in a spice grinder.
In a large straight-sided skillet, dutch oven, or stock pot, melt the coconut oil over medium heat. Add the toasted spices, turmeric, garam masala, curry powder, cayenne (if using), onion, jalapeño, and 1 teaspoon salt. Cook, stirring occasionally, until the onion is soft and translucent. Add the garlic and cook for 1 more minute. Add the tomatoes, ginger, boiling water, and lentils. Bring to a boil, then reduce the heat to maintain a simmer. Simmer for 30-45 minutes, or until the lentils are very tender and beginning to fall apart. Add the spinach and cook until wilted. Season to taste with salt and lime juice.
A great make-ahead option, this soup is even better the next day. If you prefer mildly-spicy food, omit the cayenne.
Recipe by
A Modest Feast
at http://www.amodestfeast.com/2016/04/08/indian-red-lentil-soup-spinach/