Gluten-Free Plum-Ginger Crisp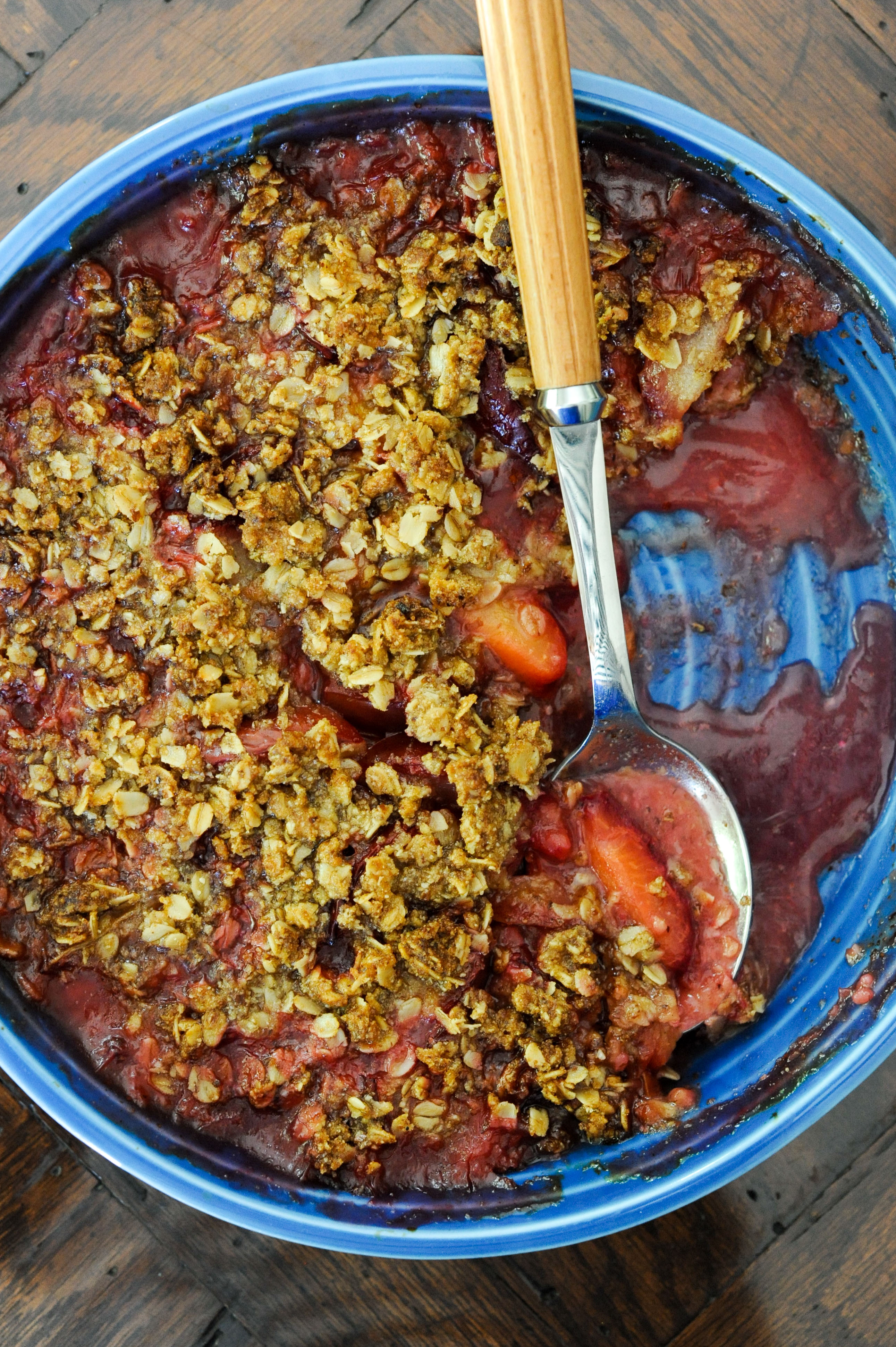 2 1/2 pounds plums, pitted and sliced
1/2 cup (3 1/2 ounces) granulated sugar, divided
3 tablespoons cornstarch
1 1/2 tablespoons ginger juice or minced ginger
2-3 tablespoons lemon juice
Kosher salt
3/4 cup (2 5/8 ounces) rolled oats
1/2 cup (1 3/4 ounces) almond meal
1/4 cup (2 ounces) dark brown sugar
3/4 teaspoon freshly-ground cardamom
6 tablespoons (3 ounces) unsalted butter, cubed and chilled
Preheat the oven to 350°F.
Add the plums, 1/4 cup granulated sugar, cornstarch, ginger, lemon juice, and a large pinch of salt to a large mixing bowl. Toss gently to coat. Adjust sugar and citrus juice to taste.
Transfer the mixture to a pie plate or 8-inch square baking dish.
In a medium-size bowl, whisk together the oats, almond meal, brown sugar, 1/4 cup granulated sugar, and 1/2 teaspoon kosher salt. Add the butter, and rub the mixture together with your fingers, like when making pie crust, until the butter is incorporated and the mixture has a crumbly texture.
Sprinkle the topping over the filling. Place the baking dish on a baking sheet (in case the filling bubbles over) and bake until the topping is dark golden brown and the fruit is bubbling, 45 minutes-1 hour.
Serve warm with whipped cream, ice cream, full-fat Greek yogurt, or creme fraiche.
Recipe by
A Modest Feast
at http://www.amodestfeast.com/2016/07/11/gluten-free-plum-ginger-crisp/