Pumpkin Chai Baked Oatmeal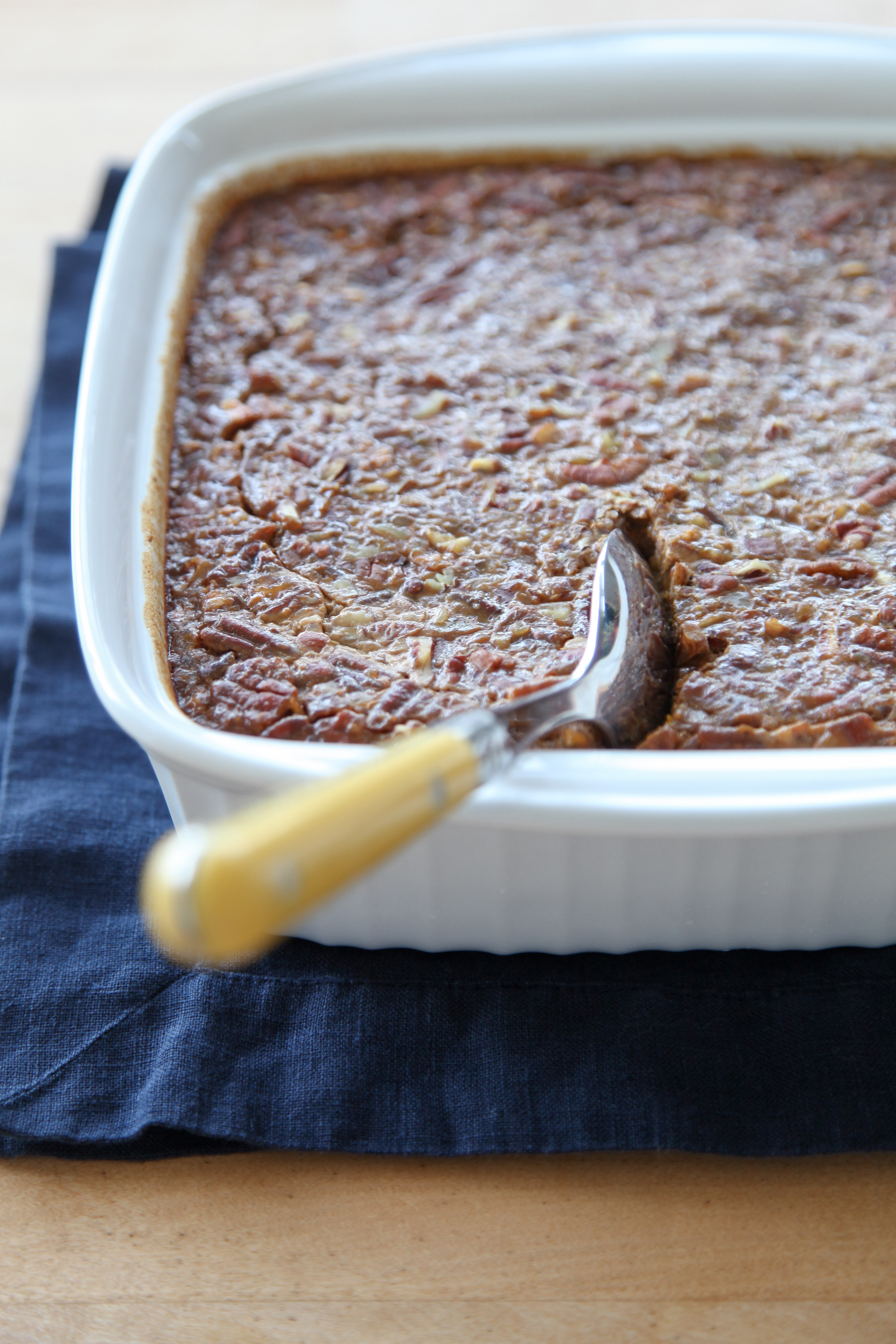 1 cup steel-cut oats (6 ounces)
1 1/2 cups (5 1/2 ounces) rolled oats
1 cup (3 3/4 ounces) toasted pecans, chopped, some reserved for topping
1 (15-ounce) can pumpkin purée
2 cups whole milk
1 tablespoon powdered chai (unsweetened), such as Blue Lotus
3/4 teaspoon cinnamon
1/2 teaspoon freshly-ground cardamom
1/2 teaspoon ground ginger
1/2 cup maple syrup, plus more for serving
1 large egg, beaten
1 tablespoon vanilla extract
1 teaspoon baking powder
1 teaspoon kosher salt
Greek yogurt, for serving
Preheat the oven to 350°F; lightly grease a 2- to 3-quart casserole dish.
Add the steel-cut oats and 1 cup boiling water to a large mixing bowl. Cover with plastic wrap; soak for 20 minutes.
Remove the plastic wrap, then add the rolled oats, most of the pecans, pumpkin purée, milk, chai, spices, maple syrup, egg, vanilla, baking powder, and salt to the soaked steel-cut oats. Mix until homogenous.
Transfer to the prepped casserole dish, sprinkle with remaining pecans. Bake uncovered for 45 minutes-1 hour or until just set in the center.
Serve hot or cold with a dollop of Greek yogurt and a drizzle of maple syrup.
Baked oatmeal is a great make-ahead breakfast as it can be eaten hot or cold, and can even be sliced and packed in a resealable container for a grab-and-go breakfast. To make gluten-free, use gluten-free steel-cut and rolled oats.
Recipe by
A Modest Feast
at http://www.amodestfeast.com/2016/10/25/pumpkin-chai-baked-oatmeal/