Italian Brisket With Tomatoes and Onions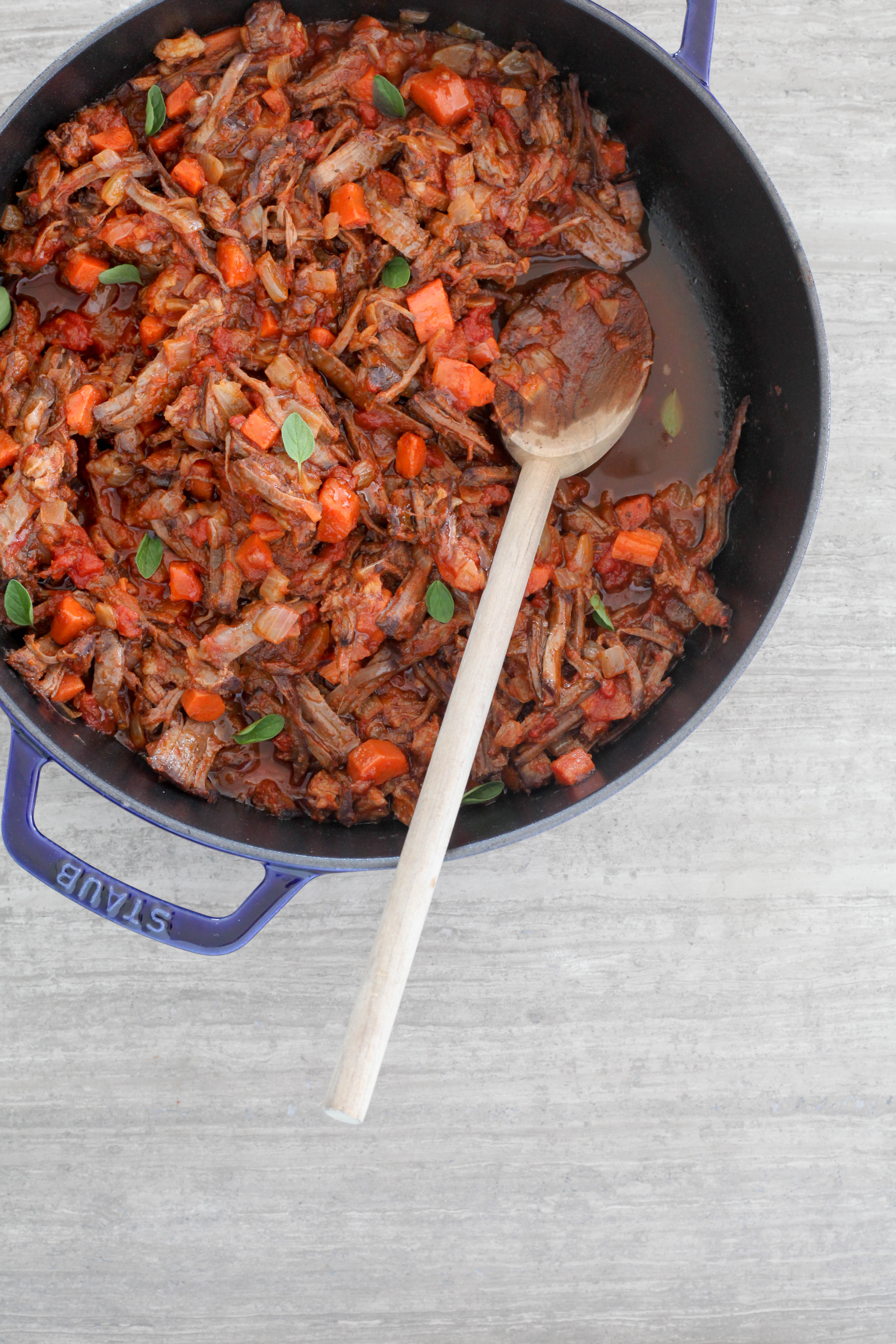 Author:
Adapted from Tasting Rome. Copyright © 2016 by Katie Parla and Kristina Gill. Published by Clarkson Potter/Publishers, an imprint of Penguin Random House LLC.
2 pounds beef shin or brisket
Kosher salt
2 cups red wine
6 carrots, peeled
6 onions
20 black peppercorns
6 cloves
1/4 cup olive oil
2 tablespoons fresh marjoram or 1 tablespoon dried
1/4 teaspoon red pepper flakes
1 (28-ounce) can crushed tomatoes
Generously salt the beef all over and put on a plate. Refrigerate for 1-4 hours.
Add the beef to a large dutch oven or straight-sided skillet; cover with water. Over low heat, slowly bring the water to a gentle simmer, skimming off any foam that rises to the top. Once the water is simmering, add the wine, carrots, 4 of the onions (halve and peel them first), peppercorns and cloves. Cook at a low simmer until the beef is fork tender, 1 1/2-2 hours.
Dice the remaining two onions.
Transfer the meat to a plate and shred with two forks. Coarsely chop the carrots. The cooking liquid can be discarded or used in place of beef stock in another recipe. If saving it, strain the cooking liquid.
Wash the dutch oven and wipe it dry. Add the olive oil, diced onions, and 1/4 teaspoon salt to it and cook over medium-low heat, stirring occasionally, until the onion is softened and translucent. Add the marjoram and red pepper flakes; cook for about 30 seconds, then add the tomatoes. Simmer until the sauce has thickened and reduced slightly, about 15 minutes.
Add the shredded beef and carrots to the sauce and mix well. Cook for another 15 minutes.
While the original recipe calls for dry white wine, I typically choose to use a wine I'd like to drink alongside the braised beef (some sort of red), since there are a couple glasses leftover. I've doubled the recipe, as it is even better as leftovers than it is the night of, and also because it freezes well.
Recipe by
A Modest Feast
at http://www.amodestfeast.com/2016/11/02/italian-brisket-with-tomatoes-and-onions/