Butternut Squash, Pinto Bean, Corn, and Kale Mason Jar Salad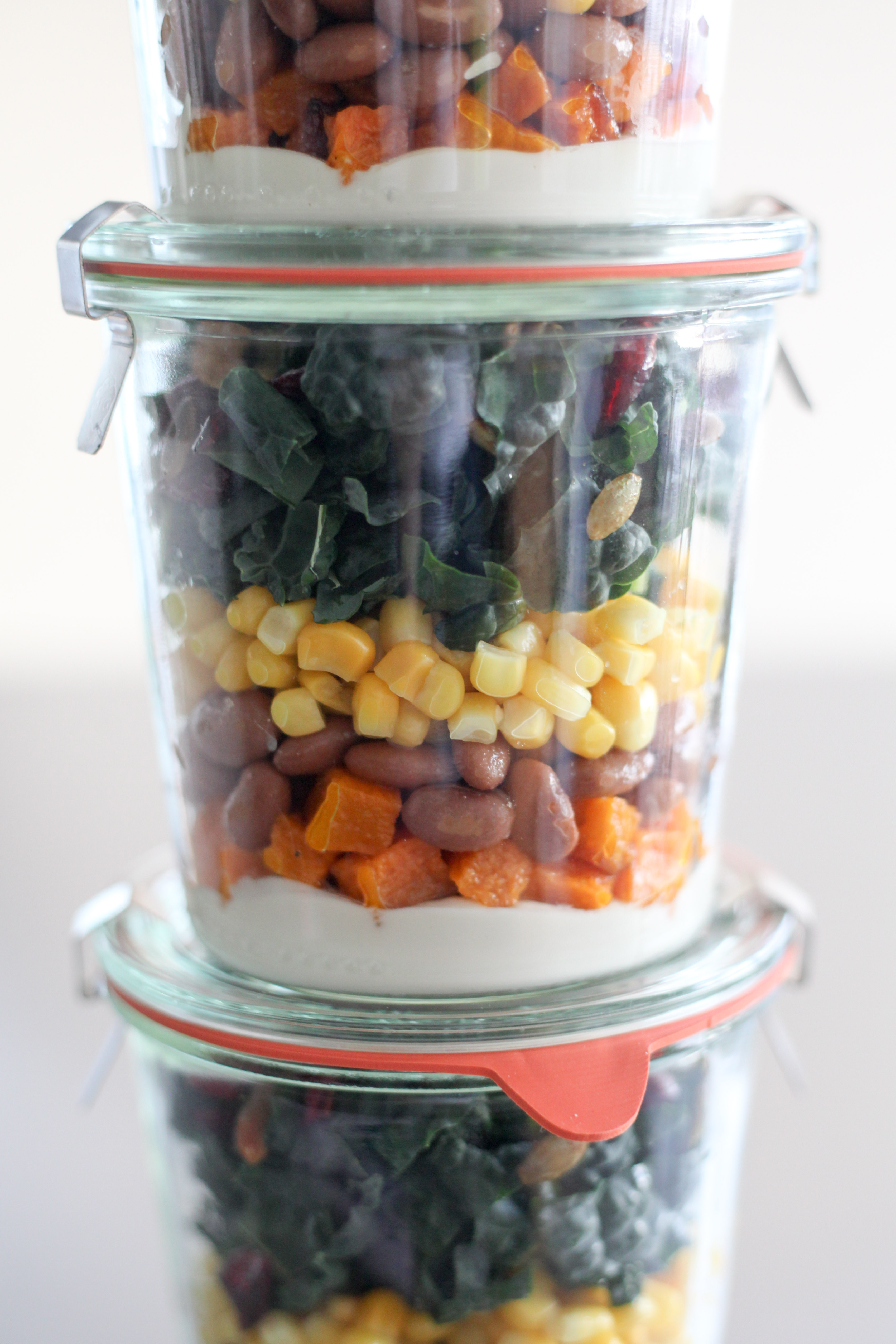 2 cups (3/4-inch-dice) cubed butternut squash
2 tablespoons extra-virgin olive oil, divided
Kosher salt
1/2 cup raw cashews
1 garlic clove
1 tablespoon plus 1 teaspoon freshly-squeezed lemon juice
1 1/2 cups cooked pinto beans or 1 (15-ounce) can, rinsed and drained
2 cups frozen corn kernels, thawed
2 cups shredded fresh kale
1/4 cup dried cranberries
1/4 cup tamari pepitas
Preheat the oven to 400°F.
Thoroughly toss the cubed butternut squash and 1 tablespoon olive oil on a half-sheet pan (aim to completely coat all sides of the squash, otherwise it might stick to the pan). Spread into an even layer and sprinkle generously with salt. Roast for 40-50 minutes or until deeply browned on the bottom. Cool before adding to the mason jar.
Meanwhile: in a heat-safe container, soak the cashews in enough boiling water to cover them by 1 inch for 15 minutes.
Drain, then add to a blender with garlic, lemon juice, 1 tablespoon olive oil, 1/4 teaspoon salt, and 1 tablespoon water. Blend until smooth, adding more water as needed to thin out/get the motor running; you're aiming for a texture akin to mayonnaise or sour cream. Season to taste with additional salt and lemon juice if needed (it should be tangy).
Evenly divide the cashew cream between 4 pint-size mason jars. Layer the remaining ingredients in the following order (dividing them evenly between mason jars): squash, beans, corn, kale, dried cranberries, and pepitas.
To serve as a bowl: divide all ingredients evenly between the bowls, then drizzle with cashew crema. A butternut squash can yield as much as 5-6 cups diced; cook the remainder another way, or dice it and roast it on a second half-sheet pan. Tamari pepitas are available in the bulk bins of many supermarkets; if you can't find them, roasted and salted are a good alternative. Or glaze raw seeds in tamari: toast the raw pepitas to a small skillet over medium-low heat; once toasted, turn off the heat and add a splash of soy sauce or tamari, stir with a silicone spatula to coat them evenly.
Recipe by
A Modest Feast
at http://www.amodestfeast.com/2016/11/26/squash-pinto-bean-corn-kale-mason-jar-salad/