Cherry-Almond Chocolate Bark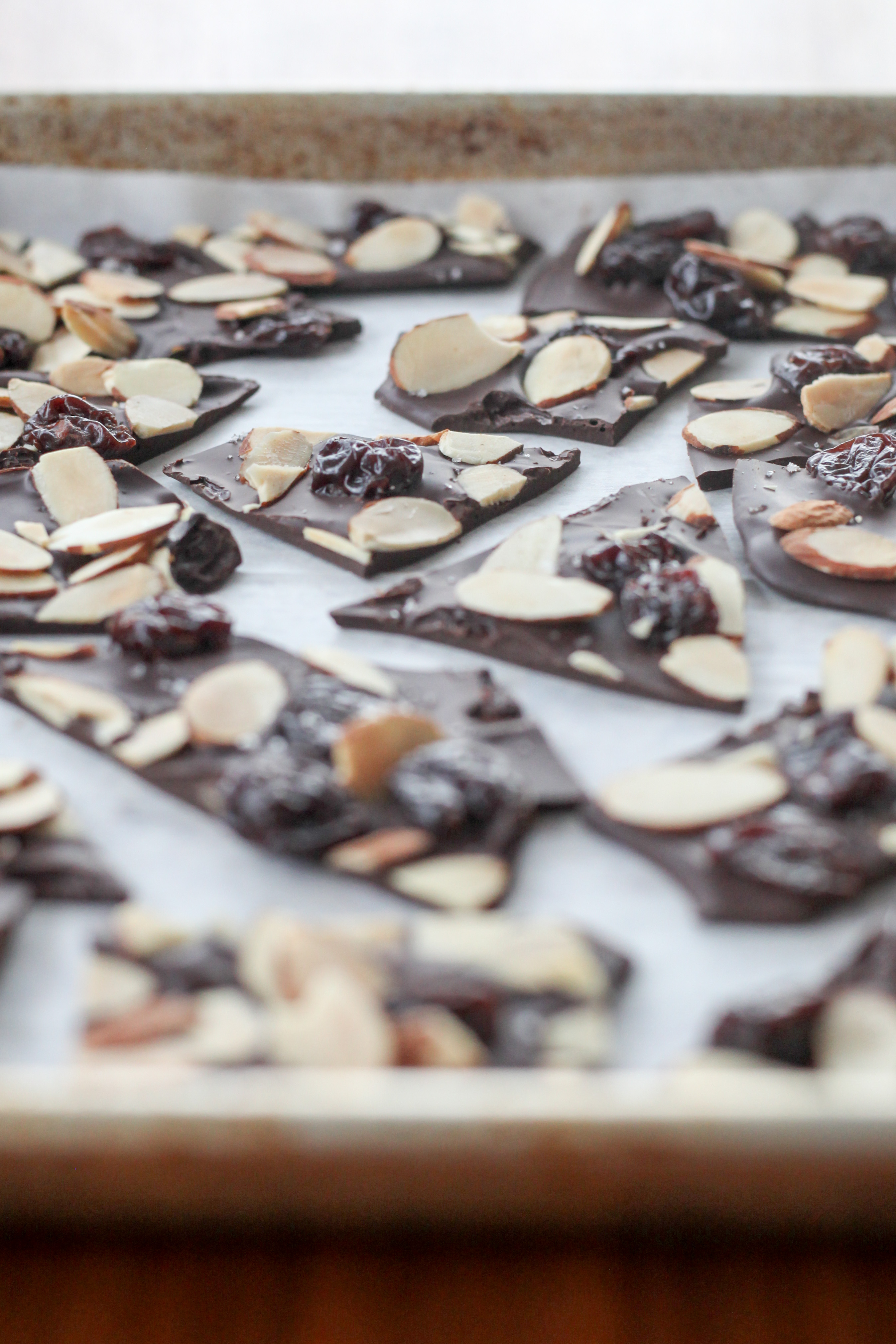 Yield:
About 10 ounces chocolate bark
8 ounces bittersweet chocolate, finely chopped
1/2 cup slivered almonds, toasted
1/2 cup dried tart cherries
Fleur de sel, to taste
Line a quarter-sheet pan with parchment.
Add the chocolate to a medium-sized completely-dry stainless steel or glass mixing bowl. Set the bowl on top of a saucepan that's filled with 1/2-inch of simmering water (make sure the bottom of the bowl does not touch the water). Stir the chocolate occasionally, until it's completely melted. Carefully remove the bowl from the saucepan and transfer to a cooling rack. Let the chocolate cool to 90°F, stirring occasionally. Wipe down any moisture that remains on the outside of the bowl.
Once the chocolate has cooled, scrape it onto the parchment-lined pan and use a large offset spatula to smooth it into a thin even layer. Generously sprinkle with fleur de sel and distribute the slivered almonds and cherries evenly (you might not use them all).
Immediately transfer the pan to the fridge and refrigerate until hardened.
Once hardened, break into pieces using your fingers or the tip of a pairing knife. Transfer to an airtight container and refrigerate.
Serve cold or remove 15-30 minutes before eating. The chocolate will eventually bloom if left out at room temperature for a couple hours, but should stay glossy if refrigerated.
Take care not to introduce any moisture into the melted chocolate or it may seize (hence all the precautions about starting and ending with a dry mixing bowl).
Recipe by
A Modest Feast
at http://www.amodestfeast.com/2016/12/14/cherry-almond-chocolate-bark/