Roasted Acorn Squash With Yogurt-Tahini Sauce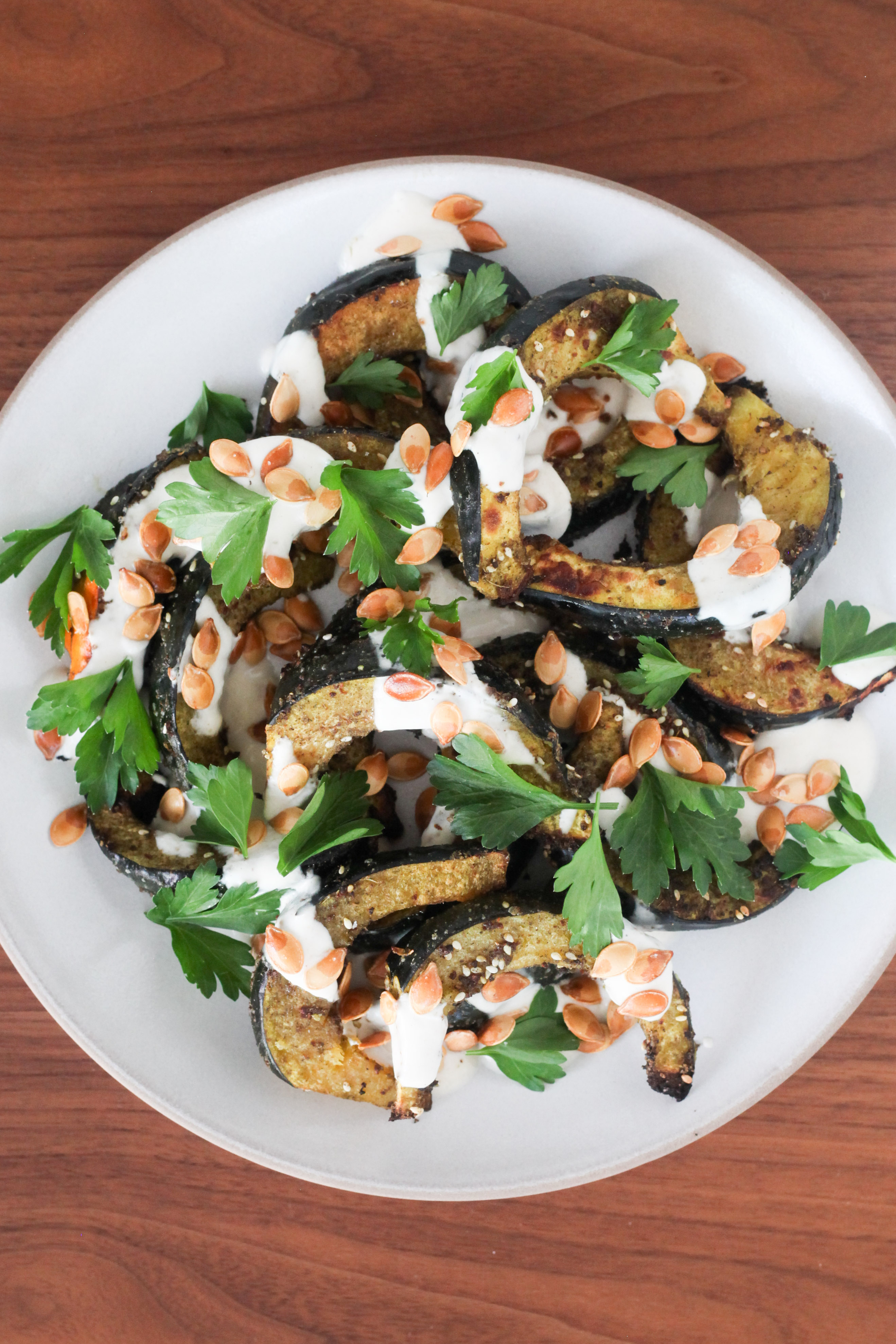 2 medium acorn squash, cut into 1-inch-thick wedges
2 tablespoons extra-virgin olive oil
2 tablespoons za'atar
Kosher salt
1/2 cup whole milk yogurt (not Greek)
1 1/2 tablespoons tahini
1 tablespoon freshly-squeezed lemon juice, plus more to taste
1/4 cup toasted squash seeds
1/4 cup coarsely-chopped parsley
Preheat the oven to 425°F.
On a half-sheet pan, toss the squash with the olive oil, za'atar, and 2 teaaspoons salt. Take care to evenly coat both sides of the squash with olive oil so that it won't stick to the pan.
Roast for about 15 minutes, or until the wedges are browned on their undersides; flip, then roast for another 15 minutes, or until browned on both sides and the squash is tender.
Meanwhile, whisk together the yogurt, tahini, and lemon juice in a small mixing bowl. Season to taste with salt and extra lemon juice, as needed.
Transfer the squash to a platter and drizzle with yogurt sauce, squash seeds, and parsley. Serve hot or at room temperature.
I like
to roast the seeds
from inside the acorn squash as it cuts back on food waste (and they're delicious); if you'd prefer to skip this step, sub roasted and salted pepitas.
Recipe by
A Modest Feast
at http://www.amodestfeast.com/2016/12/18/roasted-acorn-squash-yogurt-tahini-sauce/