Sicilian Blood Orange, Onion, and Olive Salad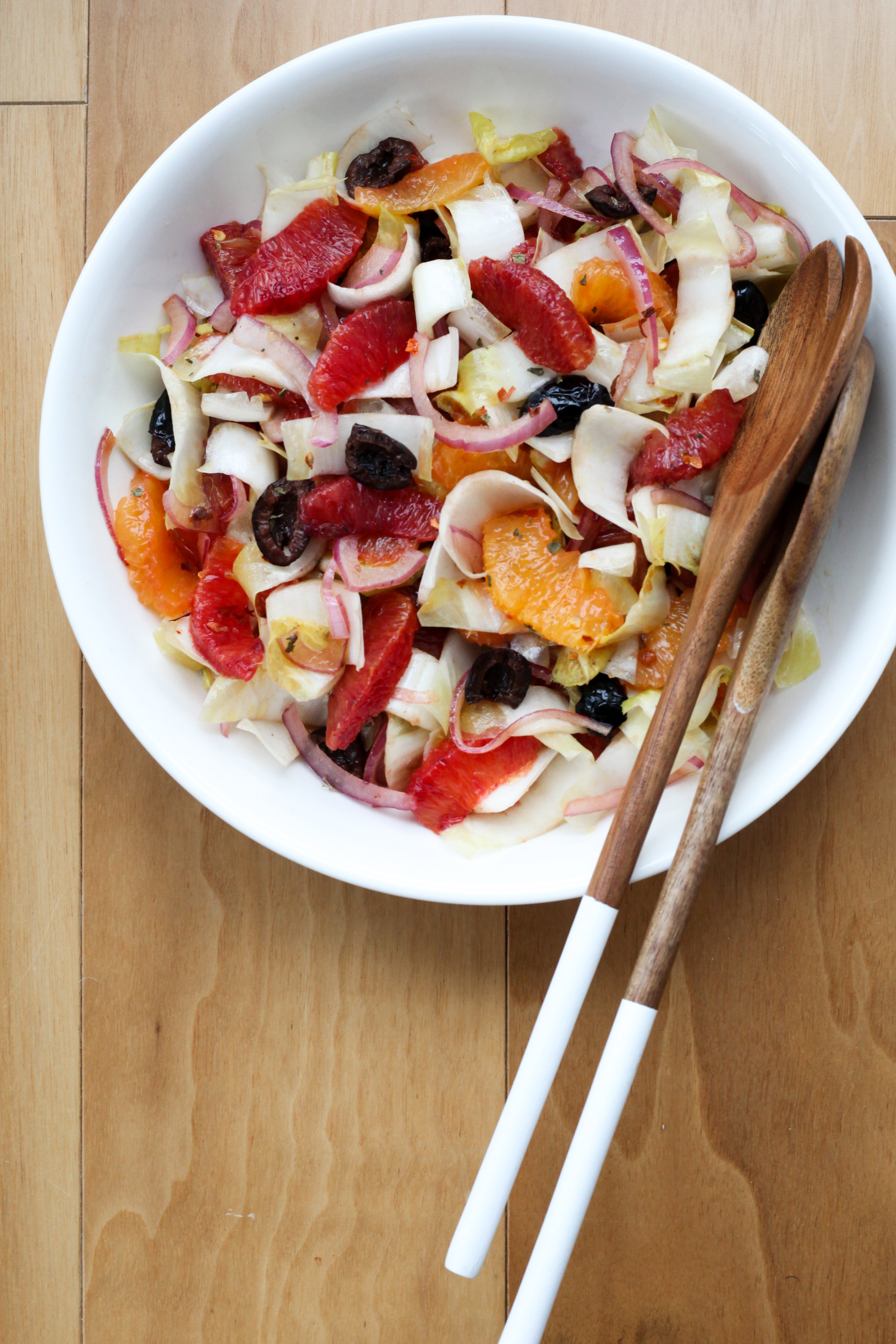 1 small red onion, very-thinly sliced into half moons
12 oil-cured black olives, pitted and halved
3 small blood oranges
1 medium tangerine
For the dressing:
4 anchovy fillets, minced
2 tablespoons red or white wine vinegar
1/2 teaspoon red pepper flakes
Large pinch of dried oregano
1/4 cup extra-virgin olive oil
Kosher salt, to taste
3 heads endive, halved, cored, and sliced into 3/4-inch half moons
Add the red onion and olives to a large mixing bowl. Supreme the blood oranges and tangerines, working over the bowl that the onion and olives are in, so as to catch the juice (the juice will mellow the onion's bite). Add the citrus segments to the bowl as well. Squeeze the juice out of the peel and membrane into a glass and reserve for another use (or drink it!).
In a small mixing bowl, whisk together the minced anchovy, vinegar, red pepper flakes and oregano. Slowly drizzle in the olive oil, whisking to form an emulsion. Season to taste with salt.
Add the endive to the mixing bowl with the other salad components. Add about half of the dressing, tossing to coat. Taste, and add more dressing to taste.
If you can find very tart blood oranges, use just those (no tangerine); here I used a tangerine to add some acidity, as the common blood orange in the states (Moro) is milder than Sicilian blood oranges. Don't want to supreme the oranges? Remove their skin with a paring knife then cut hemispherically into slices (this saves a bit of time). The original recipe calls for 1 head of escarole — tear the tender inner leaves into bite-sized pieces, reserving the tougher outer leaves for another use (like soup). Very-thinly-sliced fennel would be a lovely addition to this salad.
Recipe by
A Modest Feast
at http://www.amodestfeast.com/2017/02/13/sicilian-blood-orange-onion-olive-salad/