Greek "Poutine" With Arugula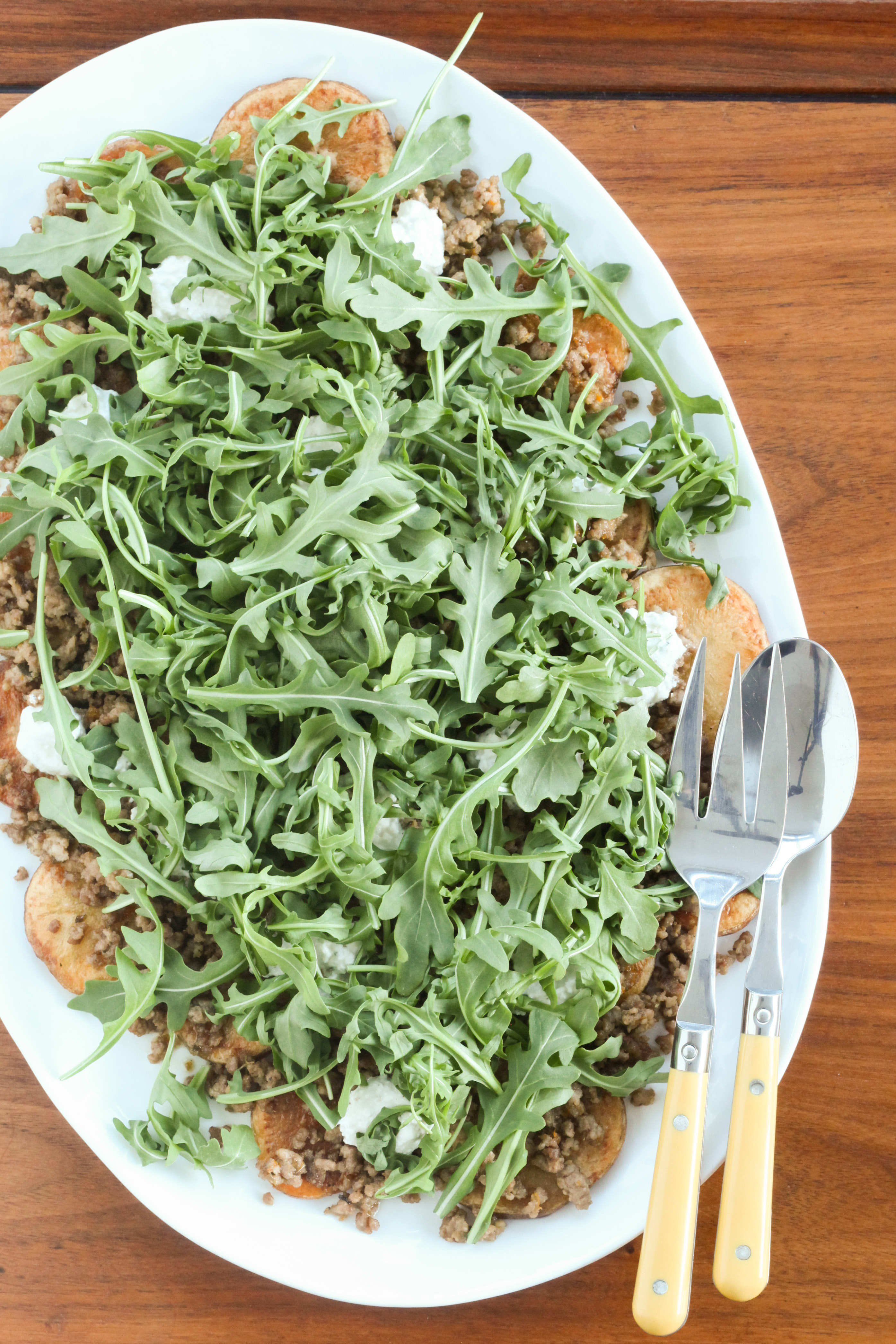 1 pound russet potatoes, scrubbed clean and sliced into 1/4-inch-thick rounds
1/4 cup neutral oil, such as refined coconut or rice bran, divided
Kosher salt, to taste
1/2 teaspoon coriander seeds
1/2 teaspoon fennel seeds
1 medium orange
2 large cloves garlic, minced
12 ounces ground pork
1 tablespoon red wine vinegar
1/2 teaspoon dried oregano
3 ounces feta
Freshly-ground black pepper, to taste
2 ounces baby arugula
Extra-virgin olive oil, for drizzling
Preheat oven to 450°F.
Toss the potatoes with 2 tablespoons oil and 1/2 teaspoon salt on a rimmed baking sheet. Spread out into a single layer and roast, without flipping, until slightly crispy and golden brown, 20–25 minutes.
Meanwhile, crush fennel and coriander seeds with a meat mallet or heavy skillet. Zest half of the orange and juice the whole orange into a small bowl.
Heat 2 tablespoons oil in a medium skillet over medium-high heat. Add the crushed fennel and coriander seeds and cook until fragrant, about 1 minute. Add garlic and cook, stirring, until lightly golden, about 1 minute. Stir in ground pork and 1/4 teaspoon salt and cook, stirring occasionally, until crispy and browned, 6–8 minutes. Add the orange zest and juice, vinegar, dried oregano, and 1/2 cup water. Bring to a simmer and cook, stirring occasionally, until almost all the liquid is evaporated, 5–7 minutes. Adjust to taste with more salt, if needed.
Meanwhile, add the feta to a medium bowl and mash with a fork. Add 3 tablespoons water and a few grinds of pepper and whisk until creamy.
To assemble: Arrange the potatoes on a platter and top with pork, feta sauce, and arugula; drizzle with olive oil.
Recipe by
A Modest Feast
at http://www.amodestfeast.com/2017/04/11/greek-roasted-potato-poutine-arugula/