Spiced Cauliflower With Honey Tahini Sauce and Almonds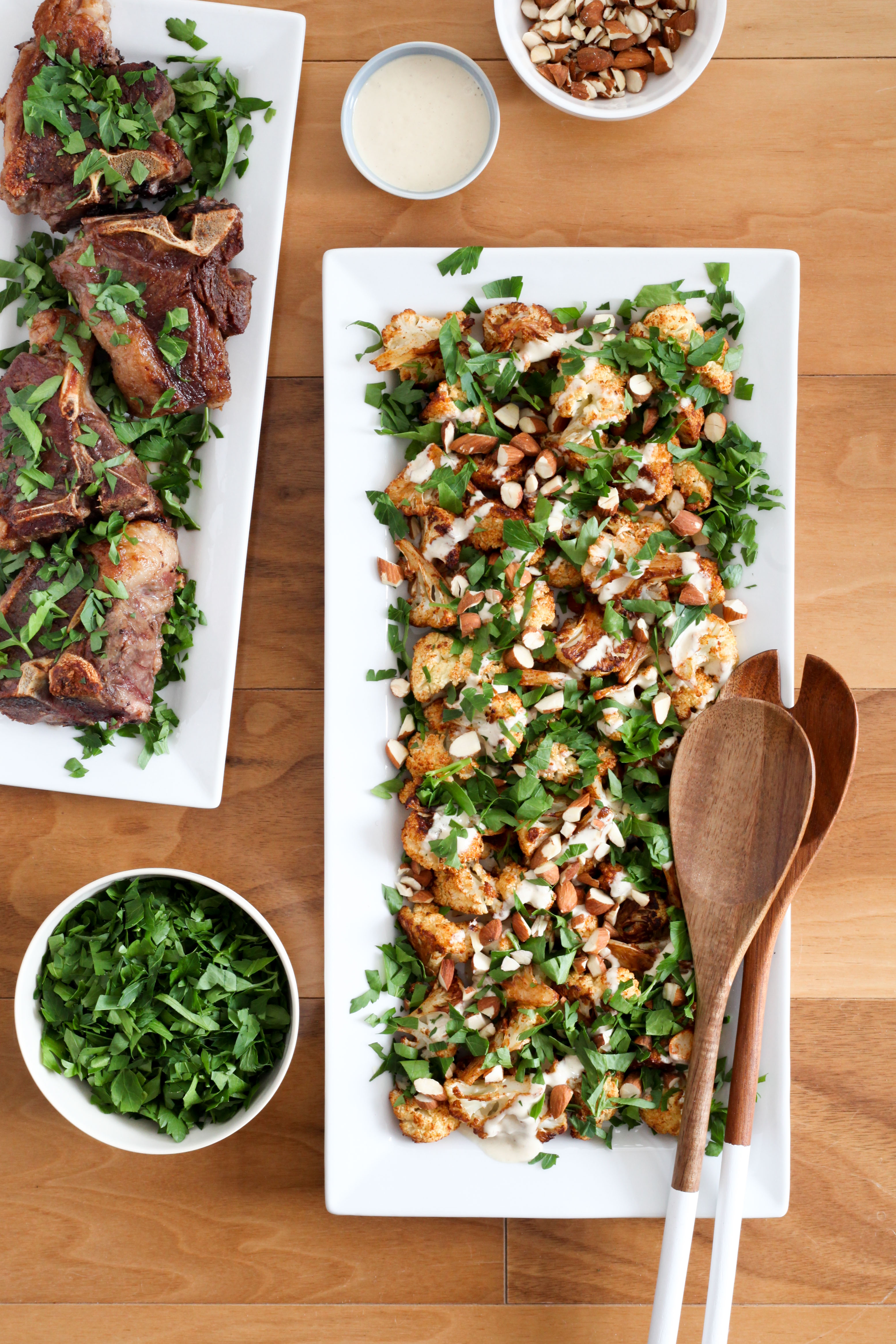 1 large head of cauliflower, broken into florets
2 tablespoons neutral, high-heat oil, such as rice bran or melted refined coconut
1/2 teaspoon ground cinnamon
1 teaspoon hot paprika
1 teaspoon kosher salt
1/2 cup almonds, toasted and coarsely chopped
1/2 bunch of parsley, roughly chopped
For the honey tahini sauce:
1 clove of garlic, thinly sliced
3 1/2 tablespoons tahini
3 1/2 tablespoons freshly-squeezed lemon juice
2 teaspoons honey
1 1/2 tablespoons extra-virgin olive oil
Kosher salt, to taste
Preheat the oven to 425°F with a half-sheet pan inside the oven.
Toss the cauliflower with the oil, spices, and salt. Pull out the half-sheet pan and spread the cauliflower out on it in an even layer. (Preheating the pan accelerates browning the cauliflower.) Roast until it is crisp and deeply-browned on one side, and tender throughout, about 25 minutes.
While the cauliflower roasts, make the sauce: Add the garlic, tahini, lemon juice, honey, olive oil, and 2 tablespoons water to a blender, and blend until smooth and creamy. Season to taste with salt.
To serve: Drizzle the sauce over the cauliflower and top with almonds and parsley. Serve hot or at room temperature.
For even cooking, cut larger florets in half (or even quarter them), so that they are similar in size to the smaller florets.
Recipe by
A Modest Feast
at http://www.amodestfeast.com/2017/05/05/spiced-cauliflower-honey-tahini-sauce-almonds/