Breakfast Fried Quinoa With Sriracha and Greens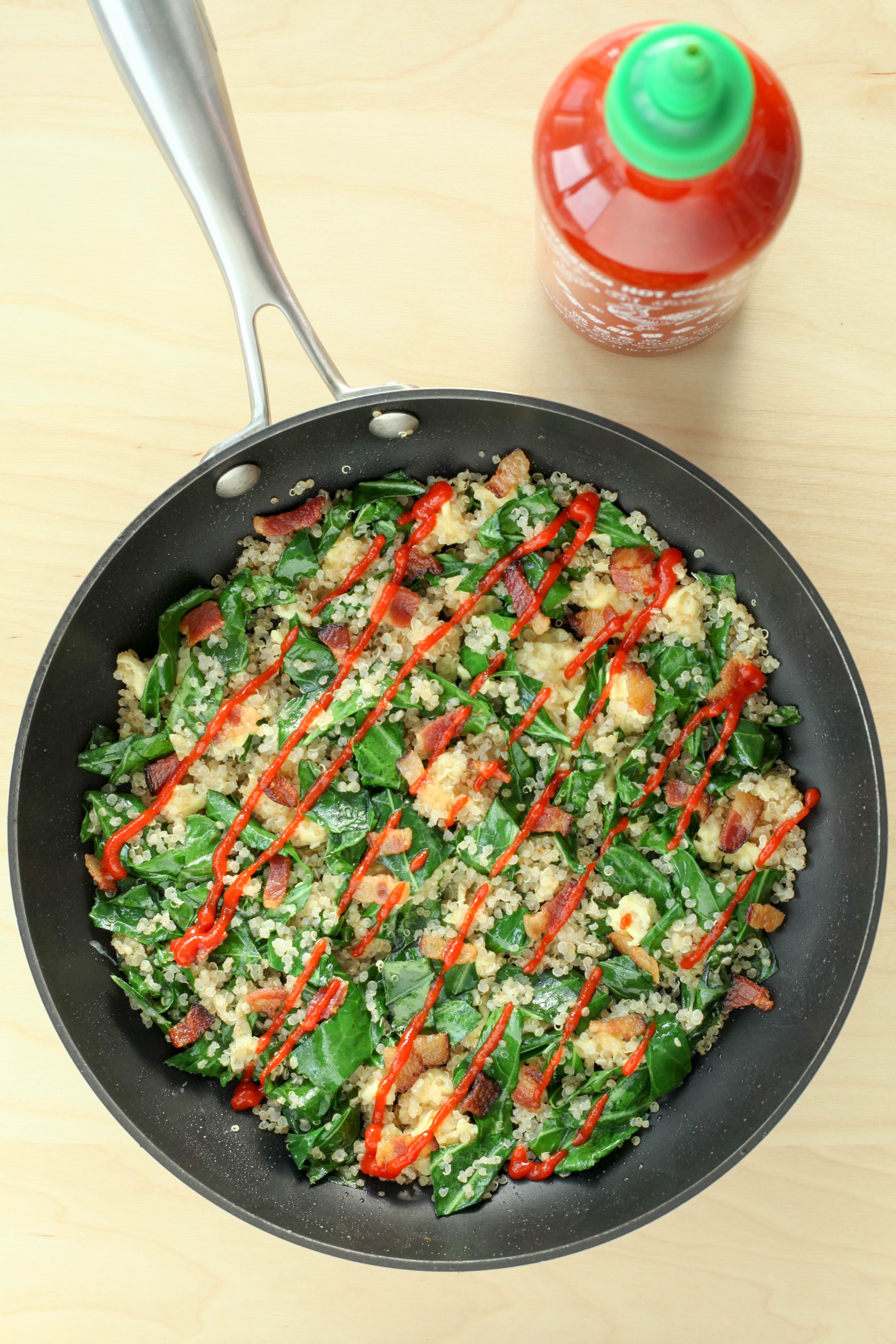 1 thick slice of bacon
4 large collard green leaves (about 1/4 bunch), stemmed and cut into thick ribbons
Kosher salt
3/4 cup leftover cooked quinoa (from 1/4 cup uncooked)
1 large egg, lightly beaten with a large pinch of salt
Sriracha, to taste
Slice the bacon into 1/2-inch-thick pieces (a pair of clean kitchen shears makes this easy, as does doing this while the bacon is still very cold).
Add the bacon to a large nonstick skillet, and cook over medium-low heat until the fat has rendered and the bacon is crisp and golden-brown. Remove the bacon to a small bowl, leaving behind the bacon fat.
Increase the heat to medium and add the collards to the pan plus a large pinch of salt; cook, stirring frequently, until the collards are bright green and slightly-softened. Add the quinoa and another pinch of salt and cook, stirring to evenly distribute it through the collards. Push the quinoa and collards to one side of the pan, then add the egg and cook, stirring frequently, until just set. Take off the heat. Break up the scrambled egg into small chunks and stir the egg through the fried quinoa.
Top the fried quinoa with the bacon, generously drizzle with sriracha, and serve hot with more sriracha on the side.
This recipe can easily be doubled, just be sure to use a large nonstick skillet in order to accommodate everything.

Other sturdy greens like kale or swiss chard can be substituted for the collard greens.
Recipe by
A Modest Feast
at http://www.amodestfeast.com/2017/11/20/breakfast-fried-quinoa-with-sriracha-and-greens/