Indian-Spiced Cranberry Beans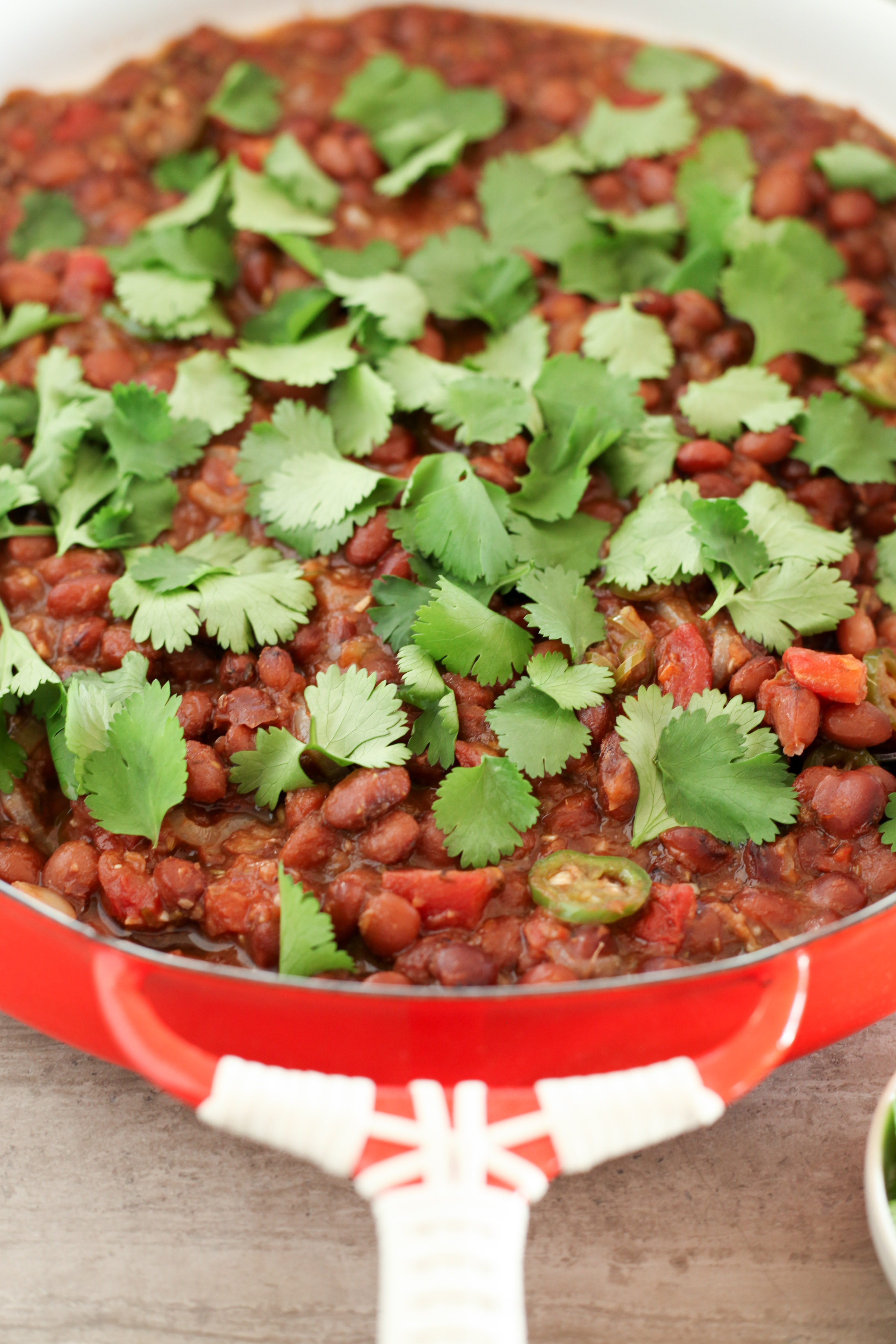 To cook the beans:
1/2 pound cranberry beans (aka borlotti beans), picked over and soaked overnight
1/2 medium onion, peeled
1 garlic clove, smashed
Kosher salt
To season the beans:
2 cardamom pods
2 teaspoons cumin seeds
1 teaspoon fennel seeds
1 teaspoon coriander seeds
2 tablespoons neutral oil, such as refined coconut or avocado oil
1/2 medium onion, thinly sliced
4 garlic cloves, finely chopped
1-1/2 inch piece ginger, peeled and finely grated (1 tablespoon plus 1 teaspoon)
1 serrano chili, thinly sliced
3 fresh or canned plum tomatoes, chopped
Juice of 1/2 lime
Cilantro, for garnish
Add the soaked beans, halved onion, garlic, and 1 teaspoon kosher salt to a medium pot or dutch oven. Cover with water by about 1 inch. Bring to a boil, boil for 1 minute, then reduce the heat to maintain a simmer. Skim off any foam (discard). Simmer until nearly tender, anywhere from 1-3 hours. (This depends on how fresh the beans are and also the size of the beans.) Add 1 more teaspoon of kosher salt, and cook until tender.
Crack open the cardamom pods and remove the seeds; add the seeds to a spice grinder or mortar and pestle, and lightly crush. Then add the cumin, fennel, and coriander and grind until everything is lightly crushed.
Once the beans are tender, heat the oil in a medium skillet over medium heat. Add the onion, garlic, and ginger, and cook, stirring occasionally, until soft and fragrant, about 10 minutes. If the ginger and garlic begin to stick to the pan and get dark, you can loosen them up by adding a splash of water to the pan, before scraping them up with a wooden spoon. Raise the heat to medium-high, then add the spices. Cook until very fragrant, about 1 minute. Add the serrano and tomatoes, stir, and cook for 1 minute. Then add the cooked beans and a good amount of their cooking liquid. Simmer for 10 minutes, or until the flavors have married. Add the lime juice and season to taste with additional salt. Garnish with cilantro.
Recipe by
A Modest Feast
at http://www.amodestfeast.com/2018/01/31/indian-spiced-cranberry-aka-borlotti-beans/