Kale Salad With Walnuts, Golden Raisins, and Toasted Breadcrumbs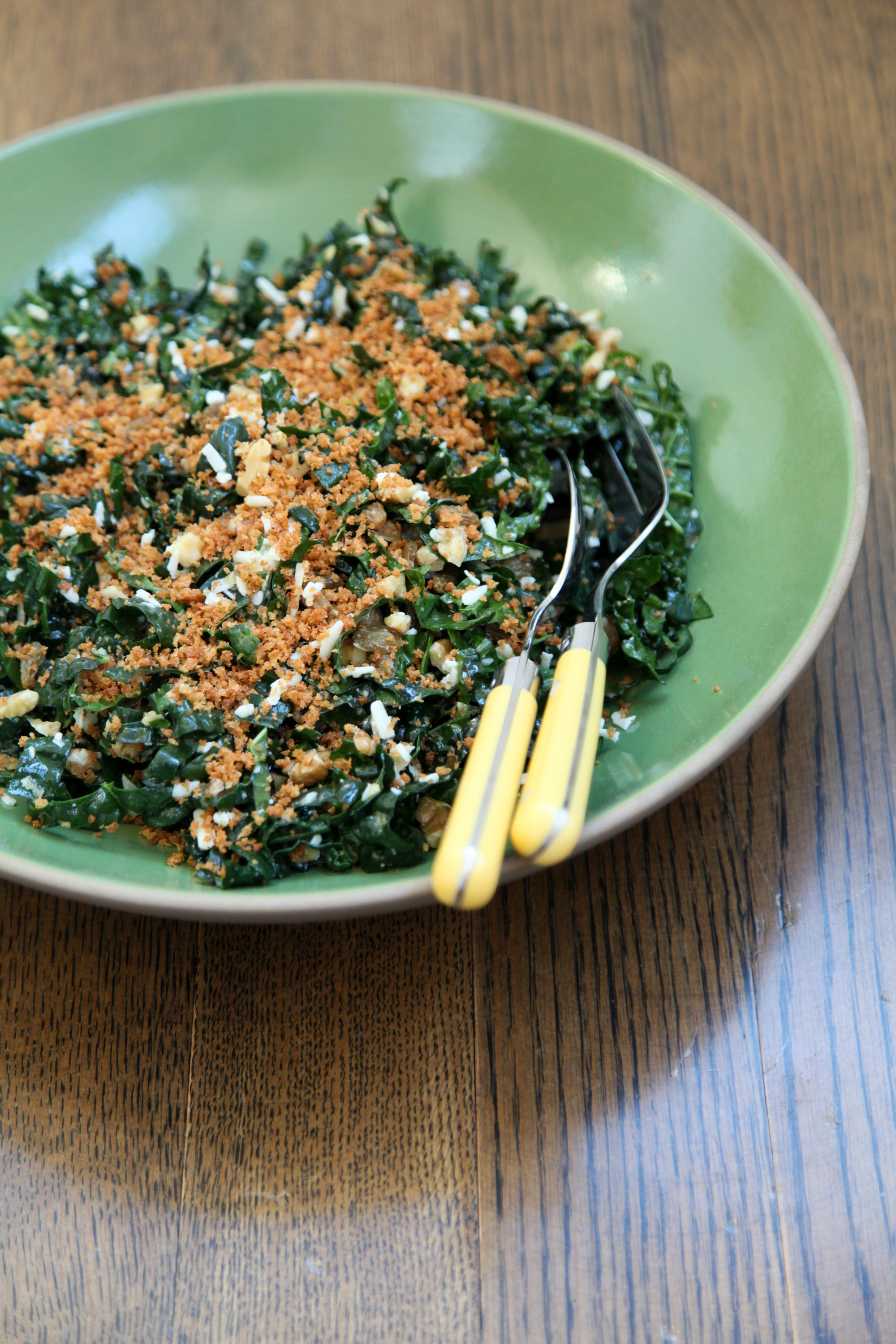 1/4 cup (1 1/2 ounces) golden raisins
1 tablespoon white wine vinegar
1 tablespoon water
1/4 cup panko (1/2 ounce)
3 tablespoons extra-virgin olive oil, divided
1 small clove garlic, minced
Kosher salt
1 bunch (about 14 ounces) lacinato kale, stemmed and cut into ribbons
Juice of half a lemon
2 ounces (about 1/2 cup) pecorino cheese, coarsely grated
1/2 cup (3 3/4 ounces) walnuts, toasted and chopped
Add the raisins, vinegar, and 1 tablespoon water to a small skillet or saucepan. Over low heat, cook until plump, juicy, and almost all of the liquid has been absorbed by the raisins.
Add the panko, 1 tablespoon olive oil, minced garlic, and a generous pinch of salt to a small skillet; Over medium-low heat, cook, stirring occasionally, until deep golden brown and fragrant.
Add the kale to a large mixing bowl with a large pinch of salt; massage until slightly wilted. Add the lemon juice, remaining 2 tablespoons olive oil, pecorino, walnuts, and raisins. Using your hands, toss all of the ingredients together. Adjust to taste with salt and additional lemon juice, if needed.
Transfer to a serving bowl and garnish with the toasted breadcrumbs.
To make ahead: toast and chop the walnuts, plump the raisins, stem and slice the kale, grate the pecorino, and toast the breadcrumbs. Toss it all together just before serving.
Recipe by
A Modest Feast
at http://www.amodestfeast.com/2016/01/28/kale-salad-walnuts-golden-raisins/