Turkish Eggs With Garlic Yogurt and Tomatoes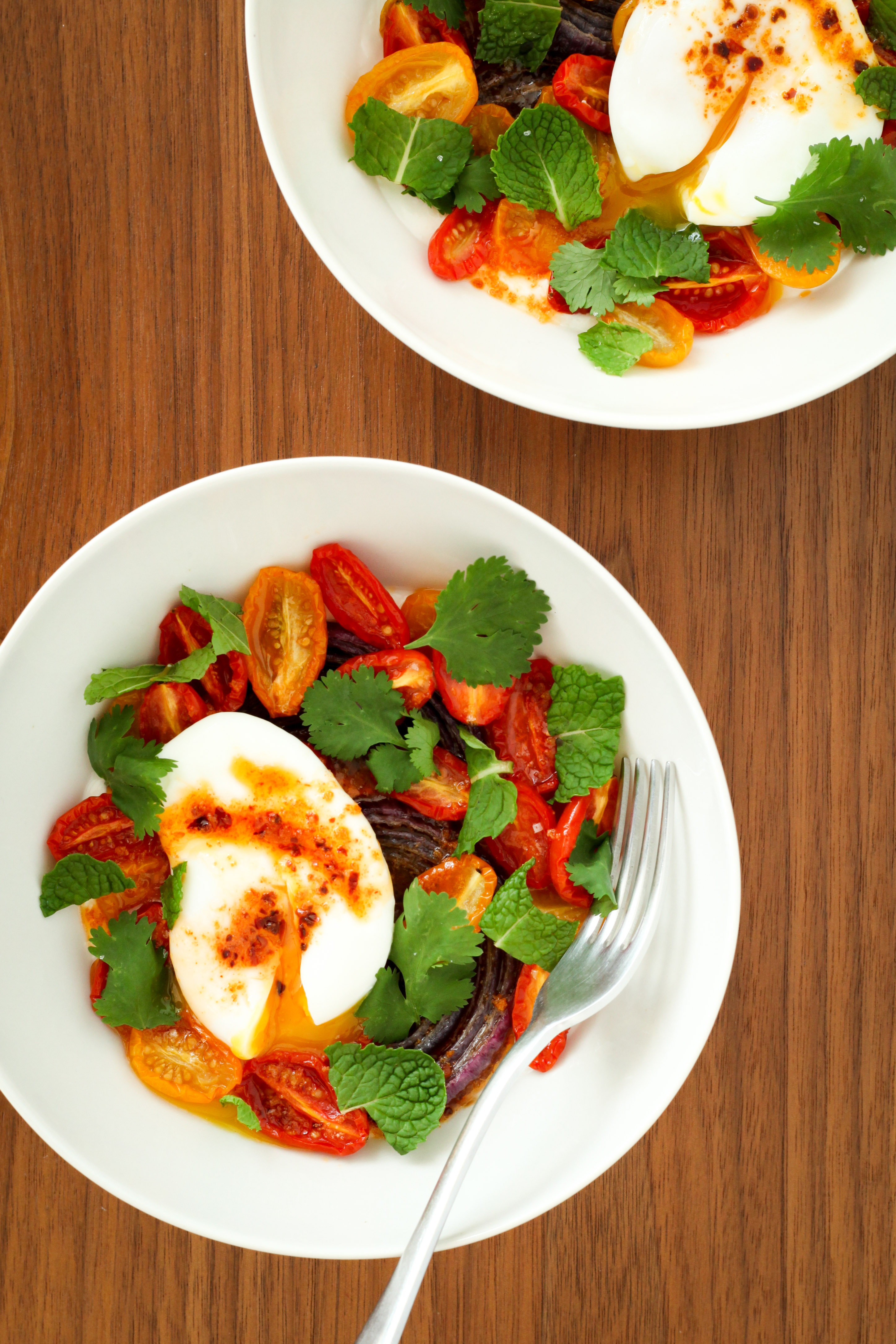 Author:
Adapted from Posh Eggs by Quadrille Publishing
2 pints cherry tomatoes, sliced in half
1 large onion, sliced into 3/-4-inch-thick half moons
2 tablespoons extra-virgin olive oil
Kosher salt
About 1 1/2 cups (14 ounces/400 grams) Greek yogurt, at room temperature
Zest and juice of 1 lemon
2 garlic cloves, grated on a microplane
2 teaspoons tahini
2 ounces (55 grams) unsalted butter
1/4 teaspoon smoked paprika
1/4 teaspoon Aleppo chile flakes
4 large eggs, poached
Flaky sea salt, for garnish
Mint and cilantro leaves, for garnish
Preheat the oven to 325°F. Line a half-sheet pan with parchment paper.
Toss together the tomatoes, onions, olive oil, and 1 1/2 teaspoons of salt on the prepped half-sheet pan. Roast for 1 hour and 15 minutes, or until the tomatoes are somewhat shrunken, and the onion is soft and beginning to brown.
Meanwhile, mix together the yogurt, lemon zest and juice, garlic, and tahini. Season to taste with salt.
Melt the butter in a small pan, add the paprika and chile flakes, cook until fragrant, then season to taste with salt.
To serve, divide the yogurt between four bowls, top each with some of the vegetables, and 1 poached egg. Sprinkle the egg with flaky sea salt (kosher is fine here too), drizzle with the spiced butter, and sprinkle with mint and cilantro.
All of the elements can be made ahead of time and reheated, making this a great make ahead breakfast.
Recipe by
A Modest Feast
at http://www.amodestfeast.com/2017/10/03/turkish-eggs-with-garlic-yogurt-and-tomatoes/