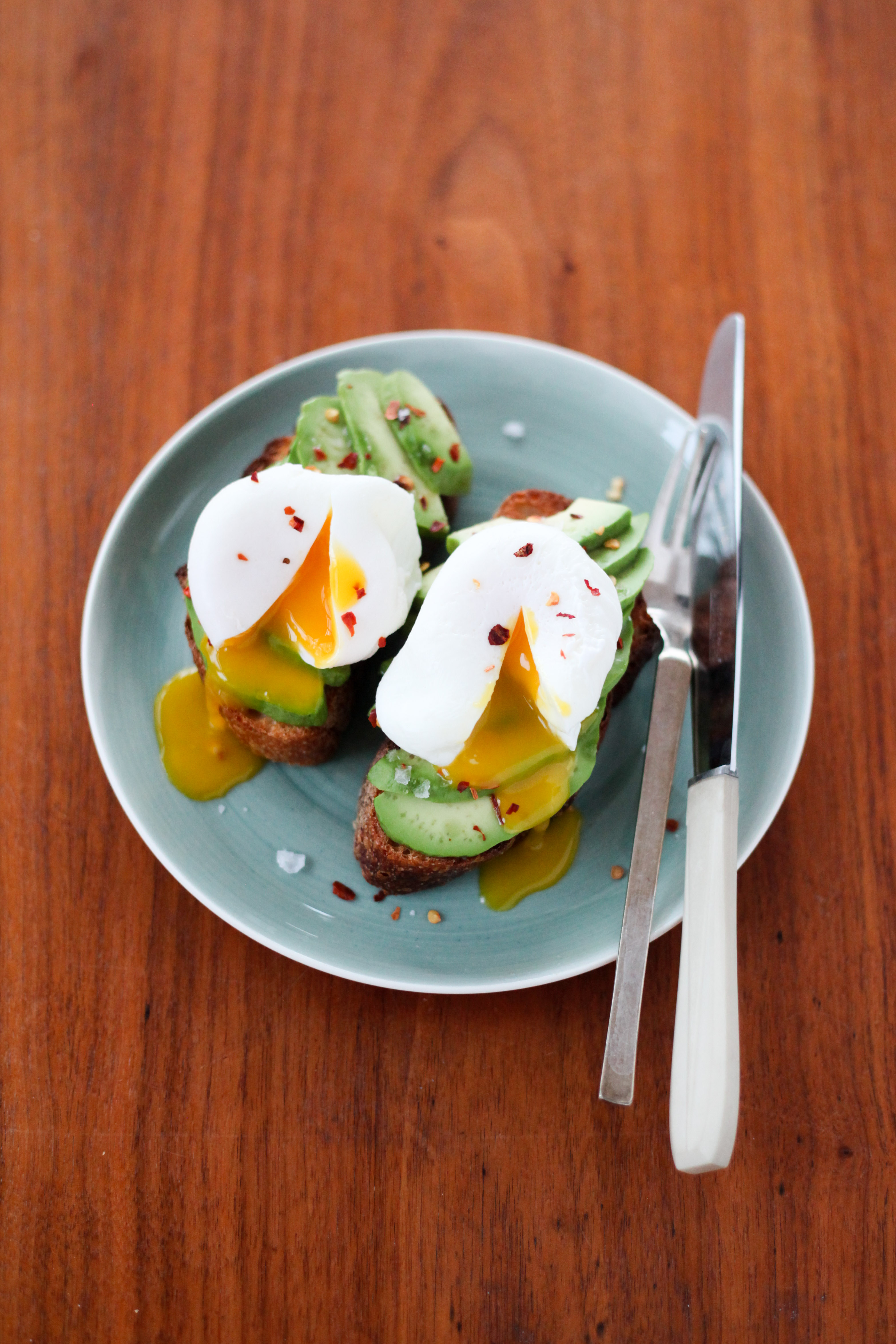 My first attempt at poaching eggs didn't go very well: The whites were ragged (feathery, if we're being kind) and only partially-attached to the yolks; worse yet, since the yolks were barely insulated by the whites, they cooked up patchily, nearly-hard-boiled in spots. A decade or so later, I've tested out pretty much every method out there, and discovered some indispensable tricks along the way. Here I'm breaking down two separate techniques, how to poach eggs in a saucepan and via sous vide cookery, both of which have their merits.

First up: sous vide: If you have an immersion circulator (I'm partial to the Anova), poaching eggs is virtually foolproof, this method is also an efficient way to poach many eggs at once. The texture is a bit different than a traditionally-poached egg (the white is a bit softer and the yolk is slightly thicker) and this method takes some time (about 20-30 minutes to heat up the water, depending on the size of your pot, and then 45 minutes to cook the eggs) but it is nearly hands off and hard to mess up.
Perfect Poached Eggs, Sous Vide
Ingredients
Very fresh large eggs
Flaky sea salt, for serving
Instructions
Using an immersion circulator, heat a pot of water to 150°F. Add as many eggs as you'd like to poach and cook for 45 minutes.
Use a skimmer or slotted spoon to pull out the eggs. Cool for a few minutes before peeling.
Working one egg at a time, gently crack open the egg and turn it out into a small bowl or your palm. Discard any loose egg white.
Generously sprinkle with salt.
Notes
For best results, use very fresh eggs (when purchasing, check the sell-by date and purchase those with the date that's furthest out). If you'd like to poach many eggs at once, this is an easy way to do it (make sure that there's enough room for the eggs to move around so that they cook evenly).
Perfectionists (and those who don't want to clutter up their kitchen with another gadget), will prefer poaching in a saucepan. When done correctly, the white is tight and opaque, the yolk barely cooked and very runny. This requires a bit of finesse and some sort-of-finicky steps, but the results speak for themselves (exhibit a: the picture in this post), but it's within any patient cook's reach.
Mostly, it comes down to reducing the loose, wispy egg white as much as possible: First, start with the freshest eggs you can find. If you shop a farmers market, pick them up there; at the supermarket, look for a carton with a far-off sell-by date. (As an egg ages, the whites becomes loose and watery which translates to wispy flyaways when poached.) If your eggs are anything but superfresh, I recommend draining off whatever loose egg white there is in a fine-mesh strainer (see the recipe). Beyond that, it's a matter of monitoring the water temperature and cook time closely, and swirling the water about to shape the eggs neatly. (I used to swear by also adding one tablespoon of white vinegar to the simmering water — in theory to help the whites coagulate — but at some point along the way, I stopped remembering to add this and haven't noticed a difference one way or another, so now omit it.) You might not nail it on the first go, but with these tips, you should get pretty darn close, and like with most things, practice makes perfect.
Perfect Poached Eggs, in a Saucepan
Ingredients
2 very fresh eggs
Flaky sea salt, for serving
Instructions
Crack each egg into a ramekin. Working with one egg at a time, use a fine-mesh strainer to drain off the egg's loose liquid white. Transfer the egg back to its ramekin.
Bring a saucepan of water to a boil, then reduce the heat to maintain a very-gentle simmer (aim for a bubble here and there — not clusters of bubbles).
Use a slotted spoon to get the water swirling into a vortex-like pattern. Tip one of the eggs into the water and use the spoon to gently swirl the water around the egg to wrap the white tightly around the yolk (reverse the swirling as necessary). Once the outside of the egg has set, repeat with the second egg. Keep cooking each egg until its white is opaque, and the yolk jiggles in concert with the white when gently agitated. Use the slotted spoon to transfer it to whatever you'd like to serve it on top of. Repeat with the second egg.
Generously sprinkle with salt.
Notes
For best results, use very fresh eggs (when purchasing, check the sell-by date and purchase those with the date that's furthest out). If you'd like to poach more than two eggs, poach them in batches of two, transferring the cooked eggs to a bowl full of cool water or a paper-towel-lined plate. Once all of the eggs are poached and ready to be served, reheat by submerging in hot (not boiling) water for 30 seconds to warm through.
As for what to put your perfectly-poached eggs on, the sky's really the limit. For a few suggestions, start here: avocado toast (like pictured), cauliflower fried rice with kimchi, Lyonnaise salad, or a bed of garlicky yogurt with roasted tomatoes and onions, Turkish-style. Poached eggs are also a great grain bowl addition and are my go-to add-on for transforming leftover vegetables into a proper breakfast.