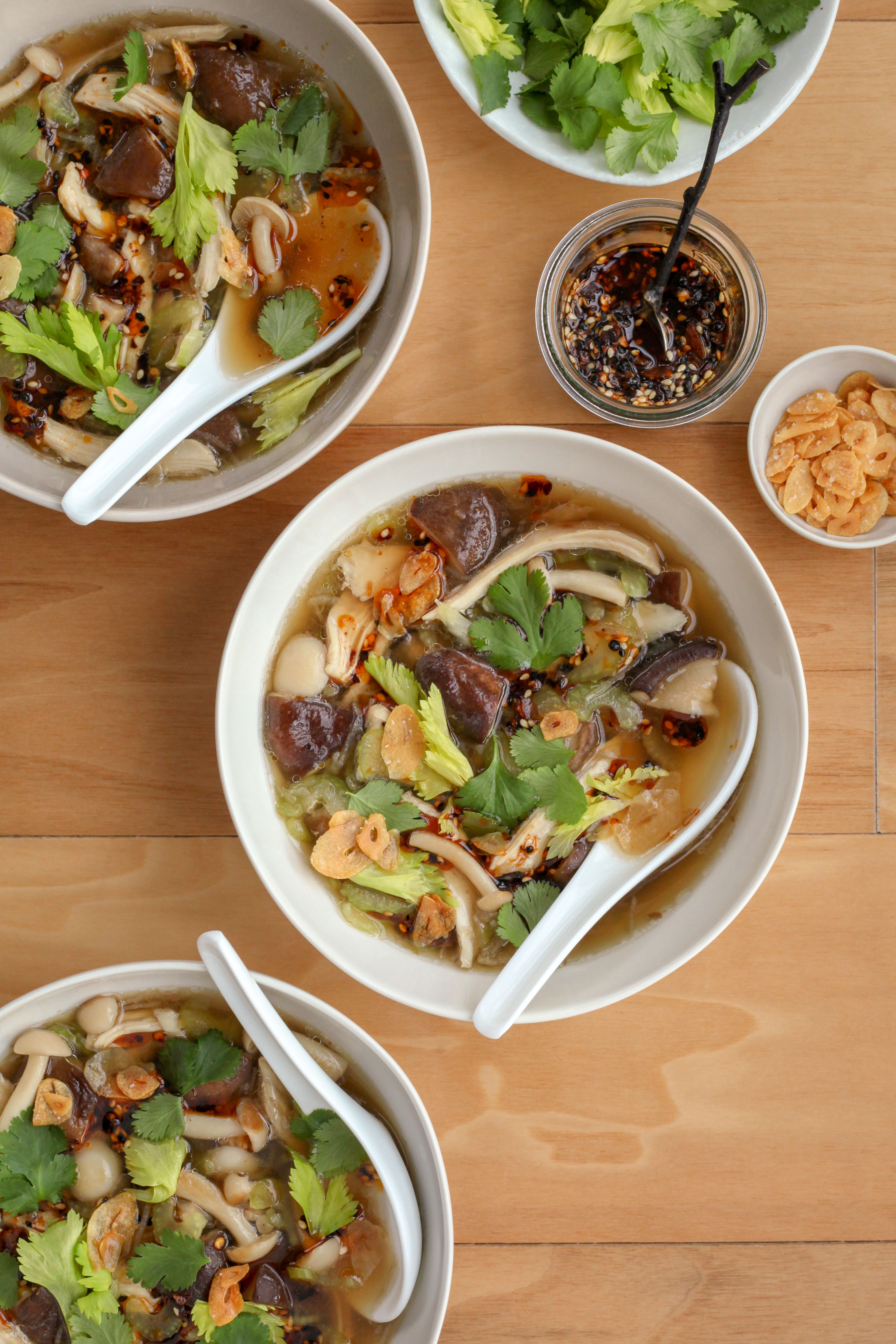 Like pretty much everyone in food media*, I am obsessed with Alison Roman's newish cookbook, Dining In. Part of the hype, I suspect, comes from her pedigree: Prior to writing her book, she was an editor at Bon Appétit and then Buzzfeed, dreaming up exciting, not-too-fussy recipes like slow-roasted salmon with crispy greens, and rhubarb almond cake. She's also written for super-under-the-radar publications like The New York Times and Cherry Bombe, penned an excellent, zine-like, mini-cookbook about lemons for Short Stack Editions, and worked in the kitchens at Momofuku Milk Bar. (I'm missing a couple biographical details here, but you get the gist.) Dining In may be her first cookbook, but she has ample experience to back it up.

Still, I'd say that her reputation doesn't quite explain Dining In's instant-classic status, or the virality of the recipes within, like her now-famous salted chocolate chip shortbread cookies. That, I suspect, comes down to Roman's ability to strike a perfect balance between accessibility and celebratory-feeling fare. For every skillet chicken recipe (hers comes with crushed olives and sumac, natch), there's a salad of chicories with anchovy breadcrumbs and egg yolk (which is in fact super-easy to make and delightful); for every homey, just-different-enough dessert, like buttered raspberry hand pies, theres a recipe like the crispy kimchi and cheddar omelette. In other words, Dining In's recipes and tone are such that flipping through its pages encourages readers to stretch a bit beyond their comfort zone, but in an unintimidating, attainable way.
*And the cookbook-consuming public in general, if it's frequently-sold-out-on-Amazon status is an indicator.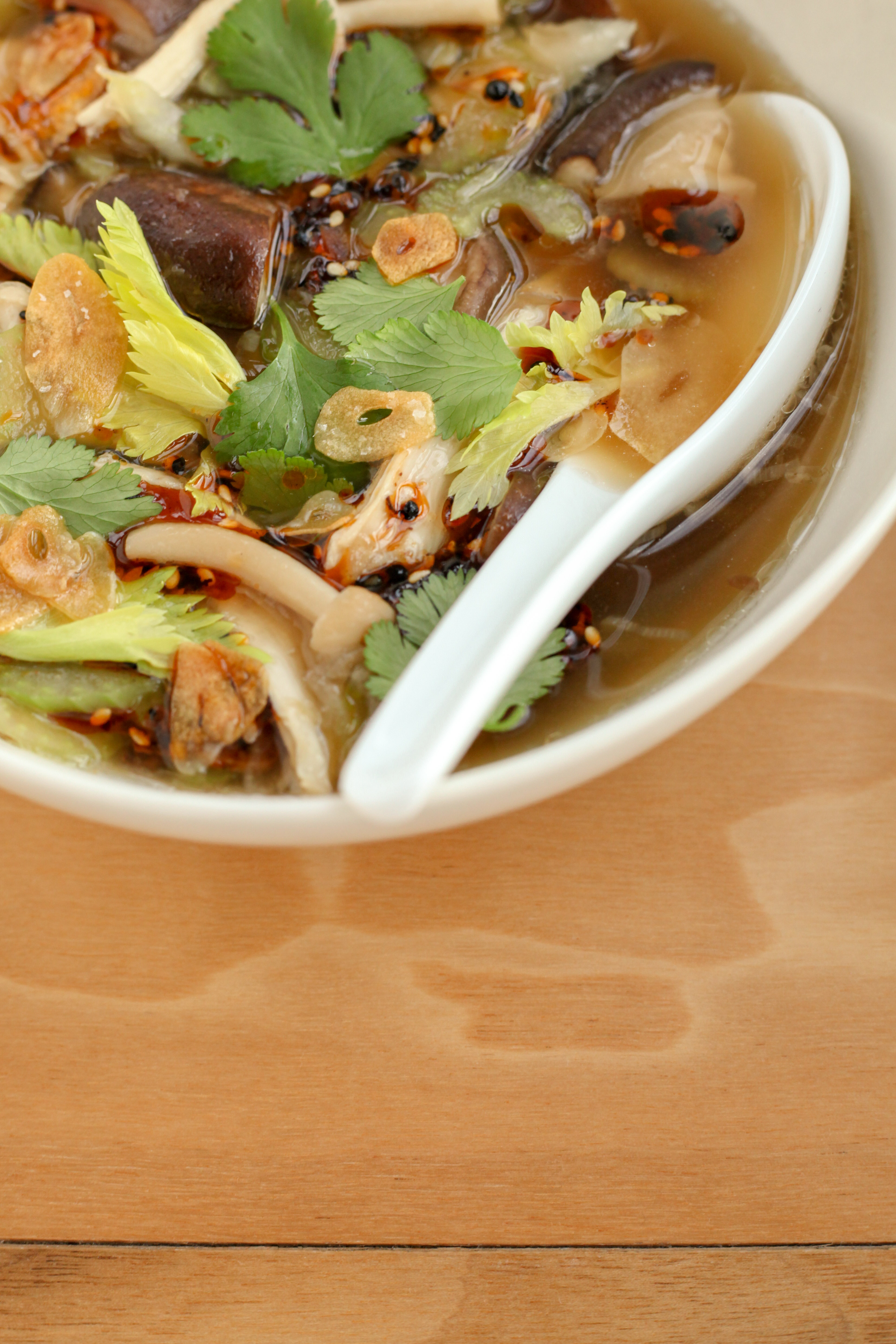 In a lot of ways, Roman has written the type of cookbook I aspire to create. Full of real, produce-packed recipes, it draws on an international pantry of flavors, with an eye towards balance (yes to cookies and cocktails and full fat everything, and also yes to brothy soup and bitter greens). And as such, I've cooked from its pages quite-obsessively since its publication this past fall. Really, the reason I've taken so long to write about it here is that I was overwhelmed by choice in deciding which crazy-good recipe to share.
Well, as you may have guessed, I've finally decided on one. Though highly-tempted by the preserved lemon labne (so bright and versatile), that aforementioned chicories salad, and a handful of others, it is this punchy, irresistible chicken soup that I'm sharing with you today. Bold and brash, in the best way possible, it is the type of soup that makes you forget that you're having soup for dinner (ok, maybe that's just Andrew — I love soup for dinner). It sings with the flavor of toasted, almost-burnt garlic, and is all-around sensorial trip (those colors! that crispy garlic and those luxuriously-silky mushrooms!). It is, like the cookbook itself, a 10.
P.S. I realize my recipe notes for this one are very long, verging on psychotic. Read them, don't read them, but if you want to know how to make the absolute best version of this soup, know that they're there.

Chicken Soup With Toasted Garlic, Mushrooms, and Celery
Author:
Adapted from Dining In. Copyright © 2017 by Alison Roman. Published by Clarkson Potter/Publishers, an imprint of Penguin Random House, LLC.
Yield:
Serves 4-5, with about 1 1/4 cups leftover crunchy chili oil
Ingredients
For the crunchy chili oil:
3/4 cup unrefined peanut oil (grapeseed or avocado oil will also work)
1/4 cup crushed red pepper flakes or 1/4 cup plus 2 tablespoons Aleppo pepper
1/4 cup black or white sesame seeds, or 2 tablespoons of each
2 to 3 tablespoons Sichuan peppercorns, chopped
4 garlic cloves, thinly sliced (optional)
Kosher salt, to taste


For the chicken soup:
2 tablespoons neutral oil, such as refined coconut or avocado oil
8 garlic cloves, thinly sliced
Kosher salt
2 large shallots, thinly sliced crosswise into rings
1 pound mushrooms, such as maitake, oyster, or shiitake, (if using shiitake, remove the stems and quarter)
8 cups chicken broth, preferably homemade
4 celery stalks, thinly sliced on the diagonal, plus 1/2 cup celery leaves
2 to 3 cups cooked chicken meat
1-2 tablespoons fish sauce, to taste
Juice from 1/2-1 lime, to taste
1/2 cup fresh cilantro, tender stems and leaves
Crunchy chili oil, for serving
Instructions
Make the crunchy chili oil: Heat the peanut oil, red pepper flakes, Sichuan peppercorns, and garlic, if using, in a small pot over the lowest heat possible. Let it come to a simmer (all the bits in the pot will start to sizzle) and cook until the red pepper flakes are a dark brick red and the sesame seeds are golden brown and toasted (if using black sesame seeds, you will start to smell them toasting), 15 to 20 minutes. Remove from the heat and season to taste with salt. Set aside. (As for the extra chili oil, let it cool completely before transferring to a glass jar and refrigerating.)
Make the soup: Heat the neutral oil in a large pot over medium heat. Add the garlic, and cook, swirling the pan occasionally to ensure the garlic is evenly cooked, until the garlic is lightly fried and turning golden brown, 2 to 3 minutes. Using a slotted spoon, remove the garlic and drain on a plate lined with a paper towel. Season generously with salt and set aside.
Add the shallots to the same pot and season with salt. Cook, stirring occasionally, until the shallots are lightly fried and turning golden brown but are not yet crisp, 3 to 4 minutes. Add the mushrooms, seasoning them with salt. Cook, stirring occasionally, until they're beginning to brown and are totally softened, about 4 minutes. Add the broth, bring to a simmer and cook, uncovered, for 30 to 40 minutes, until the flavors get to know each other and the broth tastes a little shalloty and a little mushroomy. Once the broth is as good as can be, add the sliced celery and chicken. Cook until the celery is just tender and the chicken is warmed through, 3 to 4 minutes. Taste the broth, then season with the fish sauce (start with 1/2 tablespoon) and lime juice, adding more to taste until the broth tastes great. (I found that I needed somewhere in the neighborhood of 1-2 tablespoons of fish sauce, but I was using unsalted chicken broth.)
Serve with the celery leaves, cilantro, a generous spoonful of chili oil, and toasted garlic.
Notes
Unrefined peanut oil adds a roasty-toasty note to the crunchy chili oil; that said, if you don't want to buy it just for this recipe, a neutral oil, like those listed in the recipe, will also work.
I like to add a bit of
umami powder
(essentially, dried ground mushrooms plus some other umami-rich ingredients) to the chili oil, to mimic the flavor that MSG gives to store-bought crunchy chili oil. Alternatively, you could season it with
a bit of MSG
(I swear it's not bad for you —
there's science to back this up
.) Or, if you want to skip the step of making crunchy chili oil, you can use
lao gan mai
(aka spicy chili crisp, aka angry lady sauce), which is available in most Asian grocery stores and
on Amazon
.
Leftover crunchy chili oil keeps for at least 1 month refrigerated. It is excellent on everything from roasted vegetables to scrambled eggs to blah-tasting Asian takeout and/or leftovers; there's little that it won't improve.
If you have a mandoline — I use (and love)
this one
, plus this
cut-resistant glove
for safety — use that to slice the garlic, shallot, and celery; you'll get much more consistent results.
My absolute favorite way to cook the chicken for this soup is sous vide. The results are tender and it's shockingly easy to do. I use
these instructions from Serious Eats
, cooking 2 boneless, skinless chicken breasts at 145°F for 1 hour and 15 minutes, then chilling them down in an ice bath before shredding. That said, if you don't have an immersion circulator (if you're in the market for one, I love
ChefSteps' Joule
), leftover roast chicken is a good alternative, as is using some of the meat from a rotisserie chicken or poaching a couple breasts.
This soup is good as leftovers, provided you store the extra cilantro, celery leaves, and fried garlic separately from the soup itself, adding them just before eating. (You can also freeze leftover soup, keeping the same consideration in mind.)