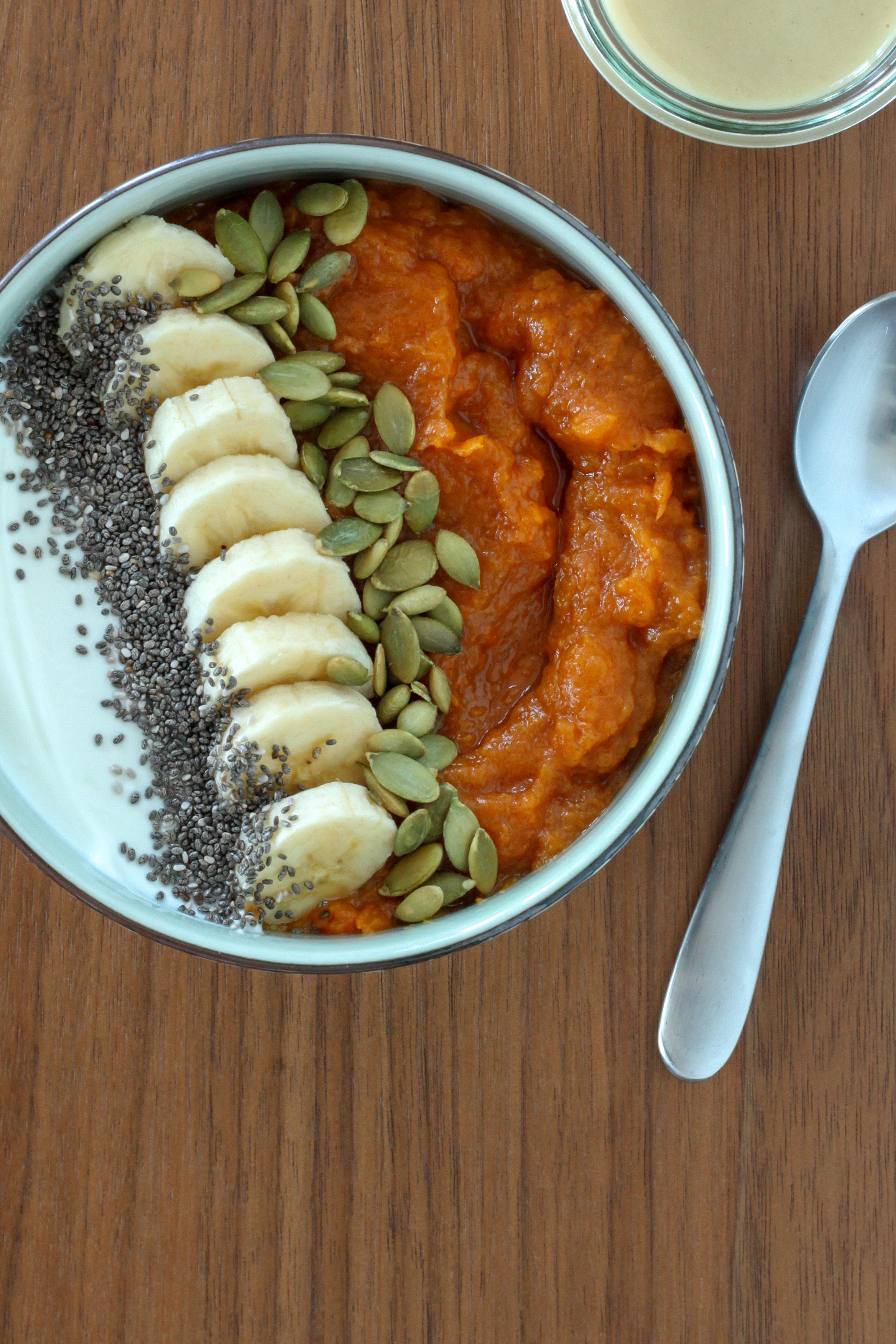 Over the past month or two, I've started my day with some variation on this sweet potato breakfast bowl on more days than not. This might not seem like an odd statistic, but I usually change things up a lot more than that as I'm testing out ideas or eating leftovers from the recipe development process. All of which is to say there's a pretty good reason why I've been on such a kick. This breakfast bowl ticks all the boxes: it's tasty, something I feel great about eating, and it's easily adapted to be be a make-ahead — even grab-and-go — option.

As pictured, it's styled like a smoothie bowl, topped with a swoosh of skyr (I'm partial to Siggi's 4%) or Greek yogurt, chia seeds, sliced banana, pepitas, and maple-tahini sauce. It is, of course, lovely eaten this way — a treat for both your eyes and tastebuds, and when I have a few extra minutes to sit down, take a deep breath, and properly enjoy my breakfast, this is the way I go. Each bite is a little different, and the toppings can (and should be) played around with (look to the recipe for more topping ideas). For a more practical, busy-morning version, I divvy up the roasted sweet potato, skyr, and maple-tahini sauce parfait-style between four containers, pop on the lids and tuck them in the fridge for four days of soul-satisfying breakfast. The morning of, I add whatever other toppings I'm in the mood for that day*; my current favorite combo is chia seeds, and a little bit of candied ginger.
*This both allows for changing it up a bit morning to morning, but more importantly, keeps moisture-sensitive toppings from getting soggy, or things like sliced banana from oxidizing.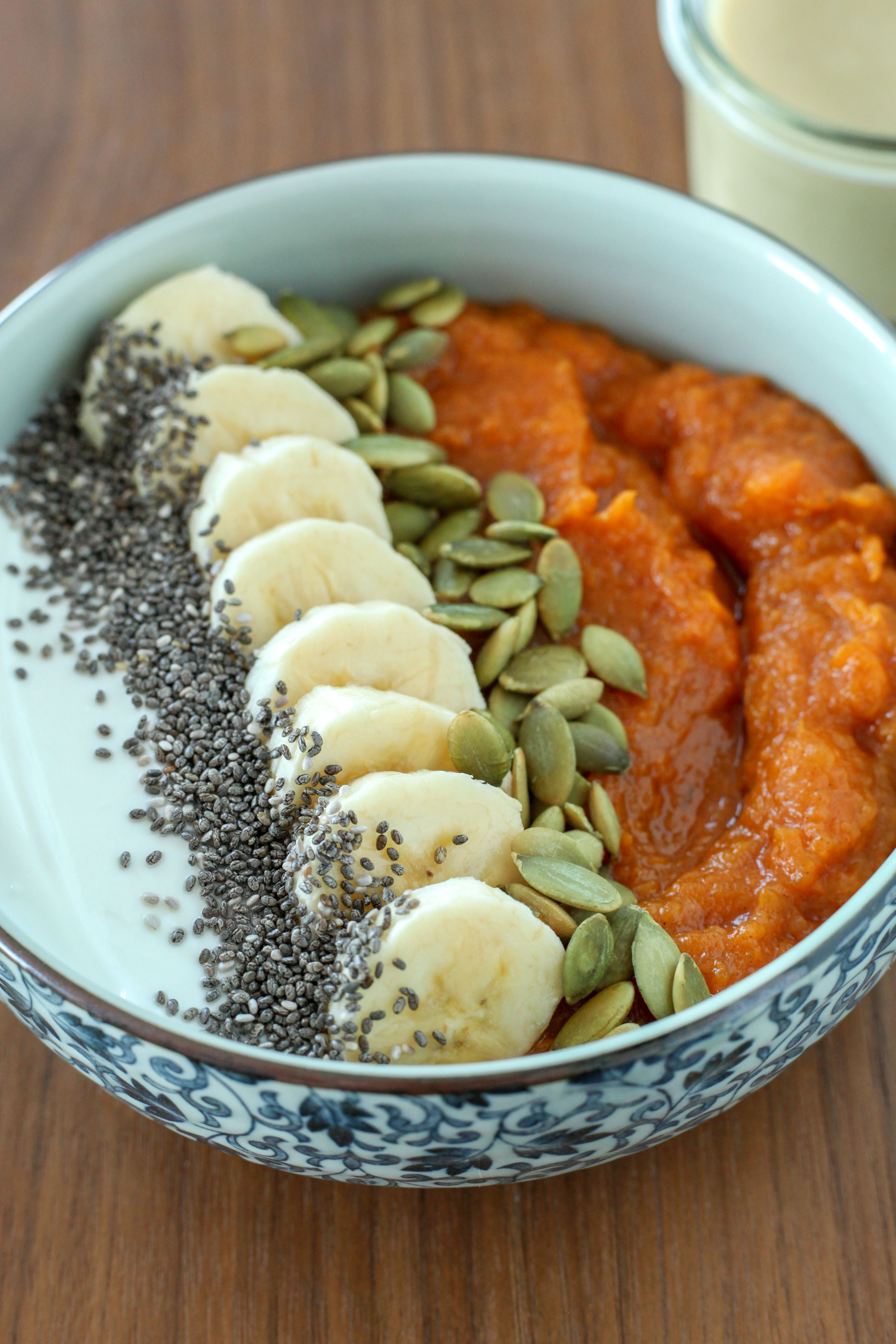 Sweet Potato Breakfast Bowl With Maple-Tahini Sauce
Ingredients
3 medium or 4 small sweet potatoes, baked and cooled
6 scoops collagen peptides, such as Vital Proteins
1 teaspoon cinnamon
1 teaspoon ground ginger
Kosher salt
3 tablespoons tahini
1 tablespoon dark maple syrup


Topping ideas:
A generous dollop of full-fat skyr or Greek yogurt
Toasted pepitas or walnuts
Chia seeds
1/2 a sliced banana
Chopped candied ginger
Instructions
Split the sweet potato open down its middle using a paring knife. Scoop out the sweet potato flesh into a medium mixing bowl and mash well with a fork. Add the collagen peptides, cinnamon, ginger, then use a flexible silicone spatula to mix it all together. Season to taste with salt. If things are a little dry, add a bit of water at a time to loosen it up, mixing to combine.
In a small mixing bowl, whisk together the tahini, maple syrup, and a generous pinch of salt. Whisk in enough water to make it a drizzleable texture, something that's slightly thicker than salad dressing.
Divide the mashed sweet potato between 4 bowls (or mason jars), then top each with 1/4 of the maple-tahini sauce, and your toppings of choice. Pictured is some skyr, chia seeds, banana, and pepitas.
Notes
To make vegetarian-friendly, either omit the collagen peptides, or add
unflavored whey protein powde
r to taste. I've yet to test this out, but I can't imagine it not working. If I do test it out, I'll update here with the amount used.
The quality of tahini varies widely; my favorite brands are
Soom
and
Seed + Mill
.
This is a great make-ahead breakfast. To meal prep it, layer the mashed sweet potato, skyr, and maple-tahini sauce in 4
lidded working glasses
or
wide-mouth mason jars
, parfait-style. I prefer the former, as they're a little bit smaller and leave less empty space, but mason jars work great too. Then, before eating, add any other toppings like chia seeds, nuts, candied ginger, or banana.