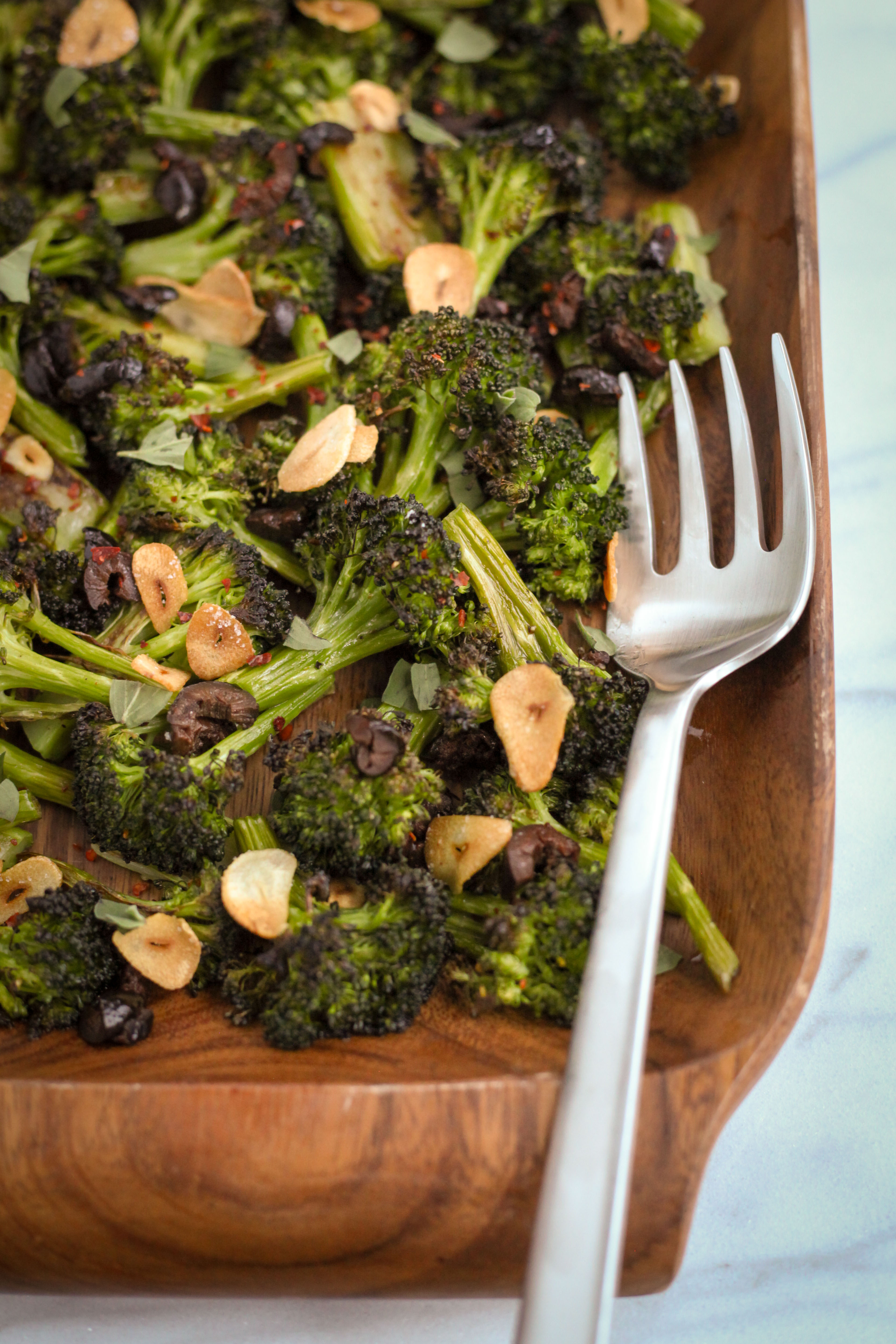 When I first cracked open my copy of America's Test Kitchen's newish cookbook How to Roast Everything, my first instinct was to flip past seemingly-basic recipes like weeknight roast chicken, roasted thick-cut pork chops, baked sweet potatoes, and this, a gussied-up twist on roasted broccoli, but that would have been a mistake. Sure, I know my way around the kitchen, but with cooking (and many things in life), it's often small lessons and tweaks to technique that make the biggest impact.

Take, for example, this broccoli. Stripped back to it's simplest form (plain roast broccoli) it's still an excellent recipe with much to learn from. For the most part, the instructions are what one would expect: the broccoli is tossed with oil and salt then roasted at a high temperature until just right. But it's the small details — adding a pinch of sugar to the broccoli and preheating the pan till it's rip-roaringly hot — that make it next level. These two tweaks lead to intense caramelization, resulting in broccoli that's shockingly addictive. If you stop right there, I suspect you'll be quite happy, but if you're in the mood for a bit more embellishment (without much added time, I might add) the olives, fried garlic chips, and oregano are a nice touch.
I chose to share this recipe with you all here for two reasons: one, it's really really good, and two, it's a great indicator of what you can expect if you pick up a copy of this book for yourself. Which brings me to an exciting note: I've teamed up with America's Test Kitchen to give away a copy of How to Roast Everything to one lucky reader. Entering this contest is simple:
1. Follow @amodestfeast on Instagram.
2. Like the IG photo of this broccoli.
3. Leave a comment on that IG photo tagging a friend.
4. Tag more than one friend for extra entries (one extra entry per additional tag).
The fine print: The contest ends on Saturday, March 10, at 11:59 EST. This giveaway is open to adults (over 18) living in the U.S. Each entry will be assigned a number and a winner will be chosen using a random number generator. The winner will be contacted by direct message on Instagram, and has 48 hours to accept the prize, before another winner is drawn.
May the odds be ever in your favor!
Roasted Broccoli With Olives, Garlic, and Oregano + a Giveaway
Ingredients
2 small heads of broccoli (about 1 1/2 pounds)
4 tablespoons extra-virgin olive oil, divided
1/2 teaspoon granulated sugar
Kosher salt
5 garlic cloves, very thinly sliced
1/2 teaspoon red pepper flakes or 1 teaspoon aleppo pepper
2 tablespoons oil-cured black olives, pitted and chopped
1 teaspoon fresh oregano, finely chopped
2 teaspoons freshly-squeezed lemon juice
Instructions
Adjust oven rack to the lowest position, place a half-sheet pan on the rack and preheat the oven to 500°F.
Trim away the dried out ends of the broccoli, then separate the stalks and crowns. Cut crowns into large florets. Trim away the tough outer peel from the stalks, then cut into 1/2-inch-thick planks that are about 2-3 inches long.
In a large mixing bowl, toss the broccoli with 2 tablespoons olive oil, the sugar, and 1 teaspoon salt.
Once the oven has preheated fully, pull the hot sheet pan out of the oven. Working quickly, arrange the broccoli in a single layer, flat sides down, where possible, on the preheated sheet pan. Roast until well-browned and tender, 9-11 minutes.
Meanwhile, heat the remaining 2 tablespoons olive oil in a medium skillet over medium-low heat. Add the garlic and red pepper flakes, and cook, swirling the pan occasionally to ensure the garlic is evenly cooked, until the garlic is lightly fried and turning golden brown, 2 to 3 minutes. Using a slotted spoon, remove the garlic and drain on a plate lined with a paper towel. Season generously with salt and set aside.
Once the broccoli is done roasting, arrange it on a platter and top with the fried garlic, olives, oregano, then sprinkle it all with lemon juice.
Notes
If you have a mandoline — I use (and love)
this one
, plus this
cut-resistant glove
for safety — use that to slice the garlic; you'll get much more consistent results.
A splash or red wine vinegar (about 1 teaspoon) can be subbed for the lemon juice.