Hi, I'm Nicole, a recipe developer, food stylist, photographer, and editor of A Modest Feast. I live in Brooklyn with my squish of cat, Mochi.
A one-time extremely-picky eater (sorry, Mom!), I'm now mostly reformed. My favorite things to eat are (in no particular order): classic red sauce meatballs, dim sum (especially taro cake and har gow), kishu mandarins, runny-yolked poached eggs, York Peppermint Patties, miso anything, passionfruit, Oloroso Sherry, beef carpaccio, Korean food (especially ddukbokki), kombucha, Tangerine LaCroix, marzipan, Point Reyes Bay Blue cheese, and Rosé Champagne.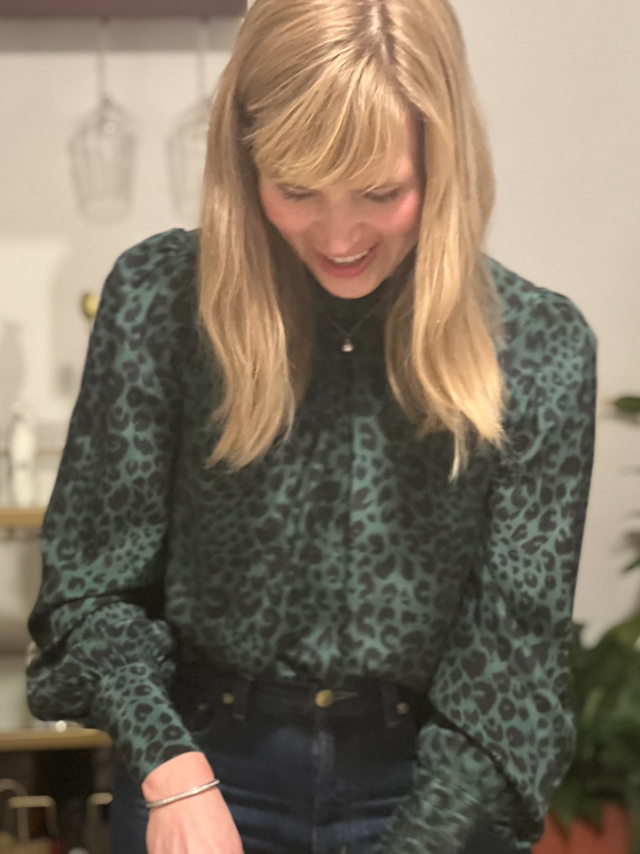 About the Blog
A Modest Feast is a celebration of seasonal, produce-driven eating with a generous pinch of indulgence added to the mix. In other words, a roughly 80-20 split between kale salads and sweet potato pie bars. (Balance is everything, no?) I do not personally subscribe to one diet or another, but regularly feature vegan, paleo, Whole30, and gluten-free recipes on the site. The uniting factor of the food you'll find here is that it's ridiculously tasty, easy to prepare, and the recipes are tested at least twice to ensure that they'll turn out as well in your kitchen as they have in mine.
My Work Elsewhere
Formerly an editor at POPSUGAR Food, I'm a current contributor to the site. I also freelance for a variety of publications as a writer, recipe developer, and food stylist. Below are some content highlights:
POPSUGAR Food
One-Pan Mushrooms, Chickpeas, and Kale
How to Assemble a World-Class Mezze Platter
The Definitive Ranking of La Croix Flavors
12 Big-Ticket Kitchen Items That Are Actually Worth the Expense
The Completely Addictive Method of Roasting Potatoes
7 Tricks For Better Kale Salads
Slow-Cooker Beans and Quinoa With Scallions, Cheddar, and Hot Sauce
Bringing a New Ben & Jerry's Flavor to Life, Step by Step
How to Start a Cookbook Club (and Why You Should)
POPSUGAR Fitness
These Are the Best Healthy Cookbooks of 2017
How to Cook Moist Boneless, Skinless Chicken Breasts
Kale Salad With Steak and Avocado
Pumpkin Pie Smoothie Bowl
Chicken Fajita Bowls With Quinoa
Brit + Co
I Tried That Chocolate Chunk Cookie That's All Over Your IG Feed
Everything You've Ever Wanted to Know About Cauliflower Rice (but Were Afraid to Ask)
5 Tricks I Swear By For Making Beans More Digestible
This Might Just Be the Most Practical Kitchen Tool You're Not Yet Using
Hands Down the Best Way to Roast a Sweet Potato
Williams-Sonoma Taste
Hosting Your First Thanksgiving? Follow These Pro Tips
How to Choose the Safest, Healthiest Nonstick Cookware
7 Ways to Set Your Potluck Up For Success
How to Cook a Turkey Overnight
SELF.com (food stylist for video)
How to Make 6 Healthy Breakfast Toasts
How to Make Cauliflower Crust Pizza
How to Make 3 Healthy Mason Jar Salads
I'd love to lend my recipe development, food styling, and photography skills to your brand or publication; to get the conversation started, contact me at nicole@amodestfeast.com.
About the Illustrations
The wonderfully talented Tina Armenante created the header for this blog. Tina illustrates custom portraits and invitations, and is currently working on a children's book. (She's also a long-time friend of mine.) To see more of her work, check out her site and follow her beautiful Instagram account.
---
Disclaimer: This site contains affiliate links. If you purchase a product through an affiliate link, the price you pay will be the same but A Modest Feast will receive a small commission. These commissions help support A Modest Feast; thank you!