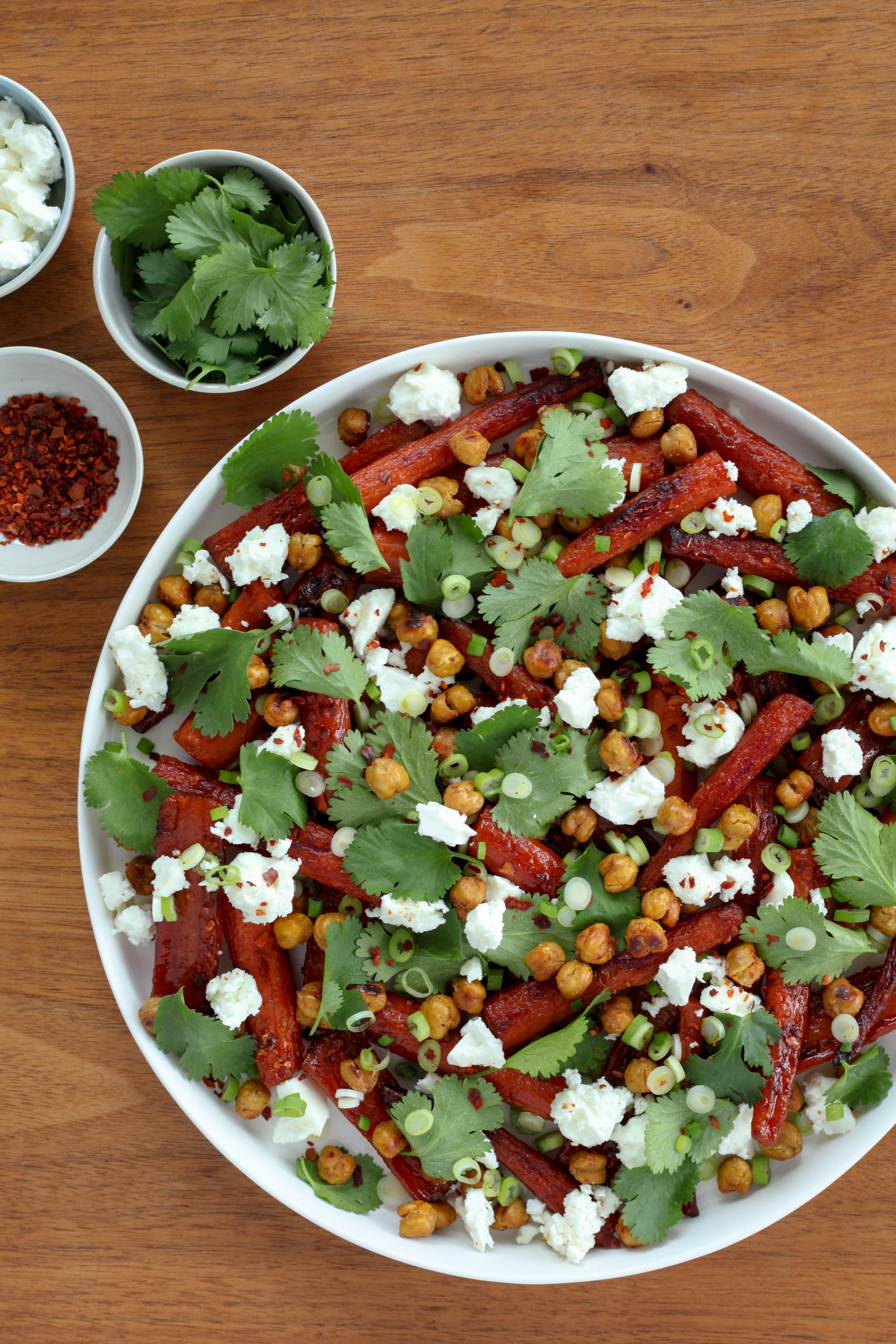 This is not the sort of recipe you make on a harried Tuesday night, when you're stretched in a million different directions, and efficiency is the core operative. There are no promises of it being ready in under 30 minutes, or of dirtying only one pan*. Instead, this is the type of recipe you break out when you have a moment to breathe, to at-least-partially concentrate on the task at hand, and to get a little lost in the process. Yes, it requires more attentiveness than the set-it-and-forget-it-ness of most recipes today. And, yes, you will need to be puttering about or near the kitchen for most of this time, but that's time you can spend catching up on a great podcast, making other components of your meal (if you choose to eat this as a side, rather than the main event), or doing a bit of meal prep to help you along in your week.

*Not to say there's anything wrong with this emphasis on efficiency — I love a good one-pan, slow-cooker, or super-speedy recipe as much as the next busy cook.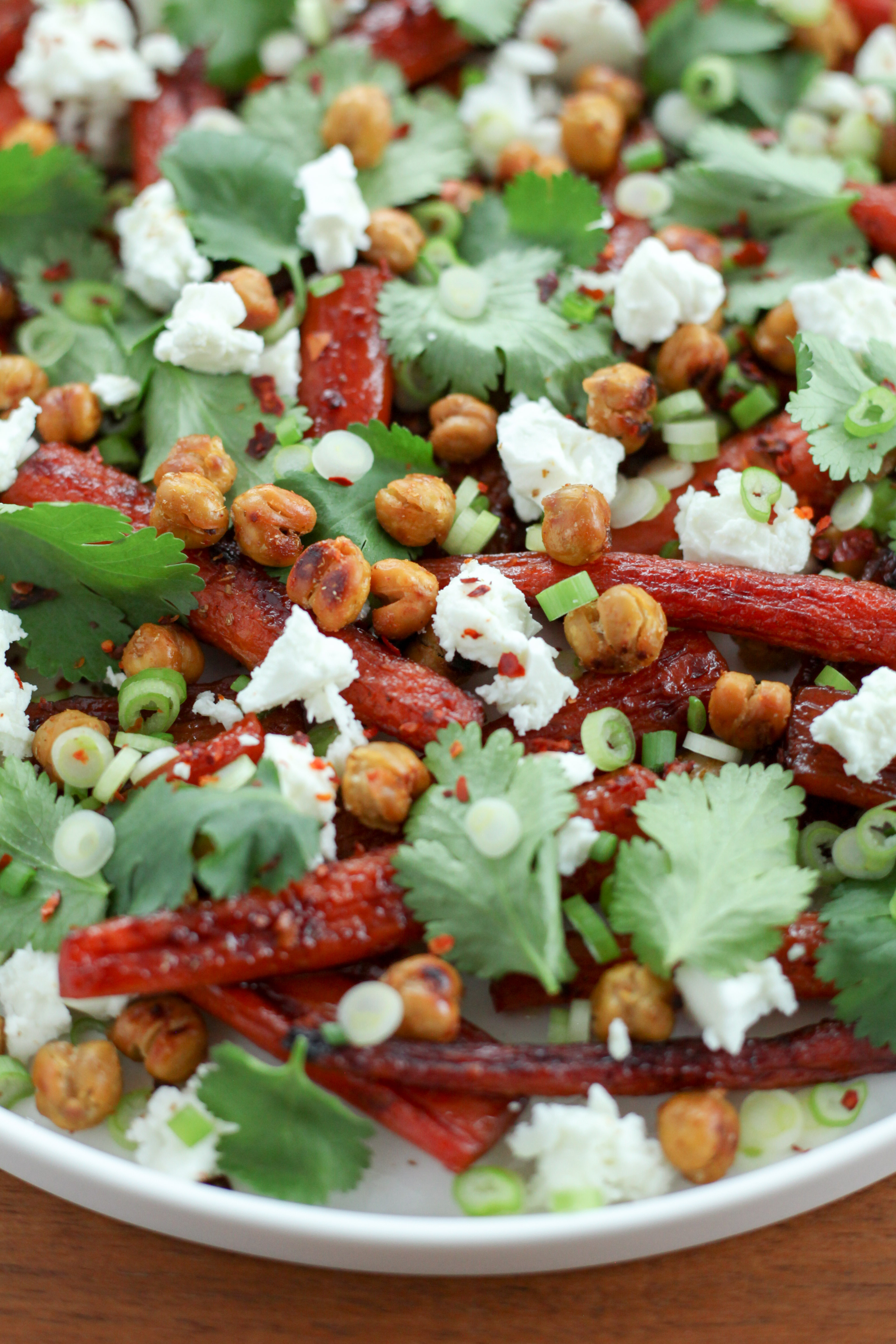 If you can make this small commitment, and I think you can, the rewards are well worth it. Those hands-on minutes (and there aren't too many of them — an efficient cook could pull this together in around an hour) pay off in a major way: Braised and glazed, the carrots become more carrot-y than seems imaginable, concentrated, tender, and a bit chewy at their caramelized edges, with the tangy, slightly-bitter kick of pomegranate molasses to balance out their earthy sweetness. Crisped in the oven, the chickpeas take on a satisfying crunch, providing the perfect textural foil to these uber-carrots. Topped with these and scallions, cilantro, crumbles of creamy feta (please, please, go for the good full-fat stuff, not that pre-crumbled nonsense), and the musky spice of cumin and aleppo pepper, it makes for a show-stopping side or a meal-worthy salad for two.
It's fitting, and no accident, that this recipe plays up the core essence of carrots. In part, this is because I find it interesting to take something as simple, humble, and everyday as the carrot and elevate it into something special, but it's also because I'm joining forces with a killer group of bloggers to highlight this underappreciated vegetable. To follow along, check out the hashtag #24carrotgoals on Instagram, or scroll past the recipe for links to everyone's creative creations, both savory and sweet.

Pomegranate-Molasses-Glazed Carrots With Crispy Chickpeas and Feta
Ingredients
For the crispy chickpeas:
1 1/2 tablespoons extra-virgin olive oil
1 1/4 teaspoons kosher salt
1 teaspoon granulated sugar
1 (15-ounce) can chickpeas, rinsed, peeled, and thoroughly dried
1 teaspoon cumin seeds, ground
1/2 teaspoon aleppo pepper flakes


For the pomegranate-molasses-glazed carrots:
1 1/2 pounds carrots, peeled, trimmed, cut into 2-3-inch-long pieces, (larger pieces cut in half)
2 tablespoons extra-virgin olive oil
About 1/4 cup water
1 1/4 teaspoons kosher salt
1 1/2 tablespoons pomegranate molasses


For garnish:
1 1/2 ounces feta, crumbled
A large handful of cilantro, leaves picked off of the stems
2-3 scallions, thinly sliced
Aleppo pepper flakes
Instructions
Roast the crispy chickpeas: Preheat your oven to 375&deg F.
In a medium mixing bowl, whisk together the oil, salt, and sugar. Add the chickpeas and use your hands to evenly coat them in the oil and seasonings.
Spread the chickpeas out on a half-sheet pan. Roast for 30-35 minutes, or until toasted, dry to the touch, and crispy. While the chickpeas roast, give the pan a shake and rotate it every once in a while to promote even roasting (do this at least once).
Immediately after pulling the chickpeas out of the oven, add the chickpeas back to the same mixing bowl that you used to season them before. Add the cumin and aleppo pepper, and use a flexible silicone spatula to evenly coat them in the spice mixture. Then, transfer them back to the sheet pan to cool down without getting soggy.
Braise and glaze the carrots: Arrange the carrots in one even layer in a large lidded skillet or dutch oven (I like Staub's braising pan for this). The add the olive oil, salt, and enough water to coat the bottom of the pan (this may be a bit more or less than 1/4 cup). Over medium-high heat, bring the water up to a boil, then reduce the heat to maintain a rapid simmer, cover, and cook. Simmer for 20-25 minutes, checking every 10 minutes or so, and giving the pan a swirl to coat the carrots, or until the carrots are tender enough to be easily pierced with a paring knife.
Once the carrots are tender, remove the lid, add the pomegranate molasses, swirl to coat, and continue to rapidly simmer (medium-low heat) until the liquid has evaporated and the carrots are caramelized on their bottoms, 30-35 minutes. Every so often during this process, swirl the pot to coat the carrots and rearrange the carrots as necessary to keep them in even contact with the pan.
Plate the dish: Serve the carrots hot or at room temperature. When ready to eat, arrange the carrots on a platter, top with the chickpeas, feta, scallions, cilantro, and a good sprinkling of aleppo pepper.
Notes
Peeling the chickpeas may seem fussy, and maybe even not worth it, but it really does make a difference in terms of how crisp the chickpeas get. I highly recommend you do it, but also, if you don't have time, the chickpeas will still turn out tasty, just less crisp.
Pomegranate molasses
and
aleppo pepper flakes
can sometimes be found in the international aisle of supermarkets; if you don't see them there, try online, or in a specialty store like Manhattan's
Kalustyan's
or San Francisco's
Bi-Rite Market
. If you don't want to buy aleppo pepper flakes, use about half the amount of regular red pepper flakes (aleppo pepper flakes are sweeter and milder).
---
Prepare to be inspired by my wonderful #24carrotgoals collaborators:
Square Meal Round Table's Rainbow Carrot and Ricotta Tart
The Cooking of Joy's Candied Carrot Rose Tart
Figs and Flour's Thai Peanut Pizza
Jo Harrington's Carrot, Rhubarb, and Blood Orange Pie
Better With Biscuits' Carrot Soufflé
This Healthy Table's Beet and Carrot Galette
Always Eat Dessert's Carrot Cake Squares With Orange Glaze
What Annie's Eating's Roasted Carrots With Carrot Top/Herby Salsa Verde
Fufu's Kitchen's Baked Carrot Fries Drizzled With Tahini
Hola Jalapeño's Roasted Carrots With Chipotle Honey Butter
A Worthy Pause's Paleo Thai Curry Carrot Soup
Battered 'n' Baked's Baked Carrot Cake Donuts
Anna Jitlin's Carrot Muffins With Persimmon Topping
Lemon Thyme and Ginger's Sweet 'n' Spicy Herbed Carrots
Something New For Dinner's Minted Sous Vide Carrots With Balsamic Vinegar and Goat Cheese
What Great Grandma Ate's Paleo Carrot Mug Cake
Rezel Kealoha's Turkish Carrot-Yogurt Dip
​Cosette's Kitchen's Sumac, Carrot, and Feta Salad
More Icing Than Cake's Spiced Quinoa and Roasted Carrot Salad
Measuring Cups Optional's Carrot Curry Soup
Hot Dishing It Out's Vegan Carrot Whoopie Pies
Bee and the Baker's Glazed Carrot Rosette Tart With Honey Ginger Mascarpone
Katie Bird Bakes' Carrot Cake Scones
Jessie Sheehan Bakes' Chocolate Carrot Loaf Cake With Cinnamon Cream Cheese Whipped Cream
Marianne Cooks' Carrot-Zucchini Mini Muffins
Baking the Good's Roasted Carrot and Herby Feta Galette
Laurel Street Kitchen's Heirloom Carrots With Hummus
Confetti Kitchen's Harissa Roasted Carrots With Lentils and Yogurt
Prickly Fresh's Carrot Cake Blondies With Cream Cheese Frosting
Forty-Nine Figs' Butterfly Garden Pie
​Loko Kitchen's Miso White Carrot Pie With Black Sesame Crust
Butter Loves Company's Iced Carrot Cake Cookies
Champagne and Cookies' Rainbow Carrot and Cauliflower Crumble With Za'atar and Herbed Feta
Easy and Delish's Carrot Spaghetti With Prosciutto and Goat Cheese
Suburban Pie and Treat's Carrot Pineapple Raisin Pie
Catgrammer's Triple-Ginger Carrot Cake With Cream Cheese Frosting
Le Petit Eats' Carrot Cake Breakfast Bars With Maple Coconut Icing
​Dukkah Queen's Roasted, Raw, and Pickled Carrot Salad
Amanda Skrip's Rainbow Roasted Carrots With Citrus, Fennel and Arugula
Flotte Lotte's Carrot Apple Pie
Cook Til Delicious' Carrot Cake For 2
Smart in the Kitchen's Red Curry Carrot Ginger Soup
Candace Nelson's Vegan Carrot Birthday Cake
Farm and Coast Cookery's Carrot and Herbed Ricotta Phyllo Tart
Pie Girl Bakes' Five Spice Carrot Bundt Cakes With Bourbon Cream Cheese Glaze
Zestful Kitchen's Moroccan Stuffed Portobellos
Mom's Kitchen Handbook's Reset Button Salad With Carrot Ginger Miso Dressing
What's Karen Cooking's Spiced Cornbread With Carrots, Pecans, and Chili Butter
Diane Morrisey's Harissa and Maple Roasted Carrots
Rumbly In My Tumbly's Chai Carrot Pie
Sweet Pillar Food's Carrot Salad With Tahini-Honey Dressing
Pies and Prejudice's Carrot Pie With Maple and Cardamom
Feed The Swimmer's Air-Fried Rainbow Carrot Chips With Tzatziki
Plum Lucky, Pie P.I.'s Roasted Carrot and Sweet Potato Pot Pie
​Smoothies and Sundaes' Carrot Cake Sourdough
Blossom to Stem's Caramelized Carrots With Fennel, Ricotta, and Walnuts
Kate Aliberti's Hop Scotch Pie
​My Recipe Addiction's Morning Glory Muffins
The Dirty Whisk's Carrot and Herbed Ricotta Tart
Food By Mars' Paleo Carrot Walnut Loaf Cake
The Olive and Mango's Carrot Cake Roll
​Easy Gourmet Living's Smoked Salmon and Spicy Rainbow Carrot Noodles
Seed and Mills' Carrot Cake With Tahini Caramel Frosting
It's a Veg World After All's Zesty Sunflower Carrot Spirals
Chef Daniela Gerson's Roasted Carrot and Lemony Quinoa Salad
Lady and Larder's Carrot Crudité Board With Za'atar Hummus
Cocoa & Salt's Classic Carrot Cake
Weeknight Bite's Garlic Roasted Rainbow Carrots
Jill Salama's Carrot Latkes With Cranberry Sauce