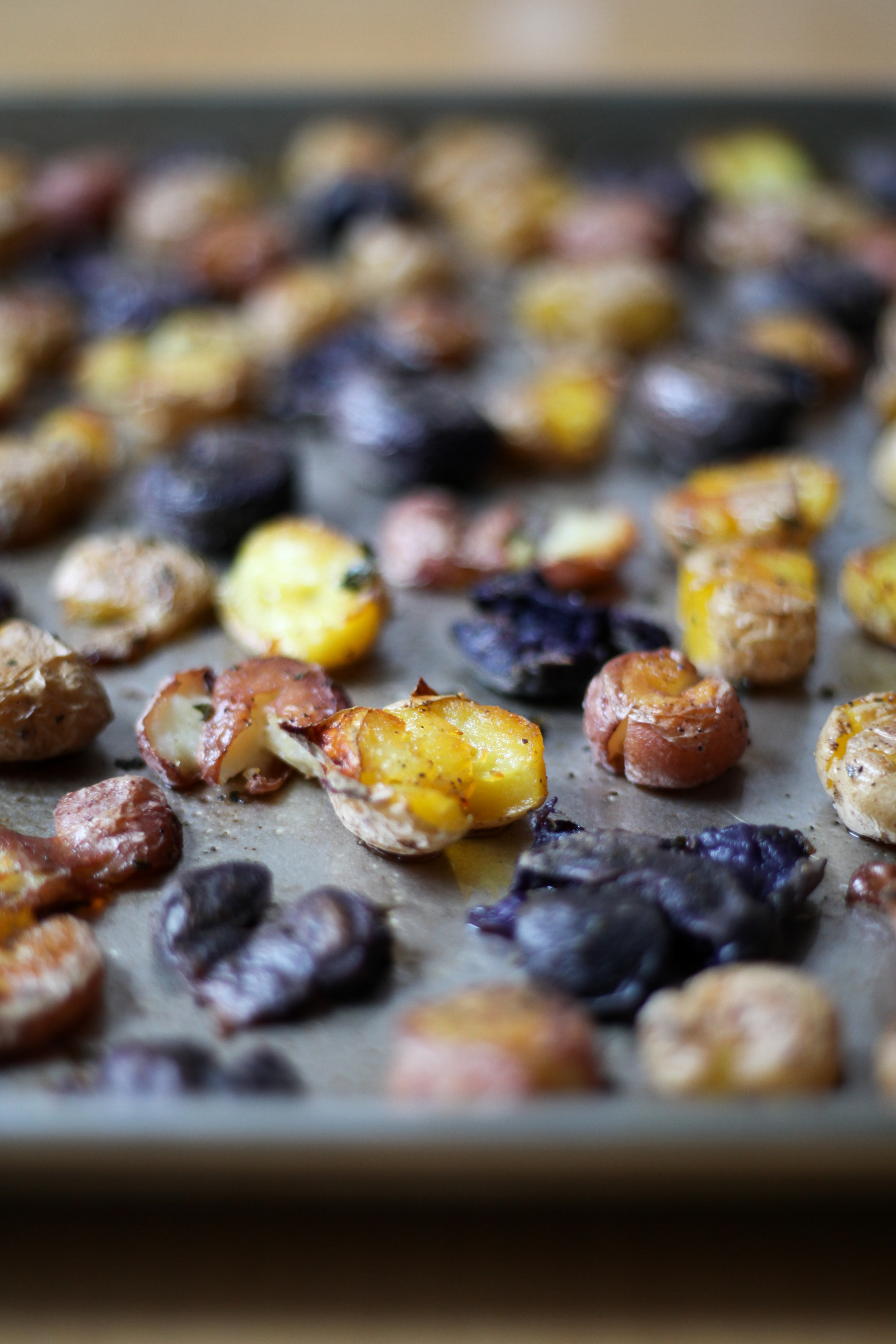 French fries are tempting, but I'll take a side of duck fat and thyme smashed potatoes over a pile of fries nine times out of 10. (That 10-percent: duck fat fries or shoestring potatoes.) When earthy duck fat meets crisp potato, magic happens. Add a generous dose of freshly-ground pepper and minced thyme — both classic potato pairings — and it doesn't get much better.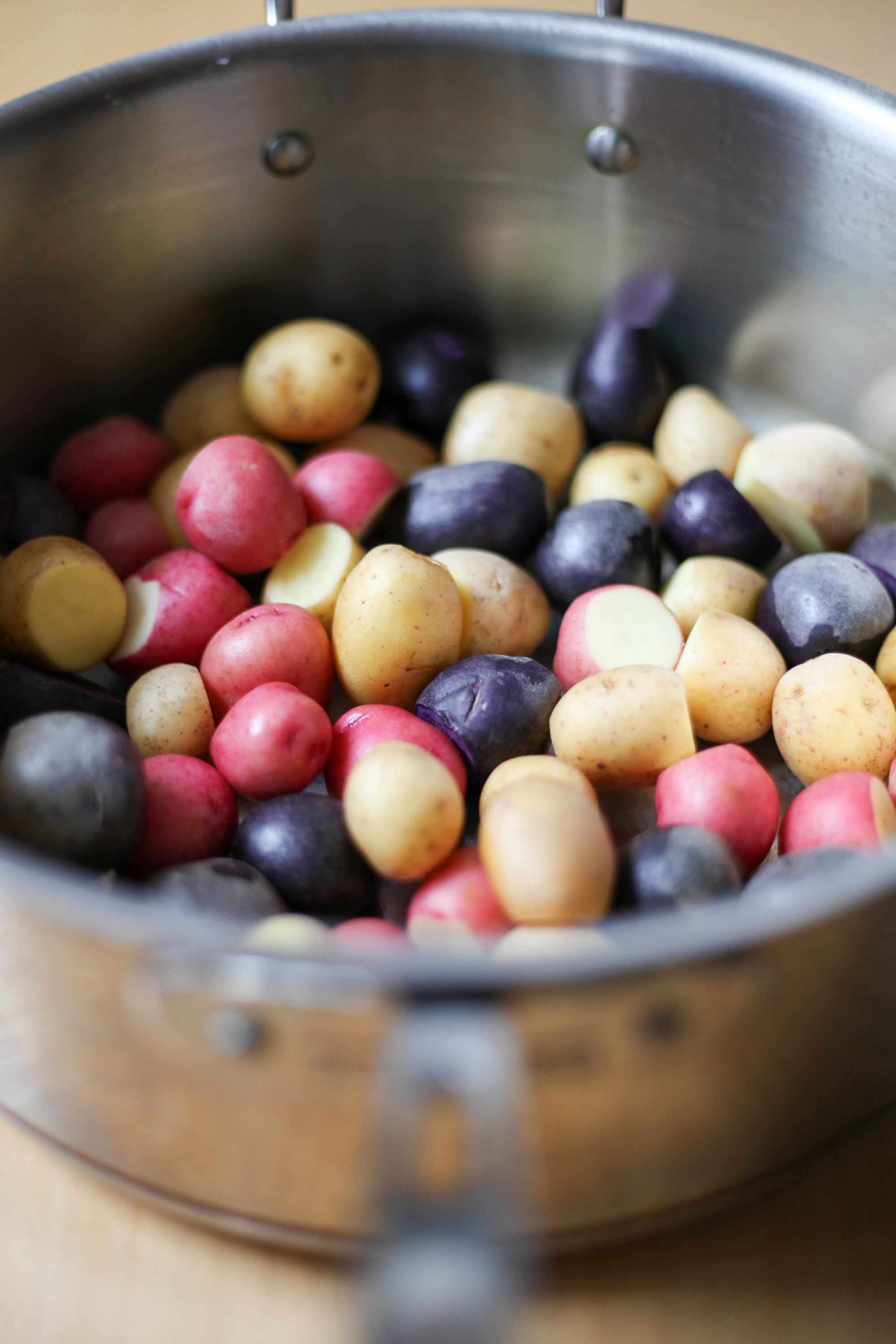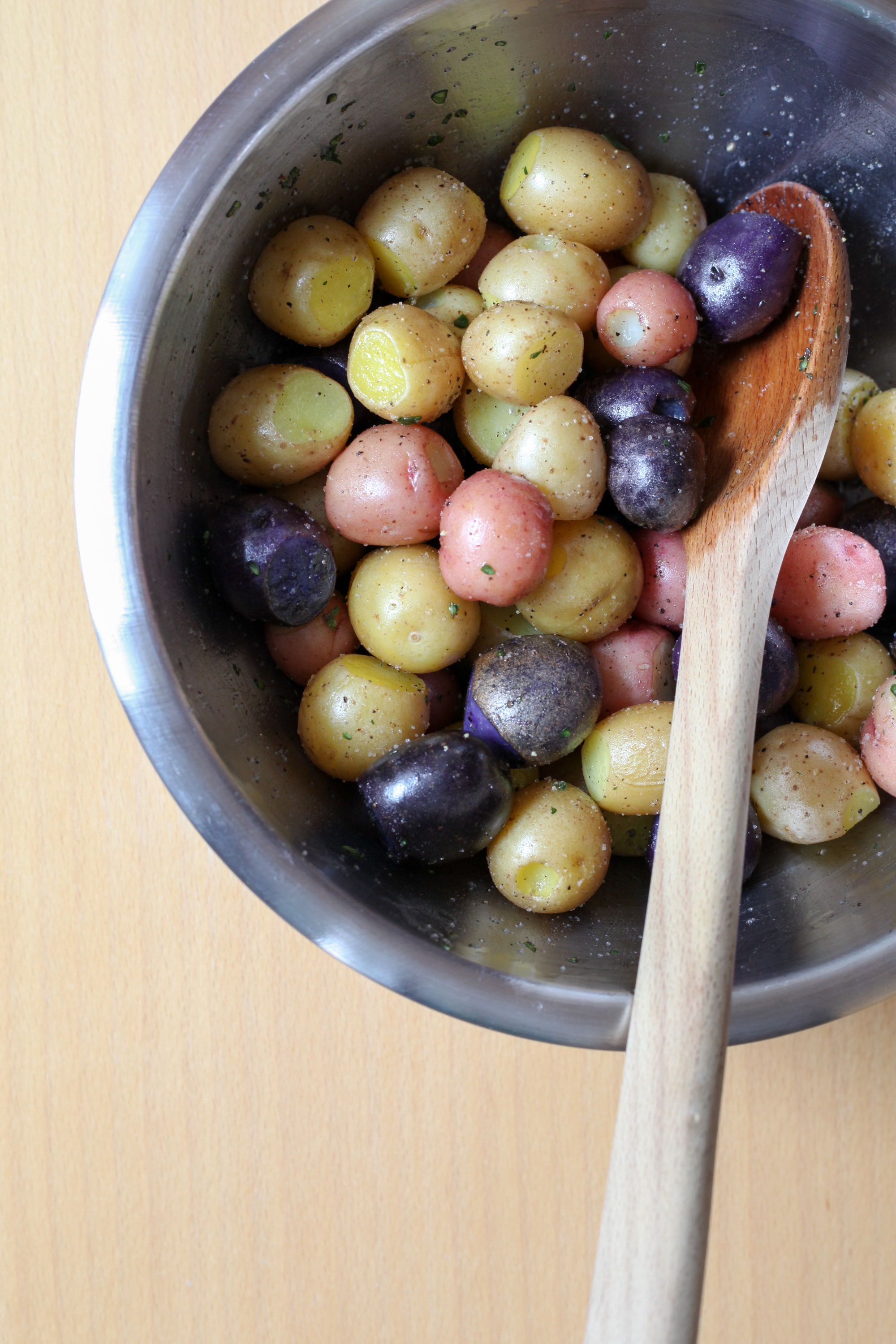 Even if you'd rather pass on roasting spuds in duck fat — maybe you're a vegetarian, or don't want to bother with sourcing it — this recipe holds value. Cooking fat aside, the technique of par-boiling the potatoes, smashing, and then roasting them in a hot oven yields ridiculously-good roast potatoes. Near-meltingly-tender in the center (from the par-boiling) with a crisp golden-brown exterior (from the increased surface volume to area ratio created by smashing), this technique is my go-to way to cook potatoes, duck fat or no.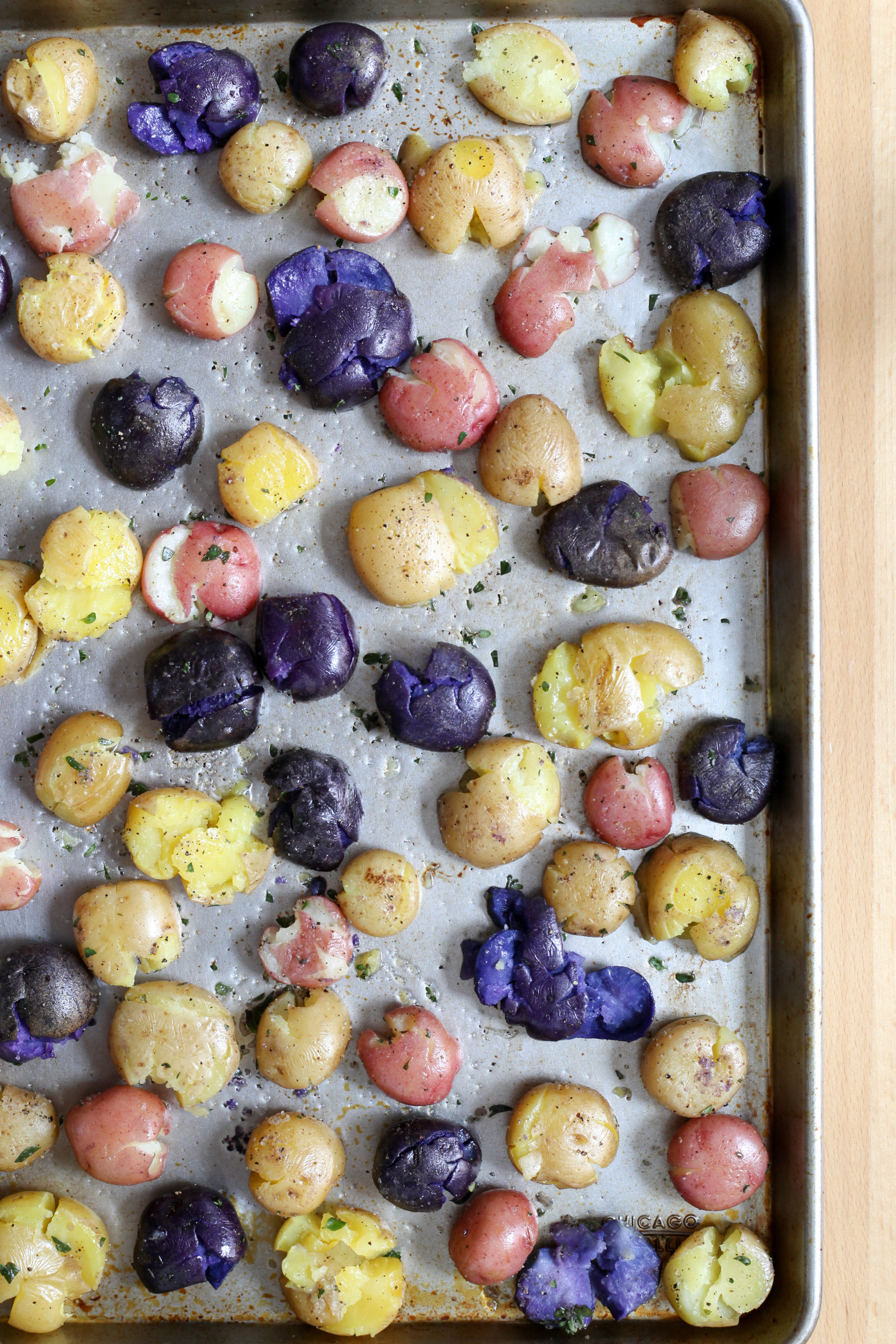 Plus, unlike french fries, which have a short half-life, this side only somewhat depreciates in quality as it cools down. Reheated, leftovers are nearly as good the next day. (That is, if you have leftovers.)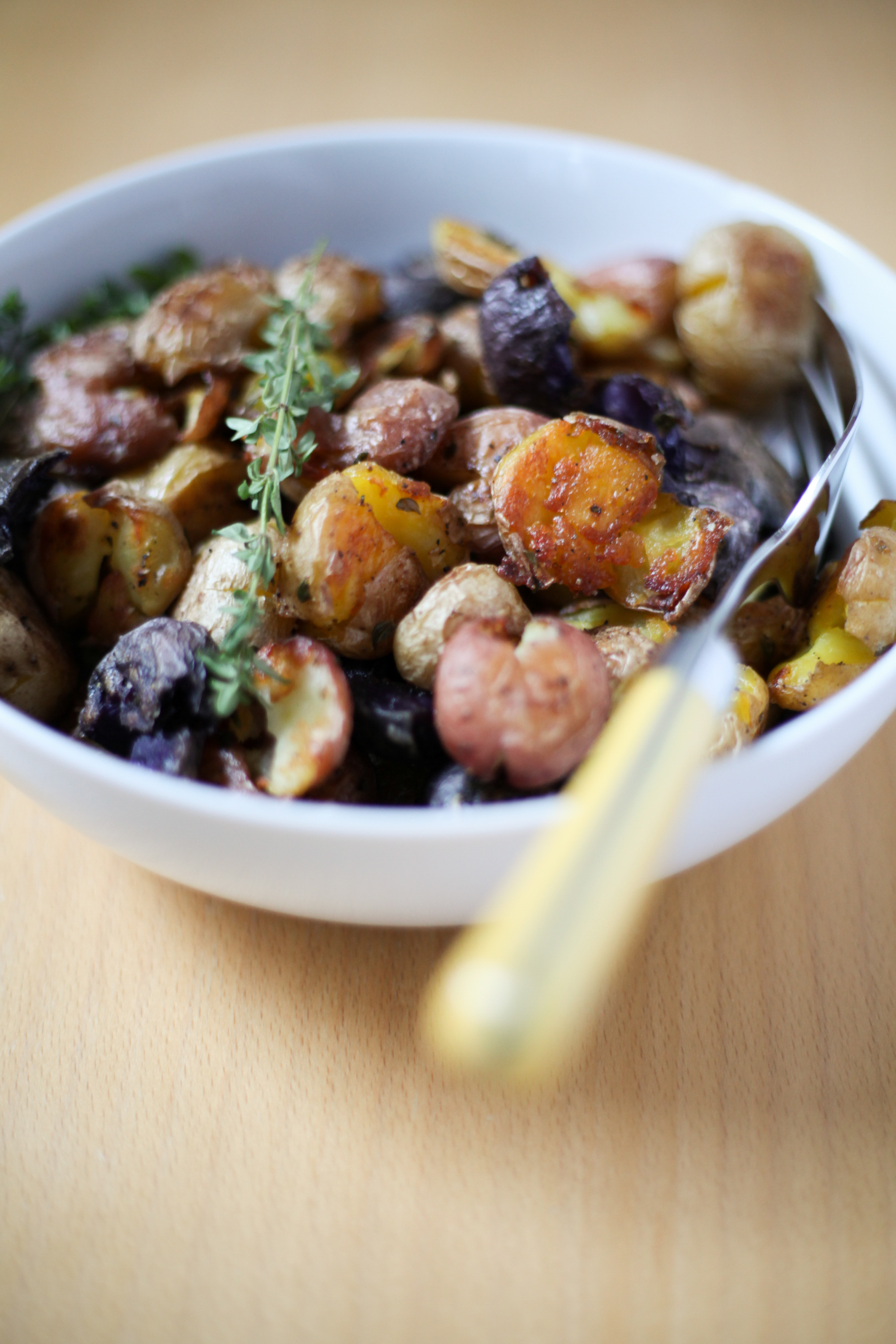 Duck Fat Smashed Potatoes
Ingredients
2 pounds mini potatoes, scrubbed
1 tablespoon plus 1 1/4 teaspoons kosher salt
3 tablespoons duck fat, at room temperature
1 teaspoon minced thyme, plus a few sprigs for garnish
1/2 teaspoon freshly ground black pepper
Instructions
Preheat the oven to 425°F.
Add the potatoes to a pot with 1 tablespoon salt; cover with about 1 inch of water. Bring to a boil, reduce heat to low to maintain a simmer, and simmer for about 5 minutes, or until easily pierced with a paring knife, but the center is still firm.
Whisk together the remaining 1 1/4 teaspoons kosher salt, duck fat, thyme, and black pepper in a large mixing bowl.
Thoroughly drain the potatoes and then toss with the duck fat and seasonings.
Add the potatoes to a half-sheet pan and gently smash using the flat side of a bench scraper or a meat pounder. Roast for about 25 minutes, or until the bottoms are brown. Flip the potatoes and cook for another 15 to 20 minutes, or until deeply browned and crisp-edged.
Notes
Small Yukon Gold potatoes can be substituted (quarter them before boiling), but won't keep their shape quite as well when smashed as mini potatoes will. Look for duck fat at butcher shops or specialty grocers (it's often sold frozen) or
source it online
. To make this recipe vegetarian, substitute a high-heat-tolerant oil like peanut or rice bran oil.