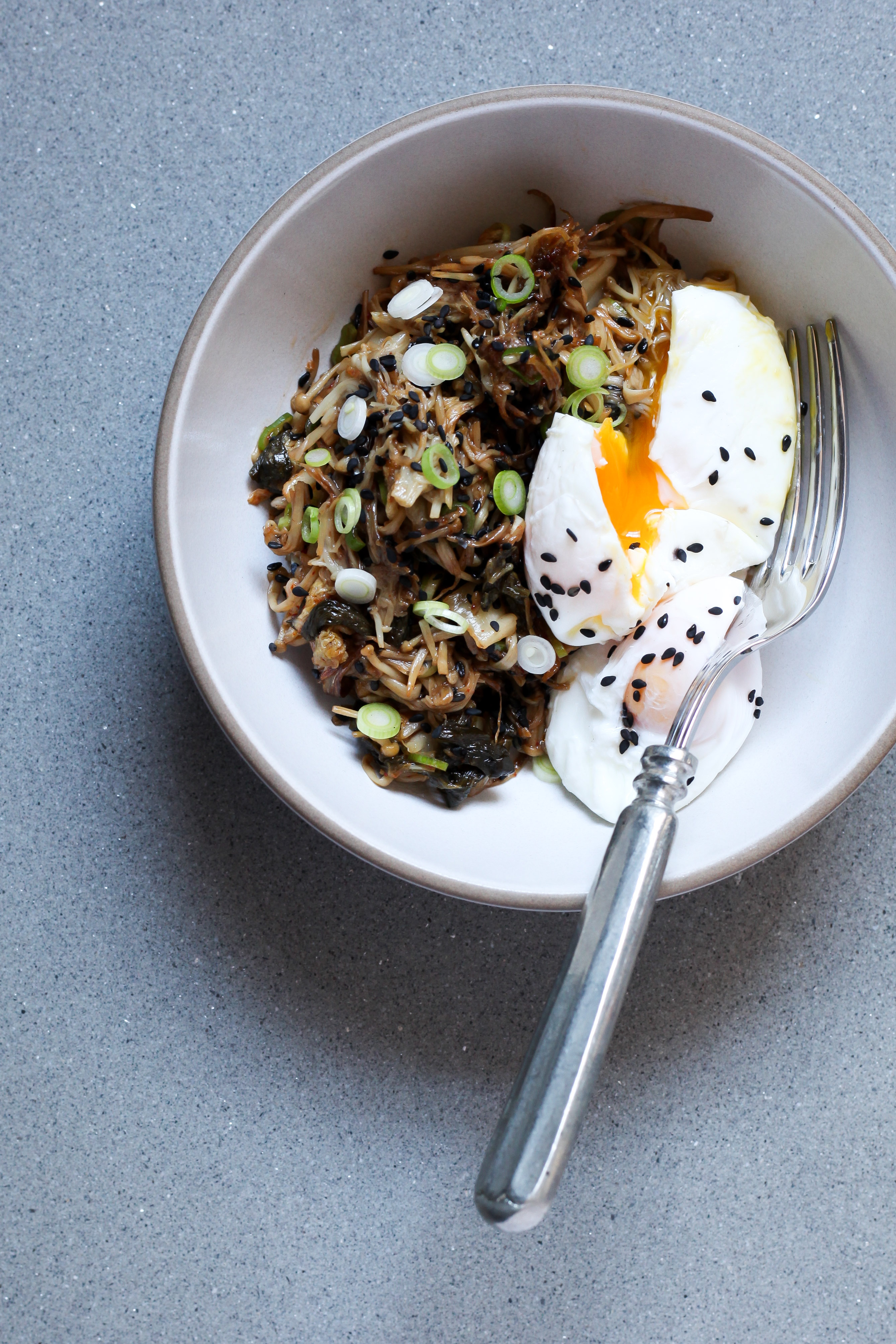 Like a good Californian, I have a major soft spot for bowl food, especially in the form of vegetables topped with a runny-yolked poached egg. This particular combination of enoki mushrooms, kimchi, scallions, and sesame seeds is my latest fixation, as it's super-flavorful, fast to fix, packs in the probiotics, and it feels at home any time of day (provided you're down with eggs for dinner).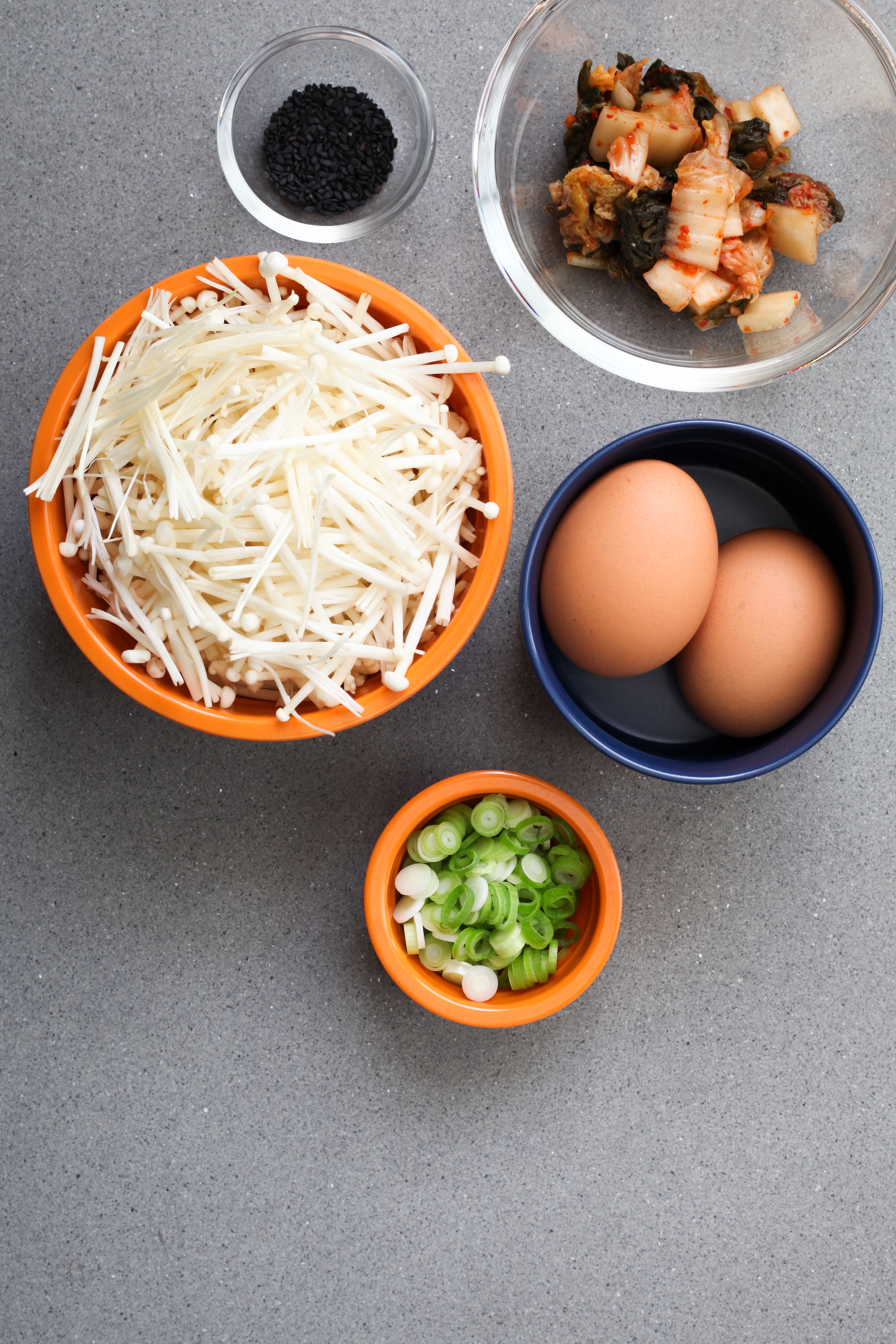 If you've ever had shabu-shabu or Chinese hot pot, you've likely eaten enoki mushrooms; they're those skinny white mushrooms. While milder and less-flashy than some mushrooms, they're one of my favorites for a number of reasons. They require almost no prep, are quick to cook, and are much less expensive than most mushrooms (this package was about a dollar fifty), plus, through some packaging wizardry, they stay fresh for as long as a week. Whenever I shop at an Asian supermarket, I pick up a package or two.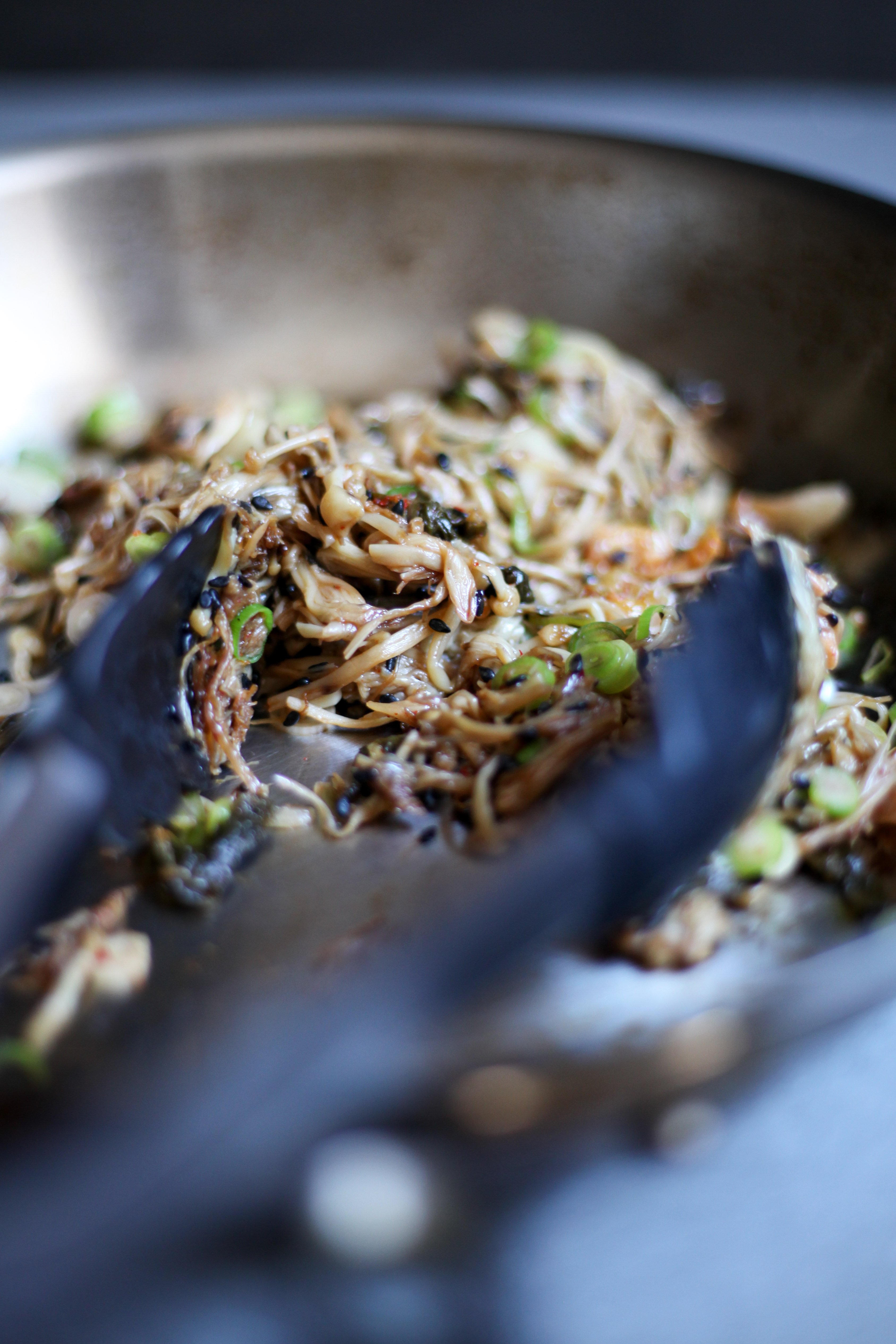 The other star of this bowl, kimchi, adds heat, tang, and a probiotic punch. I try to eat at least a serving or two of probiotic foods like kimchi, sauerkraut, kefir, and yogurt every day, not only for the associated health benefits, but also because they're a fast way to add intense, interesting flavor. Do follow the instructions, adding the kimchi off the heat, so as to preserve the probiotic properties (heat kills off the beneficial bacteria), but don't stress over it; either way it'll be tasty.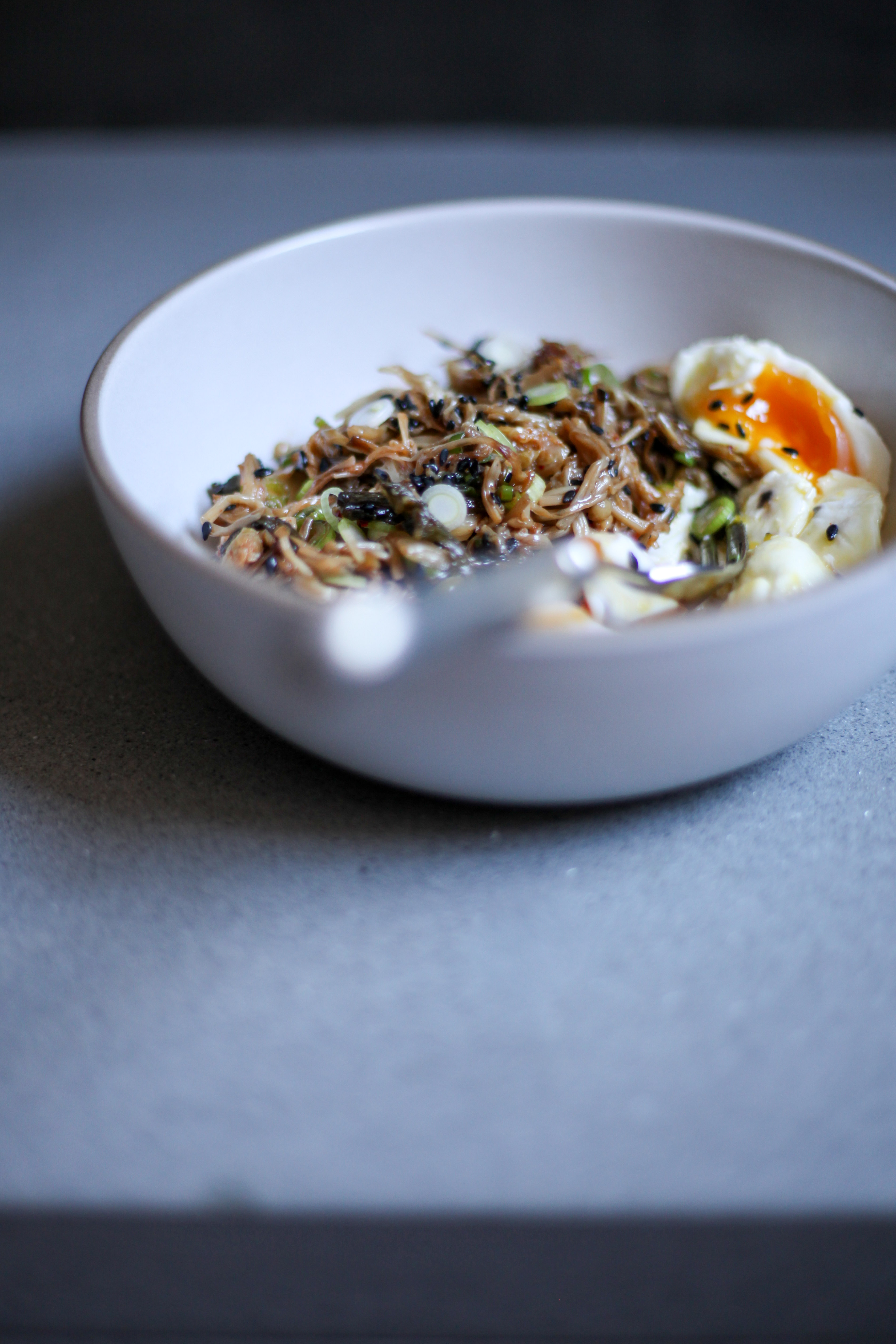 Enoki Mushroom and Kimchi Bowl With Poached Eggs
Ingredients
1 tablespoon white vinegar
2 large eggs
1 teaspoon high-smoke-point oil, such as rice bran or sunflower
1 package enoki mushrooms, cut in half length-wise
1 teaspoon soy sauce, plus more to taste
1/4 cup kimchi, roughly chopped
2 scallions, thinly sliced
1 teaspoon toasted sesame seeds
Instructions
Bring a large pot of water to boil; reduce the heat to a simmer. Add the white vinegar to the water, and poach the eggs; gently set the cooked eggs aside on a paper-towel-lined plate. Reserve the poaching water; keep it at a simmer.
Heat the oil in a large skillet over medium-high heat until shimmering, but not smoking. Add the mushrooms and cook, stirring occasionally, until slumped and golden brown, about 5 minutes. Off the heat, add the soy sauce, kimchi, scallions, and sesame seeds. Toss together and adjust to taste with more soy sauce, if needed (this will depend on how salty your kimchi and soy sauce are).
Transfer to a bowl, and top with the poached eggs (reheat briefly in the water they were poached in, if necessary).
Notes
Be sure to have all of your ingredients prepped before starting to cook as it goes fast. If you're new to poaching eggs,
these tips will help you nail it
. To make gluten-free, substitute gluten-free tamari for soy sauce. To make vegetarian, use vegetarian kimchi.