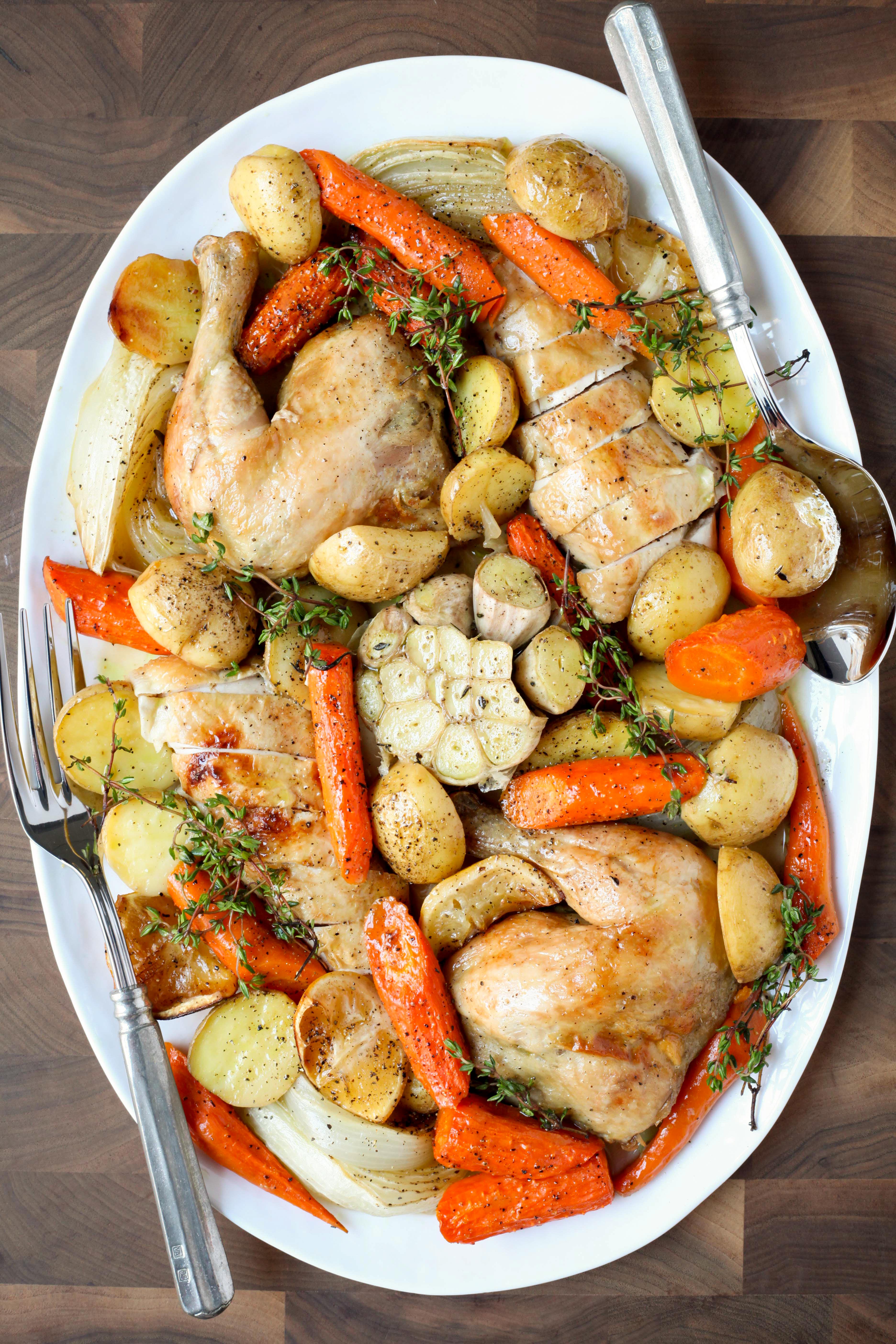 What do roasting a chicken, poaching eggs, and cooking a perfectly medium-rare steak have in common? All three are culinary techniques that have a reputation for being far trickier than they actually are; in fact, with a bit of guidance, they're all quite beginner-friendly. Here, I'm breaking down my basic, but really good, take on roast chicken.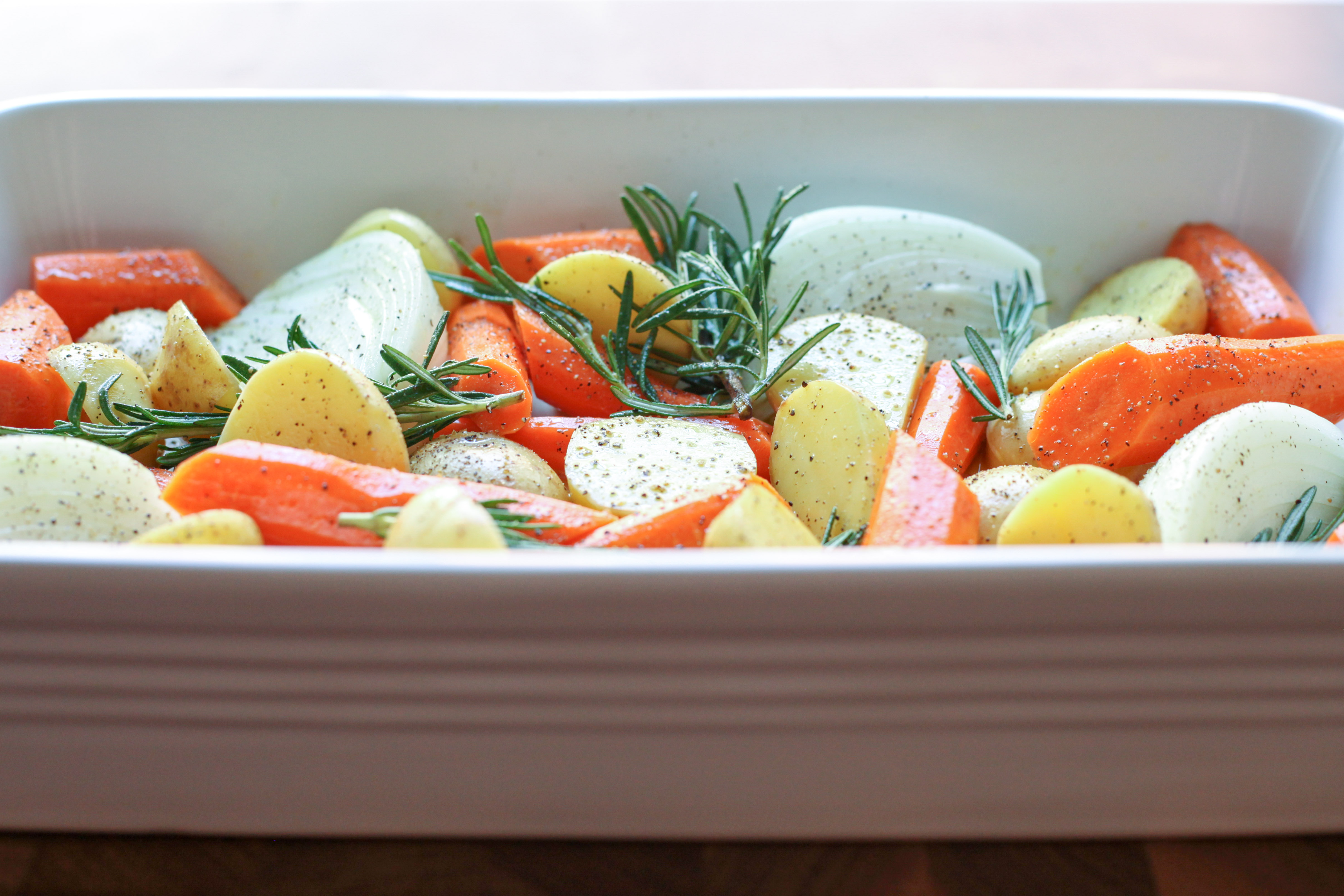 The formula is simple: generously salt a chicken, stuff its cavity with some aromatics (in this case, herbs and garlic), and roast at high heat until juicy and crisp-skinned.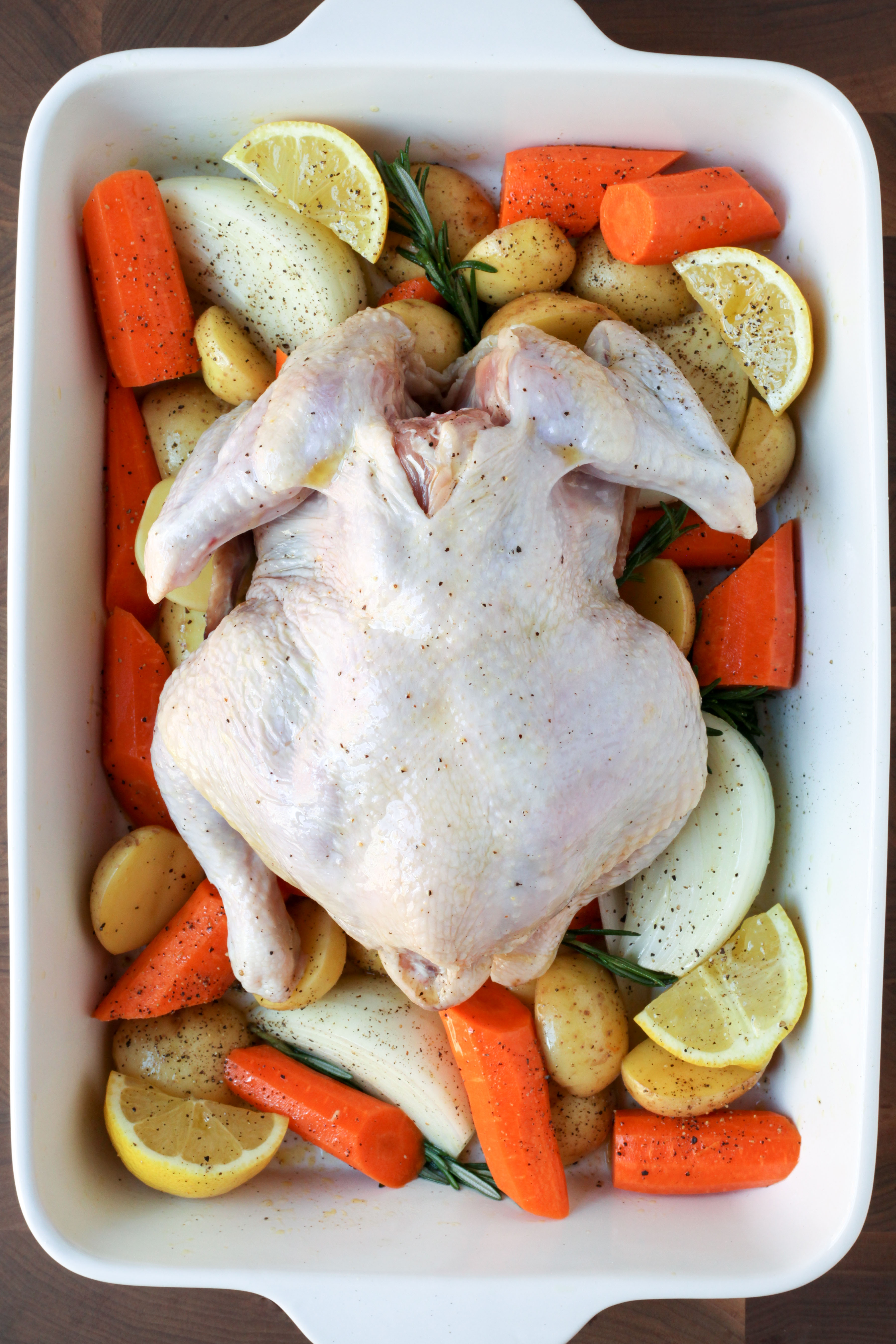 The details are where the magic happens. First, let's start with the chicken itself: When roasting a whole bird (versus breasts, thighs, or wings), I aim to season it at least an hour ahead of time, so that the salt has time to permeate the meat. If I manage to think a day ahead (a rare occurrence), I'll take a cue from Zuni Café and salt the chicken, put it on a rimmed sheet pan that's lined with a wire cooling rack, and refrigerate it, uncovered, for a day or two (up to three days). This yields superlative results: extra-crisp skin and perfectly-seasoned, juicy meat, but it also requires a fair amount of forethought and fridge space, so it's only a sometimes step for me. Either way, it's crucial to be generous with the salt. If I'm not employing the Zuni technique of seasoning a day ahead of time, I use my fingertips to gently loosen the skin from the breast and thighs, and rub some salt directly on the meat (under the skin), so that it gets a head start. (If this skip is stepped, you'll end up with salty skin and under-seasoned meat, as an hour isn't long enough for the salt to be evenly absorbed without some help.)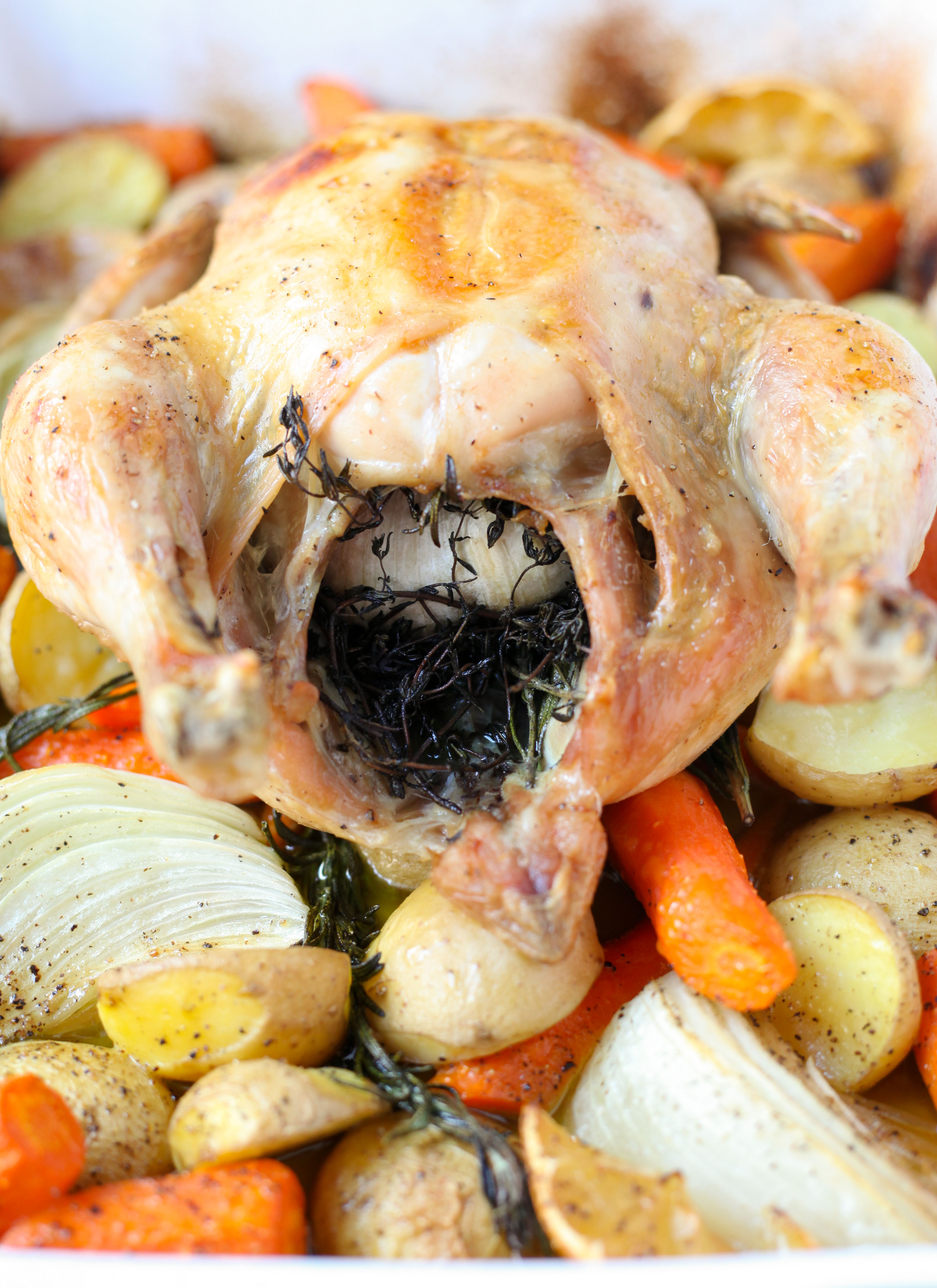 If super-crisp skin is what I'm after, I'll roast the chicken on a v-rack in a roasting pan, as that extra clearance from the pan promotes air circulation around the entire bird. In this case, I chose to roast the chicken on top of a bed of carrots, potatoes, onions, and lemons for a cozy one-pan meal. The vegetables catch all of the super-flavorful chicken drippings and braise-roast into an ideal side. The lemons not only perfume the kitchen as they roast, but also mellow and sweeten in flavor; I like to scrape their roasted flesh onto the chicken for a pop of flavor.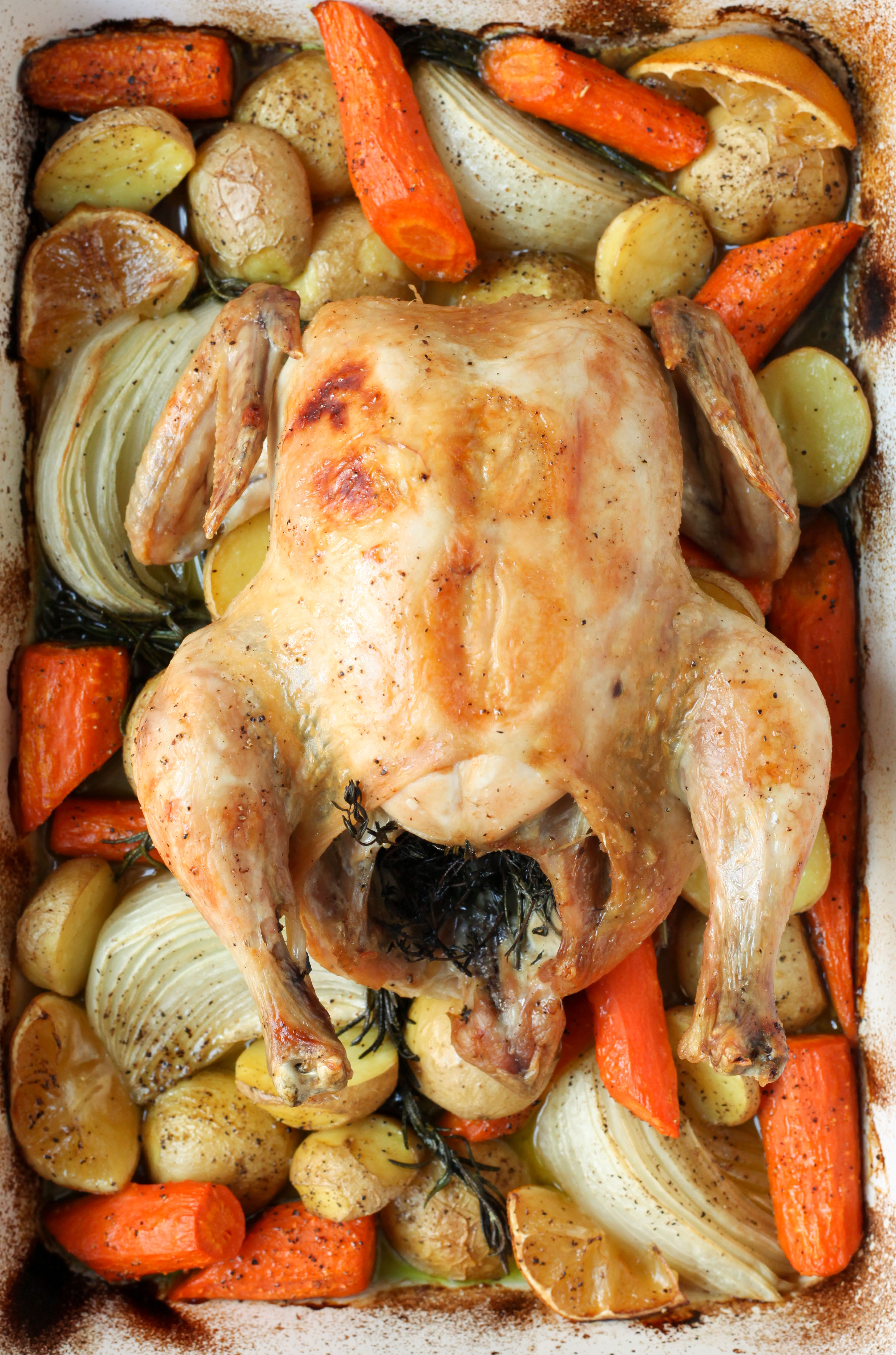 After the prep work is done, it's smooth sailing until it's time to carve the chicken, making it a great option for Sunday dinner or a mellow dinner party.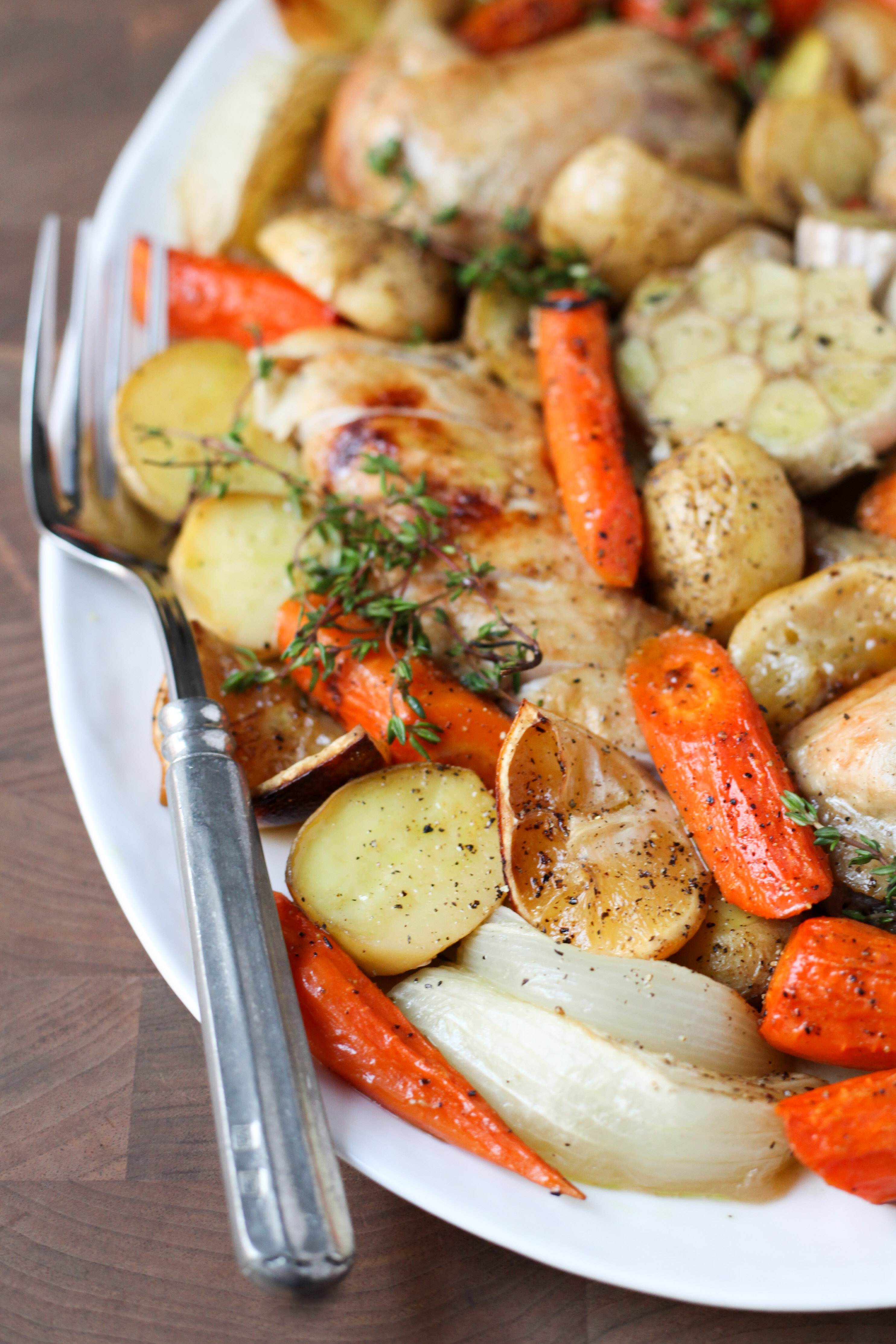 One-Pan Roast Chicken With Carrots and Potatoes
Ingredients
1 (3-5 pound) whole chicken
Kosher salt
1 bunch carrots (about 1 pound), scrubbed clean or peeled, cut into 2-3-inch lengths
1 pound small yukon gold potatoes, scrubbed clean and halved
1 large (about 1 pound) onion, cut into 8 wedges
1 lemon, quartered
3 tablespoons extra-virgin olive oil, divided
Freshly-cracked black pepper
1 head of garlic, cut in half
A few sprigs each of rosemary and thyme
Instructions
Preheat the oven to 425°F.
Remove the neck and giblets from the chicken's cavity. Reserve for another use (like chicken stock) or discard. Trim away excess skin and fat at the neck with kitchen shears. Remove any remaining feathers from the chicken with tweezers; pat it dry inside and out with paper towels. Using your fingertips, gently loosen the skin from the breasts and thighs and salt the meat under the skin. Generously salt the outside and the cavity of the chicken as well. Let the salt penetrate the meat at room temperature for about an hour before continuing with the recipe.
Add the carrots, potatoes, onion, and lemon to a large (4-quart) casserole dish. Season with 2 tablespoons olive oil, 1 teaspoon salt, and a generous amount of black pepper, stirring to evenly coat. Brush the chicken with the remaining tablespoon of olive oil and arrange breast-side-down on top of the vegetables. Stuff the chicken's cavity with the garlic and sprigs of rosemary and thyme.
Roast for 35-40 minutes or until golden brown. Flip, and roast breast-side-up for another 30-50 minutes or so, or until the juices run clear when you cut between a leg and thigh. (If you have a small chicken, start with the shorter cook times; large birds will need longer.)
Transfer the chicken to a cutting board and rest for 15 minutes before carving. If the vegetables aren't as tender as you'd like, roast them a bit longer as the chicken rests. If they're cooked to your liking, wait until you start carving the chicken before adding the pan back to the oven (this will ensure that the vegetables are hot, but aren't cooked much more).
Remove the garlic and herb sprigs from the cavity; discard the herb sprigs. Carve the chicken.
Arrange the vegetables, chicken, and garlic on a platter and garnish with additional fresh herb sprigs.
Notes
2 small yellow onions can be subbed for 1 large; peel and cut smaller onions into quarters. Same goes for potatoes: if your potatoes are larger, quarter, or cut them into medium chunks.
If you have time, I highly recommend salting the chicken ahead of time (anywhere from 1-3 days), refrigerating it uncovered during this period. I like to do this on a quarter-sheet pan with a wire or
silicone rack
set under the chicken for better air circulation. This technique,
inspired by Judy Rogers' Zuni Café Cookbook
is a dry brine, and will set you up for a super-flavorful, succulent chicken with crisp skin (storing it uncovered helps reduce moisture which allows for better browning).