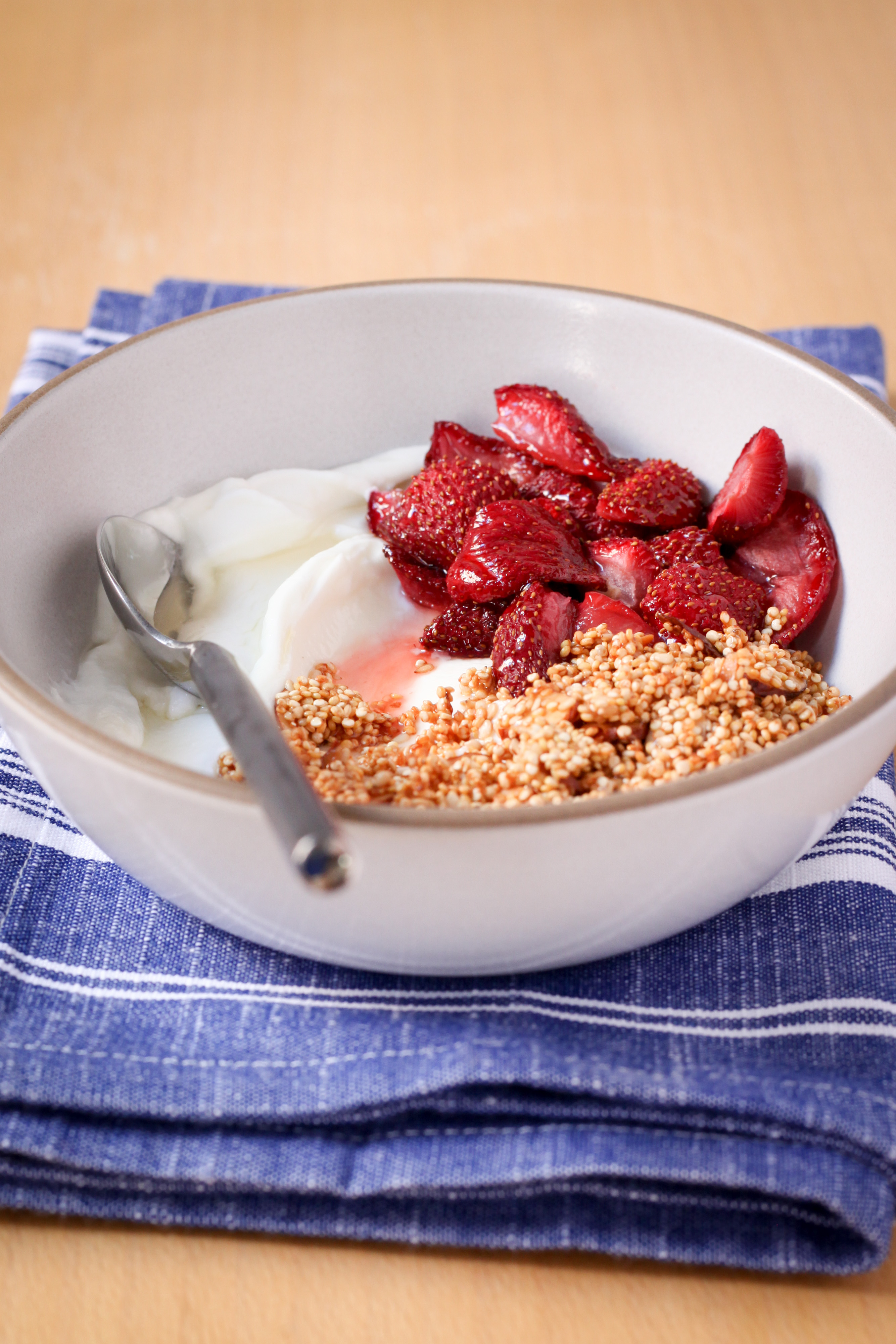 Right now the market is flooded with inexpensive strawberries, but that doesn't mean they're at the peak of their season. They may be plump, juicy, and bright red, but the flavor just isn't quite there. Though I knew better, when I saw huge, two-pound containers of berries going for six dollars a pop, I gave in and brought some home with me.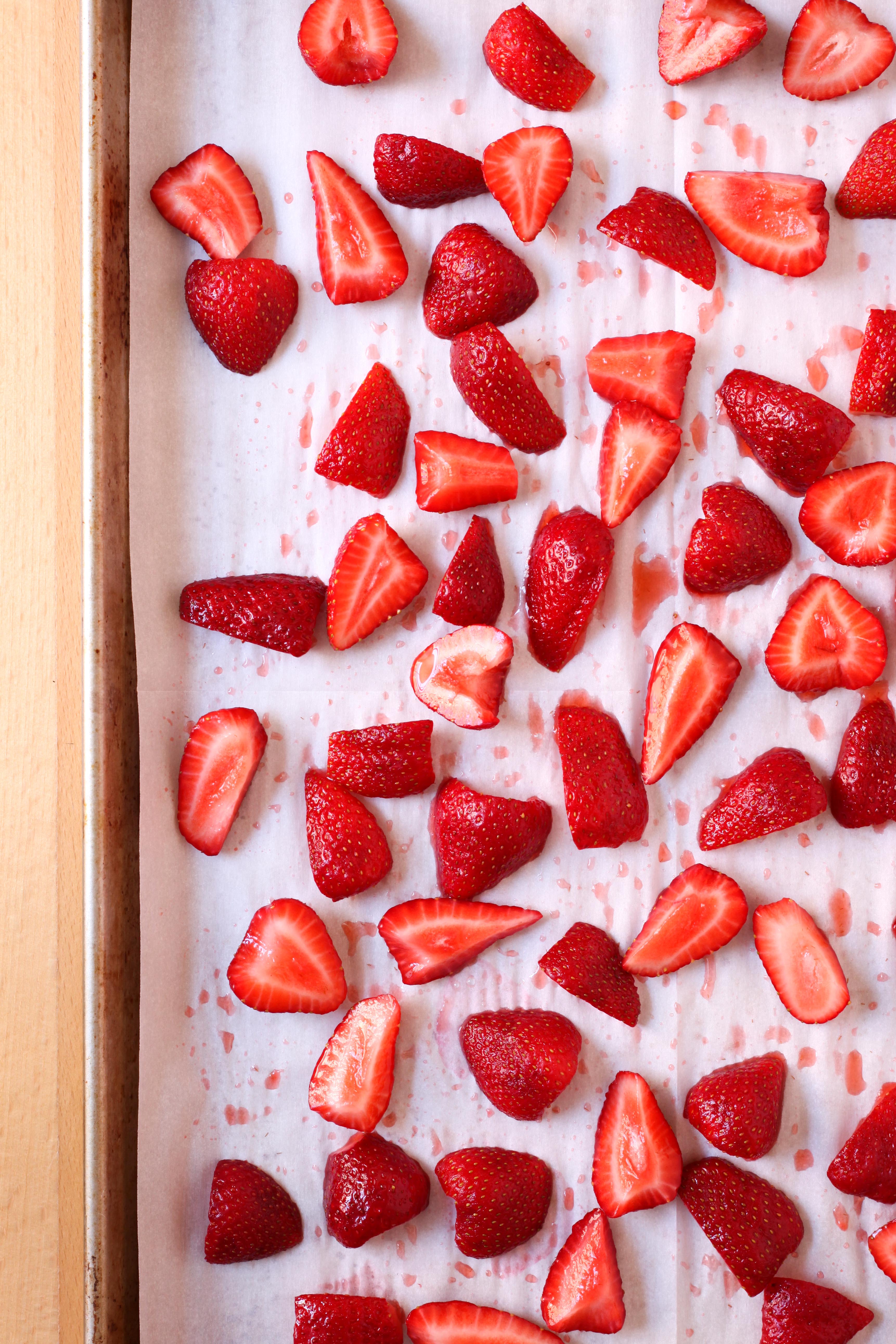 Predictably, they were just OK; better than their cottony winter counterparts, but not very appealing on their own. So, I did what I typically do with so-so fruit: I cooked the berries down until concentrated, tender, and sweet. (A drizzle of honey and a pinch of salt helped things along, as they tend to do.)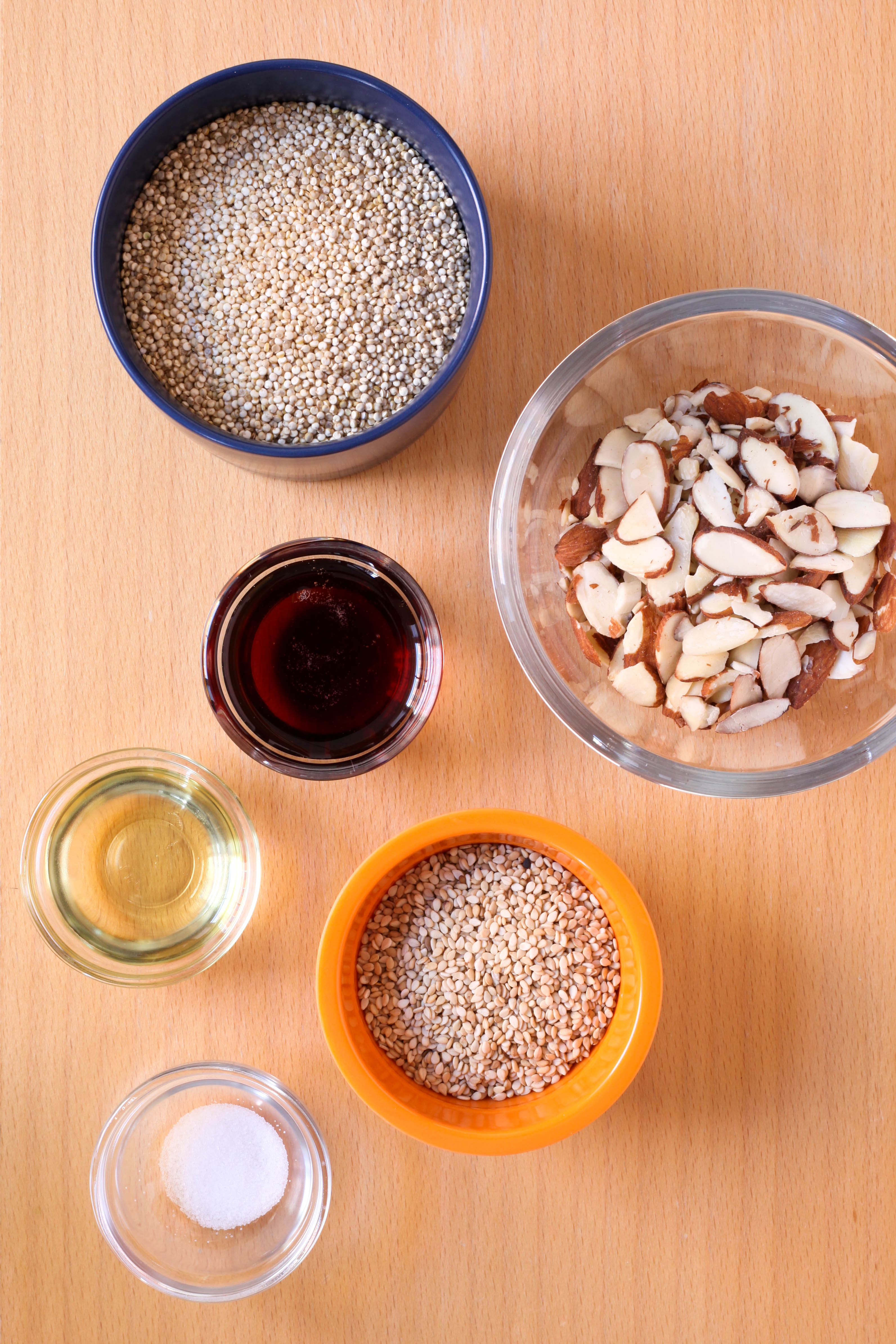 Paired with my latest breakfast love — a crisp and rubbly quinoa-based granola of sorts — these jammy berries make for an excellent yogurt topper. The crispy quinoa comes from a killer book, Megan Gordon's Whole Grain Mornings, which I'd highly recommend to anyone who prefers to start with muesli, porridge, and other fiber-rich carby breakfasts. In Gordon's recipe, uncooked quinoa, sesame seeds, and sliced almonds are bound together with a bit of maple syrup and oil before being roasted until crisp and deep golden brown. When handled this way, quinoa acts like the seed that it is, and tastes like a milder sesame seed: ever-so-slightly bitter and nutty.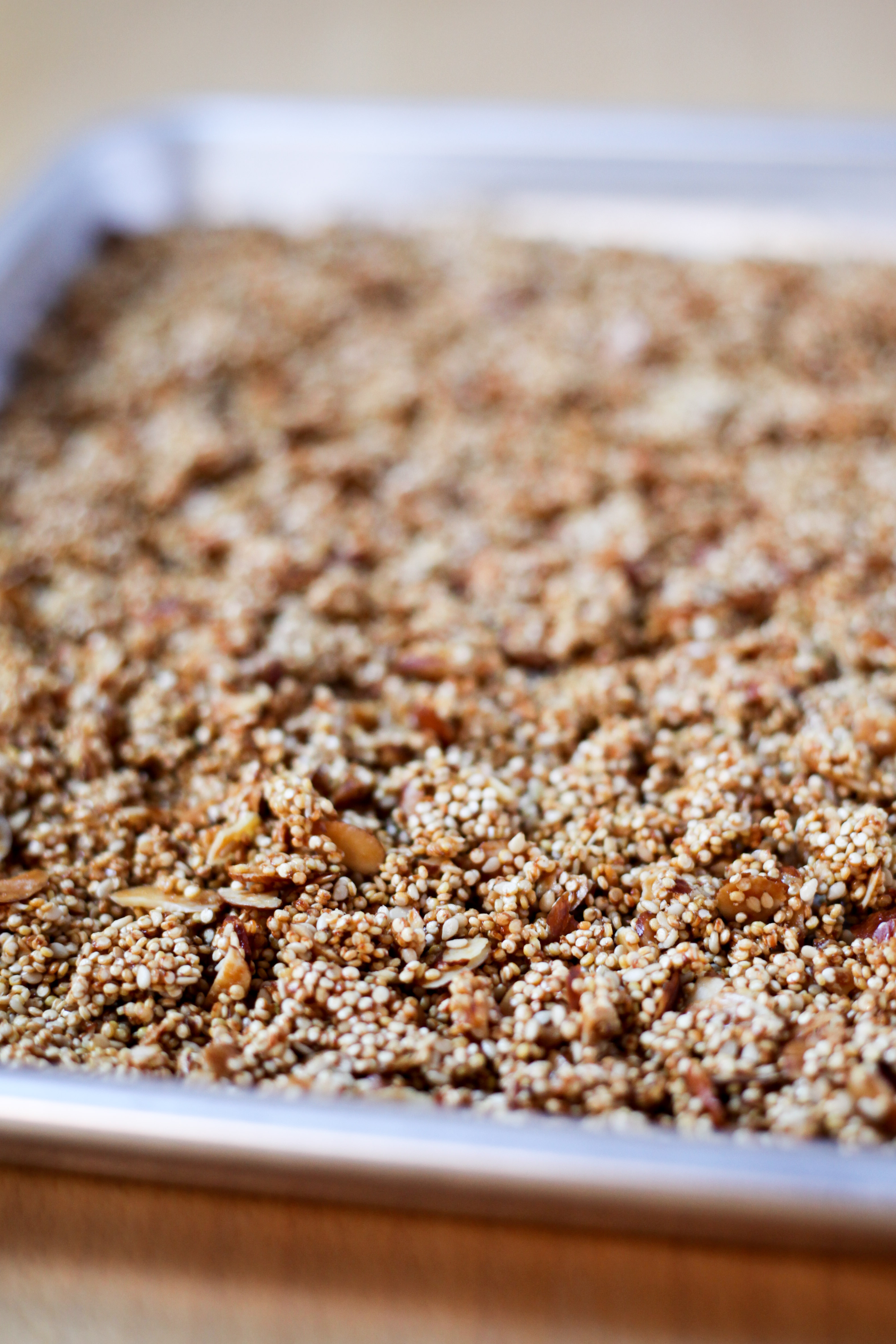 Folks that are fond of halvah, and other sesame-based sweets will be especially keen on this granola stand-in. With big, crisp, slightly-sweet clusters, it's very snackable on its own (I had trouble stopping myself from gobbling it all up off the pan as it cooled) but really comes into its own when paired with something cool and creamy, like Greek yogurt, and the aforementioned roast berries.
P.S. In celebration of strawberry season, I joined up with many super-talented bloggers to highlight this spring market treat. If you're looking for more strawberry recipe inspiration, check out the hashtag #strawberriesarethejam on Instagram, or scroll past the recipe for links to everyone's creative creations, both savory and sweet.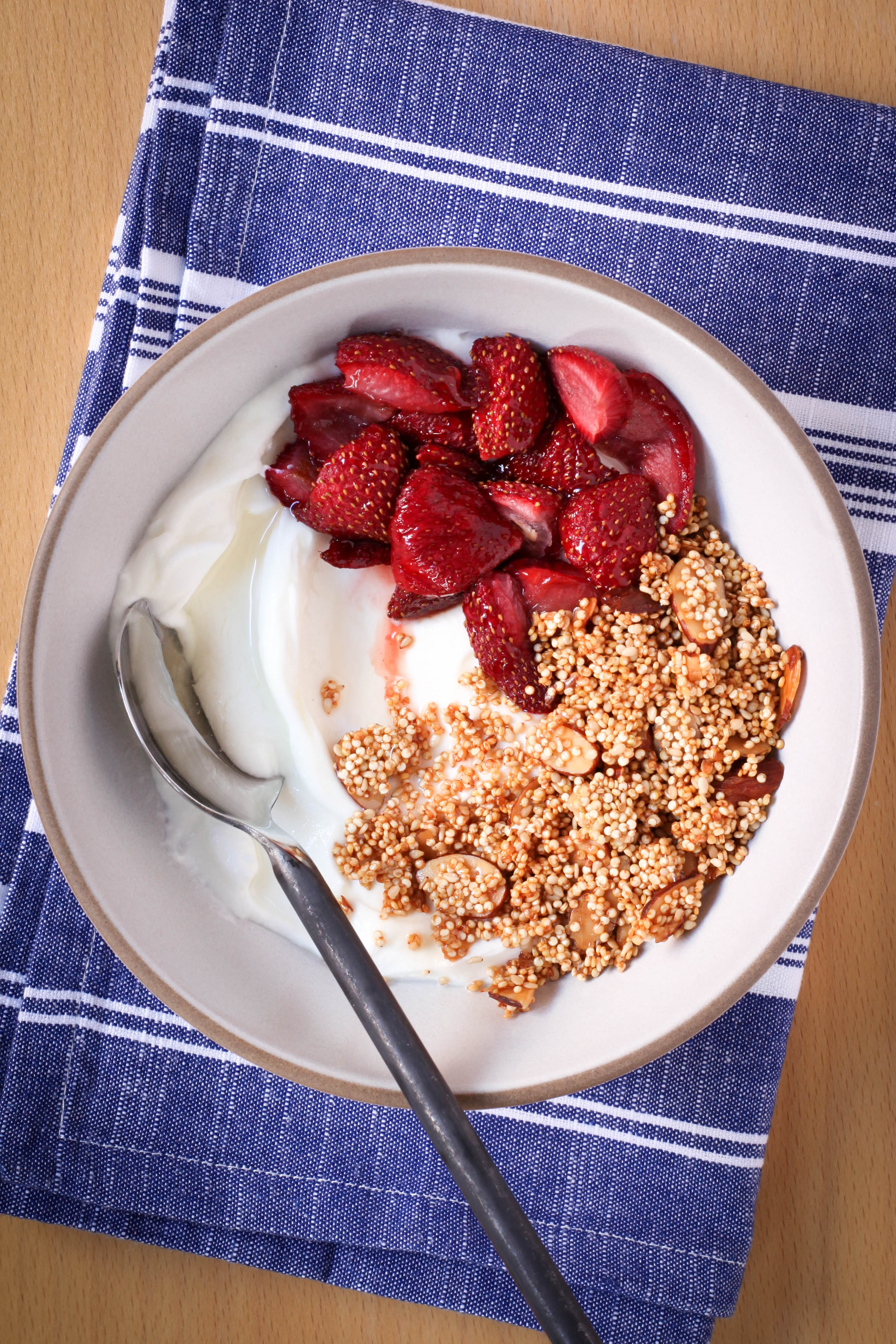 Greek Yogurt With Crispy Quinoa and Roasted Strawberries
Yield:
1 cup roasted stawberries and 1 1/2 cups crispy quinoa
Ingredients
For the strawberries:
16 ounces strawberries, hulled and halved or quartered, depending on size
1 tablespoon runny honey
A pinch of kosher salt


For the crunchy quinoa:
1 cup (6 1/2 ounces) uncooked sprouted quinoa
1/2 cup (1 3/4 ounces) raw sliced almonds
1/4 cup (1 1/4 ounces) raw sesame seeds
2 tablespoons maple syrup
1 tablespoon neutral oil, such as rice bran or sunflower
1/4 teaspoon kosher salt


For the yogurt bowl:
Greek yogurt
Roasted strawberries
Crunchy quinoa
Runny honey, for drizzling
Instructions
Roast the strawberries: Preheat your oven to 350°F. Line a half-sheet pan with parchment.
In a medium mixing bowl, gently toss together the strawberries, honey, and salt.
Spread out on the prepped sheet pan in one layer. Bake for about 40 minutes, or until the berries are deep-dark red, tender, and the juices have begun to thicken.
Make the crispy quinoa: Add the quinoa to a fine mesh strainer, rinse thoroughly and turn out onto a clean dish towel to dry.
Once the quinoa is dry, add to a medium mixing bowl along with the almonds, sesame seeds, maple syrup, oil, and salt. Stir to combine.
Spread out in one even layer on a quarter-sheet pan. Bake at 350°F for 25-30 minutes, or until deeply-golden and crisp. (Stir after 15 minutes, and every 5 minutes after, so as to ensure even browning, and also to keep an eye on things, as it will go from not-quite-toasted to burnt rapidly.)
For large clusters, cool completely on the pan before stirring. For a more pebbly texture, stir immediately after removing from the oven. Either way, some of the quinoa may stick to the pan; a flat-sided wooden spatula makes easy work of scraping it up.
Make a yogurt bowl: Spread some Greek yogurt in a bowl, top with roasted strawberries, crispy quinoa, and drizzle with honey.
Notes
Here (and really, in general), I highly recommend using
sprouted quinoa
, as it's easier to digest than quinoa that hasn't been sprouted. This is particularly advantageous for this recipe as the quinoa isn't cooked to the same degree as it is when boiled.
---
PREPARE TO BE INSPIRED BY MY WONDERFUL #STRAWBERRIESARETHEJAM COLLABORATORS:
Square Meal Round Table's Roasted Balsamic Strawberry Pavlova
The Cooking of Joy's Strawberry Matcha Cream Cheese Tart
This Healthy Table's Strawberry Tahini Shortcake
Flours in Your Hair's Strawberry Milk Donuts
The Wood and Spoon's Strawberry Icebox Pie
Smart in the Kitchen's Rustic Strawberry Galette
The Herb and Spoon's Strawberry-Jam Filled Brioche Donuts
Better With Biscuit's Strawberry Cobbler
My Kitchen Love's Strawberry Rhubarb Tart
Sift and Simmer's Rose Strawberry Hibiscus Mille Crepe Cake
What Great Grandma Ate's No-Bake Strawberry Cheesecake Bars (Paleo, Vegan)
Hola Jalapeno's Strawberry Pink Peppercorn Margarita
Worthy Pause's Strawberry-Basil Shrub Cocktail
Hot Dishing It Out's Panna Cotta With Strawberry Jelly
Figs & Flour's Shrimp Tacos With Strawberry Apricot Salsa
Pie Girl Bakes' Strawberry Ginger Pie
Crumb Top Baking's Strawberry Chia Jam Oat Bars
The Gourmandise School's Strawberry Pistachio Salad
Tiny Kitchen Caper's Strawberries and Cream Pound Cake
Cook Til Delicious' Mini Chocolate Cake With Strawberry Ganache
Something New For Dinner's Watermelon, Tomato, and Strawberry Salad With Burrata
A Spicy Perspective's Fresh Strawberry Yogurt Cake
Easy and Delish's Strawberry Brigadeiros
Plays Well With Butter's Strawberry Salad With Goat Cheese, Grilled Chicken, and Maple Balsamic Vinaigrette
Katherine in Brooklyn's Roasted Strawberry Balsamic Ice Cream
Sugar Salt Magic's Strawberry Mousse Tart
The Healthy Sins' Coconut Flour Crepes Topped With Fresh Strawberries and Coconut Yogurt
Lemon Thyme and Ginger's Strawberry Basil No-Churn Ice Cream
Jessie Sheehan Bakes' Strawberry Basil Turnovers
Bavette Meat & Provisions' Pickled Green Strawberries
Rezel Kealoha's Apple Cider Rose Poached Strawberries With Thyme Flowers
Made from Scratch's Roasted Strawberry and Basil Ice Cream
Eat Cho Food's Strawberry Basil Glazed Donuts
What's Karen Cooking's Strawberry Eton Mess
More Icing Than Cake's Strawberry, Balsamic, and Black Pepper Babka
Well Seasoned Studio's Classic Vanilla Layer Cake With Mascarpone Buttercream and Fresh Strawberries
Marianne Cooks' Strawberry Madeleines
Clean Plate Club's Mini Strawberry Bundt Cakes With Lemon Glaze
My Berkeley Kitchen's Strawberry Kale Salad With Balsamic Vinaigrette
The Cinnaman's Rose Hibiscus Strawberry Icebox Pie
Prickly Fresh's Strawberry Burrata Kale Salad With Pistachio and Lemon Vinaigrette
Maren Ellingboe's Angel Food Cake With Whipped Cream and Strawberries
Baking the Goods' Mini Strawberry Lemon Cupcakes
Fufu's Kitchen's Vegan Strawberry Ice Cream Sandwiches
What Annie's Eating's Vegan Strawberry and Basil Ice Cream
Katie Bird Bakes' Strawberry Crumble Bars
Cosette's Kitchen's Strawberry Shortcake
Blossom to Stem's Strawberry Pavlova With Mezcal and Lime
Babby Girl Yum's Strawberry Spinach Almond Salad
It's a Veg World After All's Butter Lettuce Strawberry Salad With Poppyseed Dressing
Le Petite Eats' Strawberry Orange Blossom Tartlets
Cooking With Cocktail Ring's Basil Balsamic Strawberry Shortcake
Ful-Filled's Lilac Sugar Strawberry Shortcakes With Greek Yogurt Whipped Cream
The College Housewife's Mixed Berry Whiskey Crisp
Frosting and Fettuccine's Strawberry Basil Layer Cake With Strawberry Simple Syrup
Zestful Kitchen's Strawberry and Pine Nut Brittle Salad
Rumbly in My Tumbly's Strawberry Scones