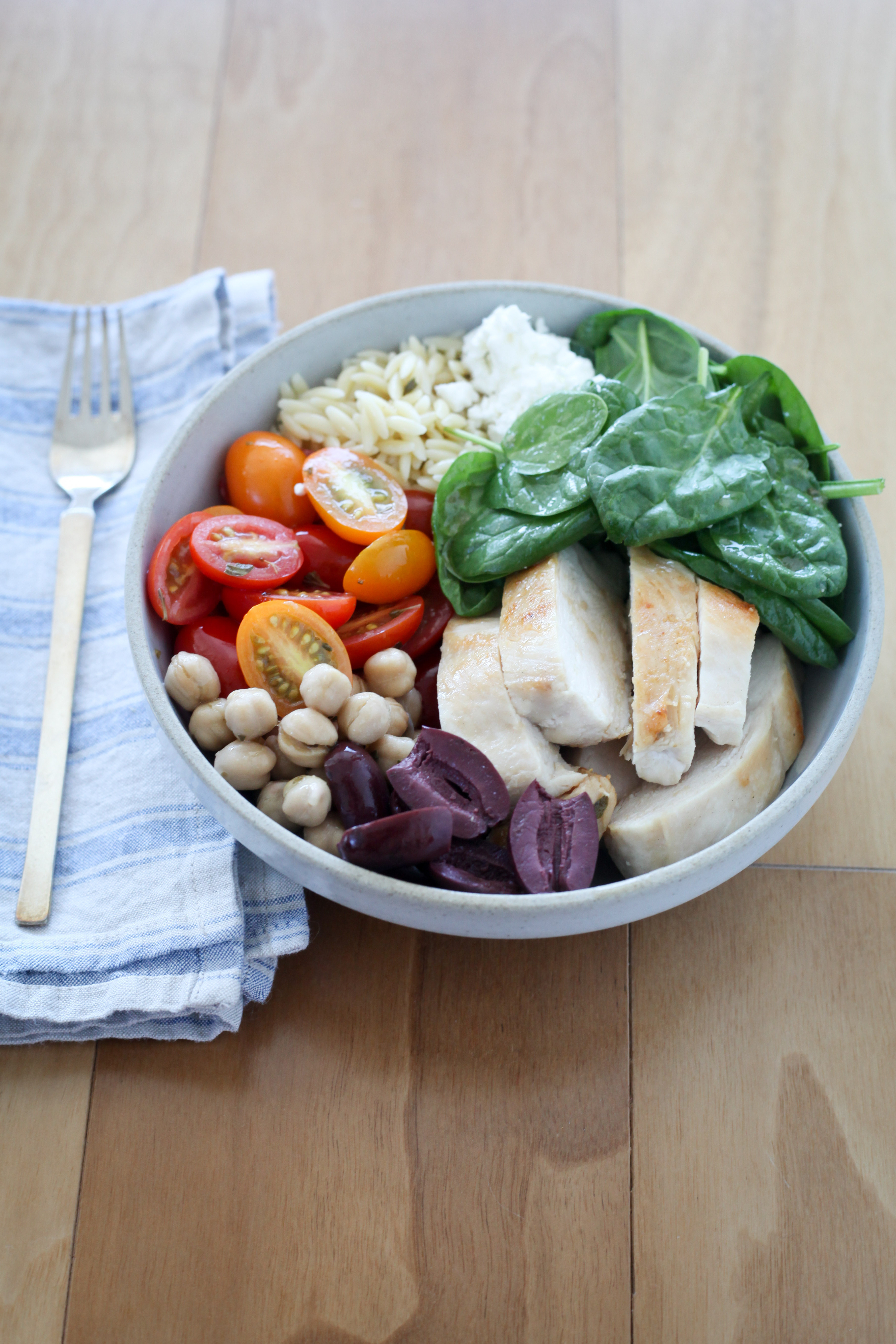 As a food writer, I'm not the target audience for meal delivery kits. When I'm cooking dinner, it's typically to test or tweak a recipe I might post about, I actually enjoy grocery shopping, and I'm a bit of a control freak (did I mention that I like do to my own grocery shopping . . .). Still, after having a number of friends rave about one service or another, I was intrigued and decided to cook my way through a few of the different kits to see how they stacked up.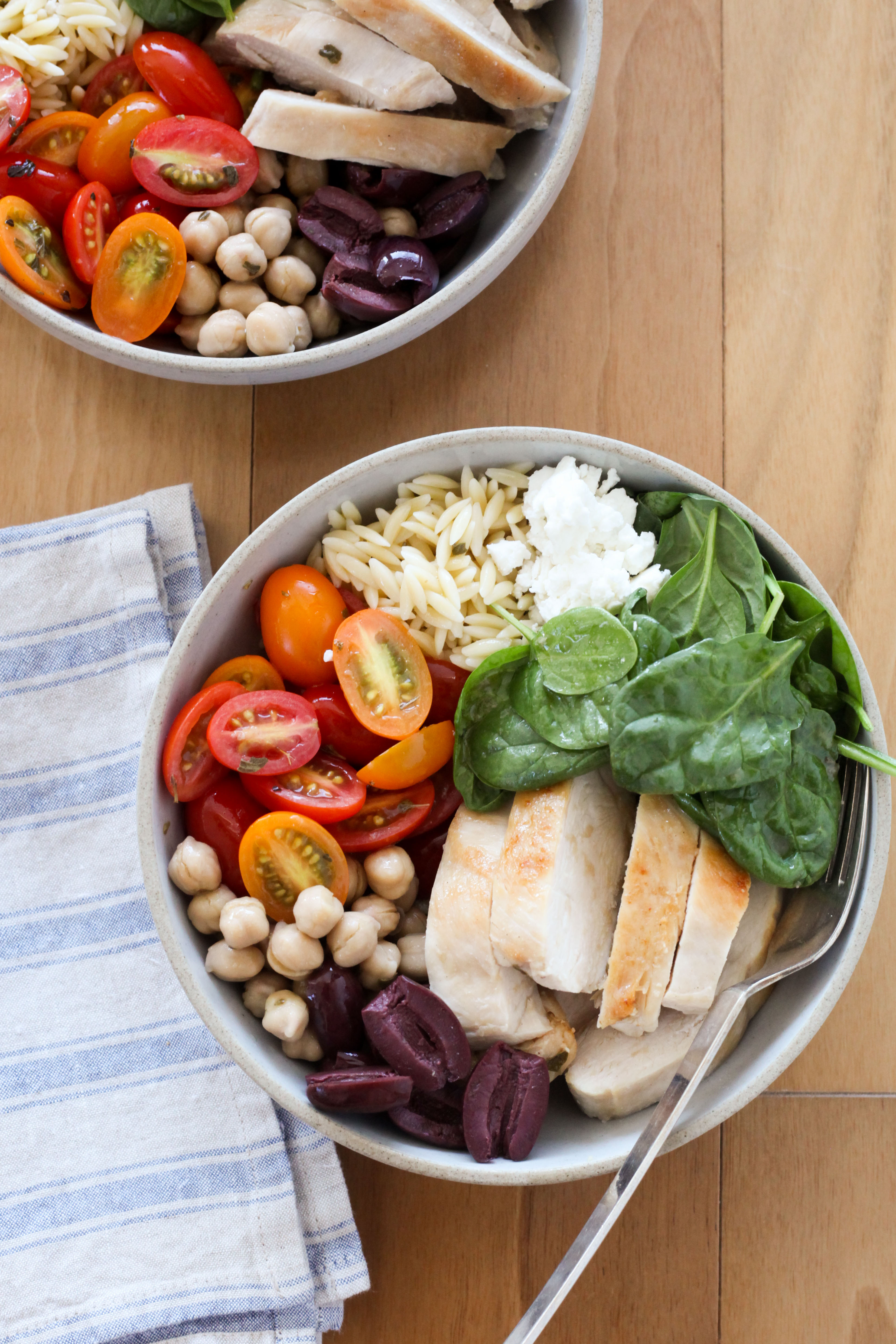 I went into testing with high hopes, but I was still surprised to find that all of the kits I tried — Terra's Kitchen, Marley Spoon, Fresh Realm, and Sun Basket — were well-executed and offered up exciting recipes. Truly, if you go with any of those four, I suspect you'll be satisfied. I'm planning to highlight a recipe from each of these, starting today with this Greek chicken, orzo, and chickpea bowl from Terra's Kitchen. The neat thing about Terra's Kitchen is that it offers up a wider range of recipes than is typical (about 40, updated seasonally), and most are quite healthful, and easy to prepare, true weeknight wonders.
Greek Chicken and Orzo Bowl
Ingredients
1 1/2 tablespoons red wine vinegar
1 clove garlic, minced
1/2 teaspoon dried oregano
Kosher salt
3 tablespoons extra-virgin olive oil
1 tablespoon neutral oil, such as grapeseed or rice bran
2 boneless skinless chicken breasts, pounded 3/4-inch-thick
1/2 cup orzo
2 cups baby spinach
1/2 cup canned chickpeas, drained and rinsed
1 1/4 cups (scant pint) cherry tomatoes, halved
10 kalamata olives, pitted and halved
1 heaping tablespoon feta, crumbled
Instructions
Add the red wine vinegar, garlic, oregano, and a large pinch of salt to a small mixing bowl. Make the dressing by very-slowly drizzling in the olive oil and whisking until emulsified. Season to taste with additional salt.
Bring a medium pot of salted water to a boil. Add the orzo and cook until al dente (about 6 minutes), stirring when it's first added to ensure that it doesn't stick to the bottom of the pot. Drain. In a small mixing bowl, toss the orzo with about 1/4 of the dressing.
Trim away any ragged bits of the chicken breasts, pat them dry with a paper towel, then season generously with salt.
Add the neutral oil to a large cast iron or stainless steel skillet and heat over medium-high heat until shimmering and almost smoking. Swirl the oil to coat the skillet, then arrange the chicken smooth side down in the skillet; cook without moving the chicken, until it is well browned, about 3 minutes. Using tongs, flip the chicken; continue to cook until well browned, about 2 minutes. Reduce heat to medium and continue to cook, turning the chicken once or twice, until an instant-read thermometer inserted into the thickest part registers 160°F or it is no longer pink when cut into with paring knife, 3 to 5 minutes longer. Transfer the chicken to a plate and let rest 5 minutes. Then, slice the chicken breasts and toss with about 1/4 of the dressing.
Meanwhile, toss the spinach, chickpeas, and tomatoes with the remaining dressing.
Divide the orzo, chicken, spinach, chickpeas, tomatoes, olives, and feta between two bowls.
Notes
For a mellower garlic flavor, wait 5-10 minutes before adding the olive oil to the dressing. (The vinegar will help soften the garlic's flavor.)