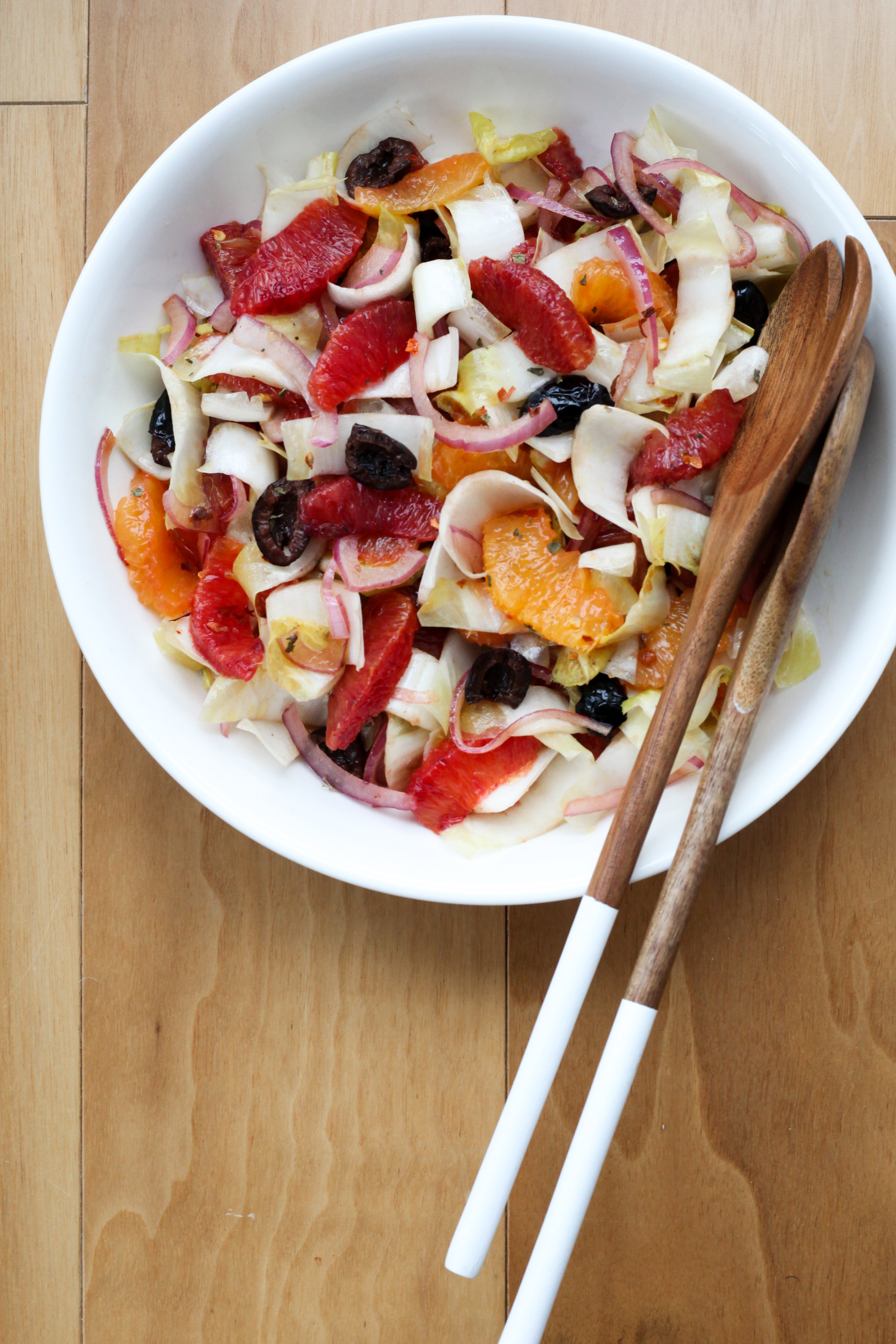 Apologies for going dark here recently, but I promise it has been for a good reason. I'm currently writing from Valledolmo, a small village in central Sicily, about an hour and a half away from Palermo, where I arrived a little over three weeks ago to attend Cook the Farm, a 9-week culinary and horticulture program at the Anna Tasca Lanza cooking school. These past few weeks I've been busy settling in, cooking, gardening, eating, and learning all about this wonderfully-crazy island and its culture. Though I took a bit of an (unintentional) break from blogging, I have lots of good things coming your way. In the weeks before I left, I was in my kitchen near-round-the-clock testing, tasting, and photographing recipes to share while I'm gone, and will also be updating my Instagram with my adventures.

Shortly before I left, I spent a lovely afternoon poring over Coming Home to Sicily: Seasonal Harvests and Cooking from Case Vecchie, Fabrizia Lanza and Kate Winslow's cookbook born out of the school. Many recipes were bookmarked, and many more will be cooked once I'm home (Fabrizia, the dynamic force behind the cooking school, has a wonderful palate). My first stop was this zippy winter salad, which seems particularly fitting as I've been on quite the blood orange kick since arriving here, as the citrus grown in the farm's citrus orchard is superlative.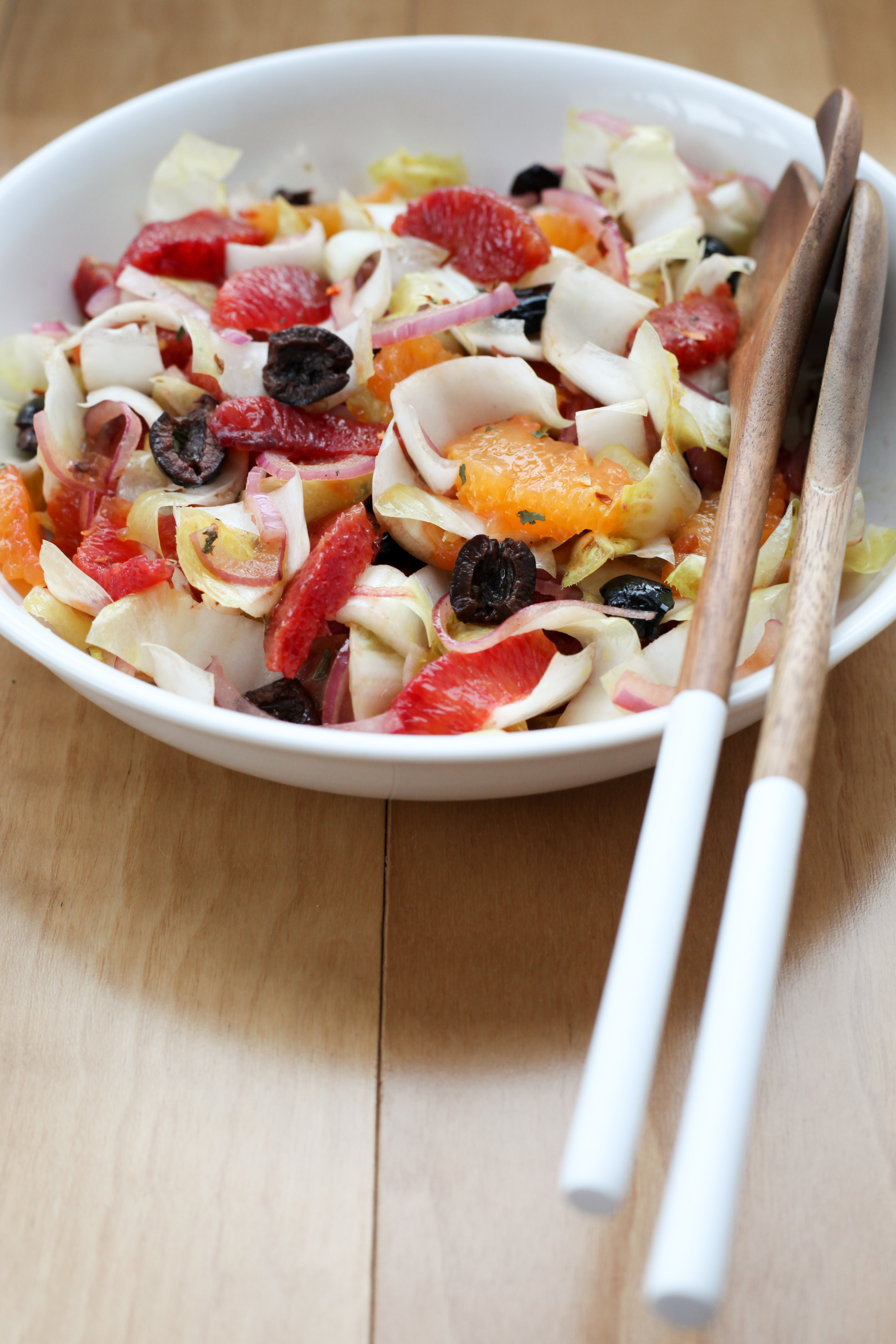 Bold on bold, this salad pairs blood orange segments with crinkly oil-cured olives, bitter greens, red onion, and a fabulous anchovy vinaigrette. I made it twice before leaving — once with escarole and kale as the green component, and the second time with endive — and will definitely return to it next citrus season. Less a green salad, and more a salad with bitter greens as one of the components, there's plenty of room for improvisation here, so use whatever bitter, sturdy greens (or reds, in the case of radicchio) catches your fancy at the market. Regardless of which you choose, you'll be rewarded with a salad that commands attention.

Sicilian Blood Orange, Onion, and Olive Salad
Ingredients
1 small red onion, very-thinly sliced into half moons
12 oil-cured black olives, pitted and halved
3 small blood oranges
1 medium tangerine


For the dressing:
4 anchovy fillets, minced
2 tablespoons red or white wine vinegar
1/2 teaspoon red pepper flakes
Large pinch of dried oregano
1/4 cup extra-virgin olive oil
Kosher salt, to taste


3 heads endive, halved, cored, and sliced into 3/4-inch half moons
Instructions
Add the red onion and olives to a large mixing bowl. Supreme the blood oranges and tangerines, working over the bowl that the onion and olives are in, so as to catch the juice (the juice will mellow the onion's bite). Add the citrus segments to the bowl as well. Squeeze the juice out of the peel and membrane into a glass and reserve for another use (or drink it!).
In a small mixing bowl, whisk together the minced anchovy, vinegar, red pepper flakes and oregano. Slowly drizzle in the olive oil, whisking to form an emulsion. Season to taste with salt.
Add the endive to the mixing bowl with the other salad components. Add about half of the dressing, tossing to coat. Taste, and add more dressing to taste.
Notes
If you can find very tart blood oranges, use just those (no tangerine); here I used a tangerine to add some acidity, as the common blood orange in the states (Moro) is milder than Sicilian blood oranges. Don't want to supreme the oranges? Remove their skin with a paring knife then cut hemispherically into slices (this saves a bit of time). The original recipe calls for 1 head of escarole — tear the tender inner leaves into bite-sized pieces, reserving the tougher outer leaves for another use (like soup). Very-thinly-sliced fennel would be a lovely addition to this salad.