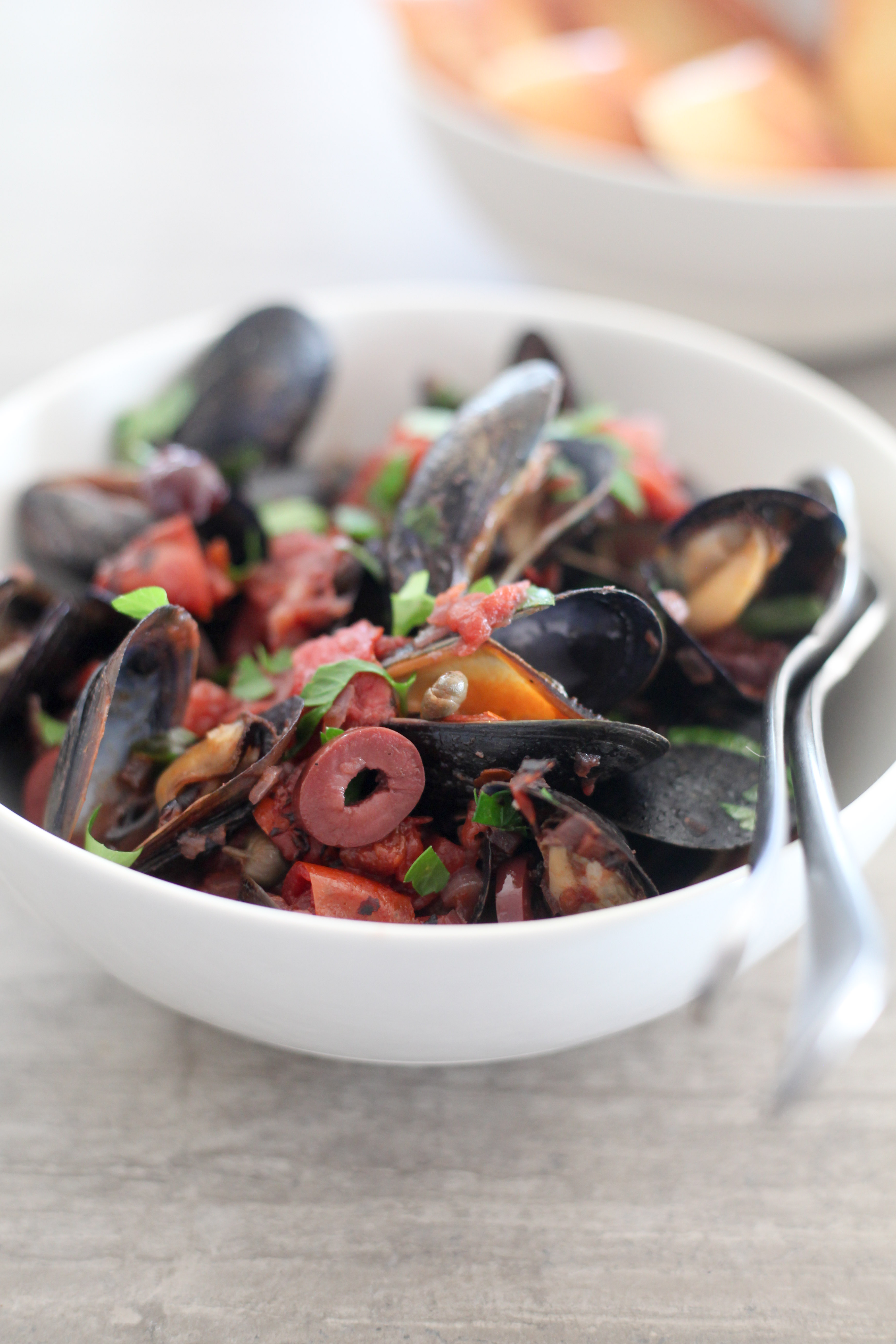 Between keeping track of sustainability guidelines and preparing it within a fleeting window of freshness, cooking seafood can feel like a bit of a bother. Add in that it tends to be pretty pricey, and it's easy to see why fish and shellfish often get passed over for other proteins. One completely-underrated exception: mussels. Aside from the somewhat-pesky — meditative, if we're being generous — task of cleaning them, these bivalves are quite winning. Simple to cook, budget-friendly, and sustainable, they're a killer choice for a fancy-feeling dinner.

Most commonly, you'll see them steamed with white wine and aromatics, moules à la marinière-style, or with beer and aromatics, as they do in Belgium, but I like them best with a bold-and-briny tomato base, like here. Inspired by pasta puttanesca, this is the sort of one-and-done dinner that is perfect for making a weekday feel special, or even for a dinner party. Add a bottle of wine — you need to open some for cooking, anyway — a baguette, and you're golden.
Mussels Puttanesca
Ingredients
Kosher salt
2 pounds mussels
1 tablespoon extra-virgin olive oil
1/2 small onion, minced
2 large garlic cloves, minced
1 (14-ounce) can diced tomatoes
1/2 teaspoon red pepper flakes
1/2 cup dry white wine, such as Sauvignon Blanc or Pinot Grigio
1/4 cup kalamata olives, pitted and sliced
1 tablespoon capers, rinsed and drained
1/4 cup coarsely chopped parsley
Sliced baguette, optional
Instructions
Fill a large bowl with cold water and 1/4 cup salt.
Carefully inspect the mussels, discarding any that are cracked or that stay open when firmly tapped (this indicates that the mussels are dead). Scrub any grit off the shells with a clean toothbrush and pull out the beards. Add to the bowl as you go. Let sit for 15 minutes, then rinse thoroughly. (The mussels should be cooked shortly after purging, but if you have to hold them for 1-2 hours, place in a bowl, cover with a damp towel and refrigerate.)
Meanwhile, heat the oil in a large lidded skillet over medium heat. Add the onion and a generous pinch of salt. Cook, stirring occasionally, until tender, about 3 minutes. Add the garlic; cook until fragrant, about 1 minute. Add the tomatoes (with juice) and red pepper flakes, stir. Bring to a simmer, then reduce the heat to medium-low, and simmer, stirring occasionally, until the mixture has cooked down and is very fragrant, 20-25 minutes.
Add the white wine, olives, and capers, and bring to a boil. Add the mussels, cover, and cook, stirring halfway through, for 5 minutes, or until they've opened up. Discard any mussels that don't open up (this means they were dead before cooking). Toss with parsley, reserving some for garnish.
Divide the mussels between 2-3 wide bowls, garnish with the remaining parsley. Serve with baguette, if desired.
Notes
Ideally, mussels should be cooked on the same day as purchase.
To keep for an extra day
, remove from any sort of packaging (like a plastic bag or butcher's wrap) that will impede oxygen flow (the net bag is fine) and transfer to a bowl. Cover with a damp tea towel or paper towel and refrigerate. As always, be sure to discard any mussels that are not closed or do not close when firmly tapped.