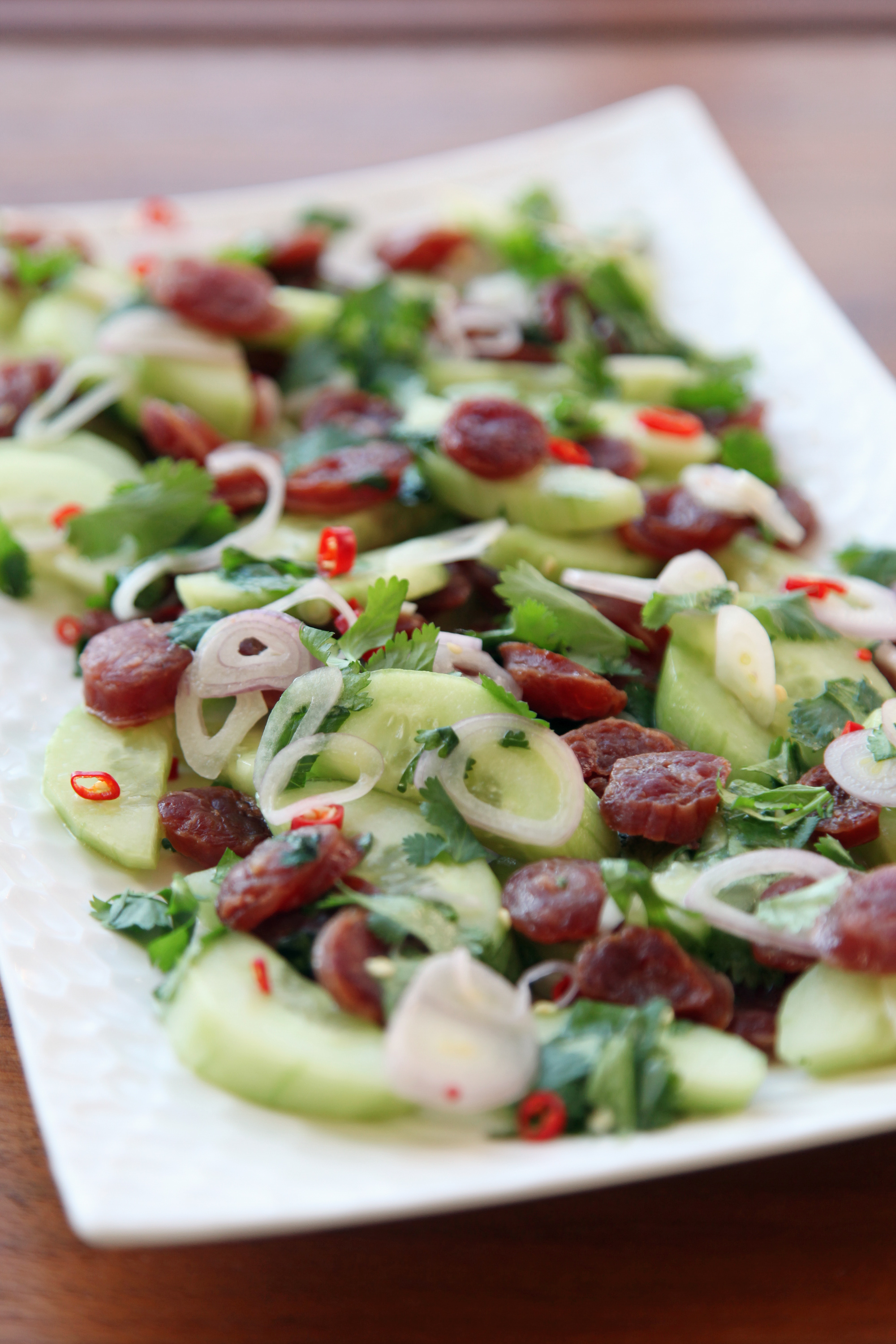 If you've yet to try Chinese sausage (also known as lap cheong, lap chong, or lap xuong), you're in for a real treat. Sort of similar in flavor to the king of bao fillings — char sui — but saltier, these dried pork sausages add a punch of flavor to fried rice, taro cake, lo mai gai (lotus leaf rice), and other delightful Chinese dishes.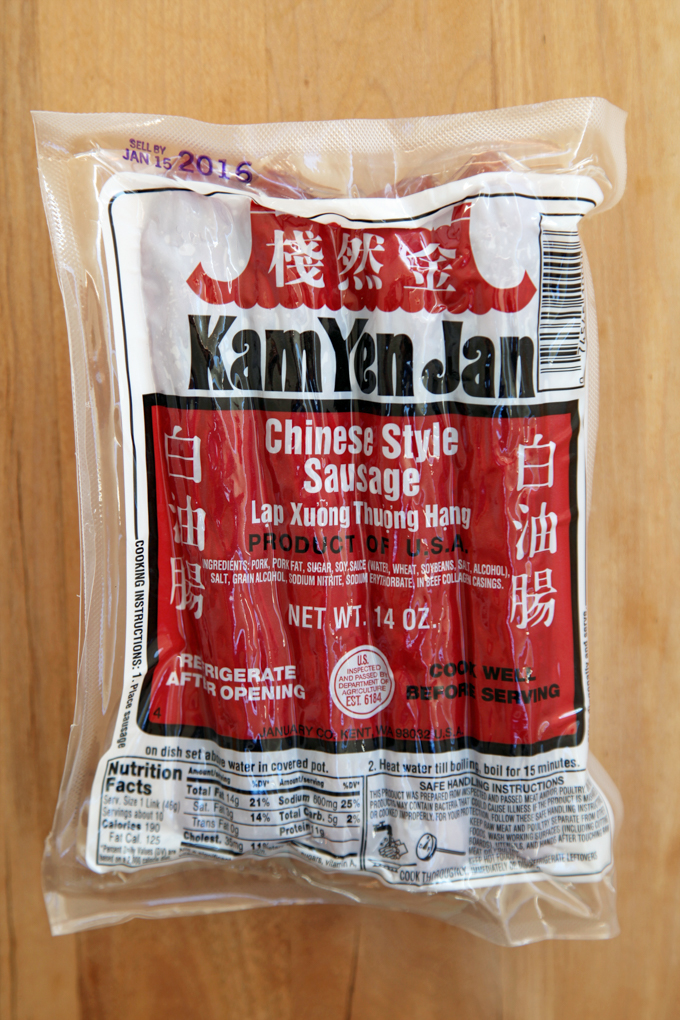 While by no means a health food, Chinese sausage is one of my favorite things to pick up at an Asian supermarket, as a little goes a long way. (Everything in moderation, right?) My boyfriend Andrew will sometimes add a couple links to a pot of steamed rice; once the rice is cooked, he puts a couple links on top, closes the lid, and lets them steam for about 10 minutes from the mild heat of the rice cooker's "keep warm" setting. They're also great sliced, crisped up in a skillet, and served with sautéed vegetables and a poached or fried egg, instead of bacon. But this unexpected Thai cucumber salad has to be my favorite way of all to eat lap cheong. OK, aside from taro cake.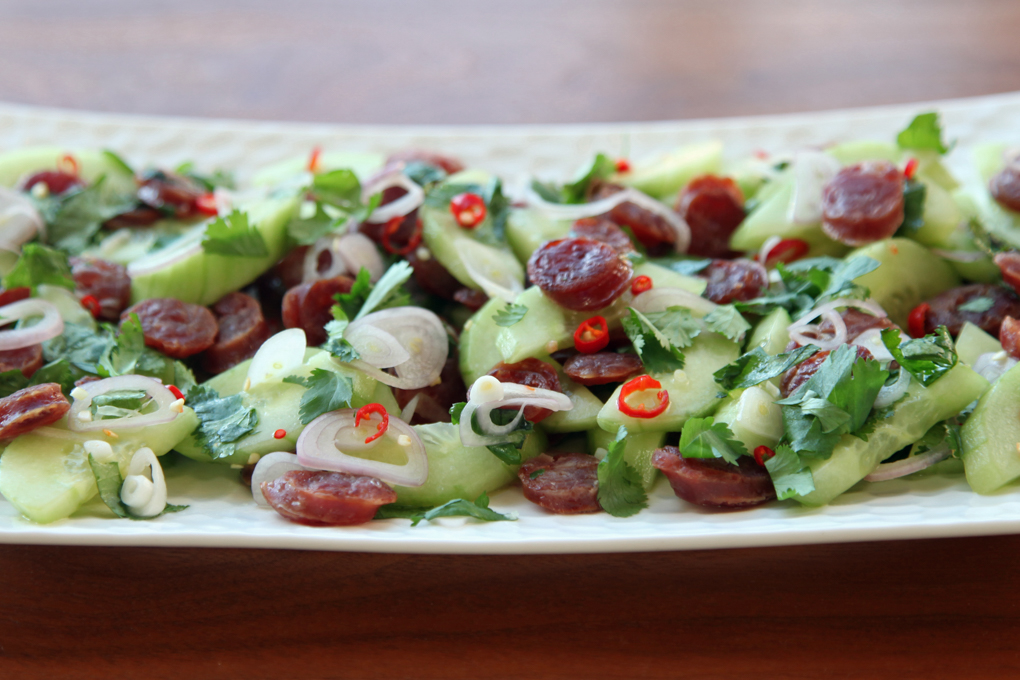 Diverse in flavor, temperature, and texture, it typifies the balance between salty, sour, sweet, and spicy flavors that makes good Thai food so irresistible. If you're not familiar with larb and other meat-centric Thai salads, it might seem a bit strange to categorize this warm, meaty dish as one, but that won't stop you from loving it. It's also an ideal intro to Thai cookery, as it's very easy to prepare. If you'd like to try your hand at other Thai dishes, look no further than Leela Punyaratabandhu's blog She Simmers — the source of this recipe — or her excellent cookbook, Simple Thai Food: Classic Recipes from the Thai Home Kitchen.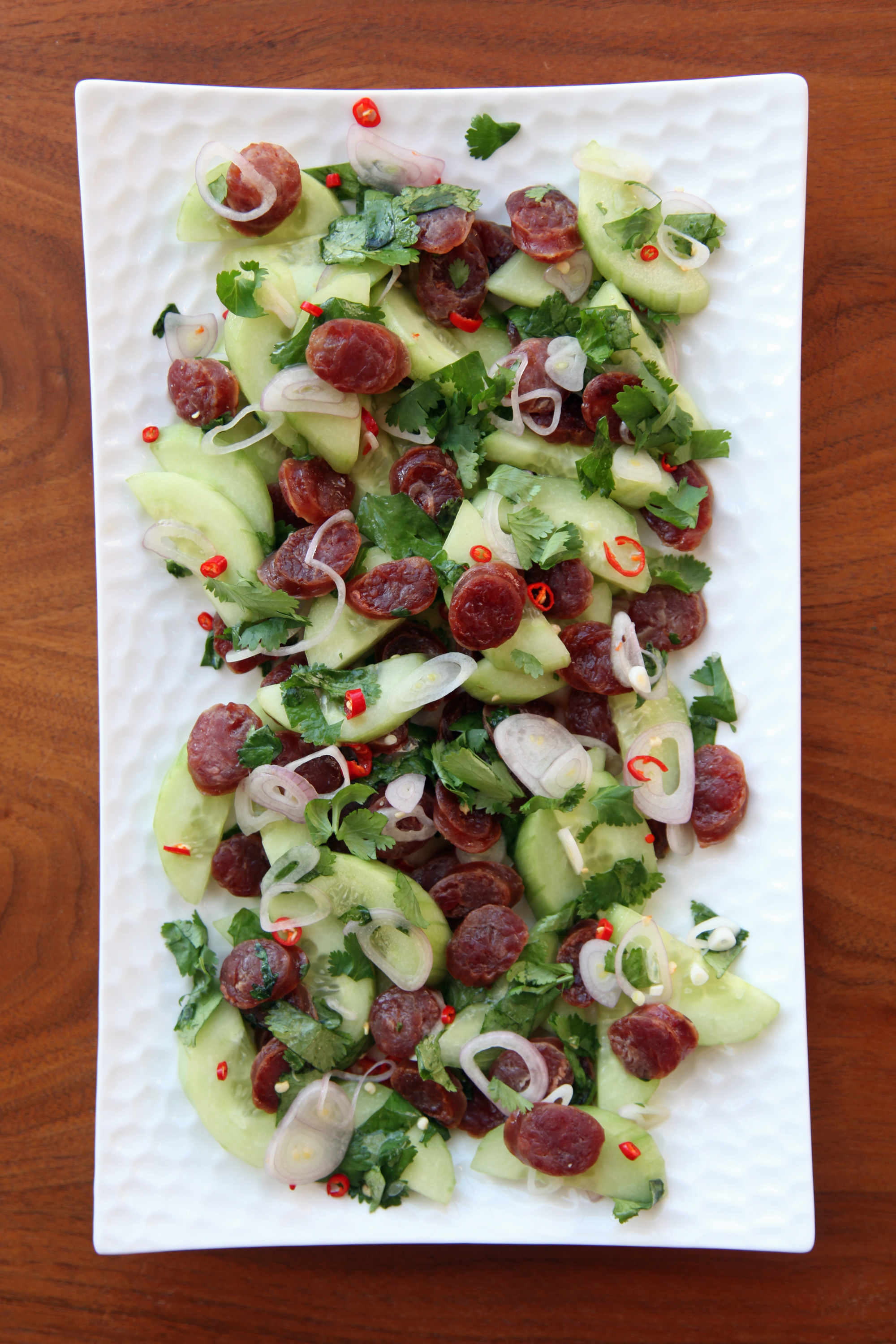 Thai Cucumber and Sausage Salad
Ingredients
4 links dried Chinese sausage, sliced diagonally into 1/4-inch thick pieces
1 English cucumber, peeled and thinly sliced
2 shallots, thinly sliced
3-4 fresh bird's eye chillis, thinly sliced
1/2 cup loosely-packed cilantro leaves, roughly chopped
Lime juice, to taste
Fish sauce, to taste
Instructions
Cook the sausage in a nonstick pan over medium heat until slightly crisp and caramelized on the edges.
In a large mixing bowl, toss together all of the ingredients except the lime juice and fish sauce. Season to taste with lime juice and fish sauce.
Serve immediately.
Notes
Chinese sausage (also known as lap cheong, lap chong, or lap xuong) is available at most Asian supermarkets. If you can't find Thai bird chilis, substitute 1-2 serrano chilis.