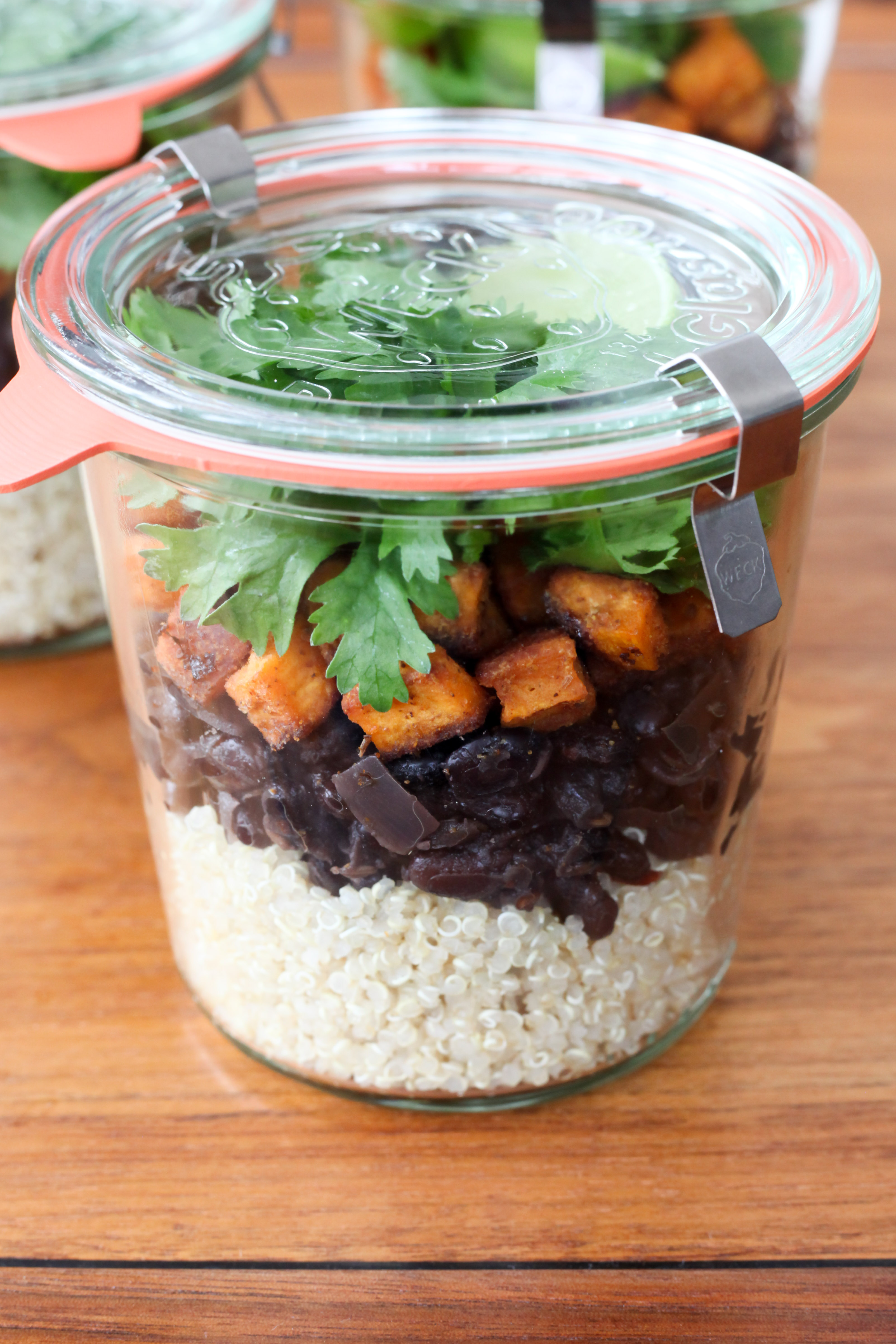 Beans and lentils are two of my dietary staples; fiber- and protein-rich, versatile, and inexpensive, there's not much these humble legumes can't do. I typically keep a few cans of cannellinis, chickpeas, and black beans in the pantry for quick-fix dinners, like rosemary-garlic chickpea soup and broccoli white bean soup, but most of the time I prefer to cook them myself using a slow-cooker.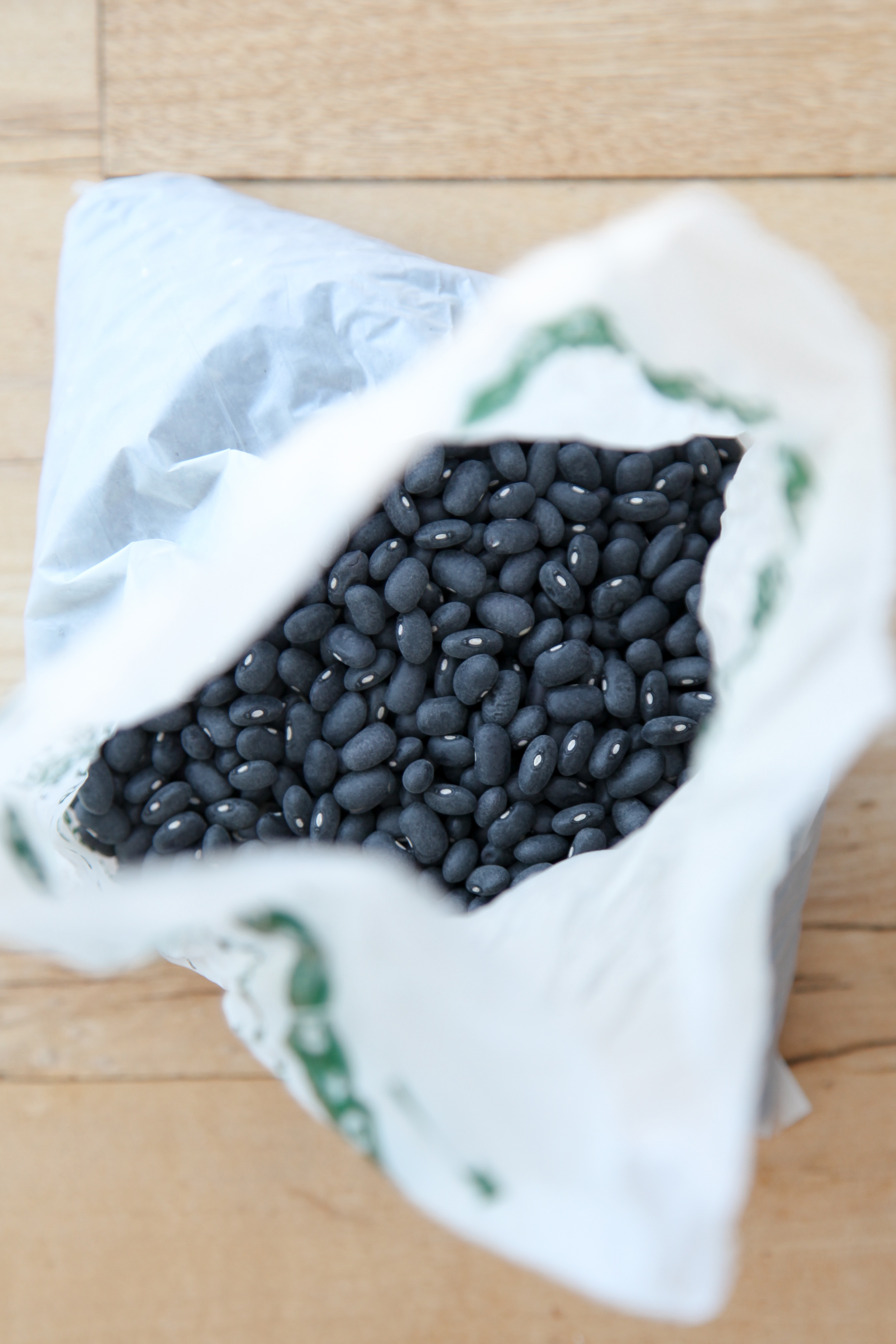 Despite its massive popularity, my feelings about this appliance are pretty mixed. I rarely use it for anything besides cooking beans, but at this task, it excels. When simmered in a slow-cooker there's no need to soak beans overnight (they cook up evenly and keep their shape thanks to the low, slow application of heat), and the results are superlative (tender, creamy, and toothsome). And, like with most slow-cooker recipes, these beans require little babysitting, and are almost impossible to overcook.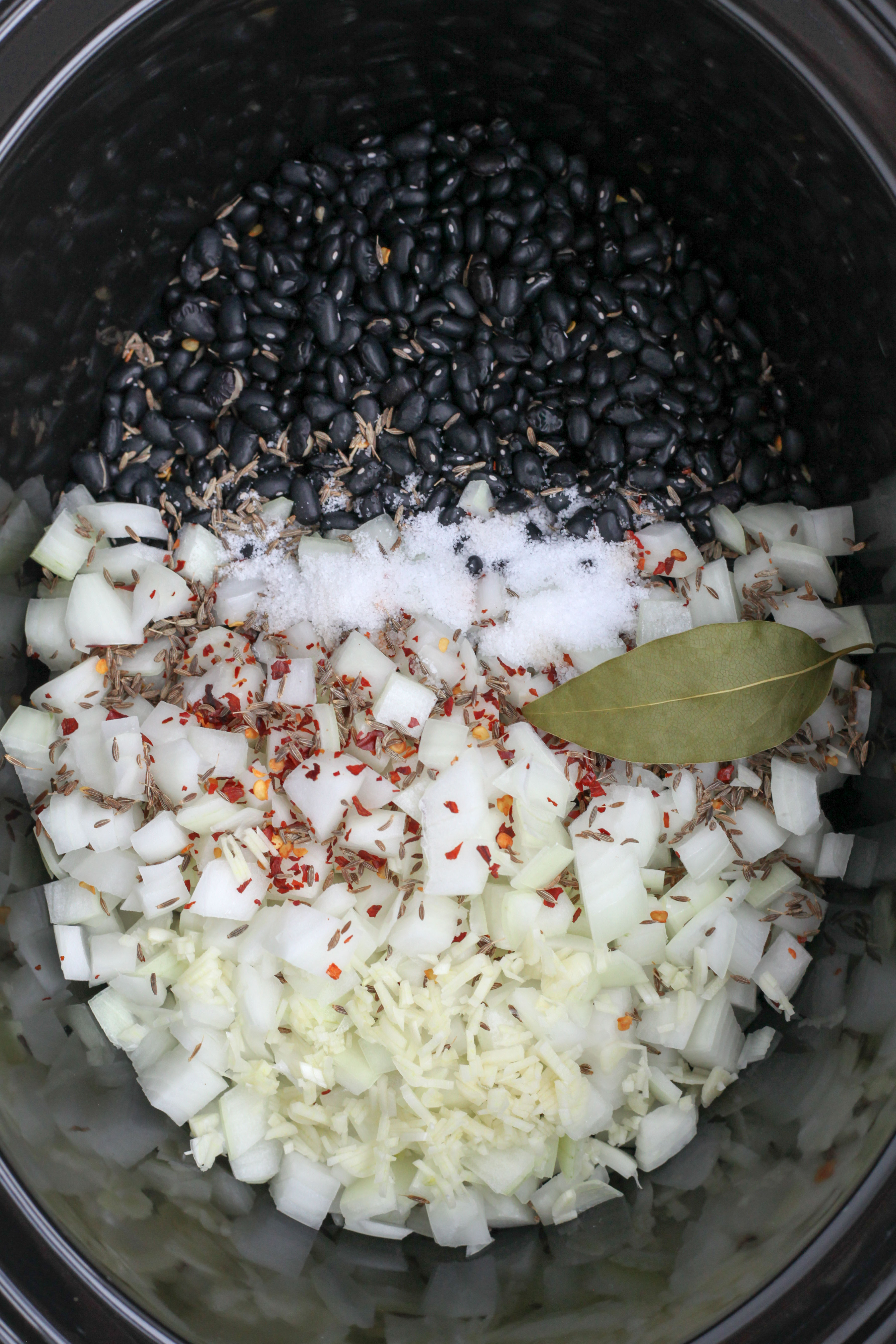 Here, I've laid out what I do with black beans, seasoning them with a Latin-American-inspired combination of aromatics (onion, garlic, cumin, bay leaf, and pepper flakes), but this technique can be used for pretty much any type of bean; just adjust the cook time and aromatics accordingly.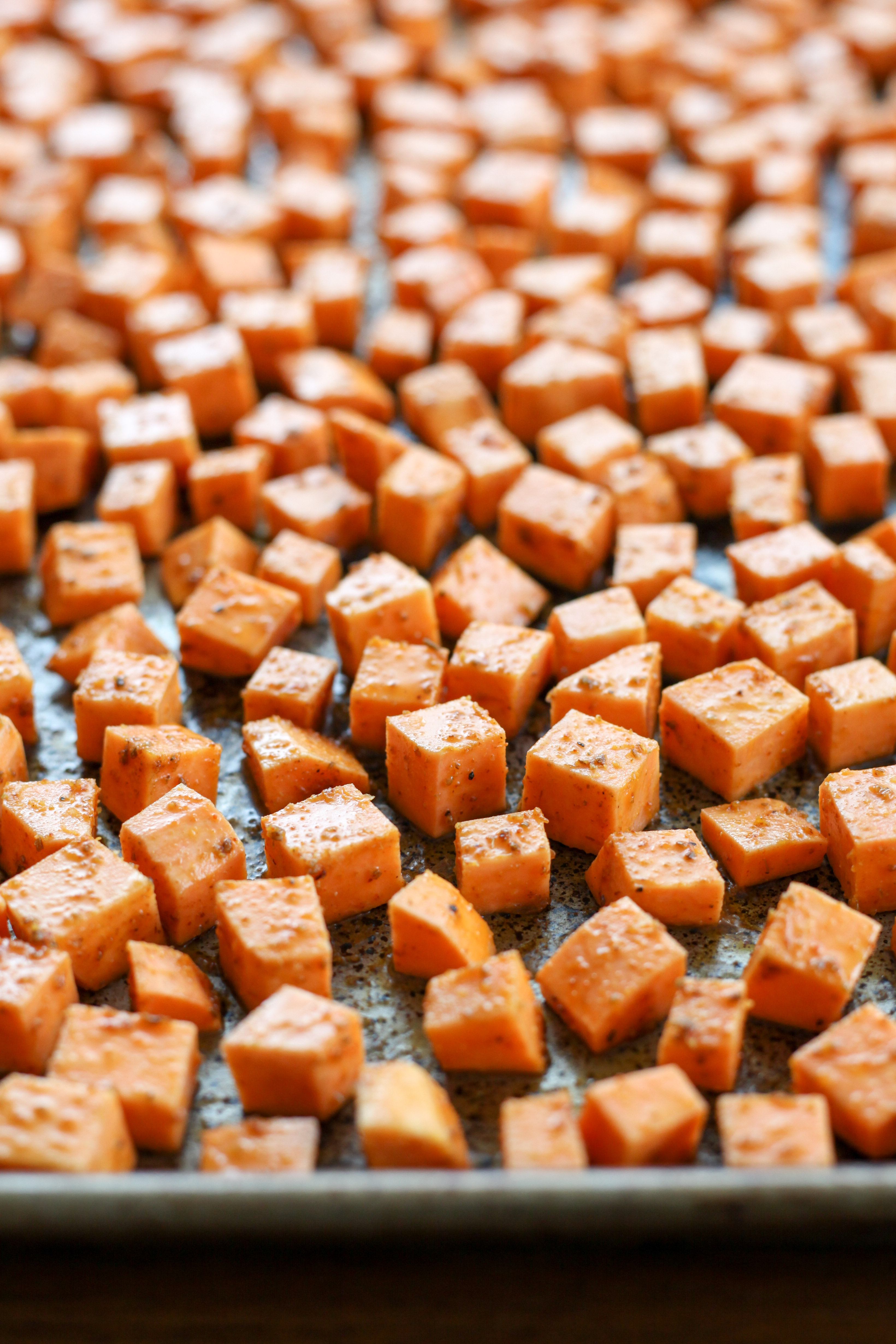 After their gentle bath, the beans emerge ready to be paired with warmly-spiced cubes of roasted squash, fluffy quinoa, and some cilantro for a cozy mason jar lunch, or layered in a bowl at home. This easy combination of tasty, fiber-rich components are all you need for a satisfying meal; to make it extra-special (or if you already have any of the following on hand), consider adding some sliced avocado, roasted pepitas (I like the tamari ones from the bulk bin), some crumbled feta, or a glug of hot sauce. See the recipe for specifics.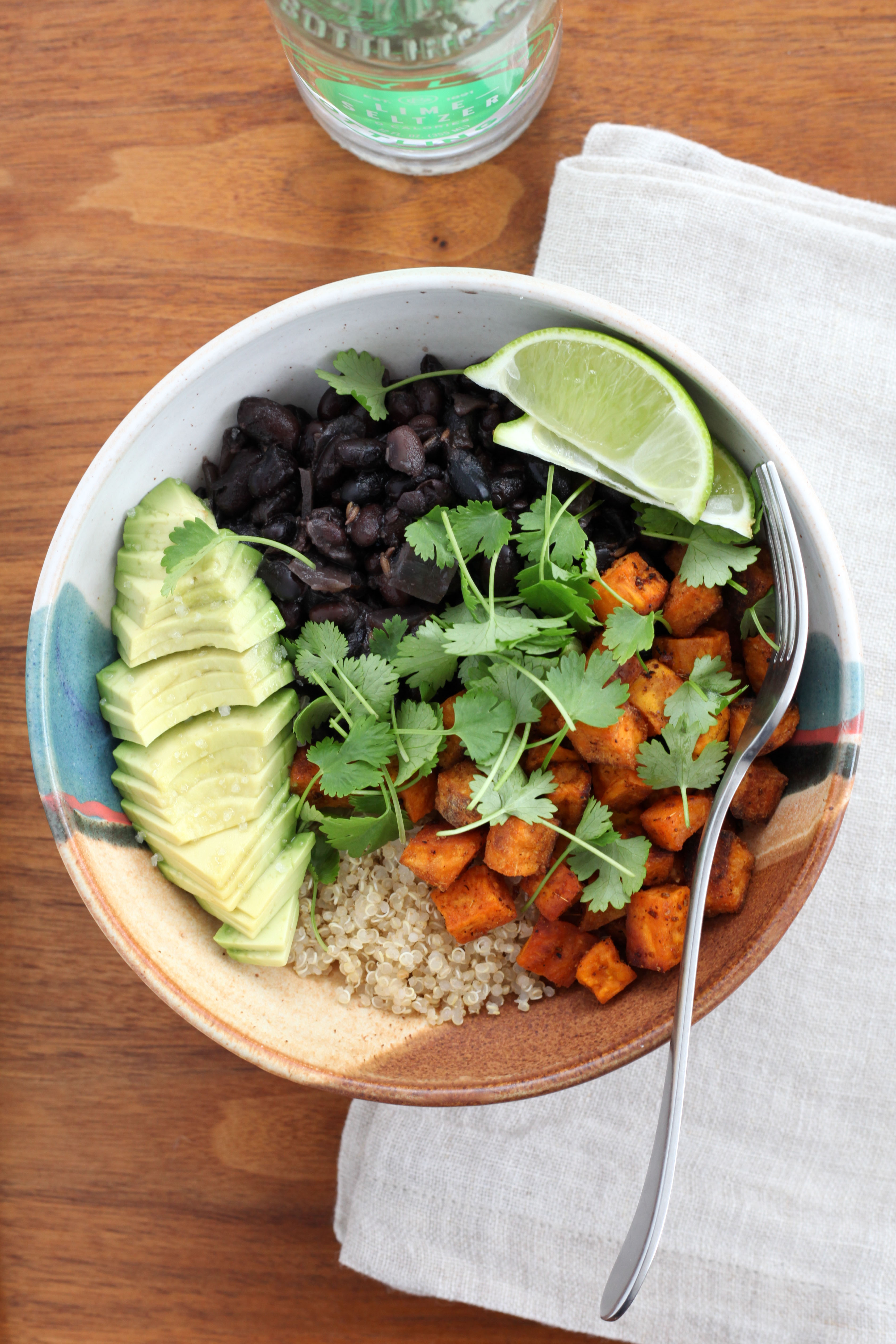 Slow-Cooker Black Beans With Quinoa and Sweet Potatoes
Author:
Slow-cooker beans recipe adapted from The Kitchn
Yield:
About 7 cups cooked beans; 5 mason jar lunches
Ingredients
For the black beans:
3/4 pound dried black beans
1 large yellow onion (about 12 ounces), finely chopped
2-3 garlic cloves, chopped
4 teaspoons kosher salt, divided, plus more to taste
1 bay leaf
2 teaspoons cumin seeds
1/2 teaspoon red pepper flakes


For the sweet potatoes:
2 tablespoons refined coconut oil, melted
1 teaspoon ground cumin
1 teaspoon chili powder
1/4 teaspoon hot paprika
1 1/2 teaspoons kosher salt
2 large sweet potatoes (about 2 pounds), peeled and cut into 1/2-inch cubes


For each mason jar:
3/4 cup cooked quinoa
2/3 cup black beans, plus a few spoonfuls of the bean liquor
1/2 cup roasted sweet potato
2 tablespoons cilantro
2 wedges of a lime
Instructions
Slow-cook the beans: Rinse the beans, discarding any shriveled or discolored ones.
Add the beans, onion, garlic, 2 teaspoons salt, bay leaf, cumin, and red pepper flakes to a slow cooker. Cover the beans by at least an inch with cool water (some of the onion will float, so push it down to check the water level).
Cook on low for 5-7 hours (this will depend on the power of your slow cooker and how long the beans have been stored), or until tender and creamy but still toothsome. In the last hour or so of cooking, add the remaining 2 teaspoons salt. Once cooked, taste and add more salt, if needed.
Roast the sweet potatoes: Preheat the oven to 425°F. In a medium mixing bowl, whisk together the melted coconut oil, cumin, chili powder, paprika, and salt. Add the diced sweet potatoes and toss to coat.
Spread the spiced sweet potatoes out on a half-sheet pan in an even layer. Roast, rotating the pan halfway through, for 35-40 minutes, or until the cubes are deeply browned on their bottoms.
Assemble the mason jars: Layer the quinoa, beans, sweet potatoes, cilantro, and lime wedges in five 1/2-liter- or pint-size mason jar (they have similar volumes)
When ready to eat, set aside the lime wedges and cilantro, and then transfer the contents of the mason jar to a microwave-safe bowl; heat until hot (about 1 to 1 1/2 minutes). Stir, then squeeze the lime over everything and top with cilantro.
Notes
This recipe yields about twice as many beans as you need for the mason jars; I like to freeze the remaining beans in an airtight freezer-safe container, for a later week of lunches (or for another use). If you prefer a bit of heat, add a generous glug (about 1 tablespoon) of runny, mild hot sauce, like Cholula to each mason jar instead of the lime wedges (do this when you add the bean layer).

Optional add-ons:
1/2 an avocado (pack in a resealable plastic bag and slice it just before adding)
2 tablespoons feta, crumbled (add between the bean and sweet potato layers)
1 tablespoon roasted and salted pepitas (pack in a resealable plastic bag)