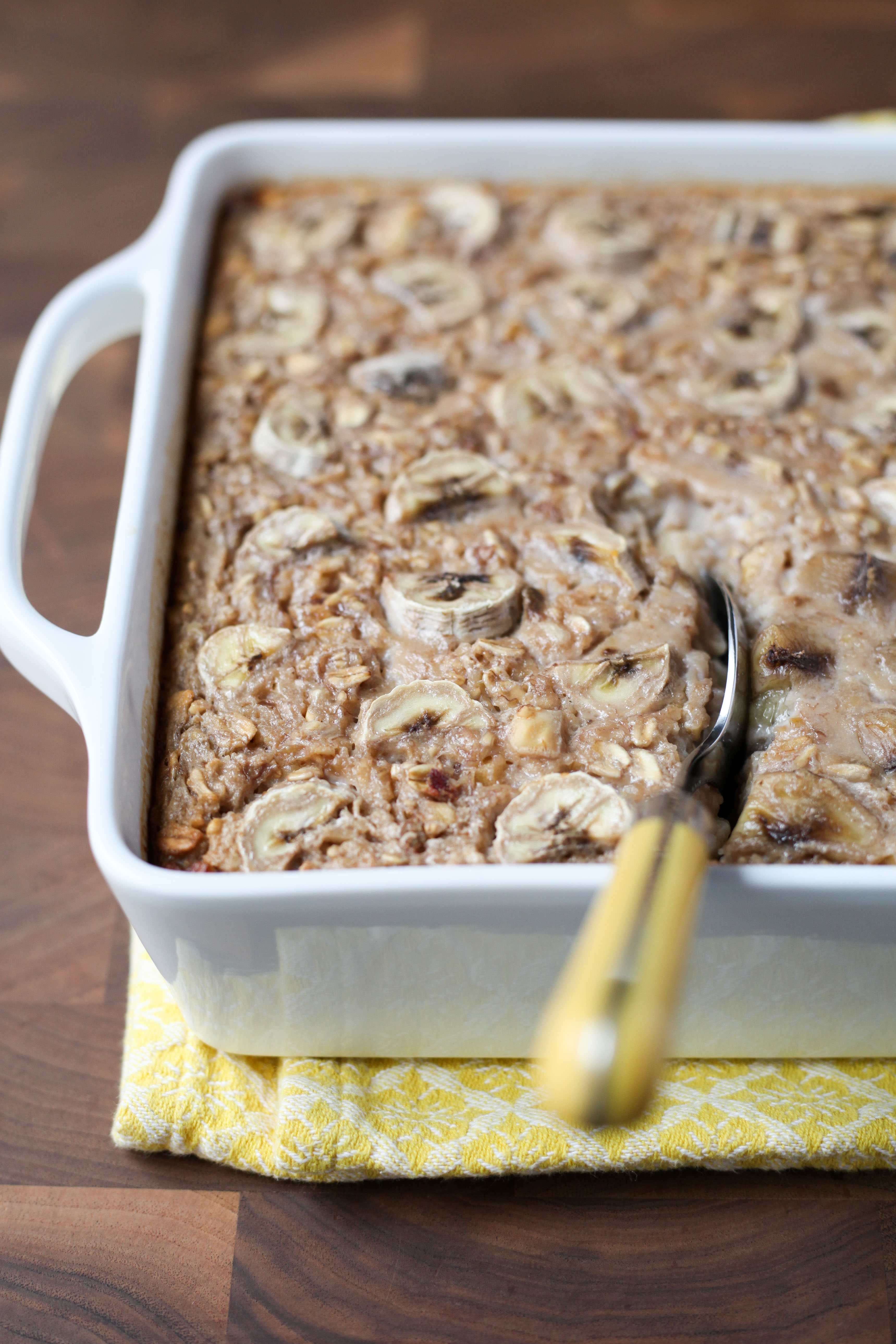 There's no denying that banana bread is delicious; unfortunately, it's not exactly the healthiest or most filling way to start the day. If you don't have a big appetite in the morning, a slice might tide you over until lunch, but I prefer something more substantial (read: more fiber and protein, less sugar and flour). This banana bread baked oatmeal is the answer. Super-ripe mashed bananas and finely-chopped dates mimic banana bread's sweet, almost-caramel-like, roasted banana flavor, while the half moon slices add visual interest. Toasted walnuts bring nuttiness and crunch, while a combination of whole milk, two types of oats, and an egg make it more satiating. While I'm not ready to give up banana bread as an occasional treat, this satisfies the same cravings all for less than 500 calories a serving.


Banana Bread Baked Oatmeal
Ingredients
1 cup steel-cut oats (6 ounces)
6 very ripe bananas
3 medjool dates, pitted and finely chopped
2 cups whole milk
2 tablespoons maple syrup, preferably grade B
1 large egg
1 1/2 cups (5 1/2 ounces) rolled oats
1 cup (3 3/4 ounces) toasted walnuts, chopped
1 teaspoon baking powder
1 teaspoon kosher salt
Greek yogurt and additional maple syrup, for serving, optional
Instructions
Preheat the oven to 350°F. Lightly grease an 8-inch-square baking dish.
Add steel-cut oats and 1 cup boiling water to a large mixing bowl. Cover with plastic wrap and let soak for 20 minutes.
Slice 2 of the bananas into 1/2-inch-thick half moons
In a small mixing bowl, mash 4 of the bananas with a fork. Add the dates, milk, maple syrup, and egg, and whisk until relatively homogenous.
Add the wet ingredients, rolled oats, walnuts, baking powder, and salt to the soaked steel-cut oats; mix to combine.
Pour into the prepped baking dish and arrange the sliced bananas on top.
Bake for 45 minutes - 1 hour or until just set in the center.
Serve hot or cold with a dollop of Greek yogurt and a drizzle of maple syrup, if desired.
Notes
If the bananas you have are particularly large, you might only need to slice 1 to 1 1/2 for topping the oatmeal. If you're avoiding gluten, use gluten-free oats.