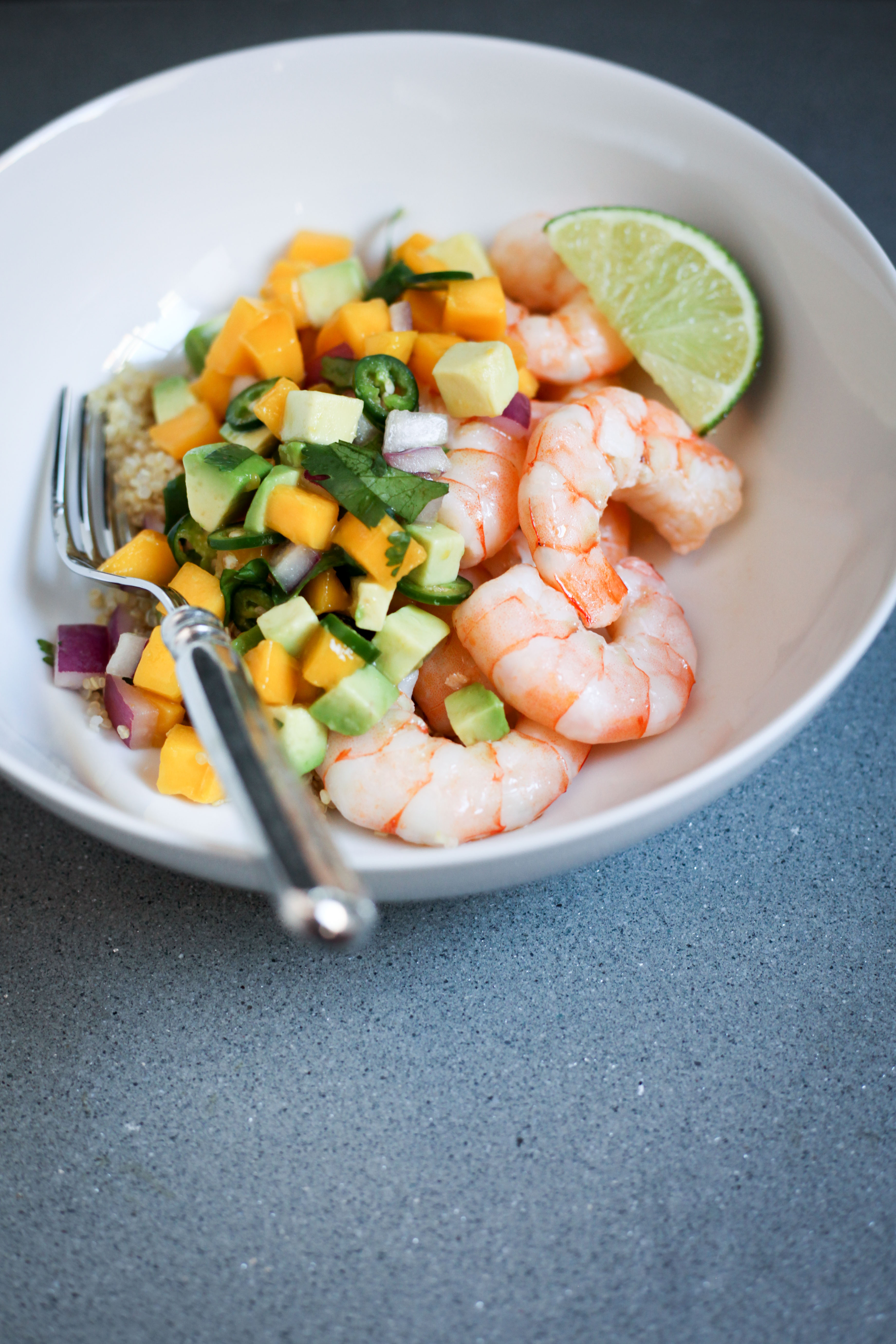 After years of living in San Francisco, where beautiful farm-fresh produce is practically a given year-round, the adjustment to New York's seasons has been a bit of a shock. The snow and cold hardly phased me (granted, the past winter was freakishly-mild); grocery shopping was a different matter. I'm not particularly proud of it, but I basically gave up on the farmers market after a couple depressing mid-January trips where I came home with naught but a couple sad, wrinkly onions and a few pounds of storage apples. On the flip-side, this seasonality makes the first peeps of spring produce all the more exciting. Absence makes the heart grow fonder?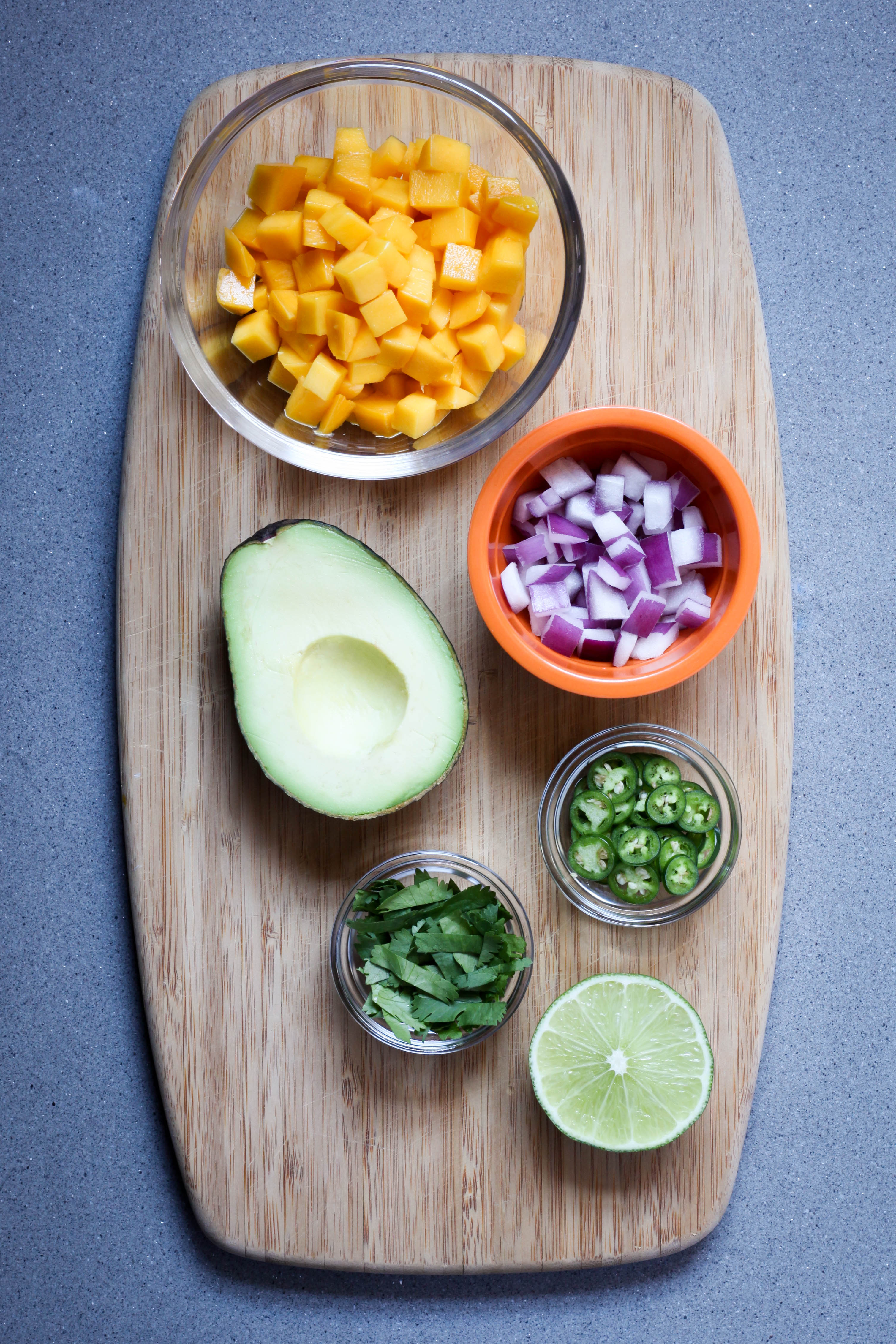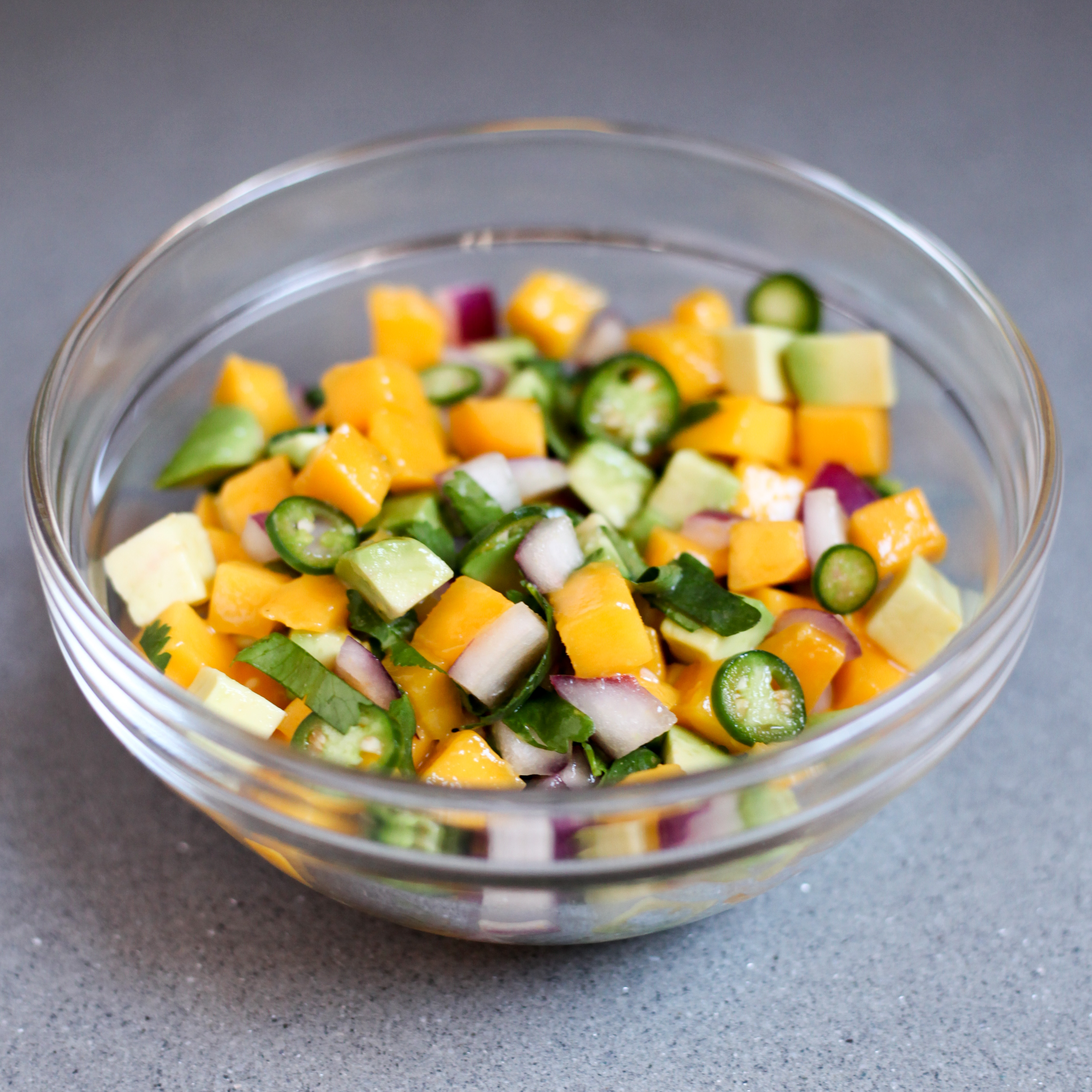 Recently I walked into Whole Foods and found mountains of golden alphonso mangos on display. Like a hungry squirrel who happens upon a mid-winter cache of acorns (or at least how I imagine that would play out), I greedily filled my basket with far more than I could possibly eat. Most were devoured peeled and plain, but a couple were earmarked to make this juicy salsa. An ideal topper for briny, sweet shrimp, this salsa would also (obviously) be great with crisp tortilla chips, but in the spirit of spring dinners, I went with the lighter option.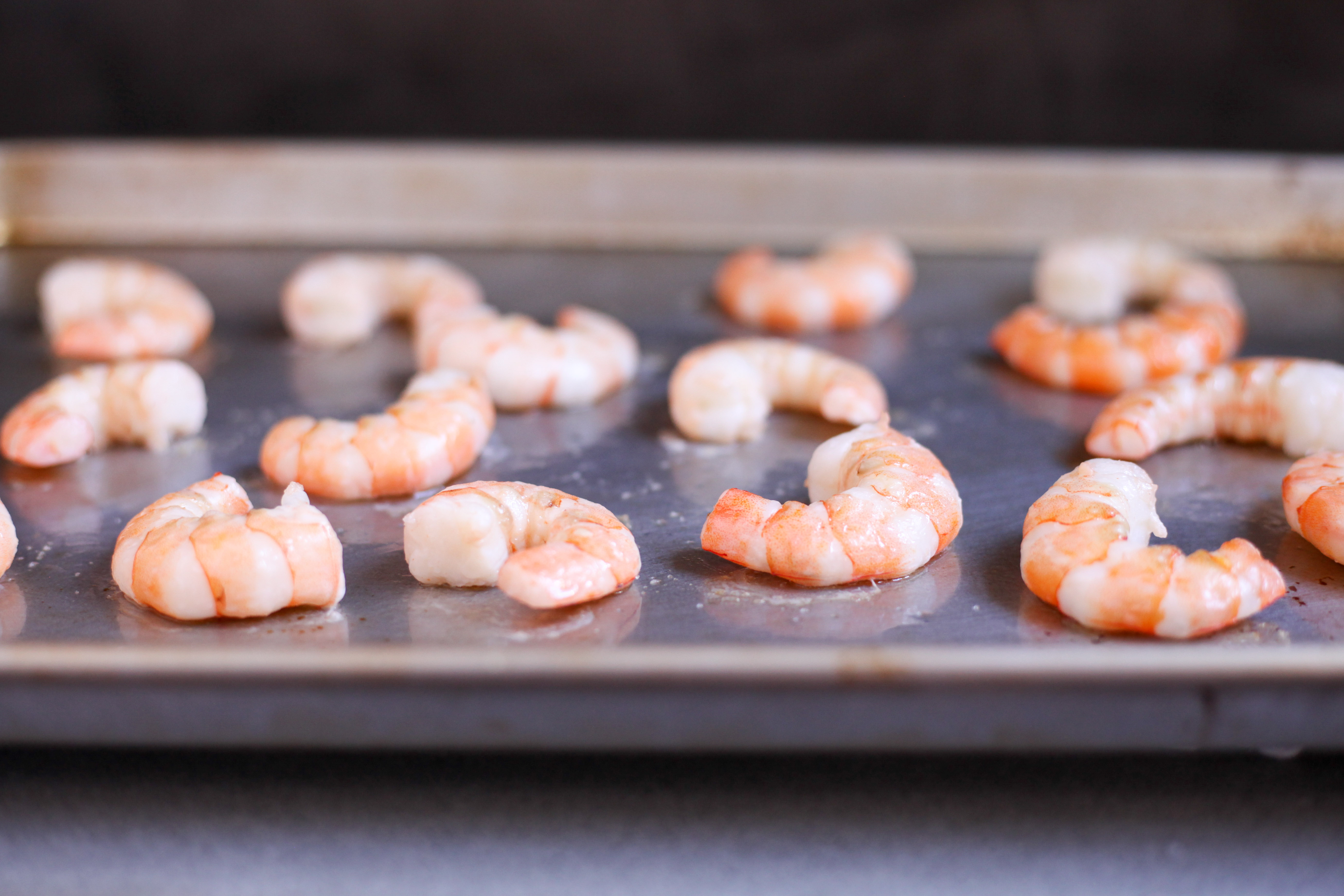 Rounded out with some quinoa, it makes for a dinner that feels special but is totally doable on a weeknight. Here, I've employed my favorite way to cook shrimp: simply seasoned and roasted on a sheet pan — seriously, it's so easy. If you like things extra-spicy, toss the shrimp with some red pepper flakes (I'd imagine 1/2 teaspoon would be just right) before roasting. As is, the salsa brings a measured dose of heat to the party.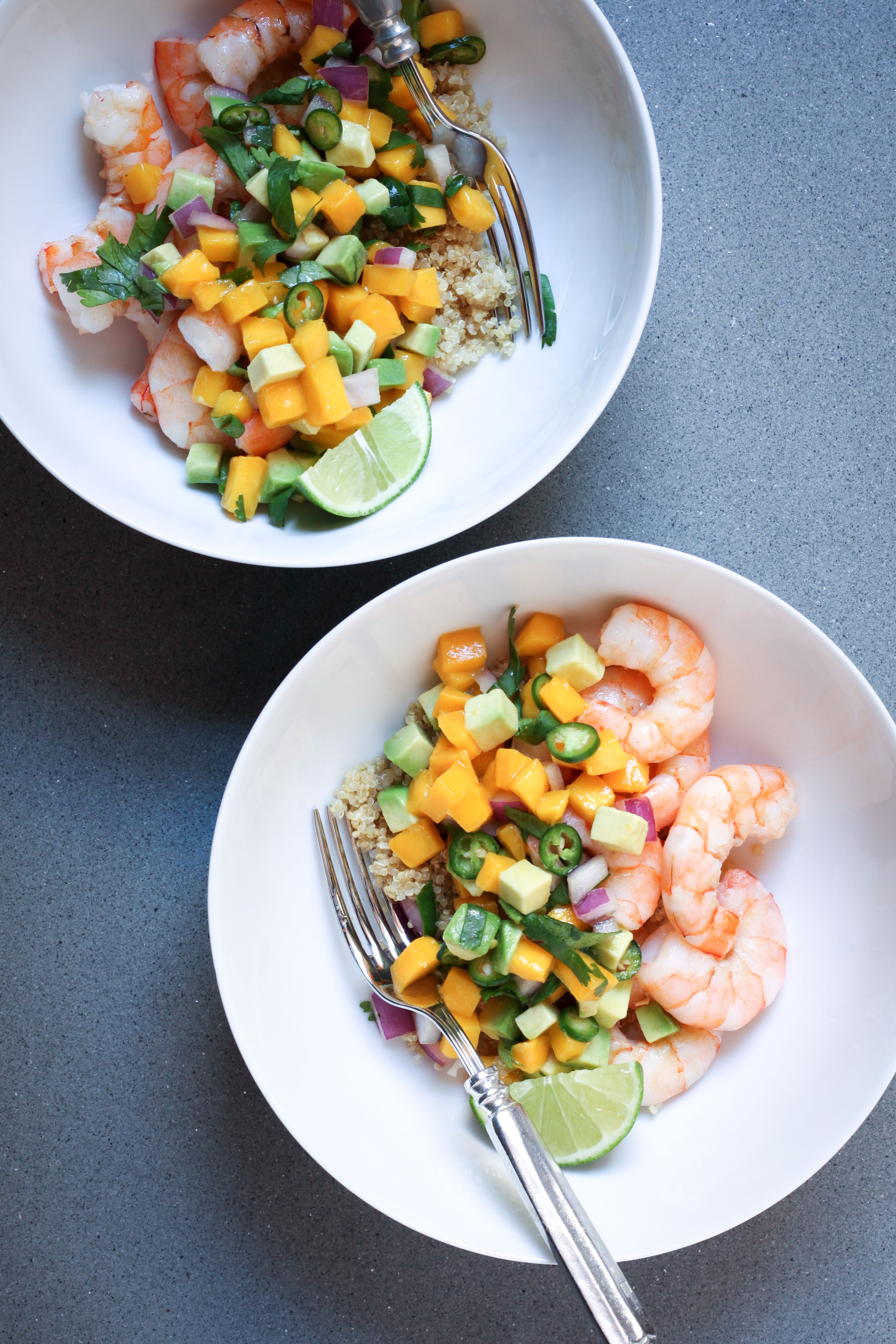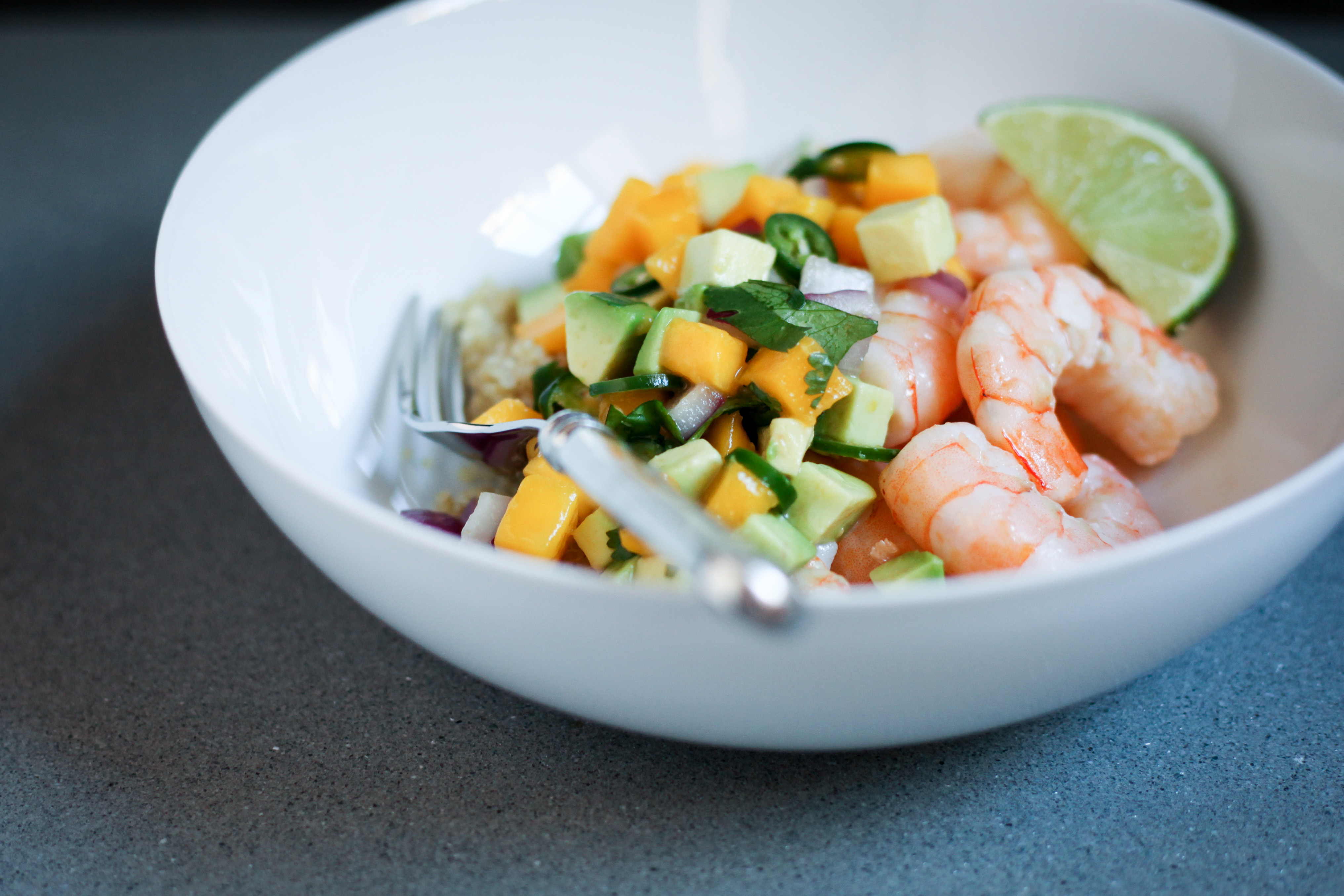 Shrimp and Quinoa With Mango-Avocado Salsa
Ingredients
1 alfonso mango, peeled and diced
1/2 avocado, diced
1/4 cup diced red onion
1 serrano pepper, thinly sliced
2 tablespoons chopped cilantro
Juice of 1/2 a lime, plus 2 lime wedges, for serving
Kosher salt
1/2 cup uncooked quinoa
1 pound large (16-20) shrimp
1 tablespoon neutral oil, such as rice bran or grapeseed
Instructions
Preheat the oven to 400°F.
Toss together the diced mango, avocado, onion, serrano pepper, cilantro, lime juice, and 1/8 teaspoon kosher salt in a small mixing bowl. Adjust to taste with more salt and lime juice, as needed.
Bring a saucepan of generously salted water to a boil. Meanwhile, rinse the quinoa under cold water in a fine-mesh strainer. Add the quinoa to the boiling water, and cook for 6-8 minutes or until the quinoa is just barely al dente. Strain it using the fine-mesh strainer. Add an inch of water to the quinoa pot, set the fine-mesh strainer (with the cooked quinoa still in it) inside the pot; make sure the quinoa doesn't touch the water. Cover with a dish towel and the pot's lid, turn the heat up to high, and steam for 3-5 minutes, or until the quinoa is tender and no longer waterlogged.
While the quinoa cooks, toss the shrimp with oil and 1 scant teaspoon of salt on a half-sheet pan. Roast until the shrimp are opaque, lightly pink, and cooked through, 5-6 minutes.
Divide the quinoa, shrimp, and mango-avocado salsa between two bowls; serve with lime wedges.
Notes
If you're working with shell-on shrimp,
peel and devein them
before seasoning and roasting. (To save time, buy shrimp that's already peeled and deveined.)