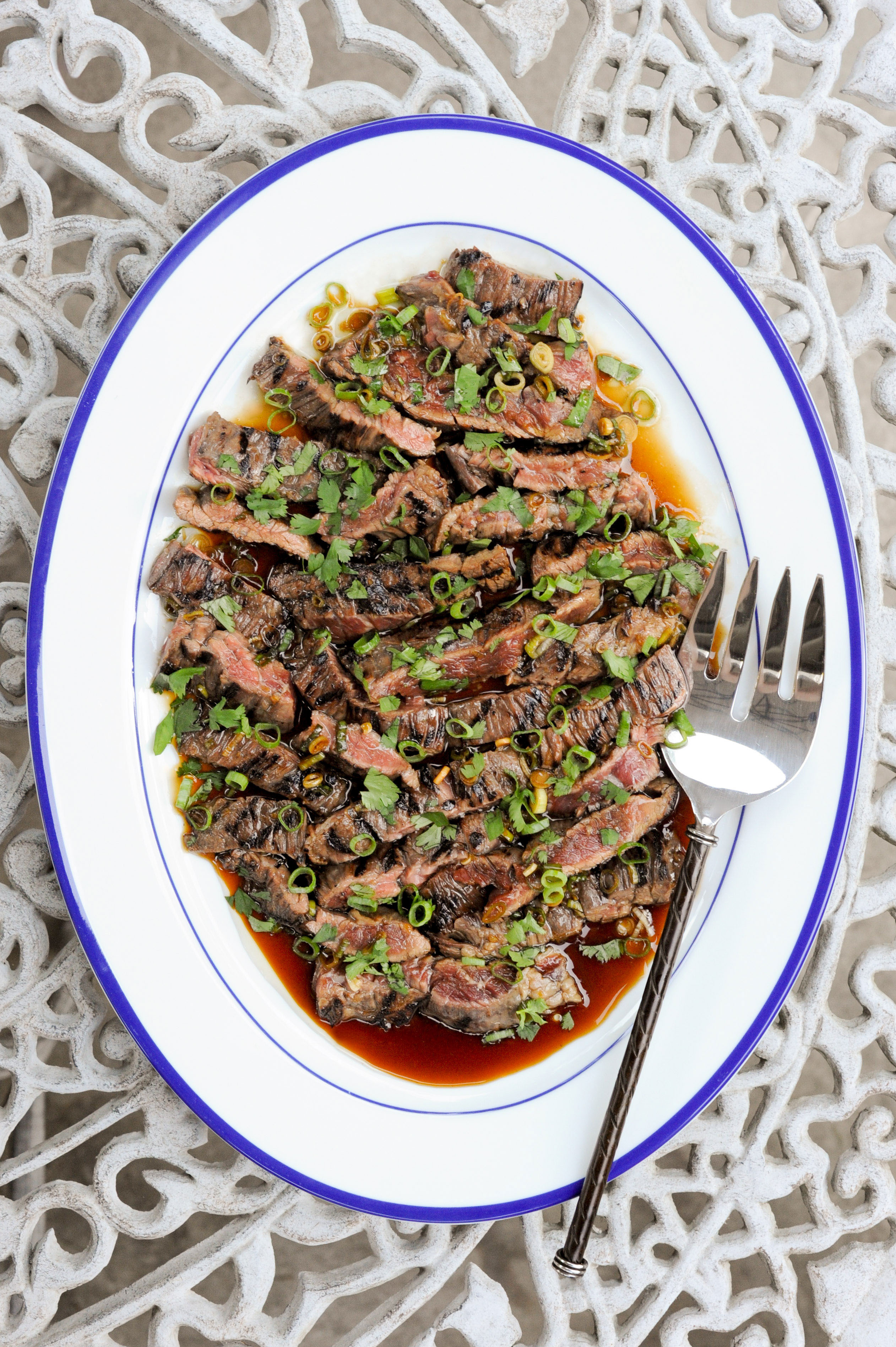 When cooking a thick, well-marbled NY strip or porterhouse, I tend to stick to the adage that less is more, seasoning with salt and not much else; with leaner, thinly-cut steaks like strip, hangar, and flank, it's a different game altogether. Flavorful, but not terribly rich or tender, these relatively budget-friendly cuts take magnificently to a bold marinade like this soy-garlic situation.

A riff on a favorite recipe from America's Test Kitchen, it, like many gems from that publication, flips conventional wisdom on its head. Instead of marinading the steak before grilling, the steak is rubbed with salt and a bit of sugar (to promote browning), quickly seared, poked all over with a fork (to increase absorption), and plunked into a casserole dish filled with marinade. As the steak rests — a step that one should always take when cooking meat — it absorbs the marinade, soaking up just as much flavor as with traditional recipes. The advantages to marinading it afterwards are two-fold: not only will the steak caramelize more readily thanks a dry surface and that pinch of sugar, but it also eliminates the issue of the marinade burning. The result: perfectly-cooked steak every time.

Grilled Skirt Steak With Soy-Garlic Marinade
Ingredients
1/2 cup tamari or soy sauce
3-4 tablespoons fish sauce
2 scallions, thinly sliced, plus the green parts of 1 scallion for garnish
2 tablespoons plus 2 teaspoons granulated sugar, divided
4 garlic cloves, minced
1 tablespoon minced ginger or ginger juice
2 teaspoons rice wine vinegar
1/4 cup vegetable oil
2 (12-ounce) skirt steaks, cut into manageable pieces
1 teaspoon kosher salt
Chopped cilantro, for garnish
Instructions
Combine the soy sauce, fish sauce, scallions, 2 tablespoons sugar, garlic, ginger, and vinegar in a 9-by-13-inch casserole dish; whisk together until the sugar has dissolved. Slowly whisk in the oil until incorporated.
Combine the salt and remaining 2 teaspoons sugar in a small bowl. Pat the steaks dry with paper towels, and sprinkle all over with the sugar and salt.
For a charcoal grill: Open the bottom vent completely. Light the large chimney starter mounded with charcoal briquettes (7 quarts). When the top coals are partially covered with ash, pour evenly over half of grill. Set the cooking grate in place, cover, and open the lid vent completely. Heat the grill until hot, about 5 minutes.
For a gas grill: Turn all the burners to high, cover, and heat the grill until hot, about 15 minutes. Leave all the burners on high.
Clean and oil the cooking grate. Grill the steaks (uncovered and directly over coals if using charcoal; covered if using gas) until browned and the meat registers 125°F for medium-rare, 2 to 3 minutes per side.
Transfer steaks to the 13-by-9-inch pan, and poke all over with a fork. Turn to coat all over in the marinade, tent with aluminum foil, and let rest for 5 minutes.
Transfer the meat to a carving board, and slice thinly against the grain. Sprinkle with the green parts of the scallion and the cilantro. Pour the marinade into a serving vessel. Serve, passing the marinade at the table.
Notes
If skirt steak is unavailable, hangar, flank, or other lean, thinly-sliced cuts can be substituted (when in doubt, ask your butcher). If you are fond of fish sauce's funk, use the larger amount (4 tablespoons), if not, stick to 3. If you do not have access to a grill, sear the steak in a large grill pan or cast-iron skillet over high heat; you will likely need to halve the recipe or cook the steak in batches. To make gluten-free, use gluten-free tamari or soy sauce.