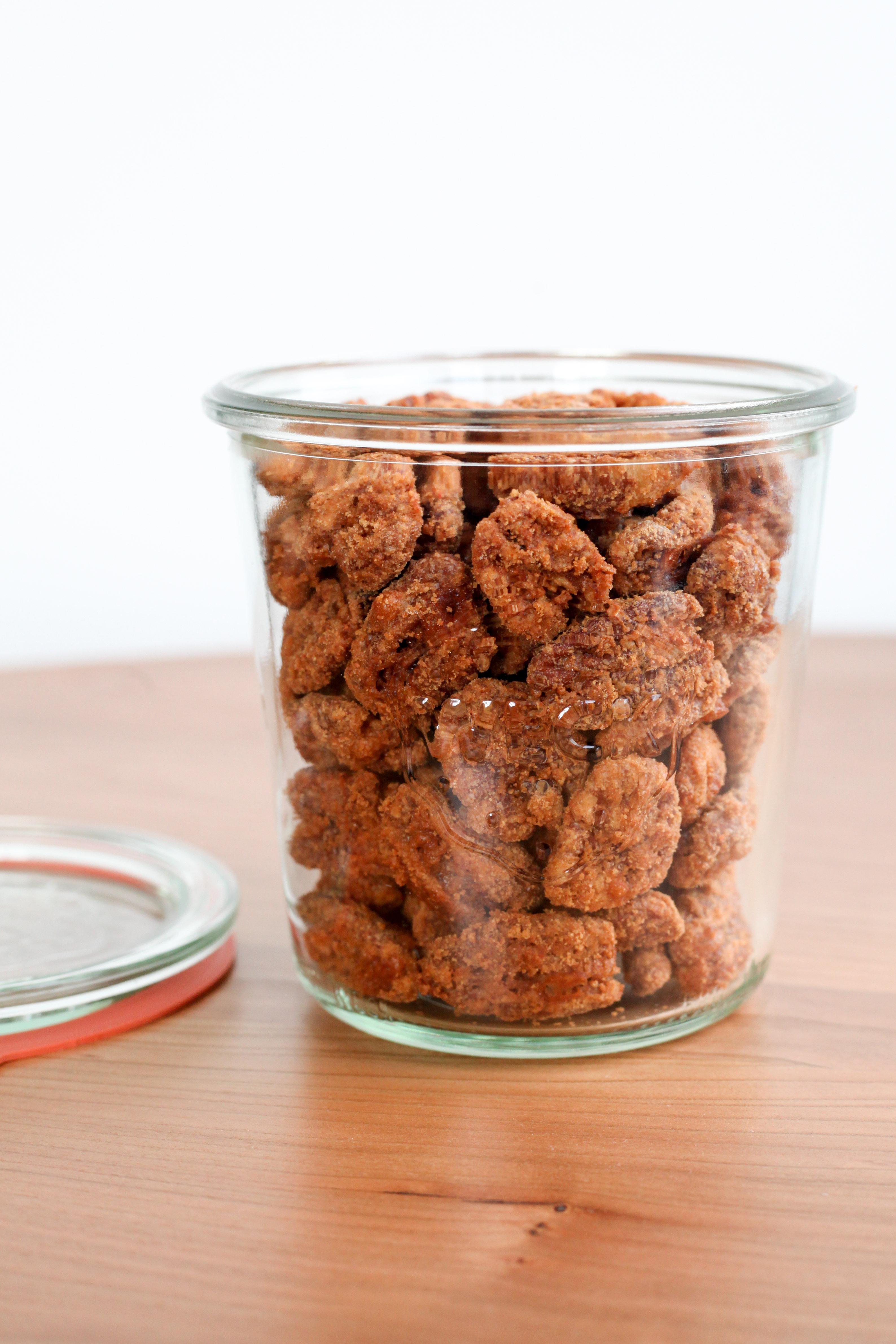 While on a recent trip to Boston, I paid a long-overdue visit to Flour Bakery, a spot I've wanted to check out for what feels like forever. Not surprisingly, Flour's famed sticky buns were a winner; the tangy, almost-sourdough-like brioche base balanced out the ridiculously-gooey deep-dark-brown glaze that anchors the pecans to the buns. Seriously, don't skip these. My other favorite was a bit less expected, an impulse purchase snatched up while waiting hungrily in line: a bag of spicy candied pecans, dubbed addictive by their packaging.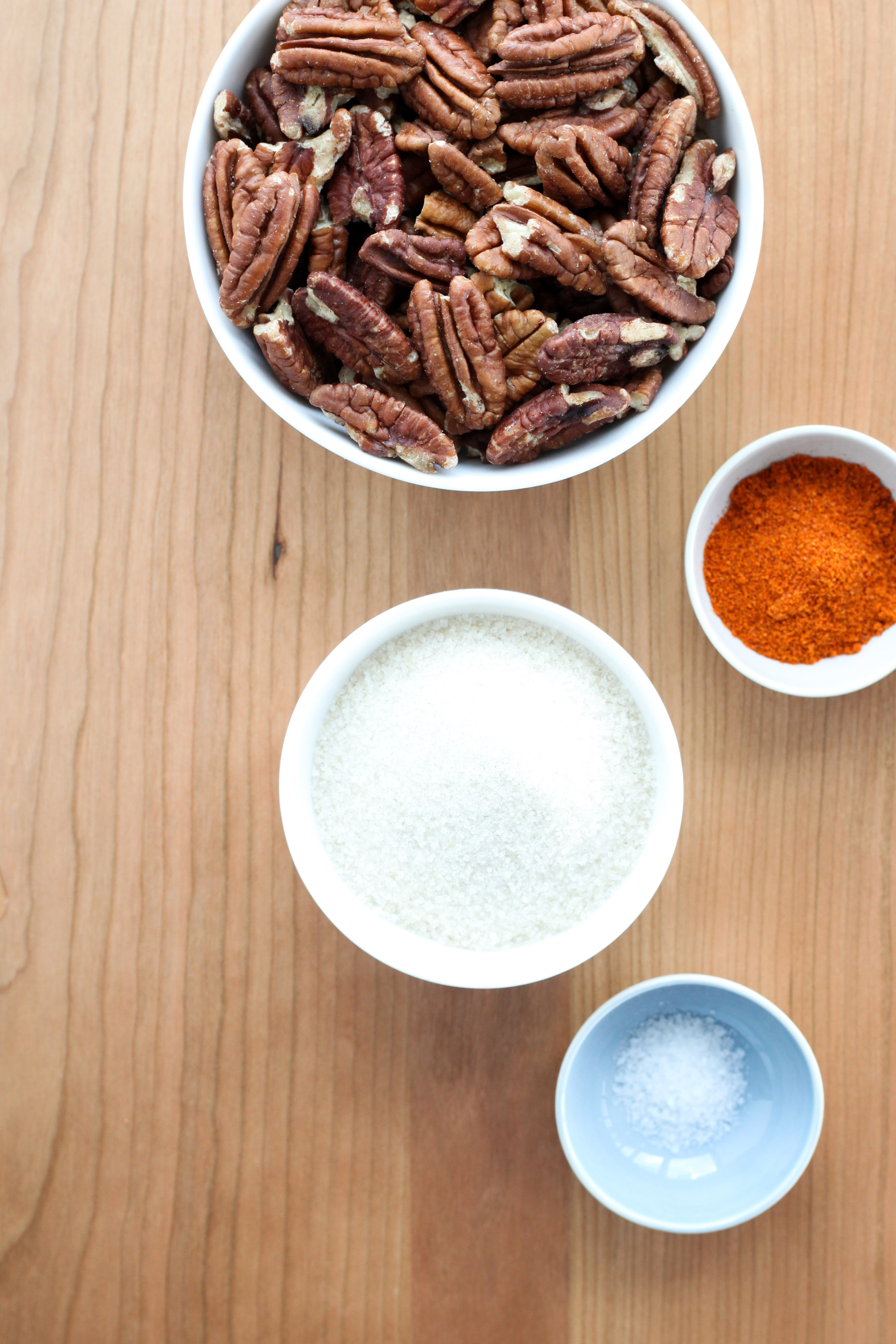 I didn't dig into these until I was on the train back to NYC, but as soon as I tore open that bag, I knew that they were trouble. Perfectly-toasted with a thick shellac of a sandy, almost praline-like coating, they were as addictive as their packaging suggested. In the span of a week, I crushed the sizable bag, growing more and more distraught over their dwindling supply as each day passed. Thankfully, with a little internet sleuthing, I discovered that Joanne Chang (Flour's mastermind baker) published the recipe in her second cookbook, Flour, Too: Indispensable Recipes for the Cafe's Most Loved Sweets & Savories.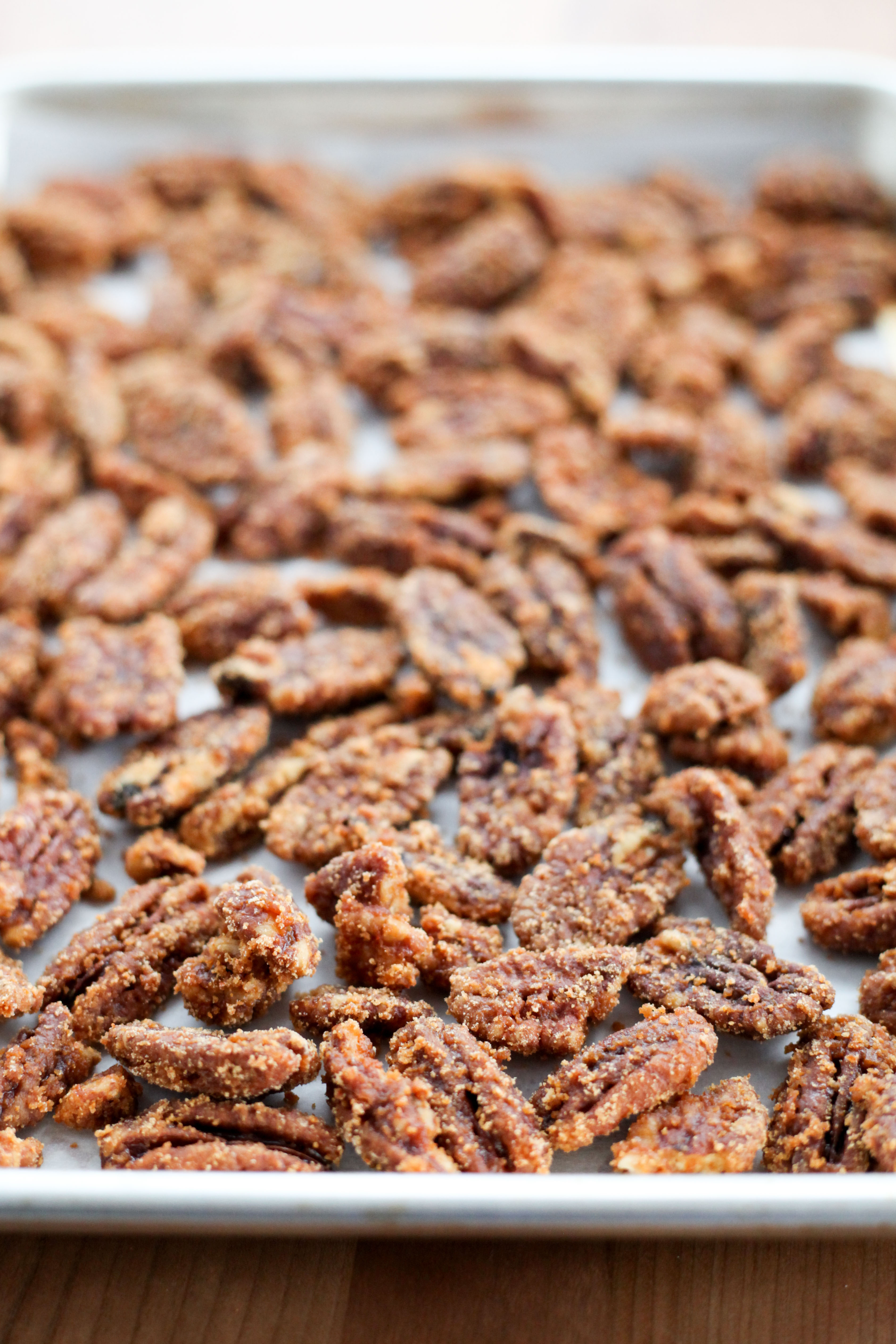 As I'm sharing the recipe here, I think it's pretty obvious that the recipe was a success; my homemade batch was just as crave-worthy as the Flour-purchased bag. And, thankfully, unlike the sticky buns recipe — a rather-involved two-day affair — they're easy to make at home. Do note that I did not make a transcription error, the recipe calls for a full two teaspoons of cayenne. While solidly spicy, they're not mouth-searingly so. The cayenne adds a spunky sizzle that'll keep you coming back for pecan after pecan.
Spicy Candied Pecans
Ingredients
2 cups (200 g) pecan halves
1/2 cup (100 g) granulated sugar
1 1/2-2 teaspoons cayenne
1/4 teaspoon kosher salt
Instructions
Preheat the oven to 350°F. Line a quarter sheet pan with parchment paper.
Add the pecans, sugar, cayenne, salt, and 1/4 cup water to a medium saucepan. Cook over medium heat, stirring constantly with a wooden spoon until the liquid evaporates away and the sugar crystalizes onto the pecans making them look as though they're coated in sand, 8-10 minutes.
Transfer to the prepped sheet pan, spread out in one even layer and bake for 12-15 minutes or until the pecans are toasted. (Snap a pecan in half to check — it should be light golden brown inside.) Cool on the pan for 20-30 minutes, or until cool to the touch.
Store in an airtight container for up to 2 weeks.
Notes
If you prefer things less spicy, use the smaller amount of cayenne. (With 2 teaspoons, the nuts are pretty spicy but pleasantly so.)