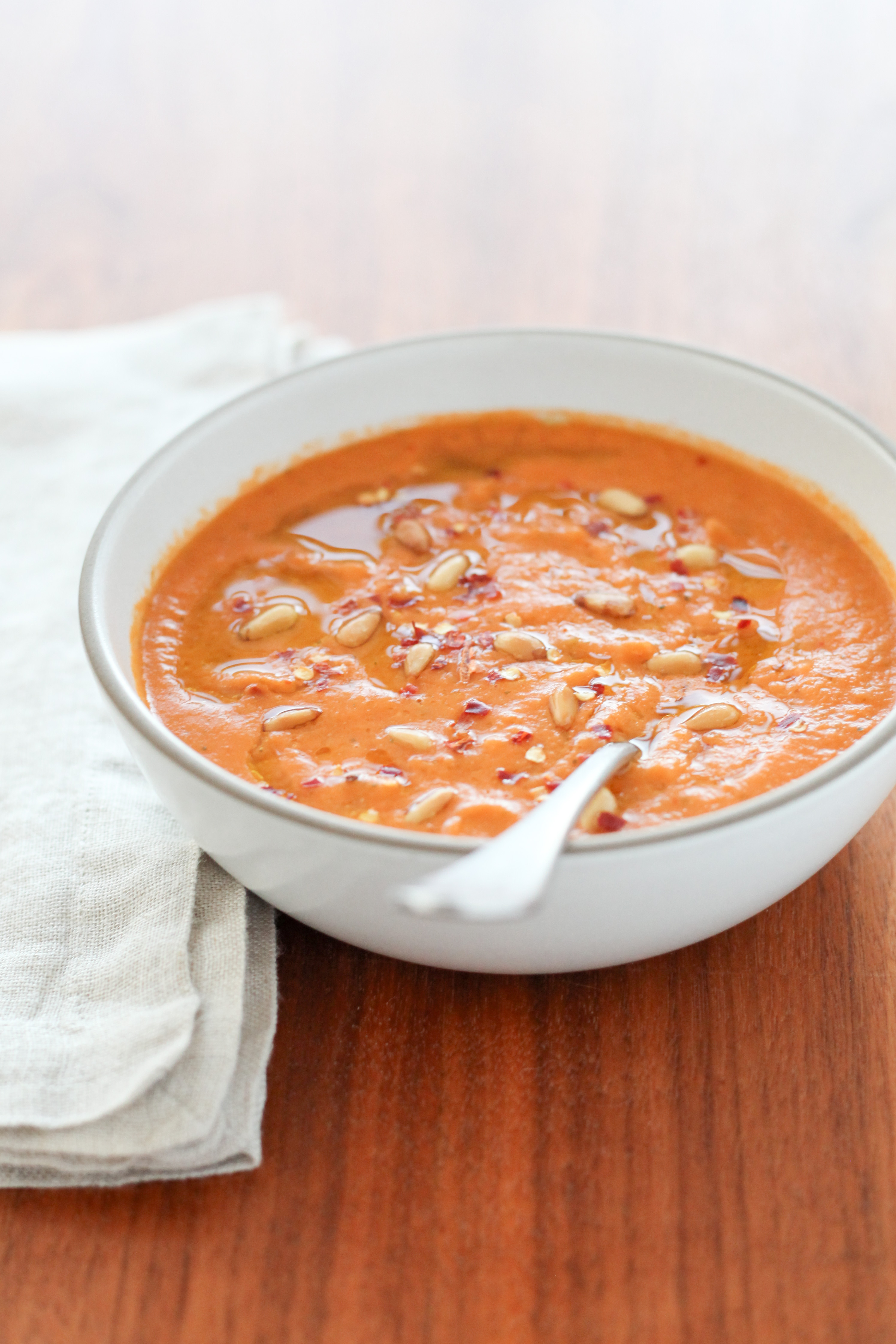 Take a peek into my freezer and alongside the popsicles, frozen fruit, parmesan rinds, shrimp, and sliced bread, you'll typically find single servings of at least two varieties of homemade soup, ready to be thawed and simmered when hunger strikes. Admittedly, I'm a bit of a soup obsessive — my cookbook collection includes nearly a dozen single-subject titles devoted to it — but I don't think you have to feel the way I do about bisques and potages to find this a winning dinnertime strategy. Soup freezes wonderfully, is easily defrosted and reheated, and, generally-speaking is a veggie-packed nutritional powerhouse.



This summery roasted tomato and eggplant recipe is just the sort of thing I'll be stocking my freezer with for the rest of the season. As it's puréed, it freezes even better than average, and it's ridiculously-simple to prepare as there's no stovetop simmering involved: just roast the vegetables, boil some water, and blend it all till silky-smooth.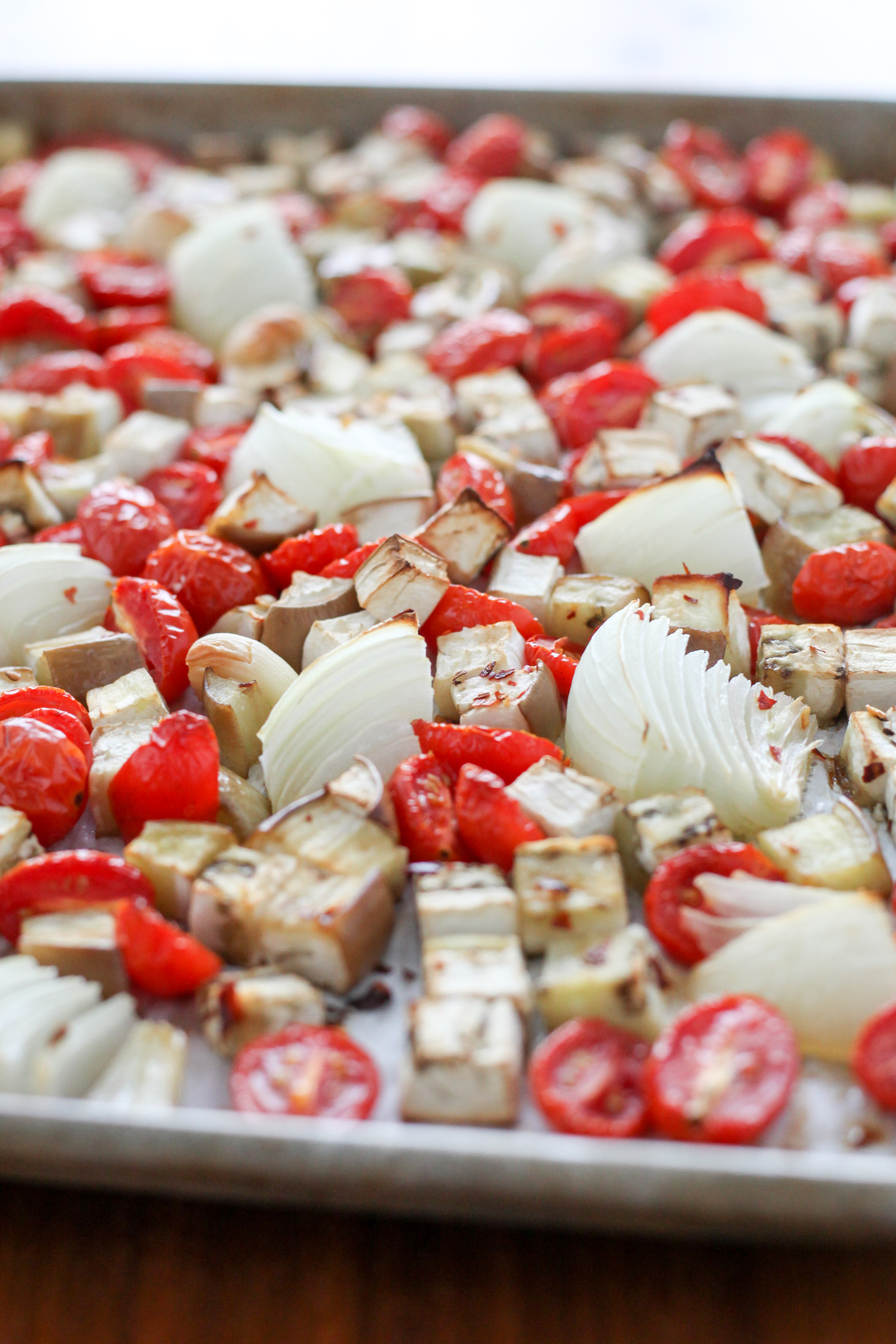 A steamy bowl of soup might seem at odds with muggy summer days, but I find myself craving bowl after bowl despite the weather. In part because the market's practically bursting with peak season produce, and in part because this recipe (and most soup recipes in general) is light, yet nourishing. Yes, you'll have to turn on the oven, but if you prep a double batch and then freeze leftovers for later, you'll be set up with many virtually-effortless meals to come.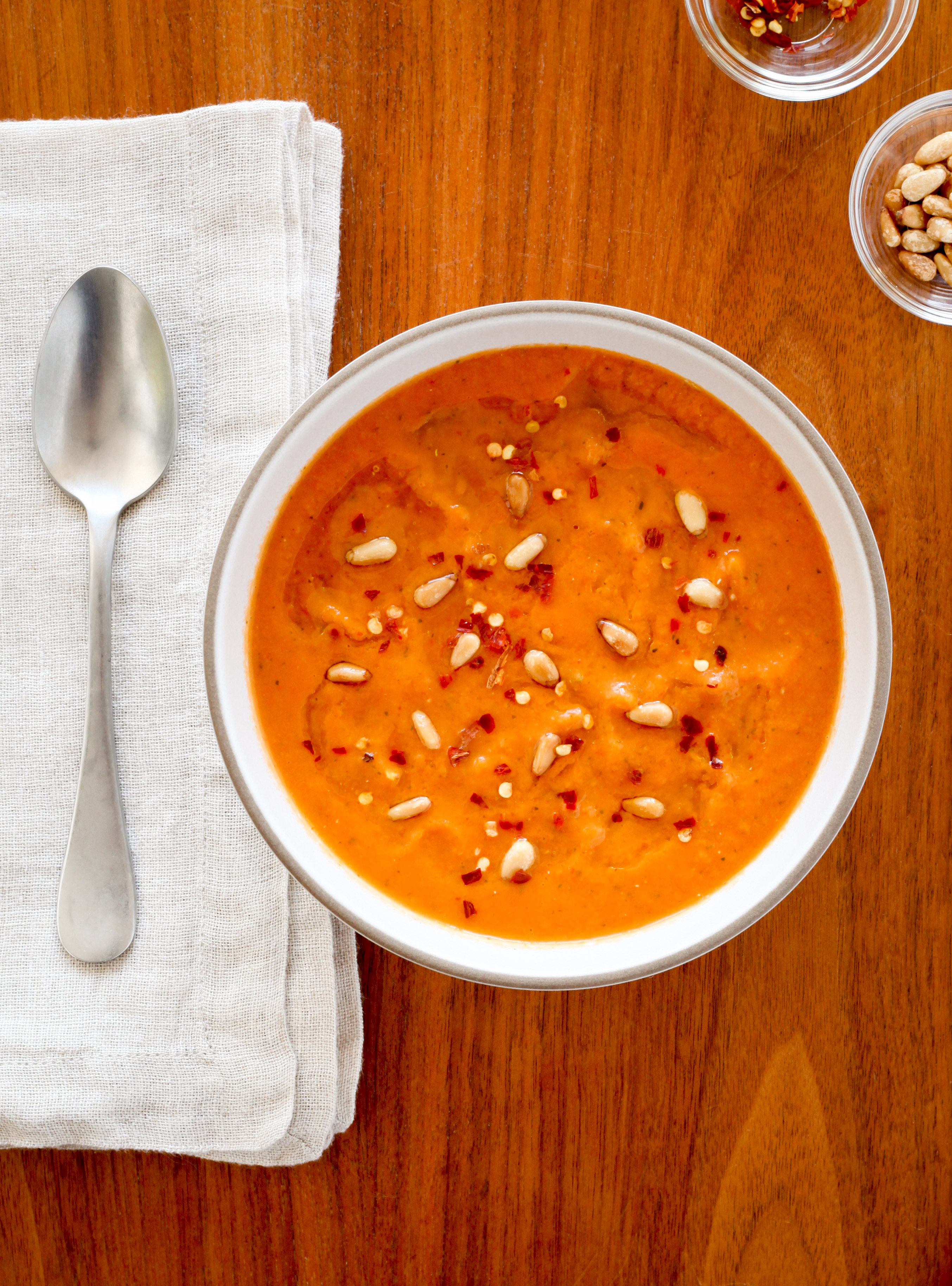 Roasted Tomato Eggplant Soup
Ingredients
About 1 pound eggplant, cut into 1/2-inch chunks
2 pints cherry tomatoes, halved
1 medium yellow onion, cut into 16 wedges
3-4 garlic cloves
3 tablespoons extra-virgin olive oil, plus more for drizzling
Kosher salt
1/2 teaspoon red pepper flakes, plus some for garnish
1/4 cup sundried tomatoes
1/2 cup (loosely packed) mint leaves
Red wine vinegar, to taste
Toasted pine nuts, for garnish
Instructions
Preheat the oven to 425°f. Line a half sheet pan with parchment.
Arrange the eggplant, tomatoes, onion, and garlic in one even layer on the prepped pan. Drizzle with olive oil, sprinkle with 1 teaspoon of salt and the red pepper flakes. Roast until golden brown, 35-40 minutes.
Add the vegetables, sundried tomatoes, mint, and 4 cups of boiling water to a blender, blend until smooth. If desired, thin further with another 1/2-1 cup of boiling water. Season to taste with additional salt, and red wine vinegar (I used about 1/2 teaspoon vinegar and an additional 3/4 teaspoon salt).
Pour into bowls and garnish with olive oil, pepper flakes, and pine nuts.
Notes
This recipe, like most blended soups, is great as leftovers (brown bag it in a tightly-sealed mason jar) and
also freezes well
. For a pretty reddish-orange color, use a white eggplant, as I did here; if you can't find white eggplant, Asian eggplants or a standard globe eggplant work just as well though the color will be a bit browner.