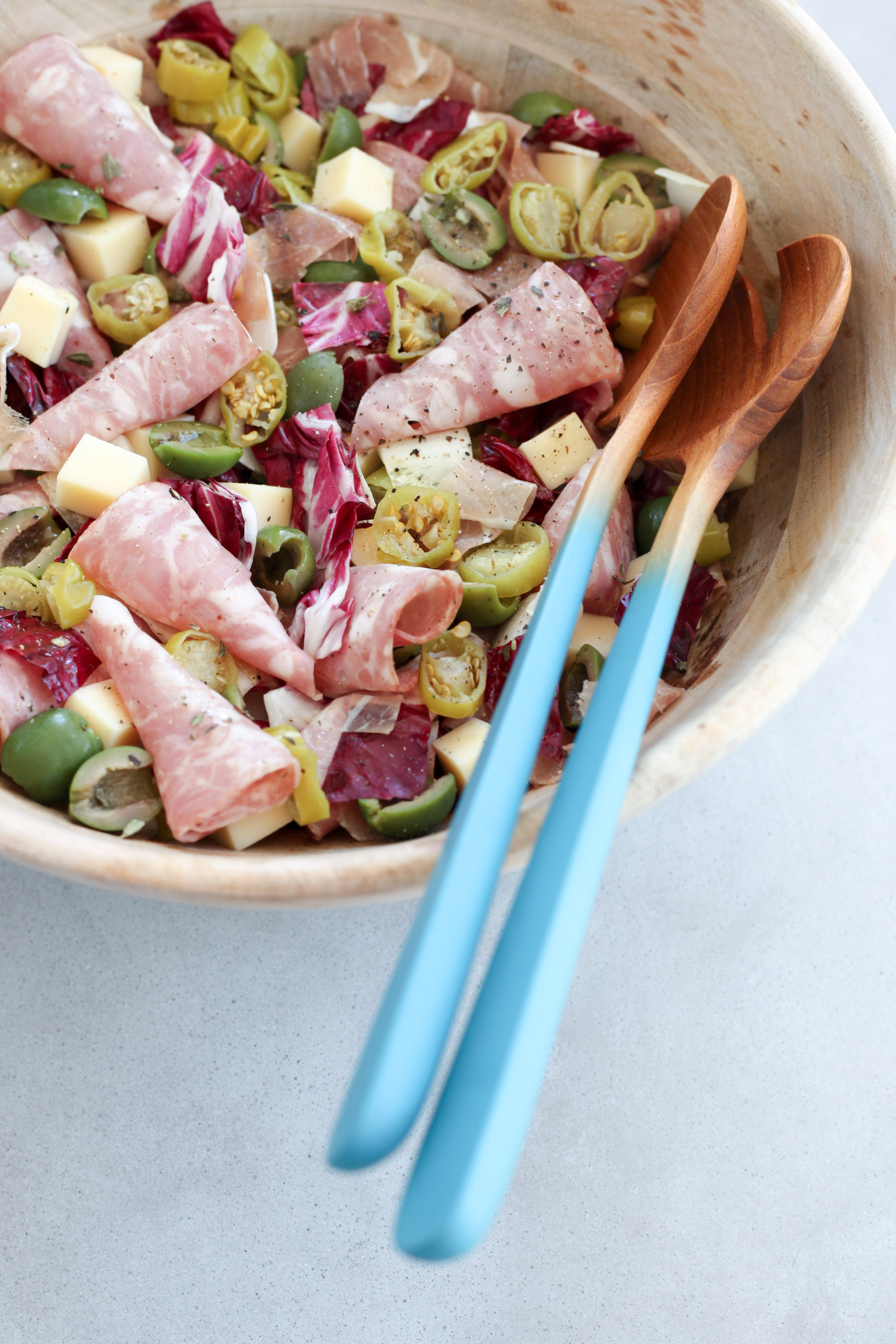 One of Andrew's all-time-favorite foods is an Italian sub, so when I was flipping through Williams-Sonoma's newly-rereleased cookbook Salad of the Day: 365 Recipes for Every Day of the Year and saw a recipe for an Italian chopped salad loaded with prosciutto, salami, and fontina, I knew I had to try it out, and the sooner the better. On the first bite, I wasn't quite sure what to think — there's a lot going on here — but I soon found myself with an empty bowl and a satisfied smile on my face. (Andrew, predictably, was also a fan.)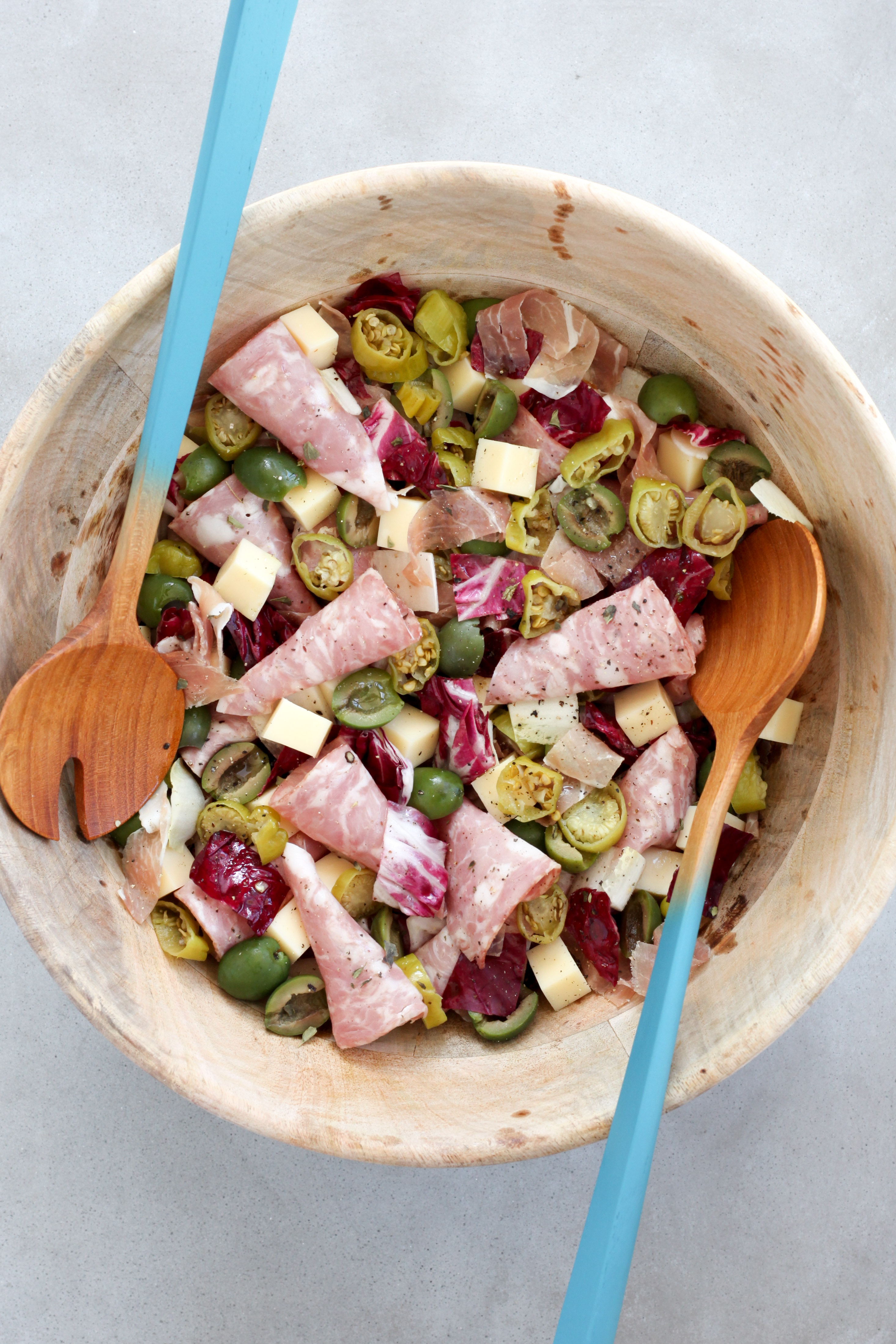 The real secret here lies in the balance of flavors. Each element — the bitter radicchio and escarole, salty charcuterie, creamy cheese, and briny pepperoncini and olives — is strong and could overpower a meeker line-up of ingredients, but here they play off each other's boldness. It's a true meal salad in that it both satisfies in heft (without going overboard, each serving clocks in around 500-600 calories) and in flavor. After trying this winner, I'm eager to test out many other recipes from this book; some standouts include: a black bean, corn, and quinoa salad; a crispy eggplant, miso butter, and charred sungold tomato number; and shredded kale with tahini dressing and crispy chickpeas.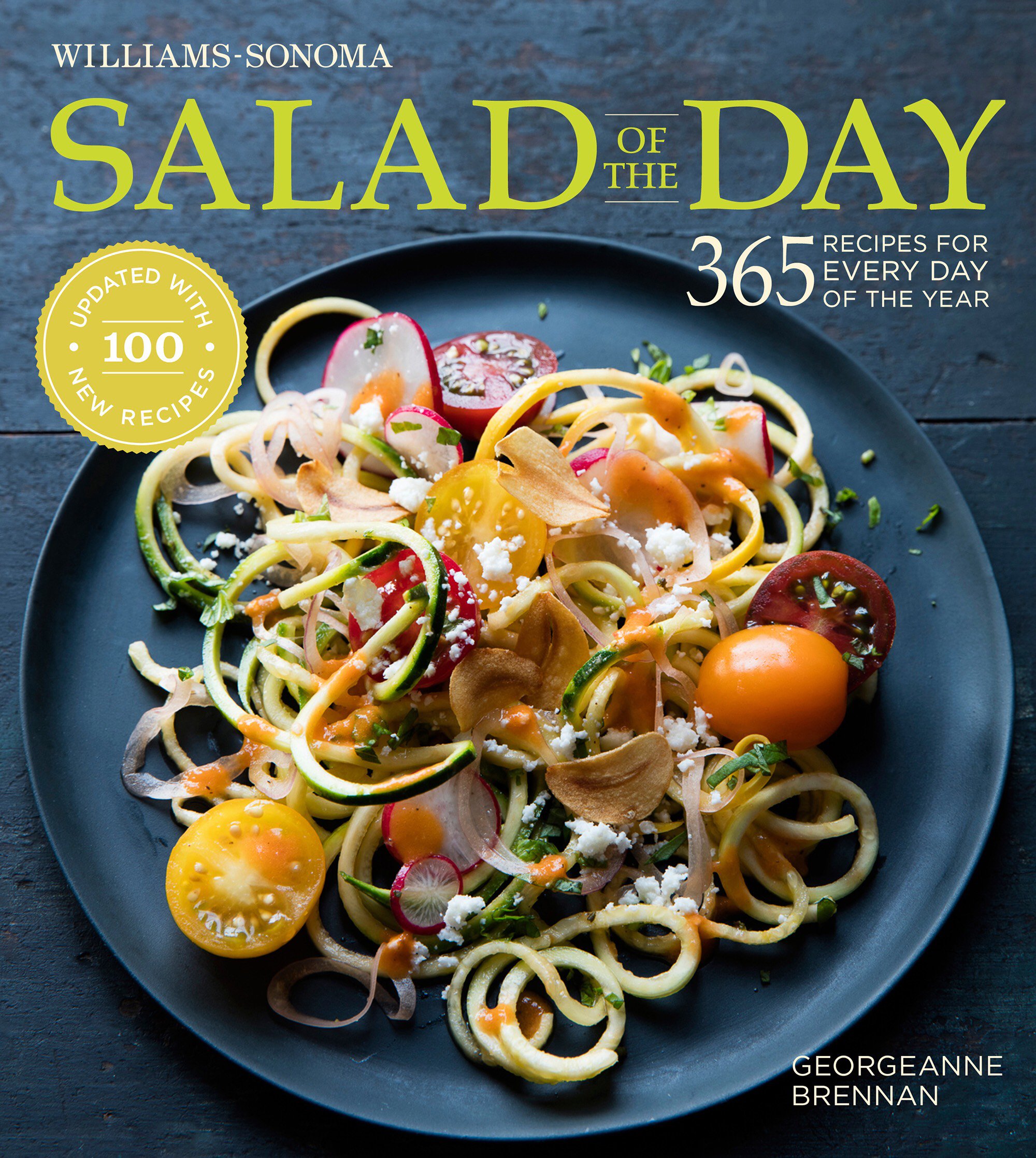 Cover image: William Sonoma Salad of the Day (365 Recipes for Every Day of the Year) published by Weldon Owen
Italian Chopped Salad With Salami, Prosciutto, and Fontina
Ingredients
1 head radicchio
1 large head escarole
1/2 cup extra-virgin olive oil
2 tablespoons red wine vinegar
1 teaspoon dried oregano
3/4 teaspoon kosher salt
1/4 teaspoon freshly-ground black pepper
3 ounces (90 grams) prosciutto, cut into 1/4-inch slivers
1/2 pound (250 grams) sliced cotto salami, cut into quarters
6 ounces (185 grams) fontina, cut into 1/2-inch cubes
1/4 pound (125 grams) pitted black or green olives, halved
1/4 pound (125 grams) sliced or chopped pepperoncini, drained
Instructions
Coarsely chop the radicchio. Remove the pale green and yellow inner leaves from the escarole. Coarsely chop these, along with the pale stem end of the larger green leaves. Reserve the darker green leaves for another use, such as soup or braising.
In a large bowl, whisk together the oil, vinegar, oregano, salt, and pepper until the vinaigrette is well blended. Add the radicchio and escarole and toss to coat.
Divide the salad among individual bowls or plates or transfer to a platter. Arrange the prosciutto, salami, cheese, olives, and pepperoncini on top of the greens.
Notes
Prep the prosciutto, salami, and fontina first as they're easiest to cut cleanly while cold, but are tastiest after coming to room temperature (as they will do while you prep the other ingredients). 2 large heads of coarsely chopped endive can be subbed for the escarole (as I did here). I couldn't track down cotto salami, so subbed
Fra'mani's salame rosa
, a similar style of salami (both are uncured and cooked). The deli counter at my Whole Foods sells it by the pound.