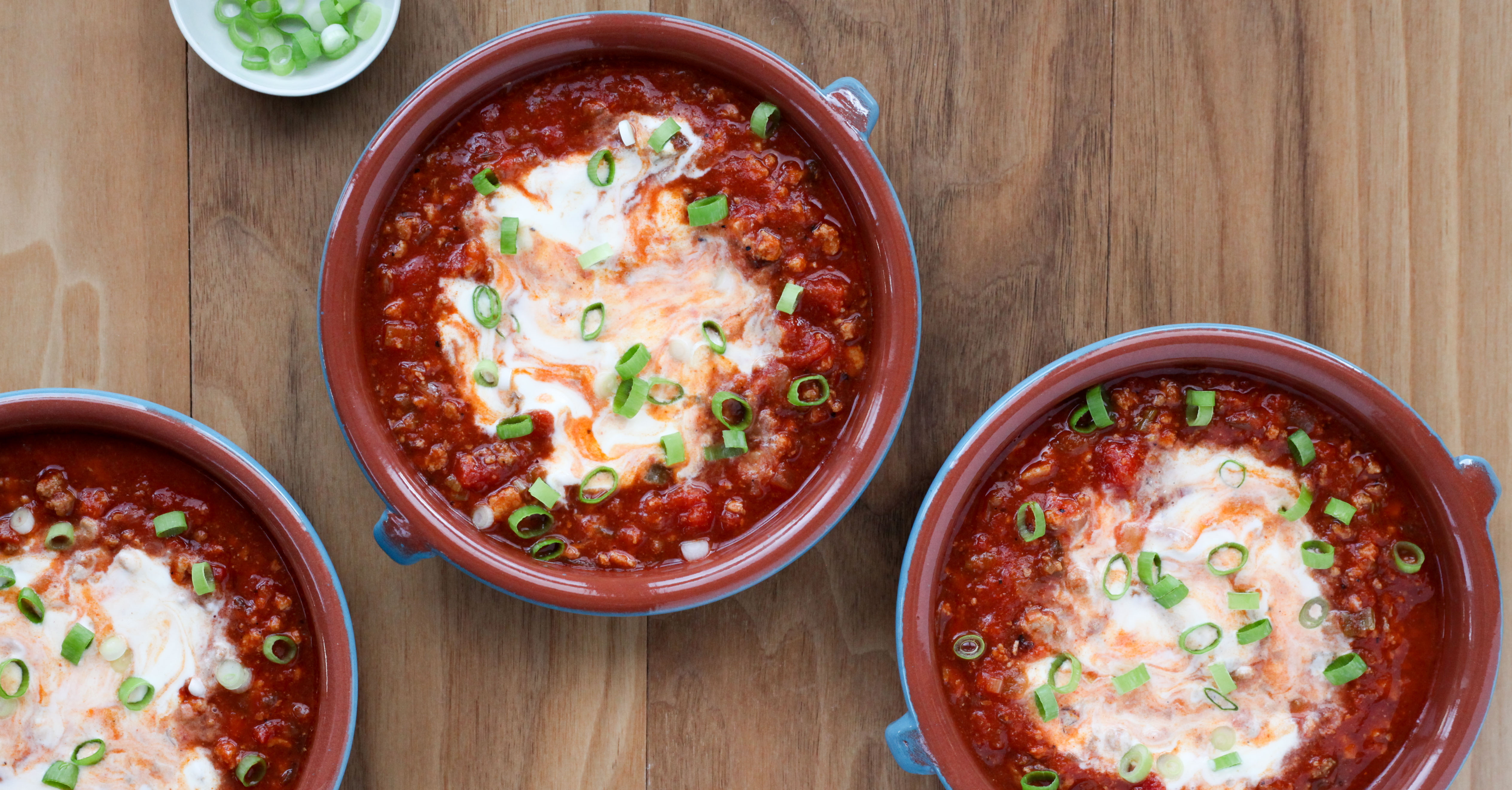 Andrew and I have very different ideas of what goes into an ideal bowl of chili. As a veg-curious cook, my concept of this Southwestern staple has always involved beans, often to the exclusion of meat. Andrew's preferences hew much closer to the meat-heavy Texan-style; beans aren't necessarily off the table, but also aren't the star. So, it's hardly surprising that the last couple recipes I've auditioned — a dense, three-bean vegetarian chili and a vegetable-heavy vegan option — were met with a somewhat lukewarm response on his part. So, in the spirit of trying something new (to me, at least), and, yes, making a dinner my boyfriend would be excited to eat, I recently simmered up this three-meat situation sourced from Geoffrey Zakarian's My Perfect Pantry.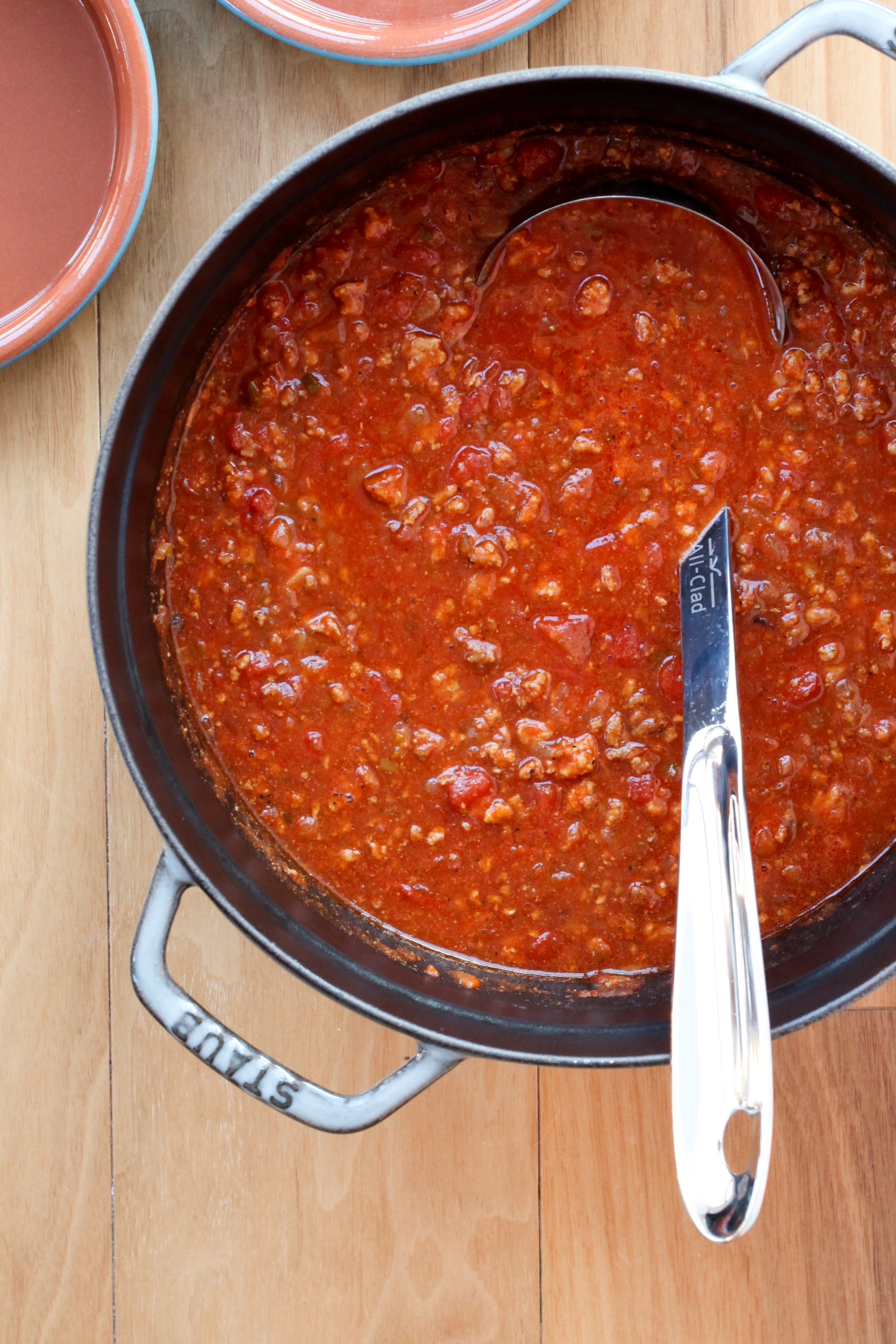 As testament to this recipe's cozy goodness, I've since expanded my view on chili to be more inclusive. I won't be casting aside vegan and vegetarian versions altogether — my love of beans is too great — but have come to the conclusion that both deserve a place on my table. Zakarian's recipe expertly layers flavor, without racking up a ridiculously-long grocery list. Instead of throwing everything but the kitchen sink into a pot and setting it to simmer, it's apparent that he carefully chose his ingredients for maximum impact: fire-roasted tomatoes bring both acidity and smokiness; onions, scallions, and garlic add characteristic allium sharpness; and a trio of seasonings (chili powder plus two varieties of Tabasco sauce) make it appropriately kicky.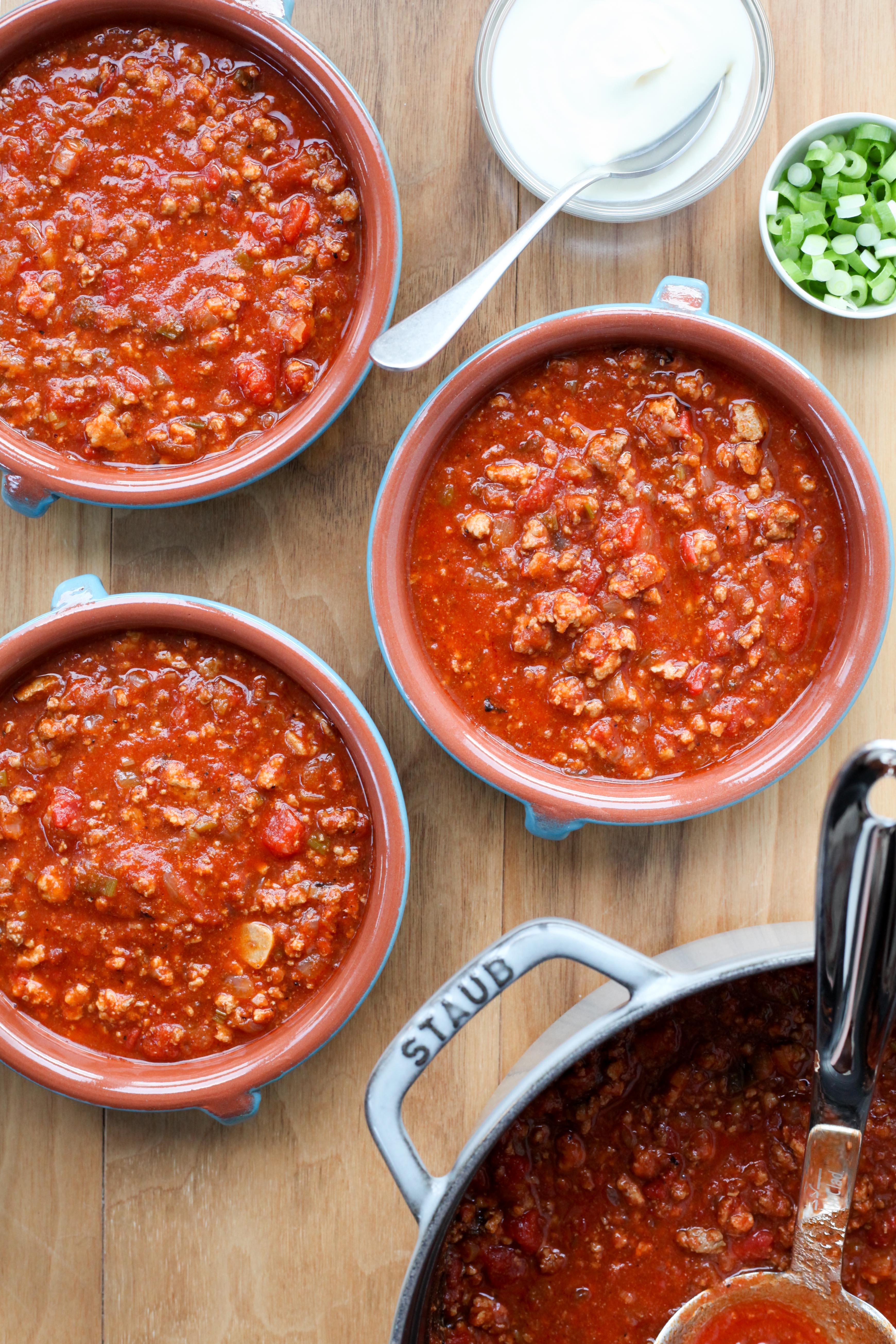 Zakarian suggests keeping things simple and garnishing with naught but a dollop of crème fraîche, but I couldn't help but finish mine with a bit of thinly sliced scallions for fresh green flavor. Either way, it's a great transitional meal for these not-quite-fall, not-quite-summer September days.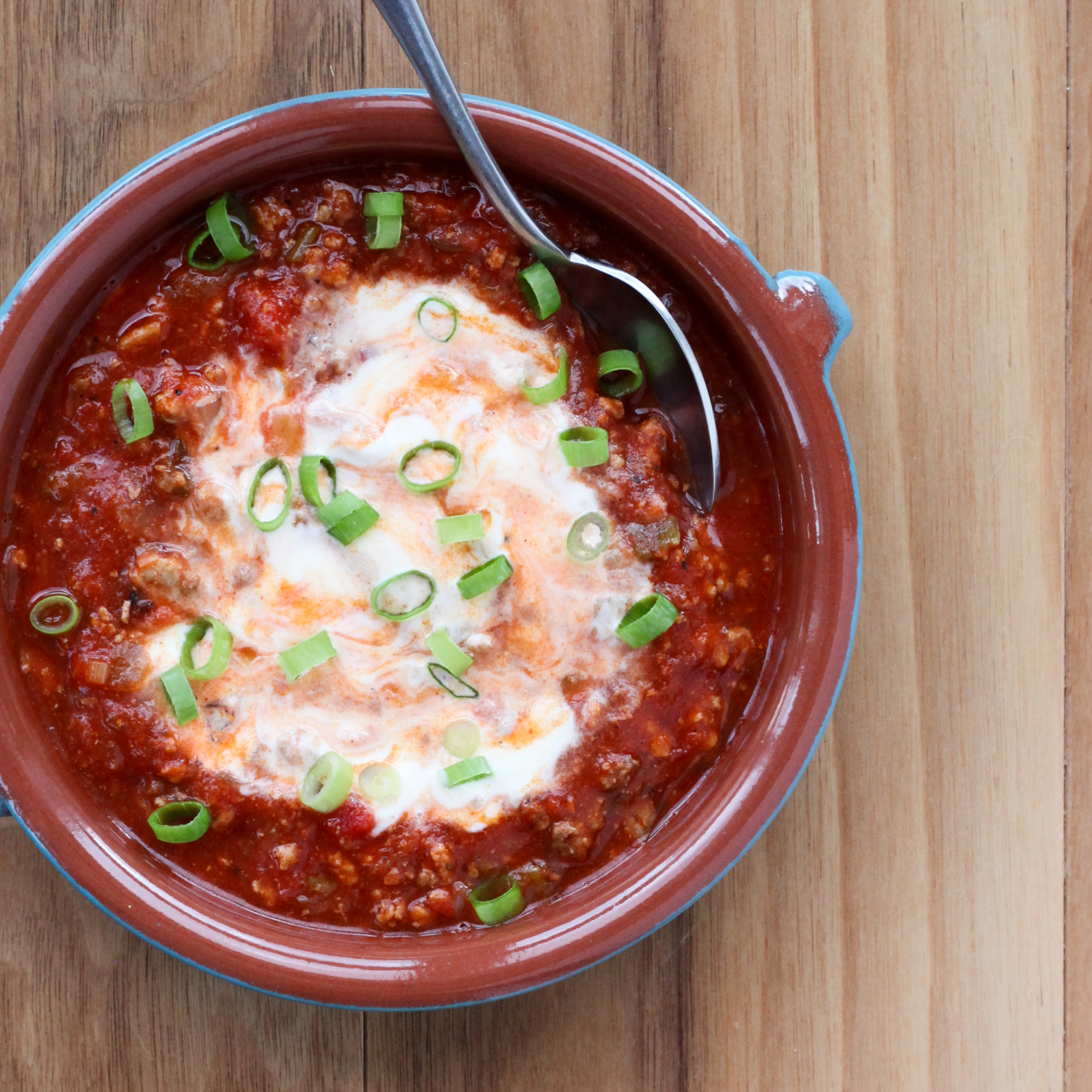 Three-Meat Chili
Ingredients
1 1/2 tablespoons neutral oil
1/2 pound ground beef chuck
1/2 pound ground pork shoulder
1/2 pound ground veal shoulder
Kosher salt
1 1/2 cups chopped onions (about 1 large)
3 garlic cloves, finely chopped
1 bunch scallions, chopped (about 1 cup)
1 tablespoon tomato paste
3 tablespoons chili powder
1/2 (12-ounce) bottle dark beer, such as Modelo or Dos Equis
1 (28-ounce) can diced fire-roasted tomatoes
1 cup chicken stock
1 tablespoon red Tabasco sauce
1 tablespoon green Tabasco sauce
1/2 cup crème fraîche, lightly whipped and chilled, for serving
Instructions
In a dutch oven or large pot, heat the oil over medium-high heat. When the oil is shimmering, add the beef, pork, and veal. Brown on one side and then flip, browning the other side, before breaking up, and cooking, stirring occasionally, until the meats are browned all over, about 15 minutes all in all. (All of the moisture should have cooked away — you'll know this has happened from both visual cues, and a gentle crackling sound.) Season with 1 1/2 teaspoons salt.
Reduce the heat to medium. Add the onions, garlic, and scallions, and cook, stirring occasionally, until softened, about 5 minutes. Make space in the pan for the tomato paste, add in, and cook for about 1 minute, then stir into the meat with the chili powder. Cook until fragrant, about 2 minutes.
Add the beer and cook until mostly cooked away, about 4 minutes. Add the tomatoes, chicken stock, and Tabasco, bring to a boil, and then reduce the heat to maintain a simmer. Simmer uncovered for 1 1/2 hours, or until the chili is thick, and dark red in color. Season to taste with salt (it may need a bit more).
Serve with creme fraiche and sliced scallions (if desired).
Notes
If you can't find ground veal, up the amount of beef and pork to 3/4 pound each. For a bit of freshness, reserve 1-2 scallions to thinly slice for garnish. Like pretty much all chili, this recipe is great as leftovers and freezes well.