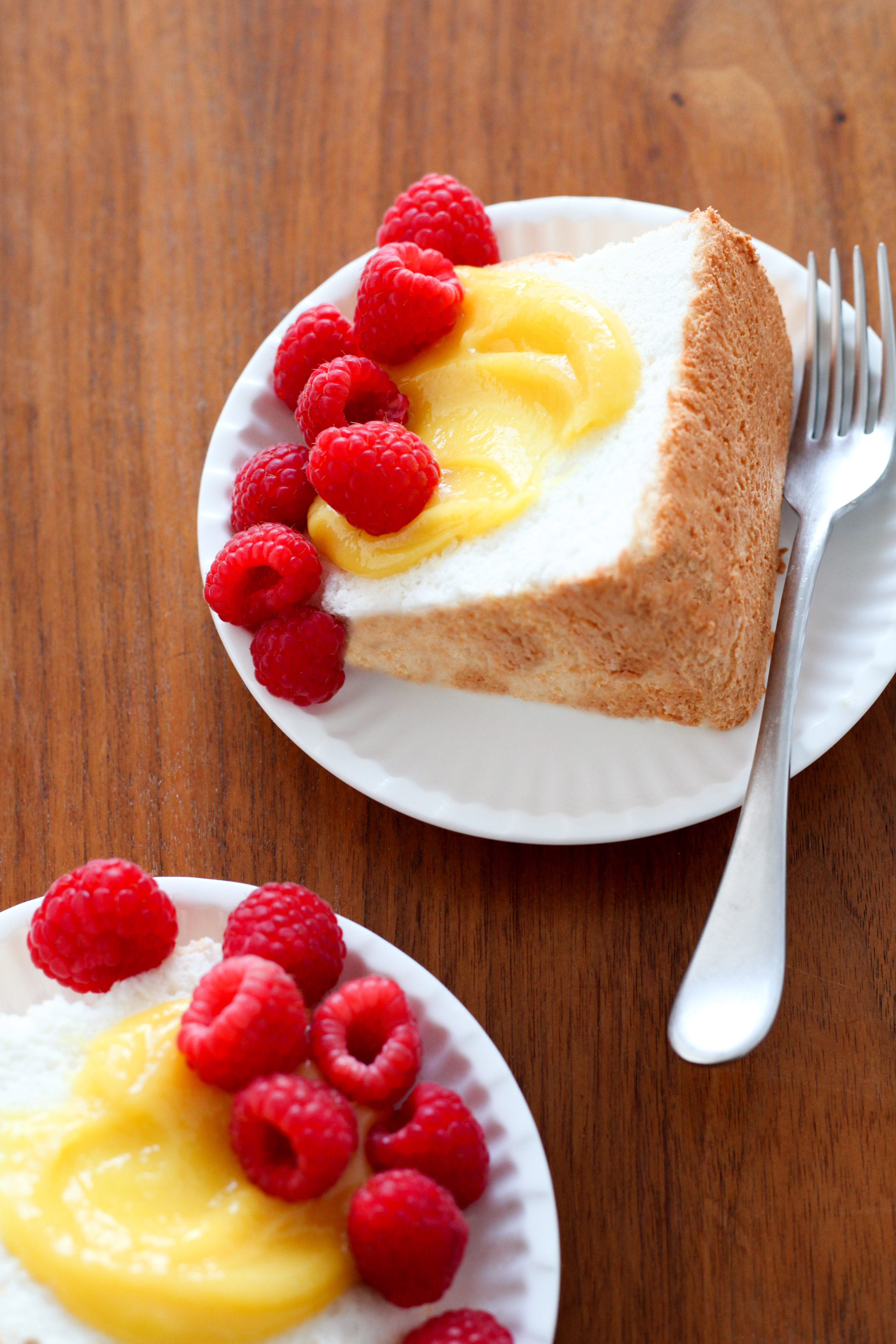 Great angel food cake has a texture somewhere in between a cloud and a marshmallow: ethereally light, with a pleasantly-spongy bite. Lofty, and golden-brown-crusted, it's one of my all-time favorite cakes. The problem: great angel food cake can be tricky to nail, or at least, that's what I'm telling myself after baking not one, not two, but three failed cakes — flops, literally and figuratively — before finding success with this recipe.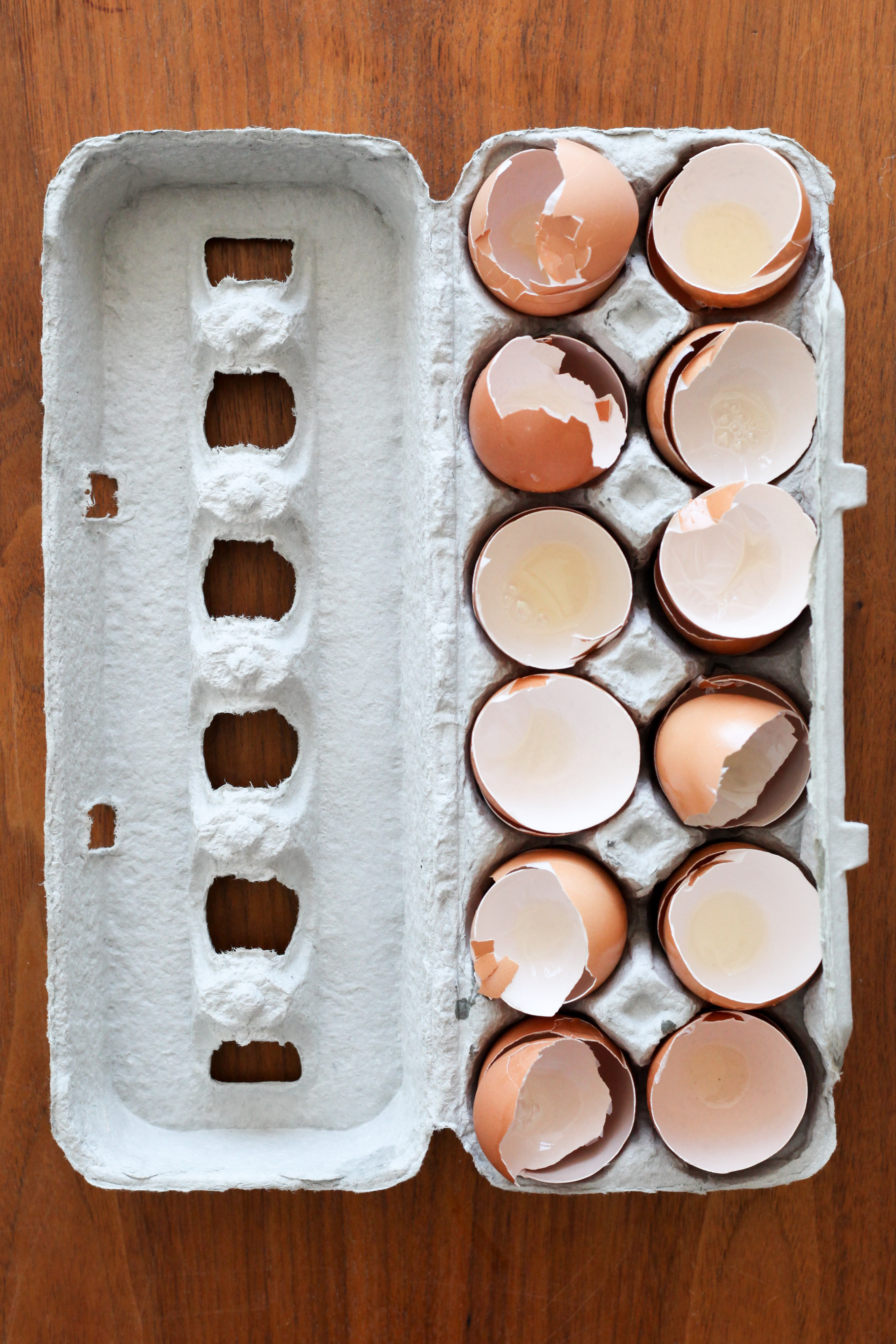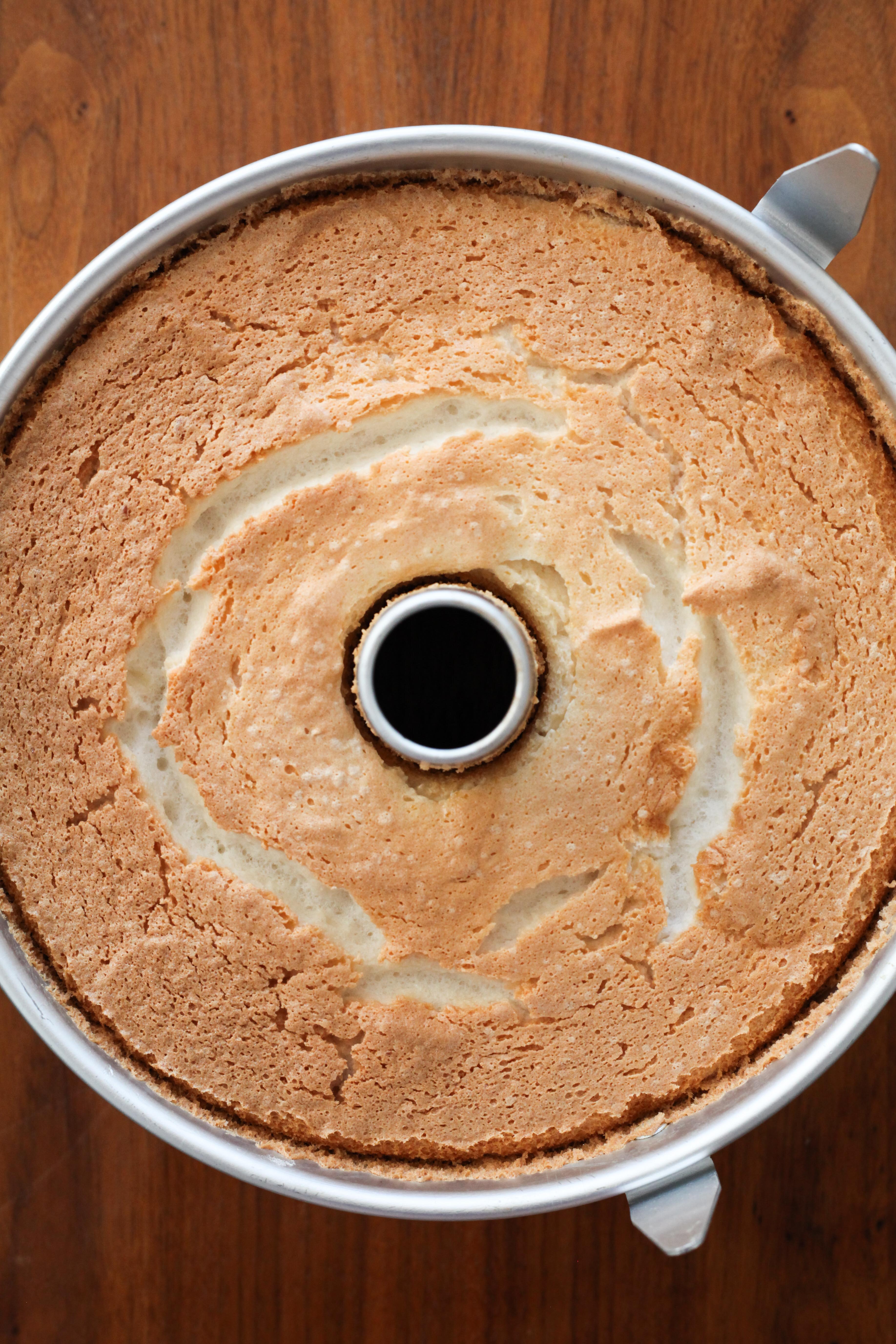 Not only does it tick all of the requisite boxes, but it's a remarkably unfussy recipe, at least compared to your average angel food cake. As Stella Parks, the baker behind it's genius, explains, traditional recipes call for making a super-delicate French meringue, which, unless perfectly-executed (babied really), can spell failure. Her method yields a stable meringue, one that is much more likely to properly rise, and here's the crucial part, set up once risen, rather than deflating into a depressingly-dense cake.
To reiterate: not only is her method much easier to execute, but it actually works better. That said, don't think you can get away with using the wrong type of flour or pan here, they're crucial to success.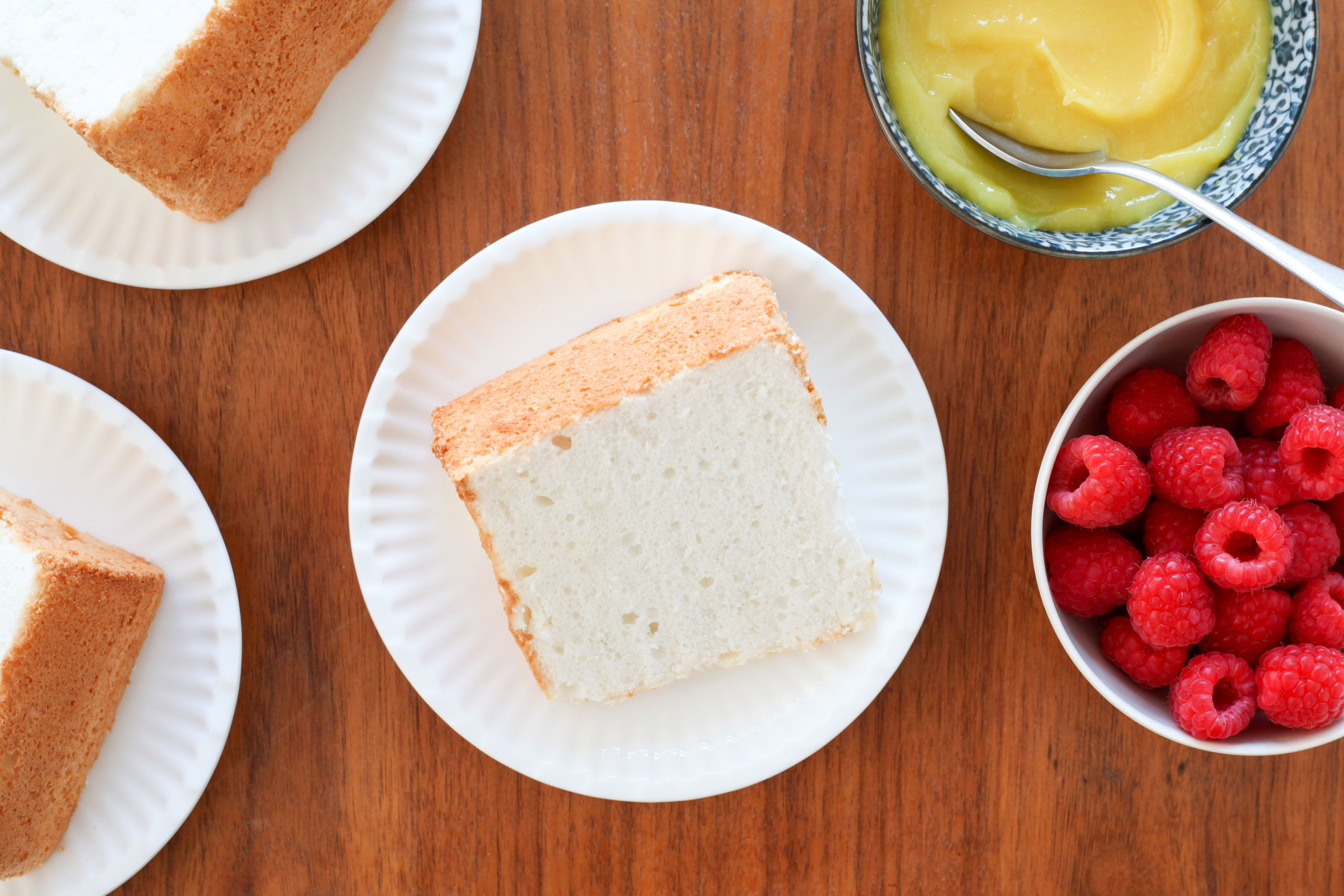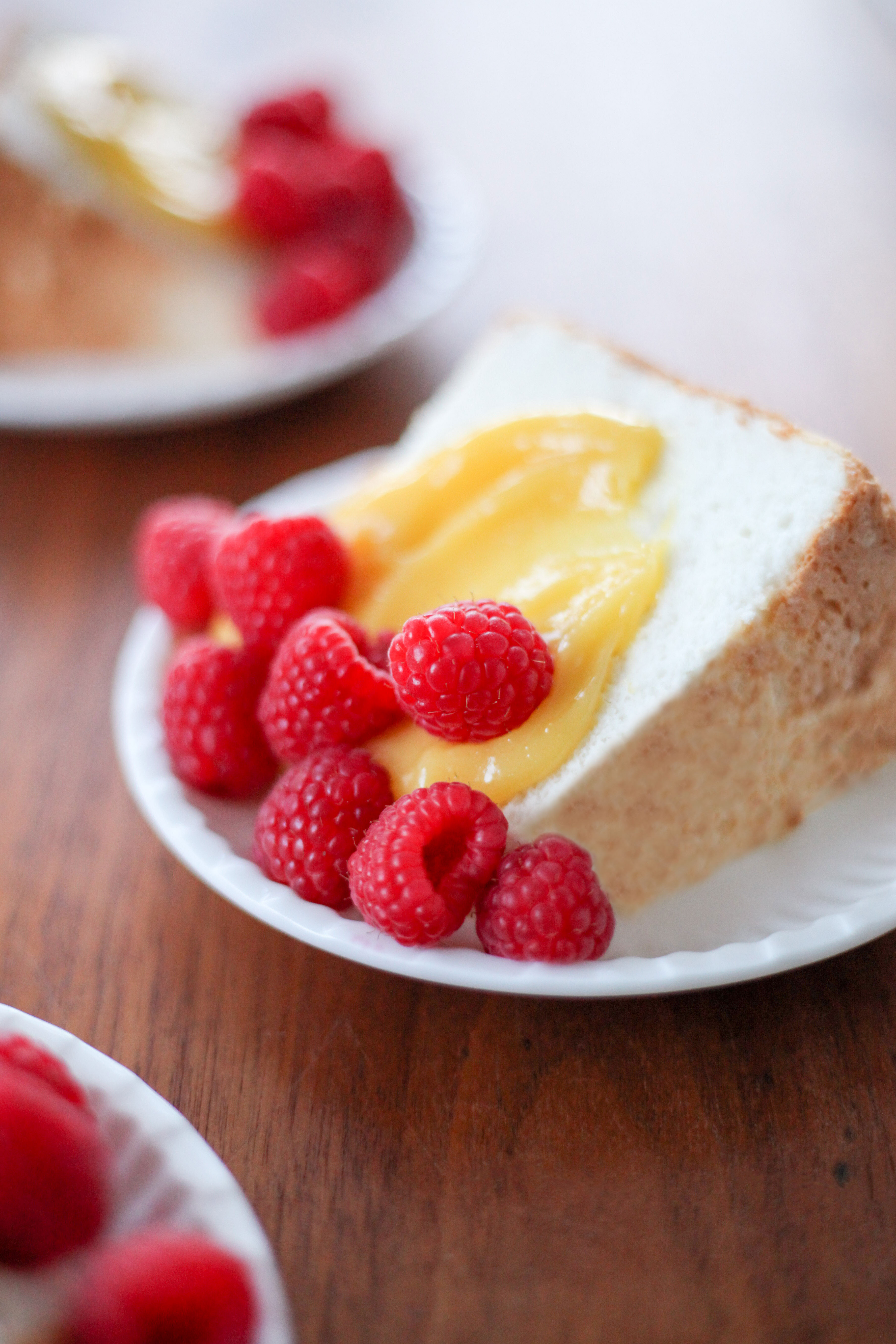 Here's where I split from Sparks' recipe: instead of serving slices with lemon chantilly — a pairing that is no doubt quite lovely — I slather each slice with lemon curd. Not only because I adore its intensity of flavor and lush texture, but because it is also an immensely practical choice. (If you're thinking, how on earth is preparing a second recipe a decision rooted in practicality, I have two words for you: egg yolks.) This cake recipe calls for a whopping 12 egg whites, and a batch of lemon curd calls for nearly as many yolks (eight), making it an ideal counterpart. As for the remaining four yolks, I recommend using them to make epic scrambled eggs: instead of whisking together two whole eggs per serving, whisk together two egg yolks and one whole egg. (Stored in an airtight container in the fridge, the yolks will stay fresh for a few days.)
TL;DR: Traditional angel food cake recipes are kind of a bitch to make and are prone to failure. This recipe is much harder to screw up. Make it!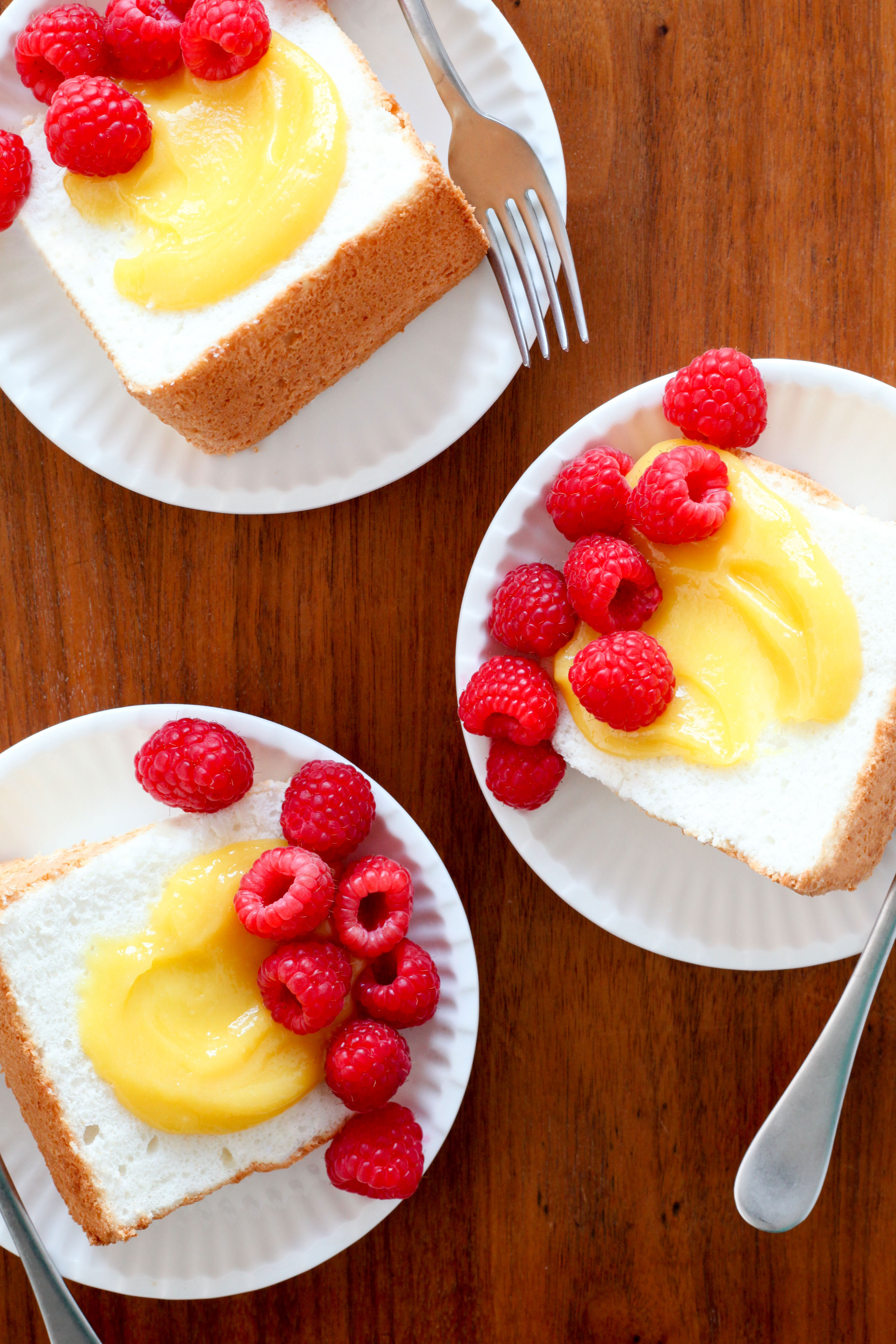 Angel Food Cake With Lemon Curd
Yield:
1 10-inch cake, 2 cups lemon curd
Ingredients
For the angel food cake:
5 ounces bleached cake flour (1 cup plus 2 tablespoons; 140g)
15 ounces cold egg whites (2 cups; 425g) from 12 large eggs
15 ounces granulated sugar (2 cups; 425g)
2 teaspoons vanilla extract
1/2 teaspoon almond extract
2 tablespoons freshly-squeezed lemon juice, from 1 small lemon
1/2 teaspoon kosher salt


For the lemon curd:
2 whole eggs plus 8 egg yolks, lightly beaten
7 ounces (1 cup) granulated sugar
2/3 cup freshly squeezed lemon juice, from about 6 lemons
2 tablespoons unsalted butter, cut into small pieces, at room temperature


For serving:
2-3 pints berries
Instructions
Bake the angel food cake: Adjust oven rack to the middle position. Preheat the oven to 350°F. Sift the cake flour.
Add the egg whites, sugar, vanilla, and almond extract to the bowl of a stand mixer fit with the whisk attachment. Mix on low (speed 1 on a KitchenAid) until the egg whites have loosened up. Increase the speed to medium-low (speed 4), and whip for 3 minutes, the egg whites should be dense and dark. With the mixer running, add the lemon juice and salt. Increase the speed to medium (speed 6), and whip for 3 minutes, or until the meringue is thin and foamy. Increase the speed to medium-high (speed 8), and whip for 2-4 minutes, or until the meringue is thick, glossy, and the whisk leaves a pattern behind as it beats. The meringue should be thin enough that it drips off the beater when lifted but that it mounds up like soft serve (just shy of soft peaks).
Sprinkle the sifted cake flour on top of the batter, then stir with a silicone spatula to roughly combine. Switch to a folding motion, and fold until no pockets of flour remain.
Scrape the batter into an ungreased 10-inch tube pan with a removable bottom. If you see any remaining pockets of flour, pause to mix them in. Smooth the top of the batter and bake until the cake is puffed up, deep-golden-brown, and firm (it should spring back when touched), about 45-55 minutes. The internal temperature should reach 206°F (if you don't have an instant-read thermometer, test with a toothpick or cake tester to make sure that the inside of the cake is dry).
Invert the cake onto its stilts and cool upside down until completely cooled, at least 2 hours.
Make the lemon curd: Meanwhile, add the eggs, sugar, and lemon juice to a heavy-bottomed saucepan, whisk together to combine. Cook over medium-low heat, whisking constantly, until it has jelled up slightly and coats the back of a spoon. Take the pot off of the heat and add the cubed butter, one cube at a time, whisking until they have melted completely.
Strain through a fine-mesh strainer into whatever container you plan to store it in, and cover with plastic wrap, pressing it directly onto the surface of the curd so that it doesn't form a skin. Chill for at least 2 hours.
Serve the cake: Run a large offset spatula between the cake and the cake pan both around the outside and inside of the tube insert. Remove the tube insert, then use the offset spatula to loosen the cake from the bottom of the pan. Invert the cake onto a serving plate and remove the bottom of the pan. Slice with a very-sharp serrated bread knife using a sawing motion. Serve with lemon curd and berries.
Notes
Like with all baking recipes, but especially here, I highly recommend measuring by weight rather than volume. This proves especially useful when measuring the egg whites; you might find, as I did, that you need 13 egg whites, not 12, to yield 15 ounces. Do not use unbleached cake flour,
the cake will not rise properly
. Do not be tempted to use a nonstick tube pan, the cake will not rise properly, and may slide out once inverted to cool, compressing the cake. Serve with whatever sort of berries look best at the market (or your favorite type).