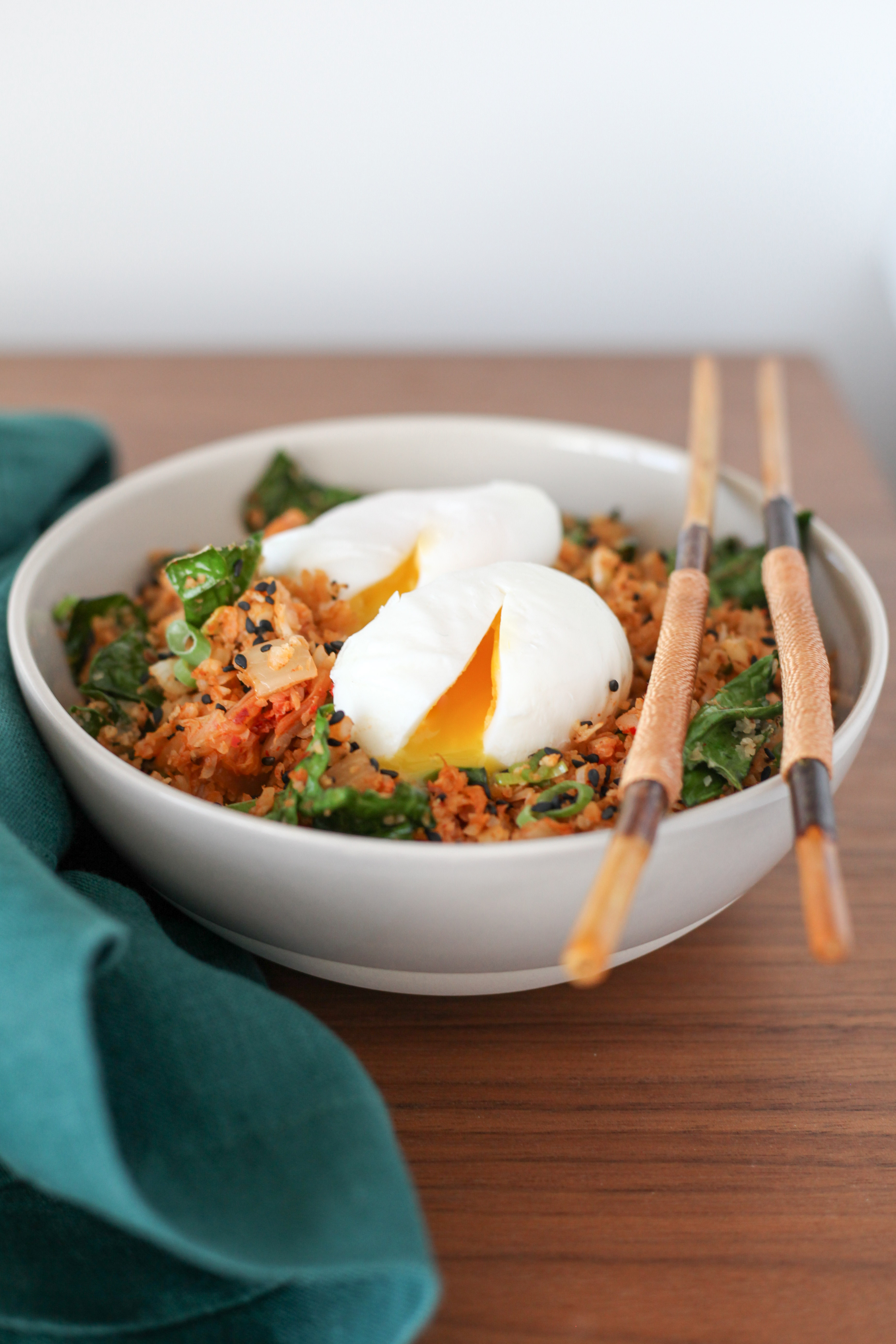 This past spring, I had the pleasure of working with SELF.com's team on a series of step-by-step recipe videos. As a food stylist, my role was primarily to bring these dishes to life in an enticing manner, but a few involved a bit of recipe development work, as with the site's take on cauliflower rice. At the time I was a bit of a cauliflower rice skeptic, but eager to try out this low-carb alternative. Because I love Korean food, and also had an inkling that cauliflower's strong flavor would play well with other bold ingredients, I got to work coming up with a version that paired the grated cruciferous vegetable with kimchi, soy sauce, scallions, sesame seeds, and a runny-yolked poached egg.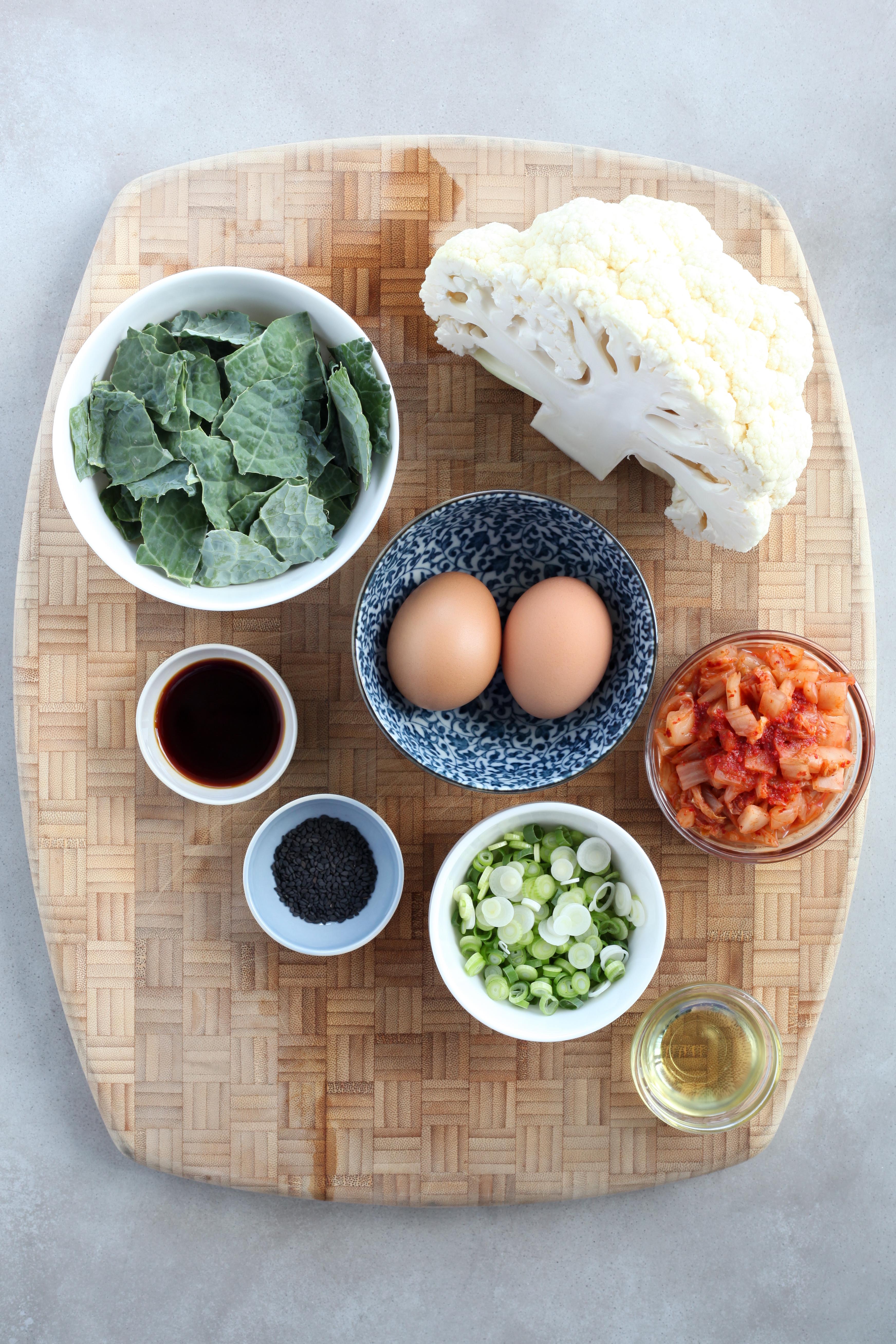 Since then, I've been on a tear, sometimes making it for breakfast a few times in the span of a week. Part of this had to do with going through a Whole 30 not that long after the SELF.com shoot — as many who've undergone this diet will tell you, it can be a bit of a challenge to keep breakfast interesting — but it mostly was because I fell hard for this vegetable-based-take on the comfort-food classic.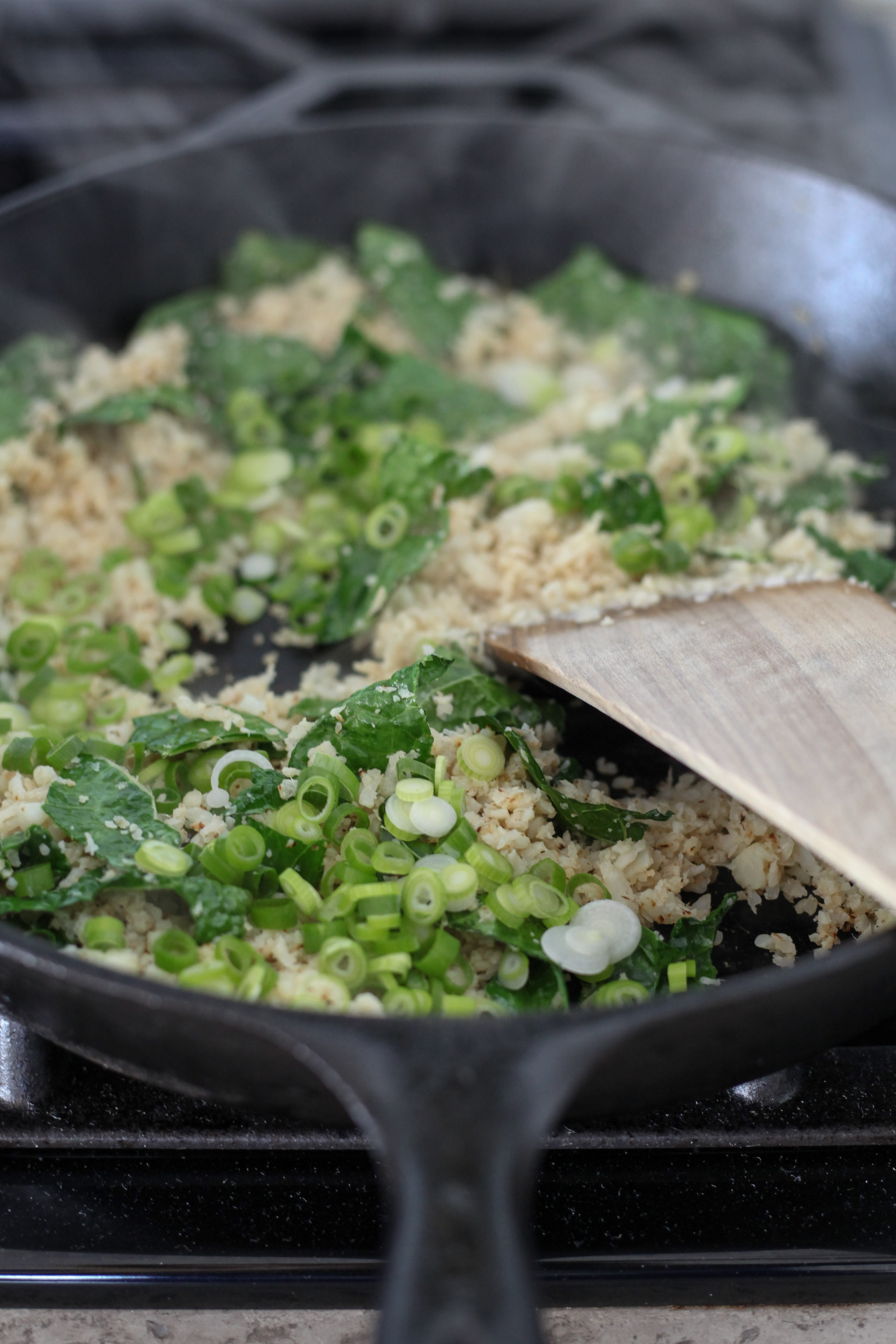 The original recipe calls for soy sauce, which is a Whole 30 no-go, but was otherwise Whole-30-compliant. Seeking to swap in something with a similarly-savory flavor, I first tried (and quickly rejected) coconut aminos, which were much too sweet, instead, I found that fish sauce was just right. To those who don't typically cook with fish sauce, it might sound like an overpowering, possibly unsavory choice for a breakfast dish, but here, (used judiciously) it works. And while I'm no longer avoiding soy, I've found I actually prefer to season the dish with fish sauce. (Your mileage may vary.)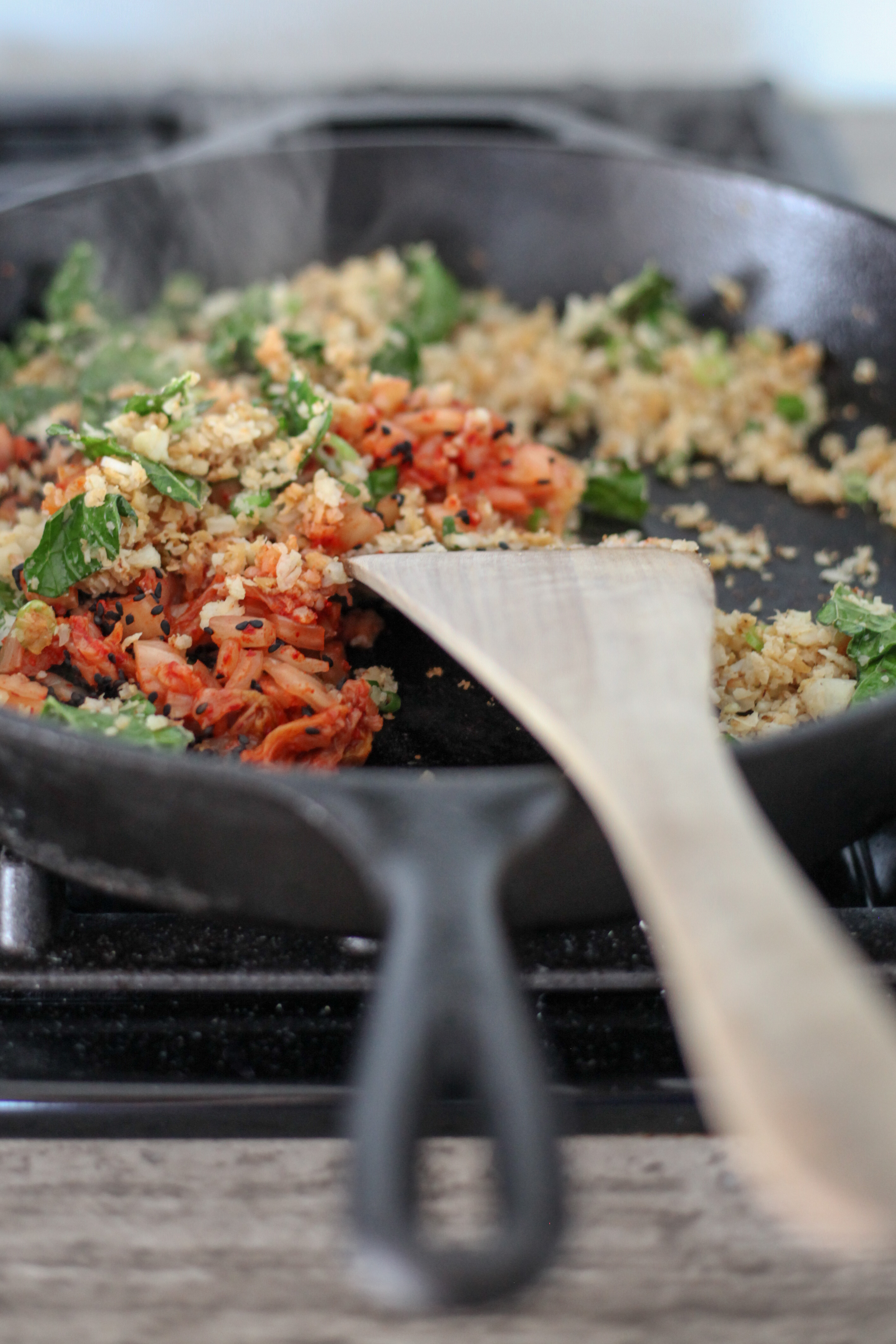 For the most part, the recipe is otherwise unchanged — be sure to check out the video to see the original recipe — but I've tinkered with it here and there. When I have it on hand, I've taken to adding torn kale leaves for a hit of green, and, when I want a bit of textural contrast, a crisp-edged fried egg. Here (and in the original recipe) it's crowned with a poached egg; either way it's a hearty, ridiculously-healthy way to start your day.
P.S. Here are a few of my other favorite recipe videos we worked on:
Avocado Fries With Sriracha
6 Healthy Breakfast Toasts
Kale and Date Mason Jar Salad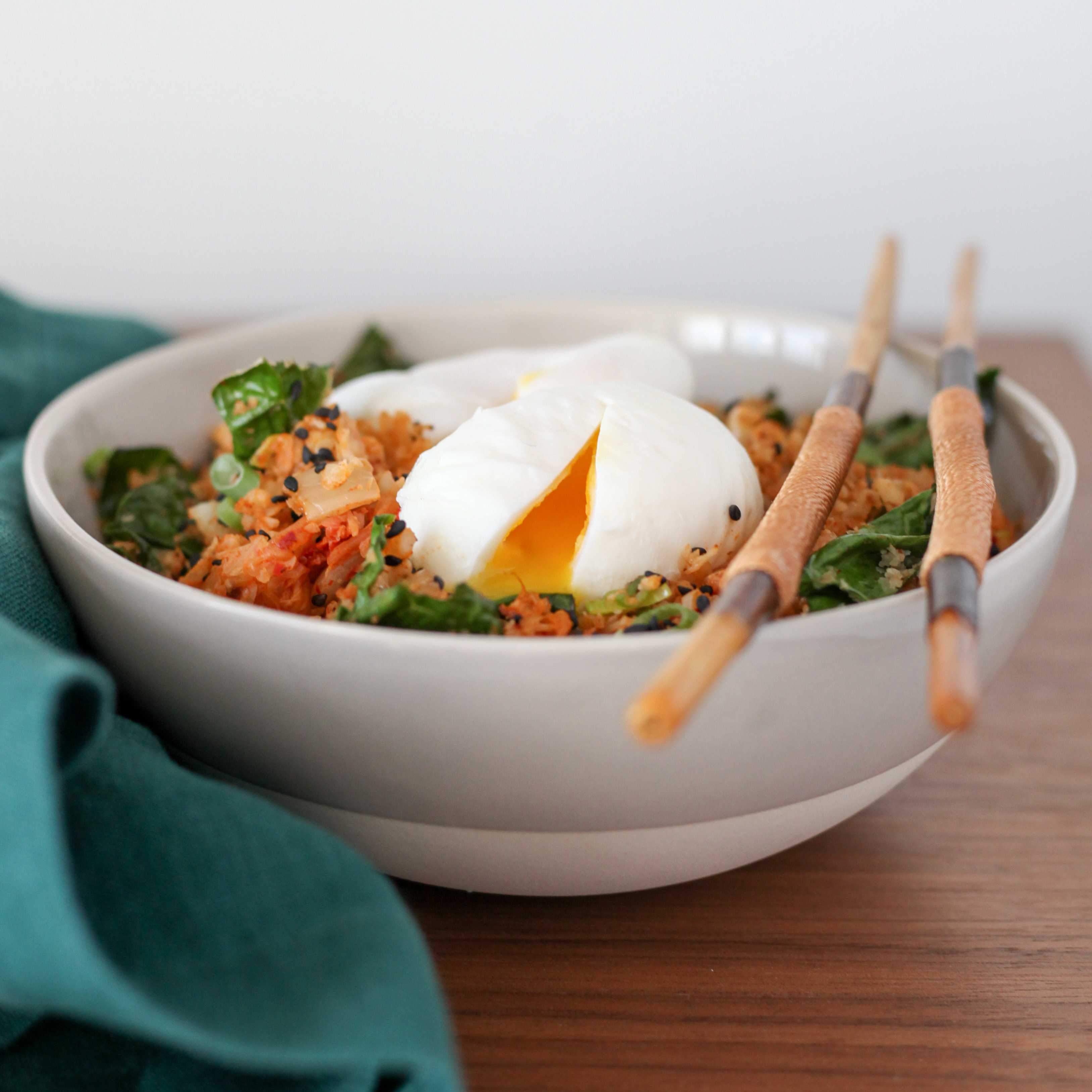 Cauliflower Fried Rice With Kale and Kimchi
Ingredients
1/2 head cauliflower
1/2 tablespoon neutral oil, like grapeseed or refined coconut
1 cup kale torn into bite-size pieces
2 scallions, white and green parts, thinly sliced
2-3 teaspoons fish sauce
1/2 cup kimchi, roughly chopped
1 teaspoon toasted sesame seeds
Instructions
Remove and discard the cauliflower leaves. Using the largest holes on a box grater, grate the cauliflower, using the core as a handle. Finely chop any large pieces that remain. (Alternatively: cut the cauliflower into florets and pulse in a food processor until broken down into rice-sized pieces.)
Heat the oil in a large (preferably not non-stick) skillet over medium high heat until shimmering. Add the cauliflower and cook, stirring frequently, and scraping up browned bits as you go, until golden-brown, 5-7 minutes. Add the kale and scallions, and cook, stirring frequently, until the kale turns bright green and has begun to wilt, about 1 minute. Turn off the heat and add the fish sauce, kimchi, and sesame seeds, stirring to distribute everything evenly. Season to taste with additional fish sauce (if needed).
Top with the poached eggs and eat immediately.
Notes
I'm partial to
Mother-in-Law's House Napa Cabbage Kimchi
(I'll sometimes go half and half with that and the daikon radish kimchi from the same brand) and
Red Boat Fish Sauce
, both of which are pretty-widely available (I buy both at Whole Foods). Alternatively, good kimchi and fish sauce are available at most Asian supermarkets. To make vegetarian: seek out vegetarian kimchi and sub soy sauce or tamari for the fish sauce; do note that it will no longer be Whole 30-compliant. The cauliflower can be riced ahead of time and stored in an airtight container or resealable plastic bag in the fridge for a day or two; when you open the container it will be very smelly (don't say I didn't warn you!) thanks to the sulfuric compounds in cauliflower.