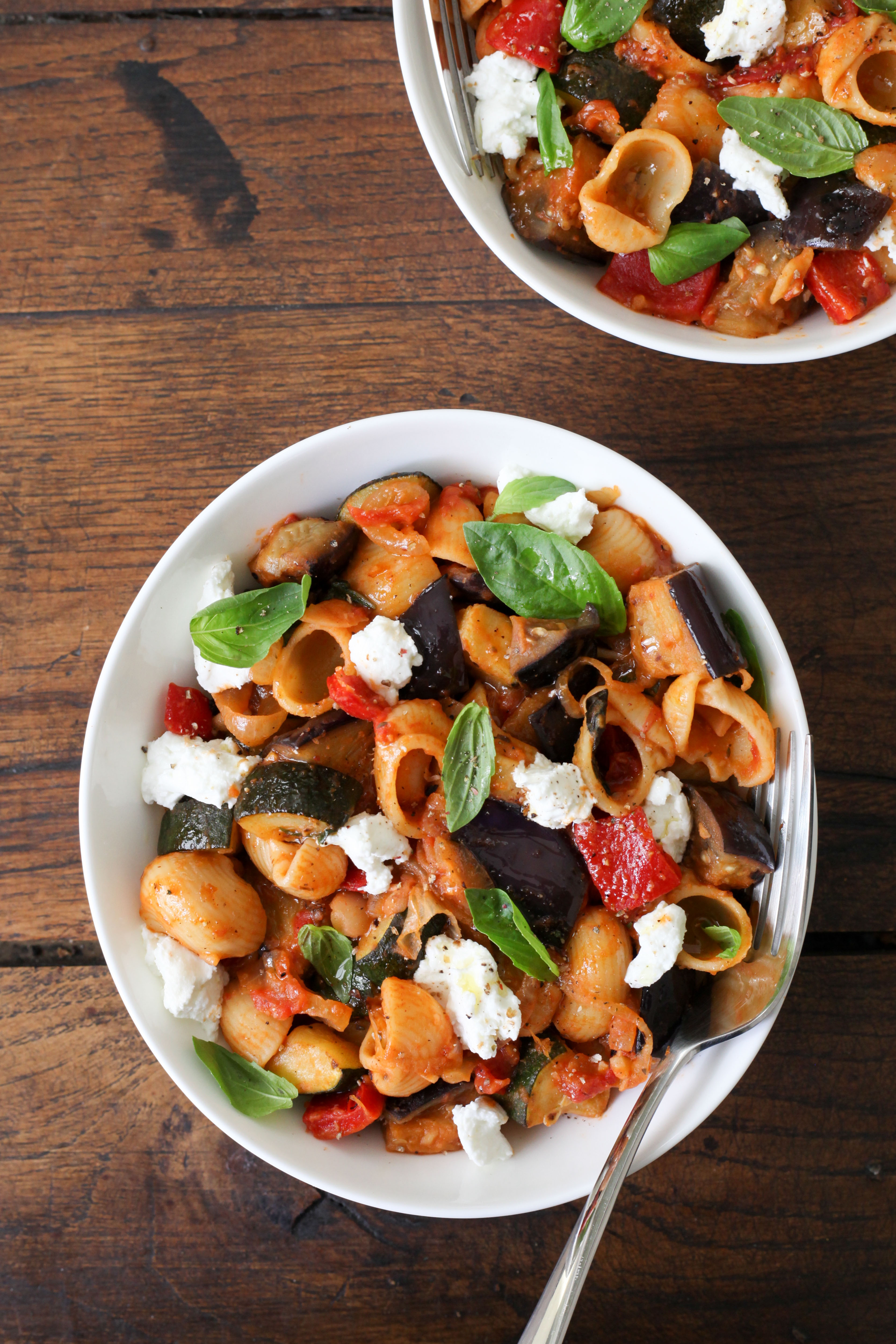 After spending the past month eating my way through Paris, there's a lot I could say about Parisian cuisine. For now, the abridged version: the bread, pastries, and chocolates are as amazing as you'd expect (that said, SF and NYC offer some tough competition); poultry is taken very seriously (hello, poulet de Bresse, black chickens, and pigeon/squab); the butter and cheese are worth their weight in gold; and oh my gosh, those orange-yolked eggs. On the negative side: spicy food is hard to come by, and Parisian restaurants have been slow to embrace plant-centric cuisine. Sure, a handful of high-vibes juice bars have sprouted up (Wild & the Moon is particularly great). And yes, L'Arpège's vegetarian degustation menu is having a bit of a moment, thanks in part to Netflix's Chef's Table — my verdict: beautiful food, but ultimately not worth the price tag. Still, overall (and yes, there are other exceptions) fruits and vegetables are not the star in The City of Light.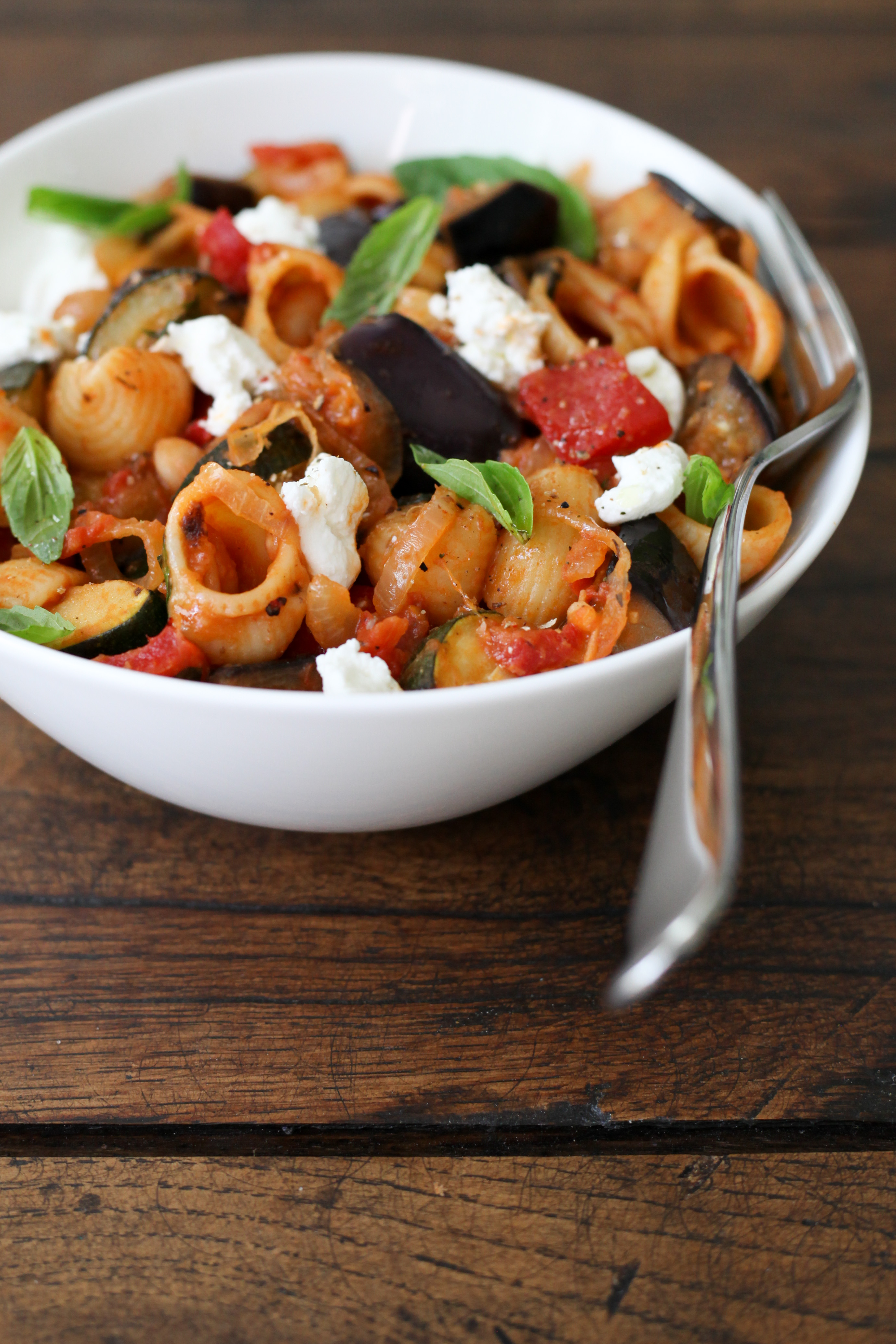 Because of this, and because I really went for it on the bread-, cheese-, and pastry-front, I felt extra-compelled to cook vegetable-heavy meals when eating at home. Thankfully, where Parisian restaurants fall short, Parisian markets pick up the slack. (From what I've gathered, Parisian's eat plenty of vegetables at home.) Though perhaps a bit of a cliché, during those weeks, I made it my mission to nail down an A+ rendition of ratatouille, and that is why I'm writing about this late-summer stew, though we're now in the swing of fall.
Here's what I've learned: ratatouille, in it's super-traditional form is a bit bland (sorry, but it's true). If the inclusion of pasta didn't tip you off, my take is not the most authentic. More tomato heavy than standard, this recipe also includes red pepper flakes (because they're my favorite), and white beans (for a bit of protein); it is more pasta with a ratatouille-inspired sauce than straight-up, super-French ratatouille. Apologies aside, it is very good, and I suggest you make it for dinner before eggplant, zucchini, and bell pepper season is behind us.
Ratatouille Pasta With White Beans
Ingredients
3 tablespoons high-smoke-point oil, such as refined coconut or rice bran, divided
1 medium yellow onion, thinly sliced into half moons
Kosher salt
1 small globe eggplant, large dice
1 medium zucchini, large dice
2-3 garlic cloves, minced
Heaping 1/4 teaspoon red pepper flakes
1/2 teaspoon minced thyme
1 (14-ounce) can whole tomatoes
1 roasted red bell pepper, large dice
1 (14-ounce) can white beans, drained
1/2 pound medium pasta, such as oreichette or conchiglie
Freshly-cracked black pepper, to taste
Red wine vinegar, to taste
1 cup basil leaves, chiffonade
Extra-virgin olive oil, for finishing, optional
Crumbled chevre, to taste
Instructions
Heat 1/2 tablespoon oil in a dutch oven or large pot over medium-high heat until shimmering, but not smoking. Add the onions and a 1/4 teaspoon of salt, and cook, stirring occasionally until golden-brown. (As the heat is relatively high, the onions will brown unevenly and are prone to burning; to promote even caramelization, occasionally add a tablespoon of water to the pan and use a wooden spoon to scrape up any brown bits.)
Meanwhile, heat 2 tablespoons oil in a large skillet over medium-high heat until shimmering, but not smoking. Add the eggplant, 1/4 teaspoon of salt, and cook, stirring occasionally until deeply-golden brown, and nearly tender. Transfer to a large plate or bowl; season to taste with additional salt.
Add the remaining 1/2 tablespoon oil to the large skillet, and heat until shimmering, but not smoking. Add the zucchini, 1/4 teaspoon of salt, and cook, stirring occasionally until golden brown, and nearly tender. Transfer to the same large plate or bowl as the eggplant. Season to taste with additional salt, if needed.
Bring a large pot of salted water to a boil.
When the onions are caramelized, add the garlic, red pepper flakes, and thyme, and cook for 1 more minute. Add the tomatoes, stir to evenly distribute, then simmer for 5 minutes. As the tomatoes simmer, use a wooden spoon to break up the tomatoes into smaller chunks. Add the red bell pepper, eggplant and zucchini, and beans, and simmer for about 5 minutes, or until the eggplant and zucchini are tender. Season to taste with additional salt, black pepper, and red wine vinegar.
Meanwhile, cook the pasta in the boiling salted water, until just shy of al dente. Drain, reserving about 1 cup pasta water, then add the cooked pasta to the sauce, stirring to evenly distribute. Cook until the pasta is al dente; if needed add a bit of the starchy pasta water to loosen things up. Stir through most of the basil, reserving some for garnish.
Serve topped with goat cheese and the reserved basil. Drizzle with olive oil.
Notes
Large pasta shapes with a cup-like or tube structure are best as they'll catch the chunky sauce. If goat cheese isn't your thing, shavings of parmesan or pecorino romano would also be nice here.