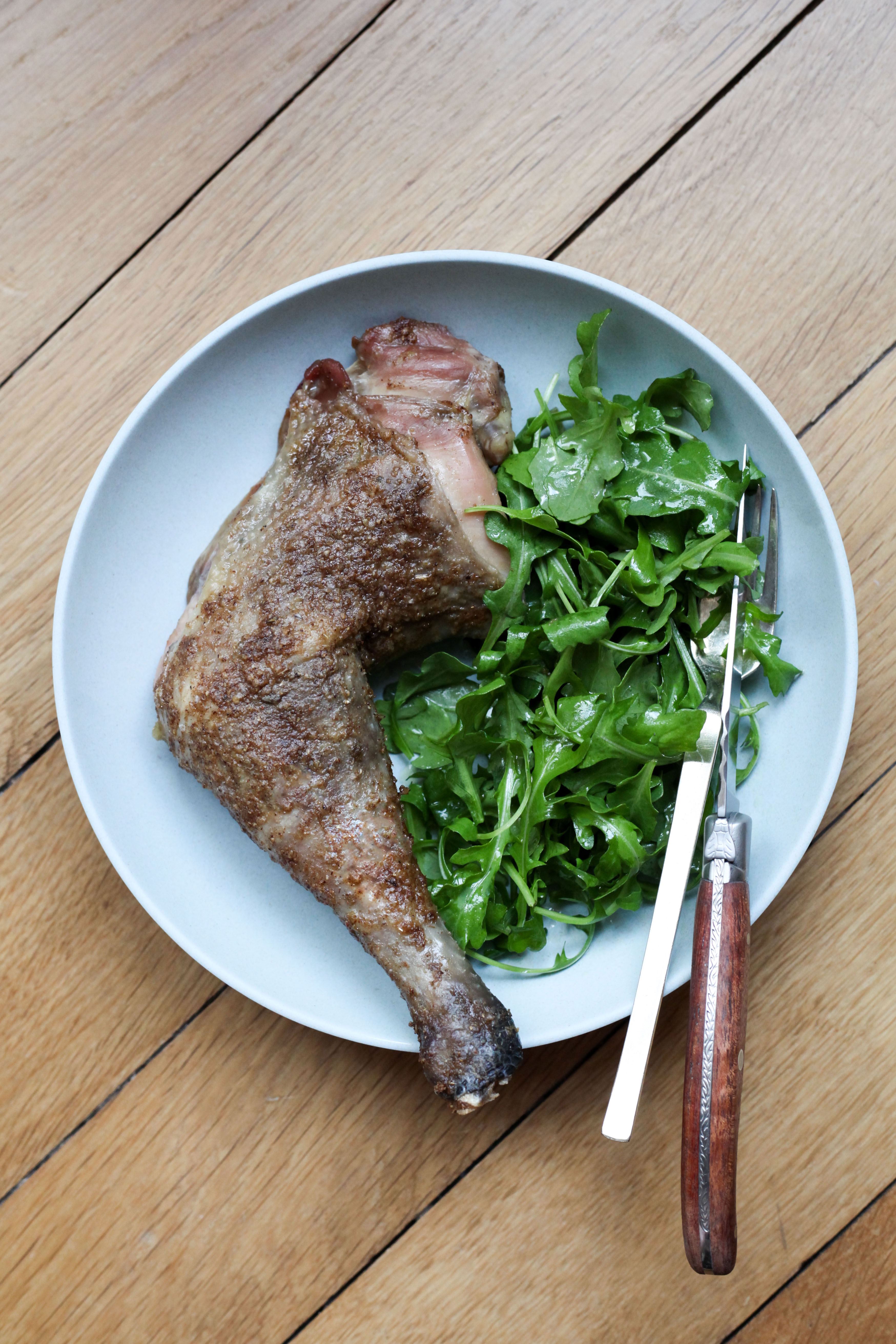 While in Paris, Andrew and I were fortunate to be staying in an apartment with a fabulous kitchen; so while we ate out often — if our trip had a hashtag it would've been #getfatgobroke — I was able to take advantage of the beautiful markets as well. During our time there, I fell deeply in love with La Grande Épicerie, a specialty foods store of epic proportions (think Eataly, without the Italian food focus). For the most part, the experience of grocery shopping wasn't much different from shopping stateside — an apple is an apple, no matter that the sign reads "pomme" — but I had a few misunderstandings along the way. A few takeaways: kale is ridiculously, stupid expensive in Paris; ordering meat at the butcher counter can be a very funny experience when your language skills are limited; and that biologique (French for organic) chicken might just be a crazy-looking black chicken if you don't pay attention to the packaging.

It may be hard to tell from these photos, as I rubbed each chicken leg with a heady mixture of spices before roasting, but the chicken pictured here had mottled black skin at the ankles, and a few black feathers still attached. Pretty cool, no? Ramblings aside about grocery shopping in France: though pretty obvious, slathering chicken in garam-masala-ginger compound butter is a very good idea. If you make this for dinner, be sure to serve it with some crusty bread to mop up the buttery, spiced chicken jus.
Do note: the recipe outlines a somewhat-odd-sounding strategy for yielding extra-crisp chicken skin. Dana Cowin explains in her cookbook Mastering My Mistakes in the Kitchen, that your fridge is your ally if well-browned skin is what you're after. The night before your plan to cook poultry (be it a whole turkey, some skin-on breasts, or, like here, a pair of legs) take it out of its packaging, season it with salt (for a dry-brine effect), set it on a plate, and stick it back in the fridge. Do not cover with plastic wrap or foil. Because the air in your refrigerator is dry, it helps draw moisture from the skin, perfectly prepping it for browning in the oven. It might seem a bit odd at first, but try this technique out, you won't be disappointed.
Garam Masala Chicken
Ingredients
2 chicken legs
Kosher salt
2 tablespoons (1/4 stick) unsalted butter, at room temperature
2 teaspoons garam masala
2 teaspoons finely grated peeled ginger
Instructions
Gently loosen the skin from the chicken (leave some of it connected) and generously season with salt both under and over the skin. Arrange on a plate skin-side-up and refrigerate uncovered for 8 hours or up to 2 days. (During this time, the salt will dry-brine the chicken and the skin will dry out, yielding juicy, well-seasoned meat and crisp, browned skin.)
When ready to cook, preheat the oven to 400°F.
In a small bowl, use a fork to mash together the softened butter, garam masala, and ginger.
Spread about 1/3 of the seasoned butter under the chicken pieces' skin, spreading the remaining 2/3 on top of the skin and on the underside.
Arrange the legs in a large oven-safe skillet or baking dish, skin-side up. Roast for 30 minutes, then reduce the heat to 350°F and cook for another 10-20 minutes, or until the internal temperature of the thigh is 170°F (check in the thickest part of the thigh), and the skin is crisp and golden-brown.
Transfer to a plate and let rest for 5 minutes before serving.
Notes
If you didn't plan ahead, skip seasoning the chicken directly with salt, and instead add 2 teaspoons kosher salt to the softened butter and spices before spreading on the chicken just before roasting. If you prefer chicken breasts, the same seasoning and cooking methods can be applied; do note that the breasts will take slightly less time to cook (aim for an internal temperature of 165°F).