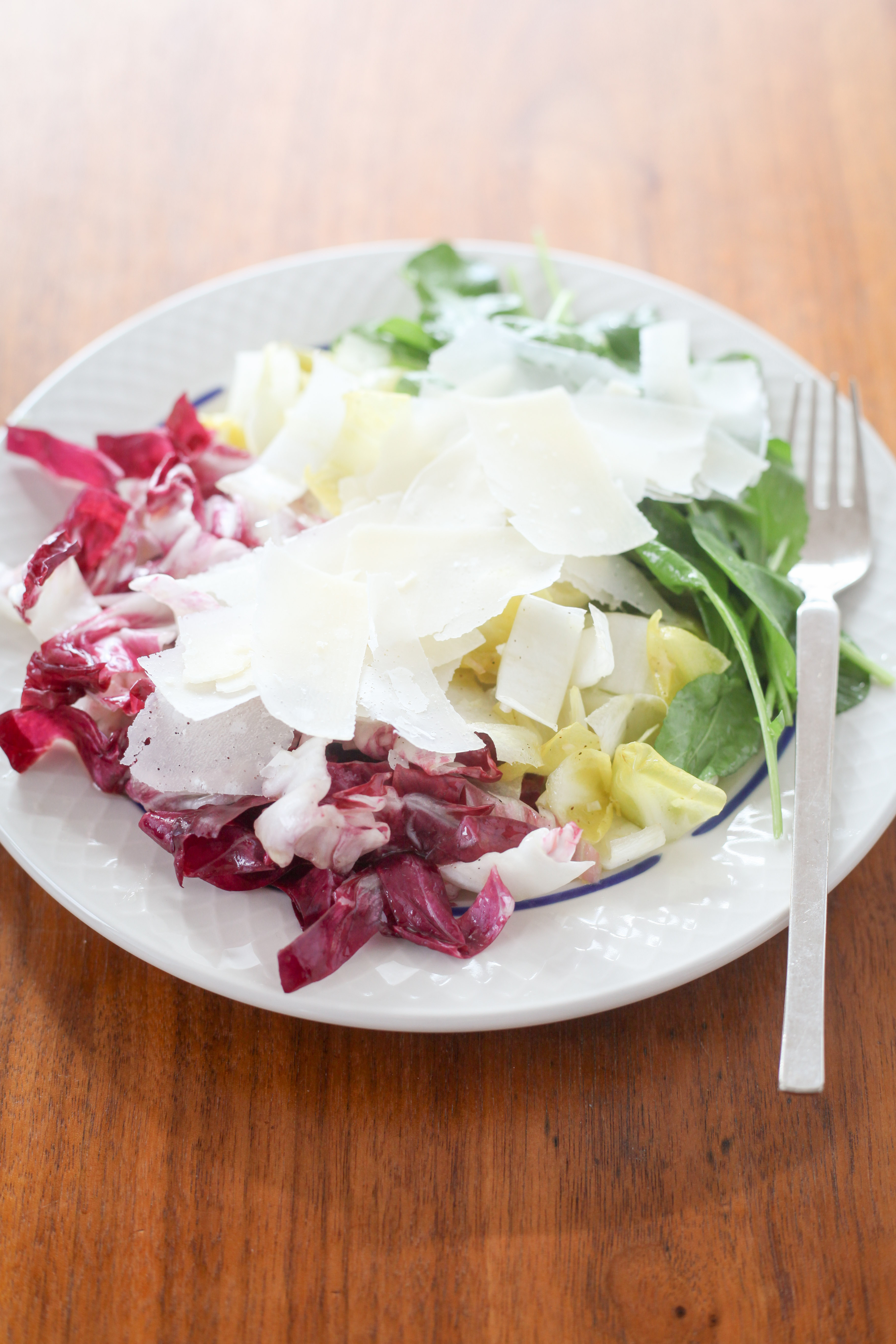 Nearly a year after our cross-country move, I'm still loving living in New York. It certainly has it's trying moments, but at least for the foreseeable future, it's where I most want to be. That said, there are certain things I miss dearly about San Francisco: primarily my friends and family, but also the incredible farm-fresh produce, and the superb restaurants. One of the spots that I yearn for most might surprise those who aren't from the Bay Area. While I'm hardly wanting for killer pizza in New York, I often find myself dreaming about San Francisco's Pizzeria Delfina. Yes, the pizza is on point (I'm particularly fond of the salsciccia and broccoli raab pies), but what I really crave is the insalata tricolore, a lemony chicory salad that (at least for me) is a non-negotiable order.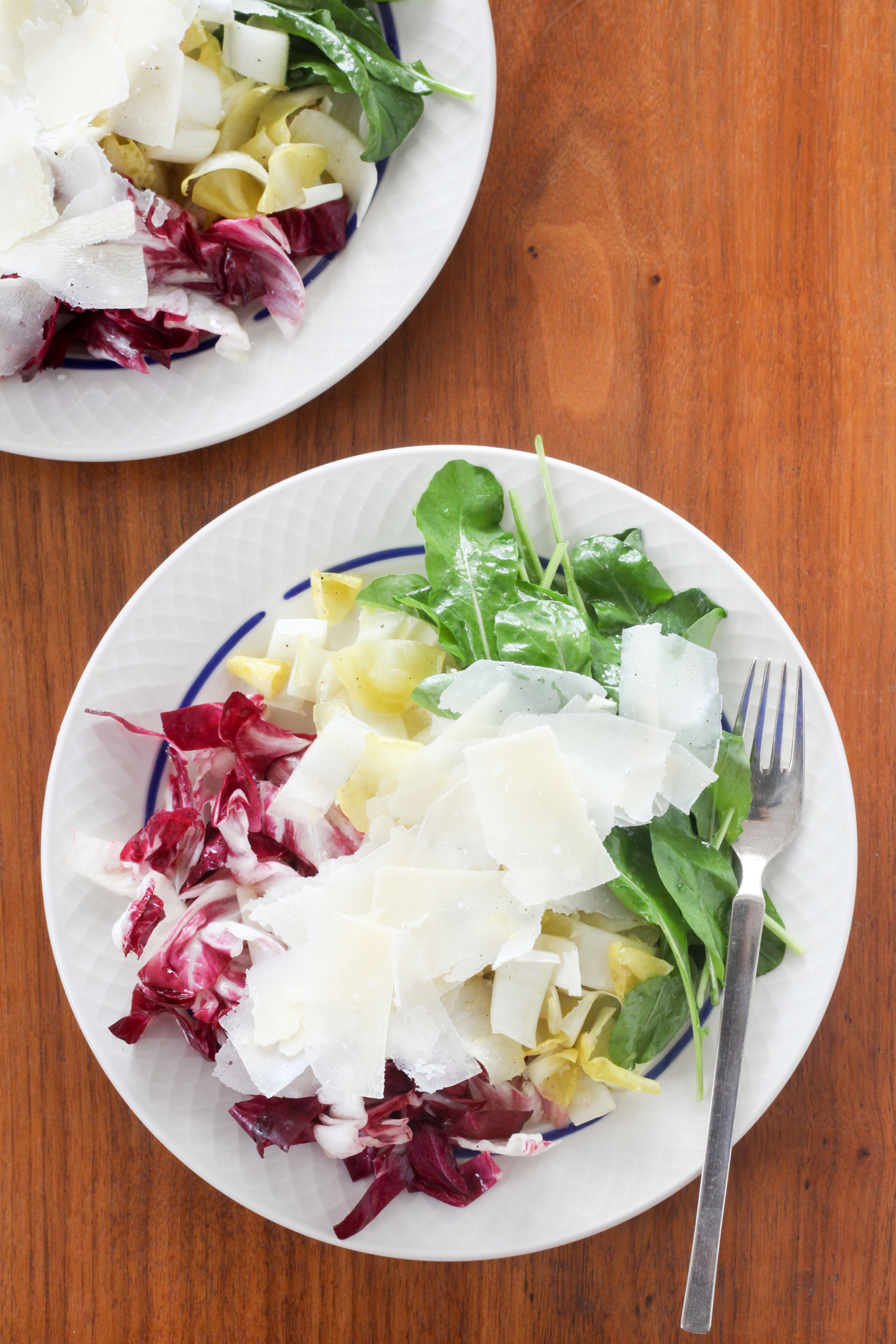 Thankfully, the recipe is now mine, thanks to my friend Omar at San Francisco's 7×7 Magazine. A relatively simple salad, it packs in a shocking amount of flavor, and is just the sort of thing I like to pair with a carb-y main or a juicy steak. Do note that while the Italian-flag-inspired presentation is charming (and easy to accomplish), it can also all be tossed together in one big bowl, if you prefer not to arrange the chicories into three separate sections.

Arugula, Endive, and Radicchio Salad With Parmesan
Ingredients
For the dressing:
1 small shallot, finely minced
1 lemon, zested, plus 1/4 cup lemon juice
1 tablespoon Champagne vinegar
1 cup extra-virgin olive oil
Kosher salt, to taste
Freshly-ground black pepper


For the salad:
1 head radicchio, cored and cut lengthwise into 1/2-inch julienne
Kosher salt
2 heads endive, cut crosswise into 1/2-inch slices
About 4 cups baby arugula
Parmesan shavings, for garnish
Instructions
Make the dressing: Soak the shallot and lemon zest in the lemon juice and vinegar for 5 minutes to mellow the shallot's sharpness. Slowly stream in the olive oil, whisking constantly, until an emulsion forms. Season to taste with salt and pepper.
Make the salad: In a medium mixing bowl, toss the radicchio in dressing and a pinch of salt. Arrange it over one-third of a platter or on individual plates. Follow the same process with the endive, and then the arugula, arranging them into three sections (red, white, and green). Top with a generous amount of parmesan shavings.
Notes
You will likely have extra salad dressing. If you, like me, are partial to highly-acidic salad dressings, you might prefer this dressing with an additional tablespoon or two of lemon juice. Don't have Champagne vinegar? A good white wine vinegar can be subbed. For a less-fussy presentation, toss the radicchio, endive, and arugula with the dressing at once in a large mixing bowl (you'll lose the Italian-flag effect, but it'll be just as tasty). To make parmesan shavings, use a vegetable peeler (I'm partial to
this y-peeler
).