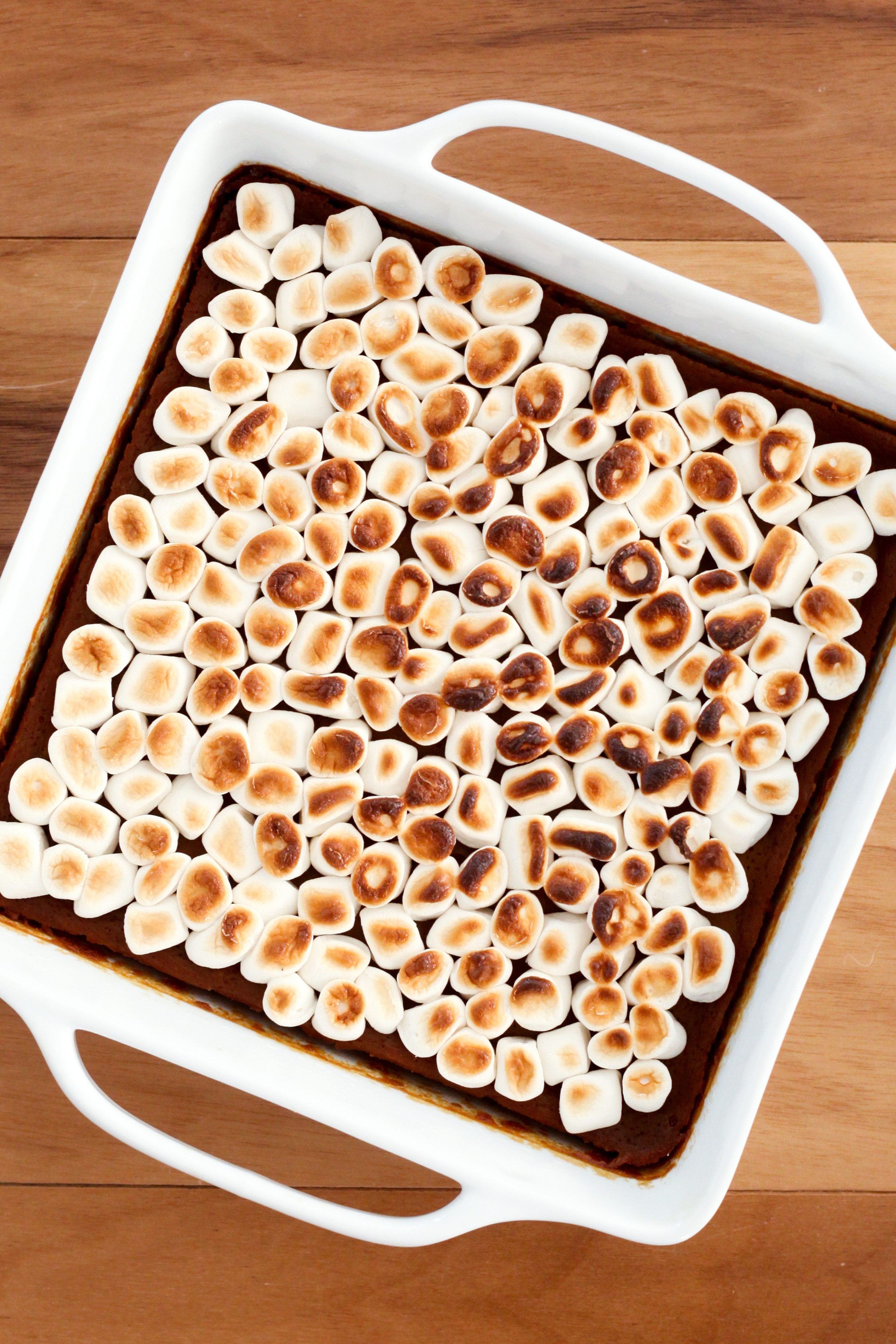 When I learned that one of my all-time favorite cookbook authors would be writing a book all about cookies (one of my absolute favorite things to bake), I could hardly contain my excitement. Fast forward many, many months, and it's here: Dorie's Cookies. Since it hit shelves a few weeks back, I've been plowing through butter and sugar at an alarming rate, testing recipes from it, and — no shocker here — it is excellent, filled with a wide range of well-written recipes, many of which I've bookmarked.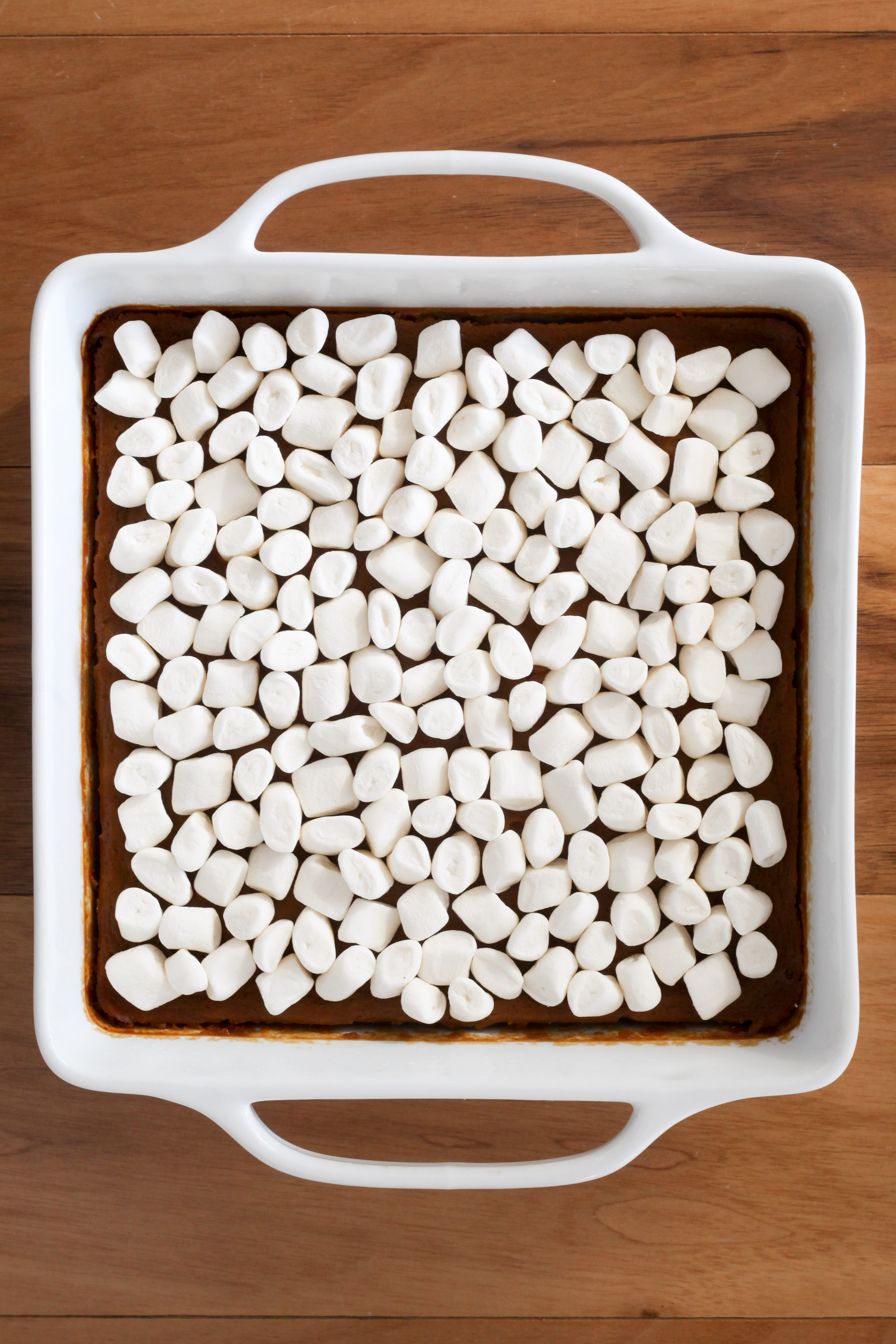 The best recipe I've tried thus far (the lemon poppyseed shortbread is a close runner-up) has to be these sweet potato pie bars, a treat that straddles the line between cookie and pie, and tastes like the Thanksgiving dessert of my dreams. Here, a tender shortbread-like crust is topped with a silky, warmly-spiced sweet potato custard, and a raft of mini marshmallows, toasted until crackly-crusted and deep golden brown. Each element would be pretty darn great on it's own, but combined they make up the best dessert I've made this year (a distinction I do not declare lightly.)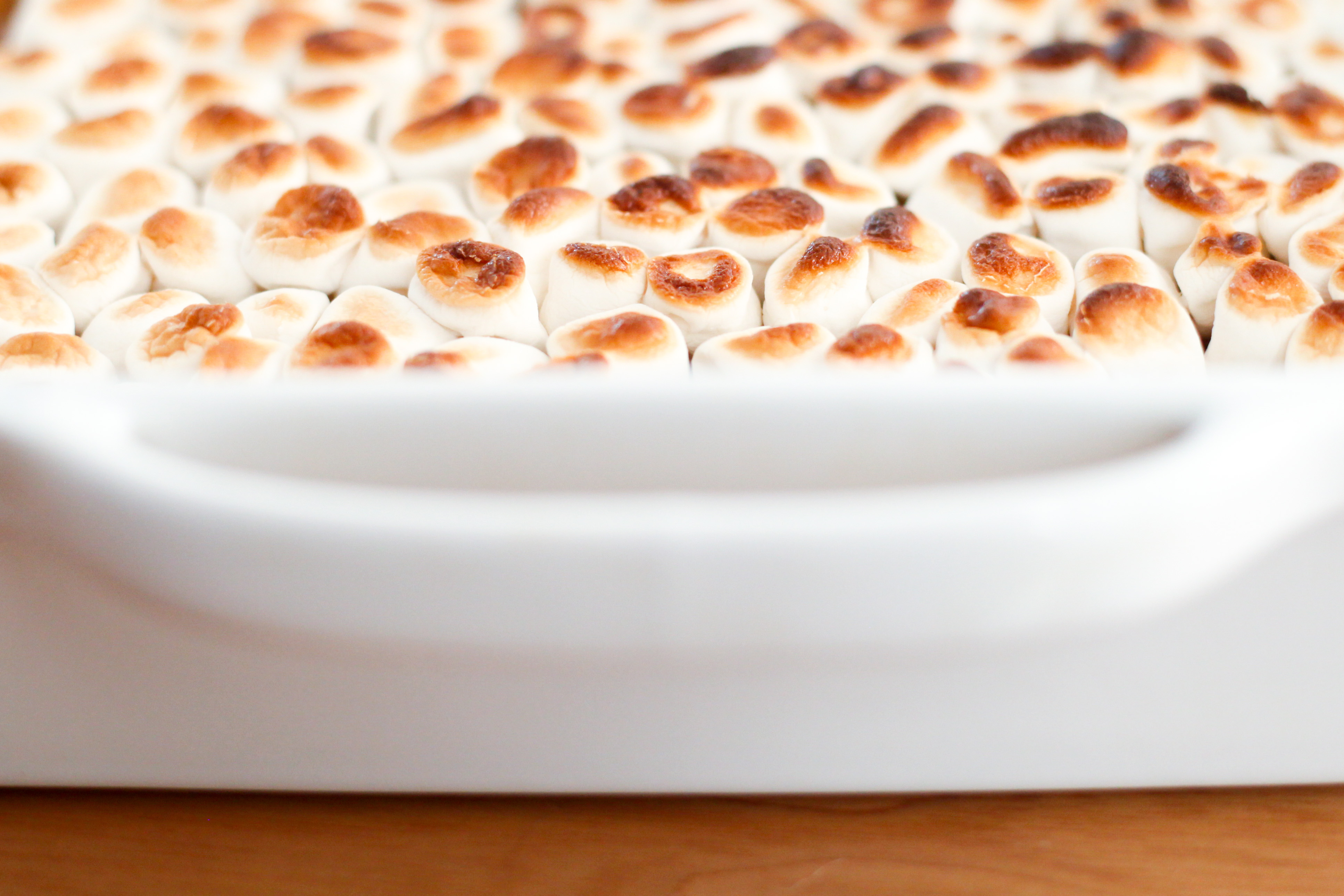 If you're looking for a show-stopping dessert to serve this holiday season, I strongly-recommend you give this recipe a shot. Unexpected, and perhaps a bit more casual than a traditional pie, they'd be especially great for a potluck, or as a treat to share with officemates.
A few notes before you jump in: Like custard pies, these bars are much, much easier to slice after they've chilled down in the fridge, so plan accordingly, read the instructions, and use your sharpest knife. As for the marshmallow topper, I'm partial to Dandies, a vegan brand, as they're a bit less sweet, but any mini marshmallows will work wonderfully.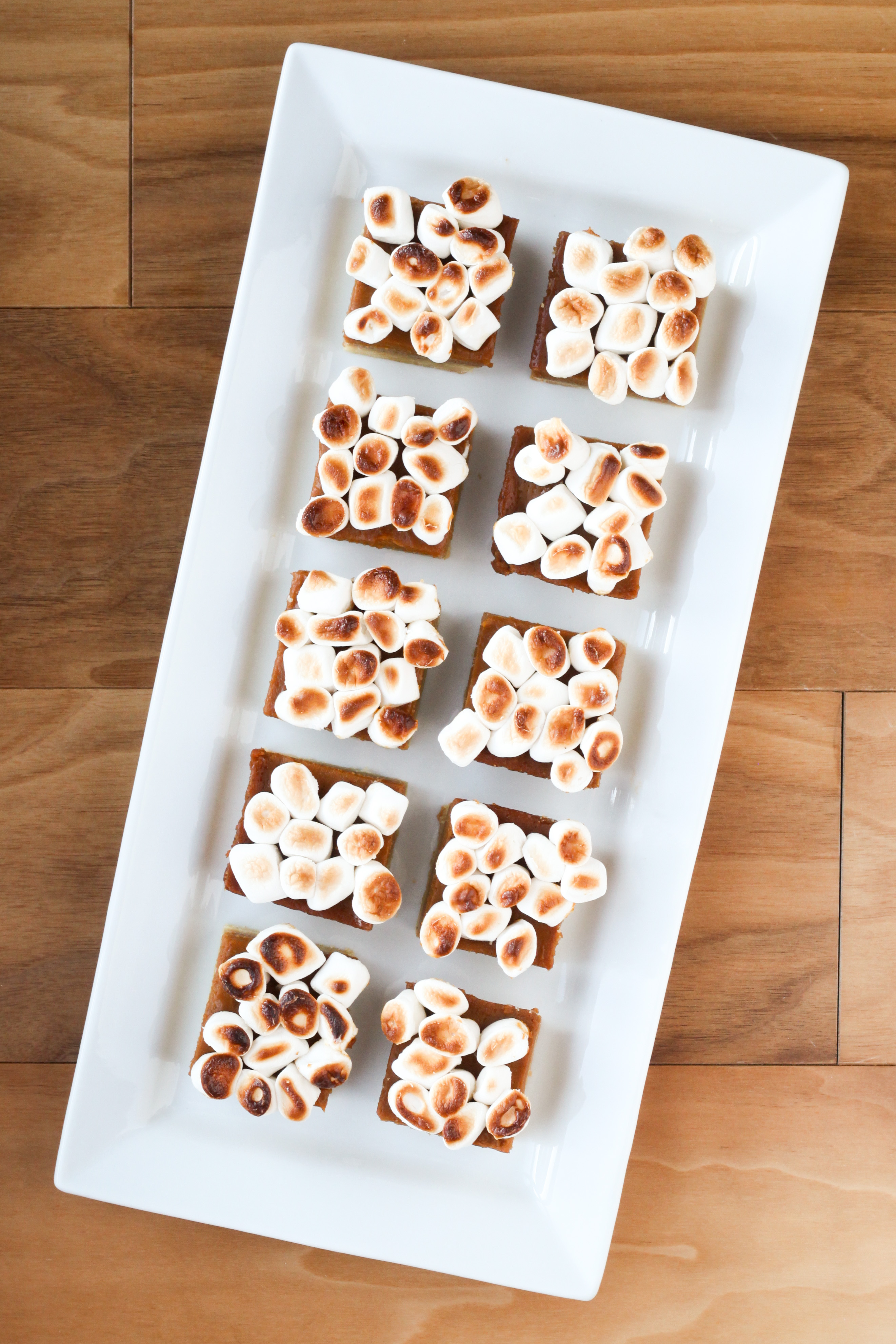 Sweet Potato Pie Bars
Ingredients
For the crust:
1 1/2 cups (204 grams) all-purpose flour
1/2 cup (60 grams) powdered sugar
1/4 teaspoon fine sea salt
9 tablespoons (128 grams) unsalted butter, chilled and diced
1 large egg yolk


For the topping:
1 (15-ounce) can sweet potato purée
2 large eggs
1/2 cup heavy cream
1/2 cup (100 grams) packed dark brown sugar
1/4 cup buttermilk
1 1/2 teaspoons vanilla extract
1 teaspoon ground cinnamon
1/4 teaspoon freshly-grated nutmeg
1/4 teaspoon fine sea salt


About 2 1/2 cups mini marshmallows
Instructions
Preheat the oven to 400°F. Butter an 8-inch-square baking dish and line the bottom with parchment, also butter a piece of aluminum foil that you'll use to cover the crust.
Make the crust: In a medium mixing bowl, whisk together the flour, powdered sugar, and salt. Add the butter and use a pastry blender or your fingertips to blend it into the flour as if you are making pie crust. Aim for chunks of butter that are slightly smaller than pea-sized. Add the egg yolk and mix with a wooden spoon until evenly distributed and clumps of dough hold together when pinched.
Transfer the dough to the prepped pan and press it in evenly using your fingers. Chill for 10 minutes, then prick all over with a fork. Cover with the aluminum foil, buttered side down, and line with dried beans or pie weights.
Bake for 15 minutes. Carefully remove the foil and weights, then bake for another 5 minutes, or until the crust is lightly browned at the edges.
Make the filling: While the crust bakes, add the sweet potato purée, eggs, cream, brown sugar, buttermilk, vanilla, cinnamon, nutmeg, and salt to a blender and blend on low until smooth. Rap the blender on the counter a few times to reduce the amount of bubbles.
Pour the filling over the baked crust and bake for 10 minutes. Rotate the pan, then reduce the heat to 325°F and bake for 30-40 minutes, or until no longer jiggly in the center. Cool completely on a cooling rack, then refrigerate for at least a couple hours.
When ready to serve, preheat the broiler to medium. Evenly top with marshmallows. Broil for 30 seconds, then rotate the pan, and broil until deep-golden brown all over, 1-2 minutes. (Be sure to keep a close eye on this as the marshmallows can go from golden-brown to burnt quickly.)
Run a paring knife around the edge of the pan, then cut into 4 equal sections. Using a thin spatula, lift each quarter out of the pan onto a cutting board. Using a chef's knife, cut each of the quarters into 4 bars (or 8 if you prefer smaller bars).
Notes
Powdered buttermilk
(mixed with water, per the instructions on the packaging) is a smart substitute, as it stays fresh (refrigerated) for far longer. For neater bars, tease apart the marshmallows, and cut in between then, rather than through them (the marshmallows won't slice very neatly). The texture of these bars is best the day of, but they are still great after a night or two in the fridge. If you have a culinary torch, use it (instead of the broiler) to toast the marshmallows as it's a more controlled process.