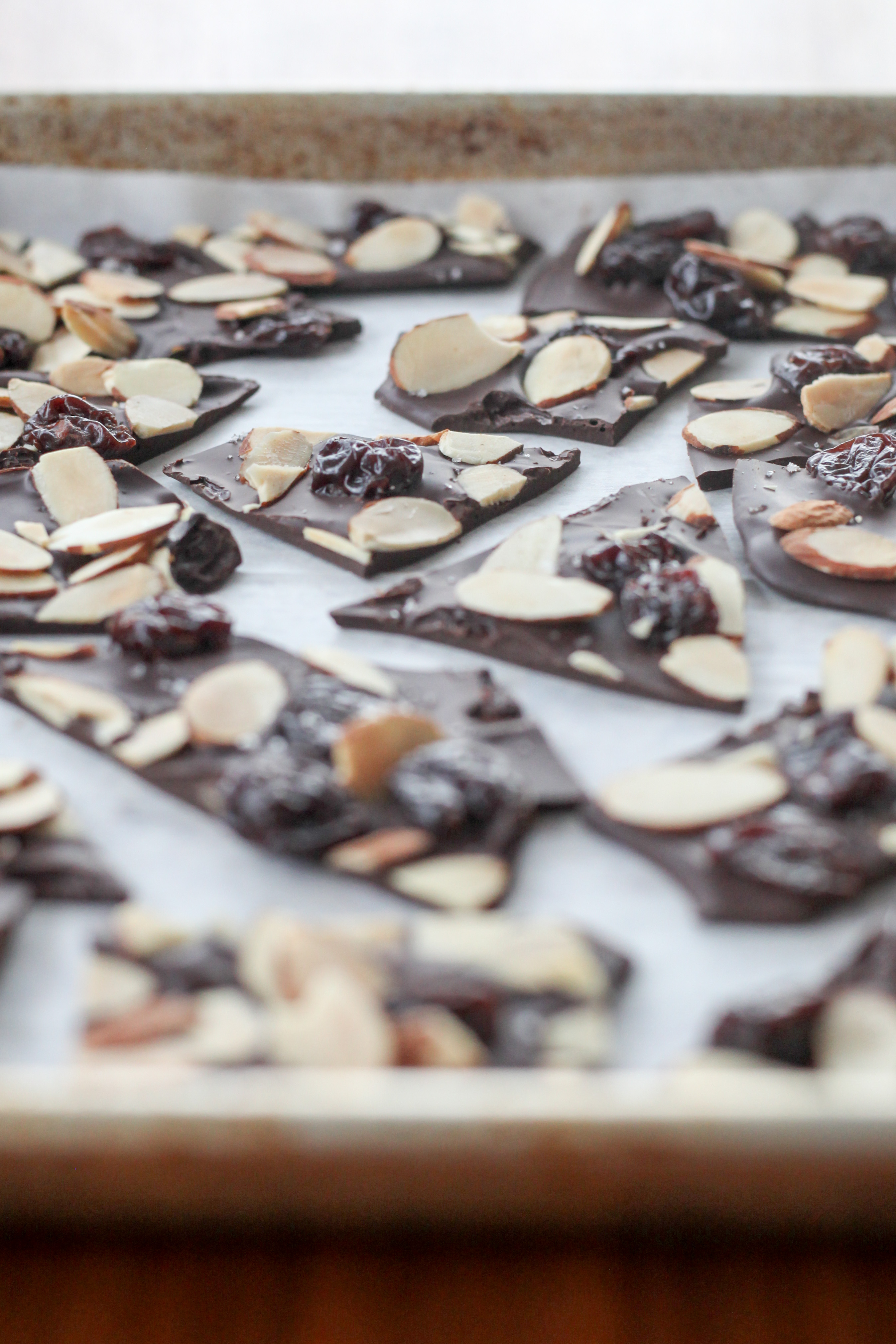 For as long as I've been writing about food, I've had a dessert idea jotted down; one that combines a trio of my favorite things, and yet, I just got to it this past week. This might say something about my tendencies towards procrastination, or my love of making unrealistically long lists — if only you could see my collection of epic-length Google docs — but the real reason this cherry-almond chocolate bark only now came to fruition is simpler and less personality-trait-related: namely, I hate tempering chocolate.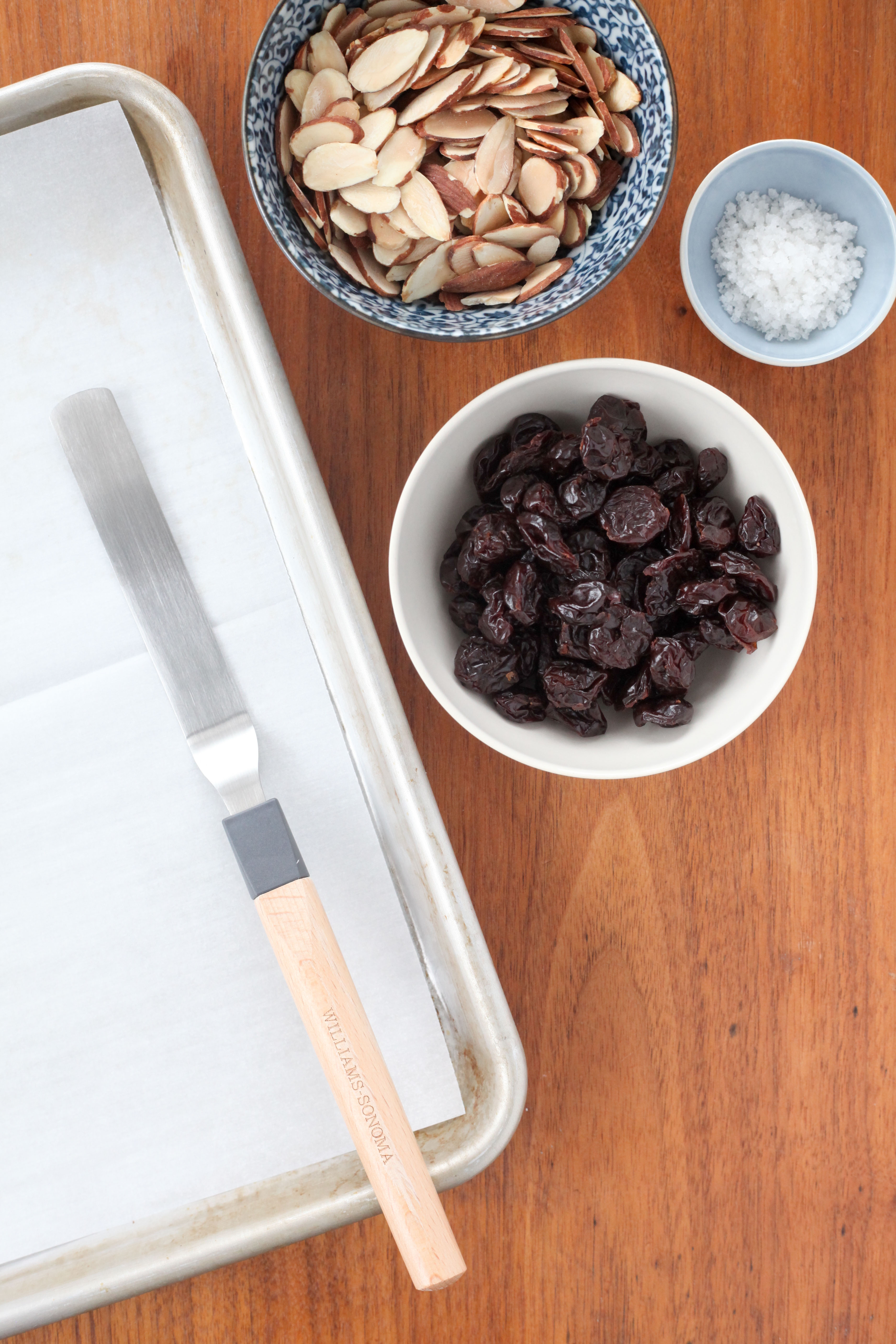 In case you need a refresher, tempering chocolate is a lengthy, pretty-damn-fussy process that involves melting chocolate to 115°F, then cooling it to 81°F, and then finally heating it back up to 90°F before using it. Why all that work, you ask? Tempering is a necessary step when melting chocolate if you'd like it to be glossy, have a crisp snap, and for it not to get speckled with bloom once resolidified. One popular workaround is to use candy melts (aka almond bark), a confectionary substance that's similar to chocolate in appearance, but doesn't require tempering. The problem is, candy melts share little in common with dark chocolate in flavor, much less high-quality dark chocolate. I just can't go there, and don't recommend you do either.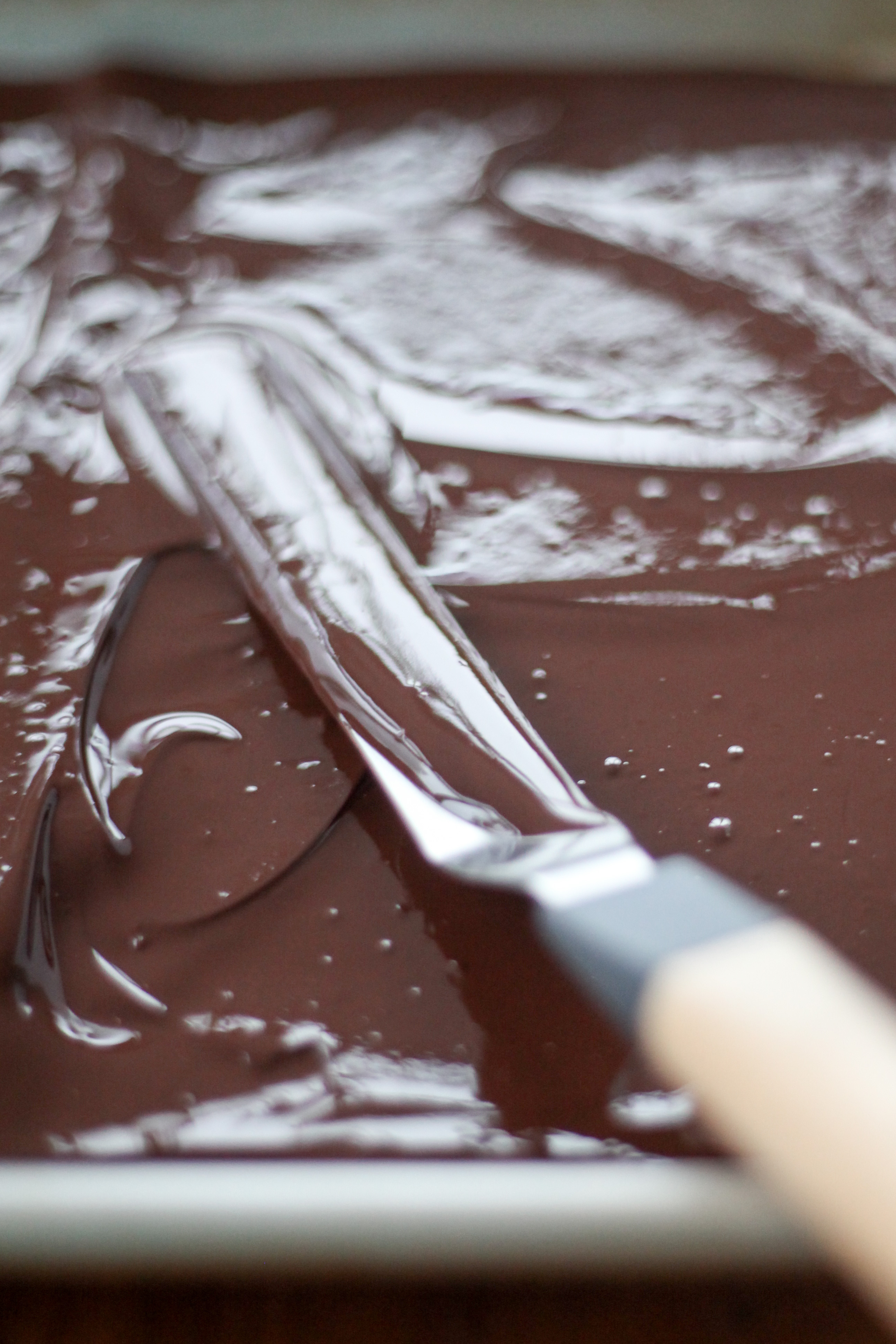 So when I read chocolate-wizard Alice Medrich's Food52 piece on temper-free chocolate bark I was very happy indeed. As she explains, there's a simple workaround: gently melt the chocolate, let it cool a bit, spread it, sprinkle it with inclusions, and pop the whole thing in the fridge. The key here is to cool it quickly (by refrigerating) and keep it cool (again, by refrigerating). The chill helps the chocolate bark retain a snappy texture that's nearly as satisfying as tempered chocolate; it also keeps the chocolate glossy and bloom-free. Yes, this makes giving it as a gift a little bit more complicated, but I sincerely doubt that any friend of family member will be put off by the refrigeration instructions when presented with a homemade treat that tastes this good.
Cherry-Almond Chocolate Bark
Yield:
About 10 ounces chocolate bark
Ingredients
8 ounces bittersweet chocolate, finely chopped
1/2 cup slivered almonds, toasted
1/2 cup dried tart cherries
Fleur de sel, to taste
Instructions
Line a quarter-sheet pan with parchment.
Add the chocolate to a medium-sized completely-dry stainless steel or glass mixing bowl. Set the bowl on top of a saucepan that's filled with 1/2-inch of simmering water (make sure the bottom of the bowl does not touch the water). Stir the chocolate occasionally, until it's completely melted. Carefully remove the bowl from the saucepan and transfer to a cooling rack. Let the chocolate cool to 90°F, stirring occasionally. Wipe down any moisture that remains on the outside of the bowl.
Once the chocolate has cooled, scrape it onto the parchment-lined pan and use a large offset spatula to smooth it into a thin even layer. Generously sprinkle with fleur de sel and distribute the slivered almonds and cherries evenly (you might not use them all).
Immediately transfer the pan to the fridge and refrigerate until hardened.
Once hardened, break into pieces using your fingers or the tip of a pairing knife. Transfer to an airtight container and refrigerate.
Serve cold or remove 15-30 minutes before eating. The chocolate will eventually bloom if left out at room temperature for a couple hours, but should stay glossy if refrigerated.
Notes
Take care not to introduce any moisture into the melted chocolate or it may seize (hence all the precautions about starting and ending with a dry mixing bowl).