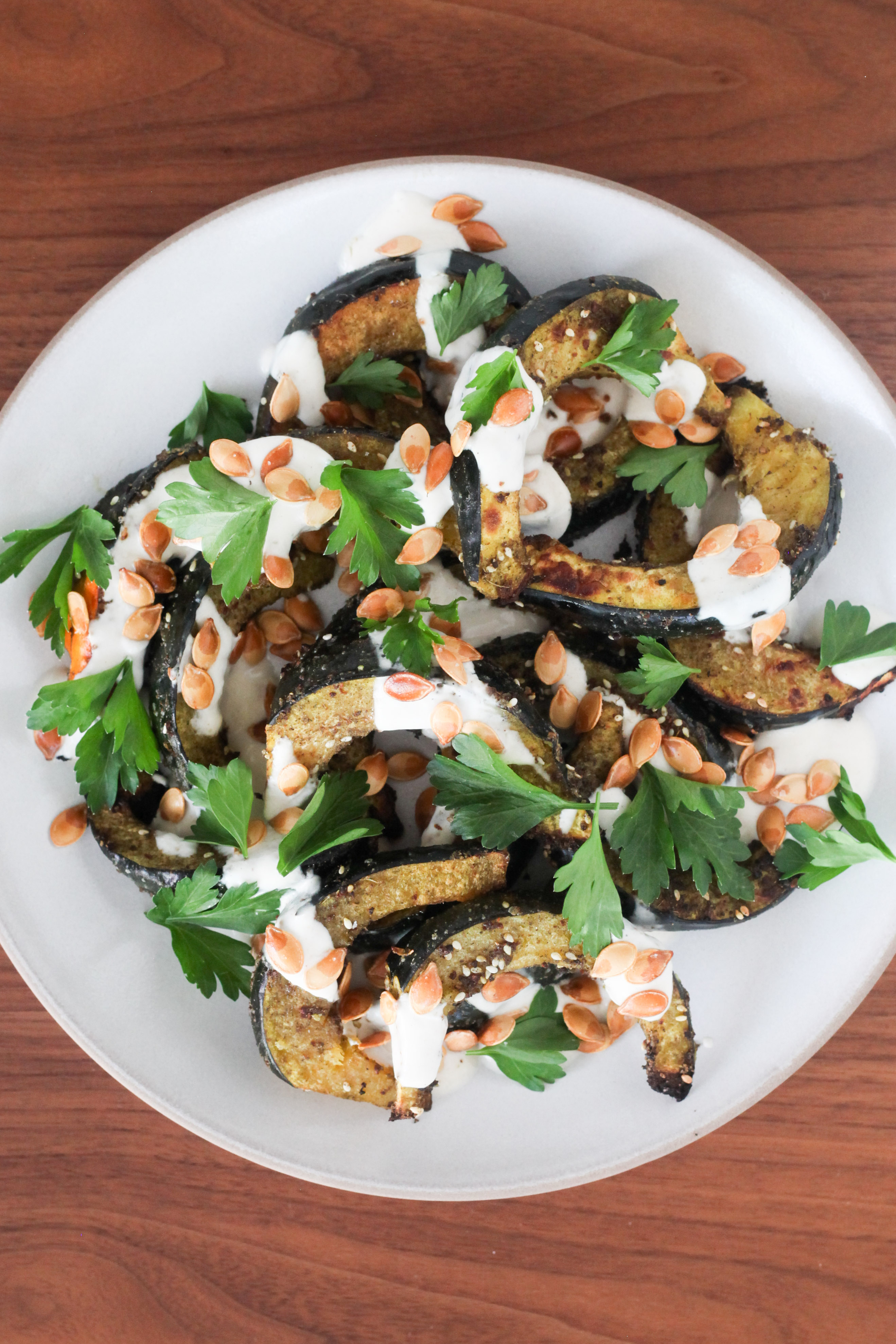 Earlier this fall, Andrew and I ended our Euro adventures with a few days in Germany's capital. To say that Berlin surprised us would be a great understatement. We had heard about its burgeoning food scene, the tradition of kaffee und kuchen (afternoon coffee and cake), and the abundance of top-notch Turkish food, and yet, it still managed to blow our expectations out of the water. Perhaps we got lucky, or perhaps my restaurant research paid off, but I'd wager there's more to it than that.

One particular highlight was the Store Kitchen. Nestled into the Store, Soho House Berlin's concept store, lies a cafe serving up high-vibes vegetable-centric fare — think Dimes in Manhattan. Everything we tried was great, but my favorite dish was a plate of Mediterranean-leaning roasted squash drizzled with some sort of yogurt sauce. This easy, super-flavorful side was inspired by that. Thick wedges of squash are tossed with olive oil and za'atar before being roasted and topped with a simple tahini-lemon-yogurt sauce, roasted squash seeds, and parsley. All in all, it's a hearty side that's easy to love whether you eat it hot from the pan or at room temperature.

Roasted Acorn Squash With Yogurt-Tahini Sauce
Ingredients
2 medium acorn squash, cut into 1-inch-thick wedges
2 tablespoons extra-virgin olive oil
2 tablespoons za'atar
Kosher salt
1/2 cup whole milk yogurt (not Greek)
1 1/2 tablespoons tahini
1 tablespoon freshly-squeezed lemon juice, plus more to taste
1/4 cup toasted squash seeds
1/4 cup coarsely-chopped parsley
Instructions
Preheat the oven to 425°F.
On a half-sheet pan, toss the squash with the olive oil, za'atar, and 2 teaaspoons salt. Take care to evenly coat both sides of the squash with olive oil so that it won't stick to the pan.
Roast for about 15 minutes, or until the wedges are browned on their undersides; flip, then roast for another 15 minutes, or until browned on both sides and the squash is tender.
Meanwhile, whisk together the yogurt, tahini, and lemon juice in a small mixing bowl. Season to taste with salt and extra lemon juice, as needed.
Transfer the squash to a platter and drizzle with yogurt sauce, squash seeds, and parsley. Serve hot or at room temperature.
Notes
I like
to roast the seeds
from inside the acorn squash as it cuts back on food waste (and they're delicious); if you'd prefer to skip this step, sub roasted and salted pepitas.