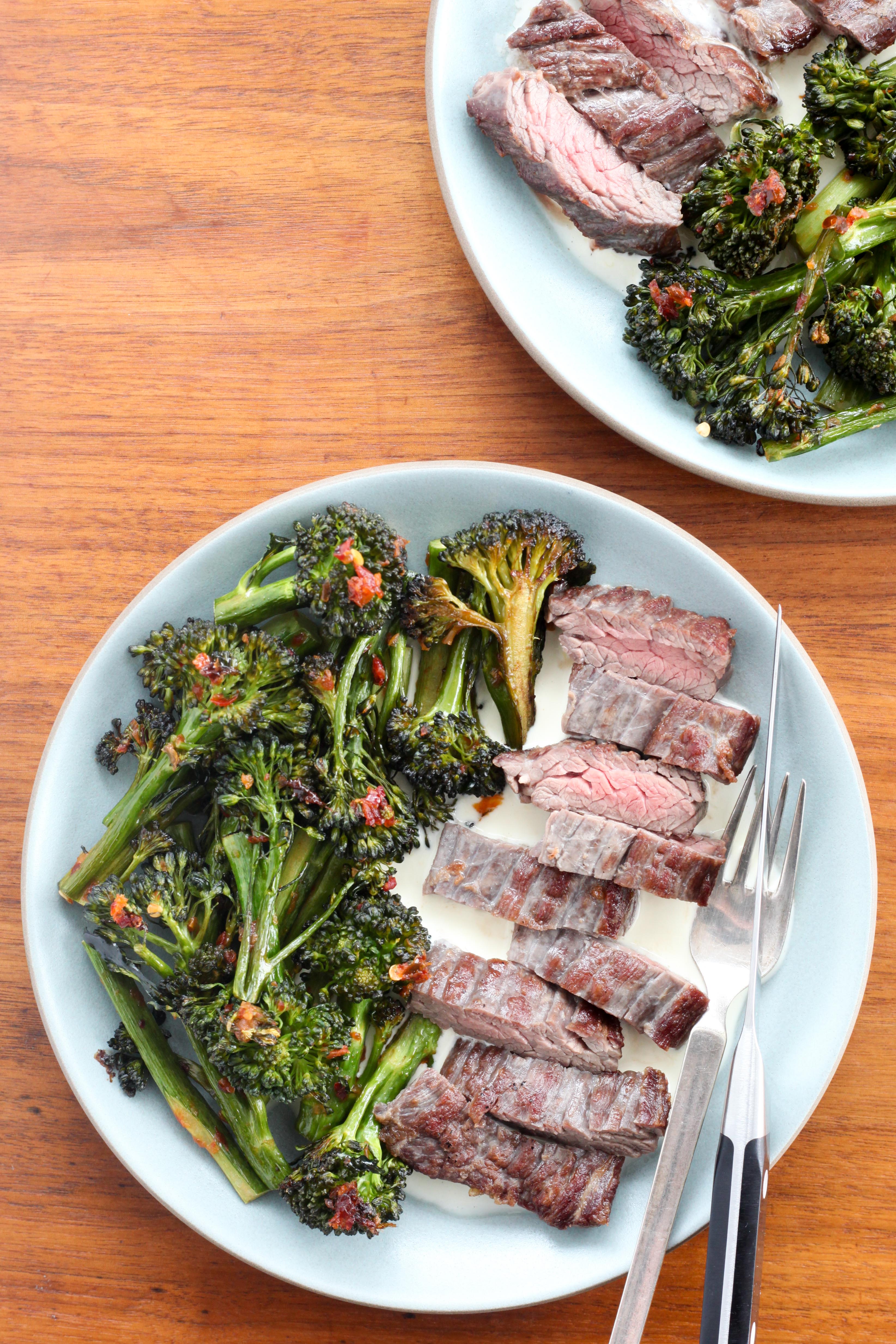 Blood oranges, bitter greens, olives, zippy Etna wines, and marzipan: these are a few of the things I expected to devour in Sicily (check, check, check, check, and check!). What I (perhaps foolishly) didn't quite foresee was how different my day to day eating would be. With a landscape dominated by wheat, many meals are anchored around pasta and bread. (Pastries, cakes, and cookies are also omnipresent.) A delicious shock, but still, a shock, to the system for someone who typically eats a very-vegetable-centric, lower-carb, high-fat diet.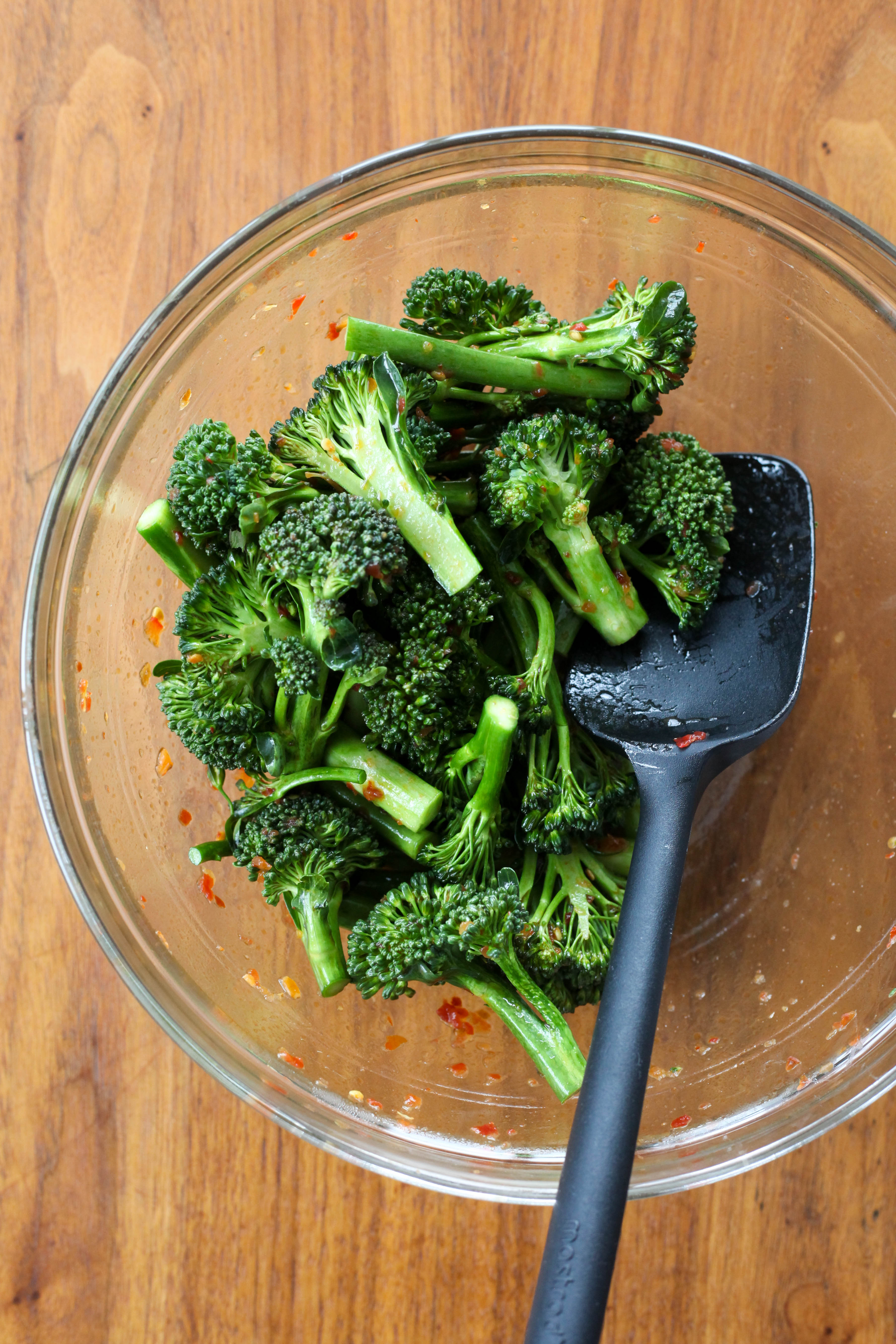 Protein often comes in the form of beans, pork, lamb, sheeps-milk cheese, and fish, while beef and cows-milk-dairy are conspicuously (nearly) absent. When you consider Sicily's hot, dry summers and its craggy, hilly terrain, it's hardly surprising that more adaptable livestock like sheep — and to a lesser-extent, goats — are far-more-commonly raised for meat and dairy, and yet, after nearly two months here, I can't help but crave a juicy, medium-rare steak, some capsaicin-based heat, and a big plate of vegetables. This combination of skirt steak, a creamy lemon mayonnaise-based sauce, and spicy broccolini would absolutely hit the spot.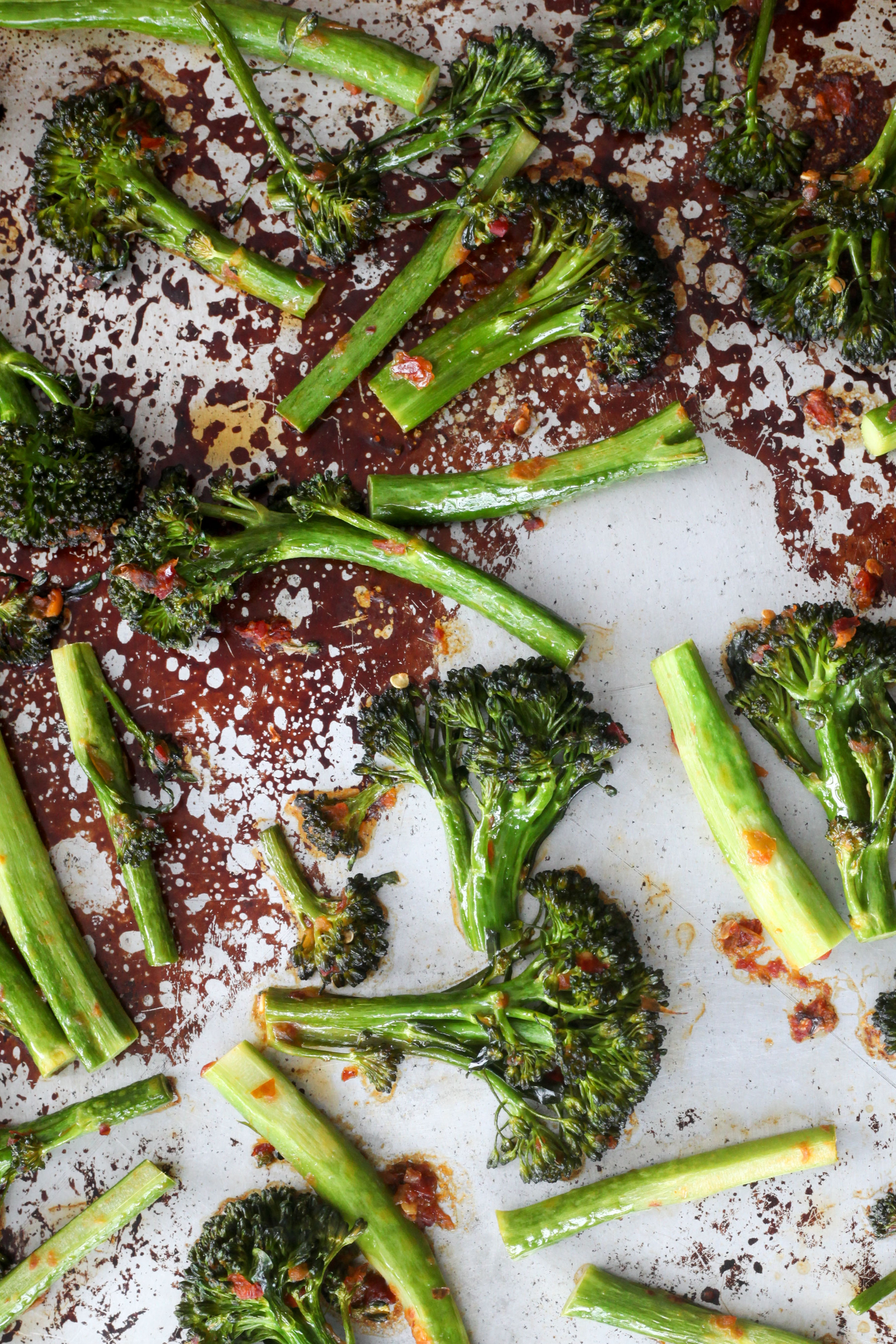 Before I left for my Sicilian adventure, it was in heavy dinner rotation, as it cleverly uses bold ingredients like sambal oelek (a spicy Thai chili paste), toasted sesame oil, and lemons, for ample flavor without much work or a miles-long-ingredient list. It is weeknight cooking done right, which is hardly surprising given it's source: FreshRealm, a meal delivery service that sources its recipes from publications like Real Simple and Cooking Light, and blogs like What's Gaby Cooking.
Do note: as evidenced in these photos, I slightly missed the mark on cooking my steak medium-rare the last time I made this meal ¯\_(ツ)_/¯. Like with other thin cuts like hangar and flank, skirt steak cooks quickly, so keep a close eye on yours, and err on the side of pulling it from the heat early. That said, the lush mayonnaise-based sauce goes a long way towards making up for it, if you too make this error.
Skirt Steak With Spicy Broccolini and Lemon Mayo
Ingredients
1 1/2 tablespoons toasted sesame oil
1 tablespoon plus 1 teaspoon sambal oelek
1 1/4 teaspoons kosher salt, divided
2 bunches (about 12 ounces) broccolini, trimmed and halved lengthwise
1/4 cup mayonnaise
1/2 teaspoon lemon zest plus 1/2 tablespoon fresh juice (from 1/2 lemon)
1 tablespoon refined coconut oil
3/4 pound skirt or flank steak
Instructions
Preheat the oven to 450°F with a half-sheet pan inside.
In a medium mixing bowl, whisk together the sesame oil, sambal oelek, and 1/4 teaspoon kosher salt. Add the broccolini and toss to coat.
In a small bowl, whisk together the mayonnaise, lemon zest, and juice.
Pat the steak dry and season on both sides with the remaining 1 teaspoon salt.
Heat the coconut oil in a medium cast iron or stainless steel skillet over high heat, until shimmering and nearly smoking. Add the steak and cook for 2 minutes on the first side, flip, and cook for another minute or two, or until the temperature registers 125°F for medium-rare. (It will not brown very much in that time frame.) Let rest for 5 minutes before slicing.
Meanwhile, while the coconut oil heats up, carefully remove the preheated half-sheet pan from the oven and add the broccolini to it, quickly spreading it out in one even layer. Cook for 10-12 minutes or until tender and beginning to crisp up in spots.
To plate, spread half of the lemon mayo on one side of each plate. Top the lemon mayo with the sliced steak, and divide the broccolini between the two plates.
Notes
If you don't have toasted sesame oil, sub melted refined coconut oil for it and finish the broccolini with some toasted sesame seeds (after it's cooked). To make Whole30/Paleo-compliant,
make your own mayonnaise
, or use a brand like
Sir Kensington's
that is avocado-oil-based.