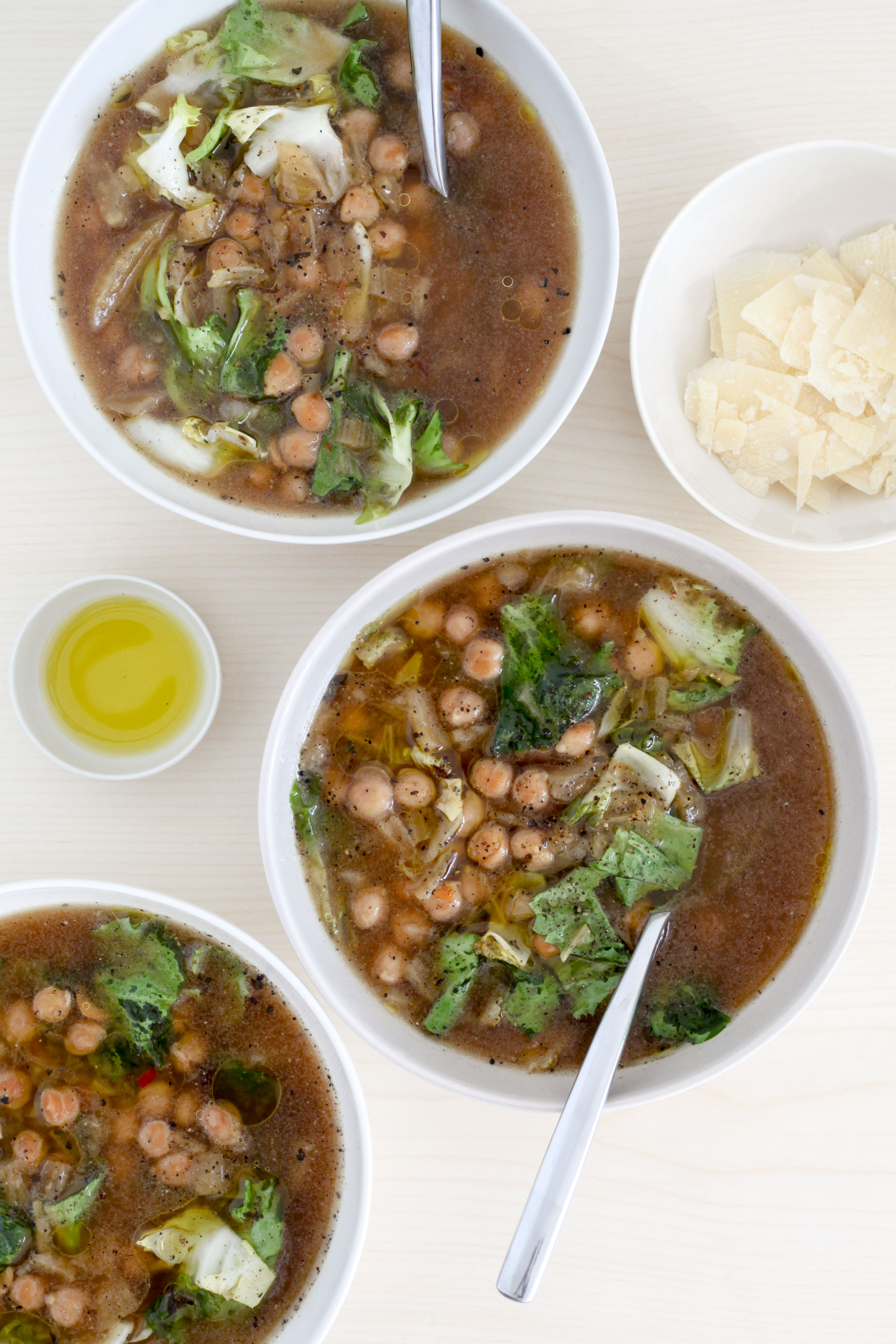 When you think of Sicilian food, I'd wager pasta alla Norma, bottles of Mount Etna rosso, gelato-stuffed brioche buns, juicy blood oranges, and deep-fried treasures like arancini and panelle are some of the first things to come to mind. All delightful, no doubt, but it's the humble bean- and lentil-based soups, stews, and pasta dishes from the region that I anticipate making the most now that I'm home.

This, a brothy chickpea number, combines fennel, garlic, oregano, and bitter greens — some of Southern Italy's greatest hits — for a super-flavorful bowl. A couple elements are more clever than traditional; namely, the inclusion of parmesan (sheeps-milk cheese is king on the island) and method of cooking (slow cookers are much more popular state-side than in Italy, to my knowledge). But I'm all for it, as these choices add oomph and practicality, without sacrificing quality. The long, slow simmer makes the fennel almost-impossibly silky, the chickpeas tender and toothsome, not mushy or blown out. And adding a parmesan rind is an umami-boosting trick more soup recipes ought employ.
The recipe itself comes from a book I'd recommend to anyone who's looking to up their meal planning game, America's Test Kitchen's The Make Ahead Cook. It, like most ATK titles, focuses on the best, smartest way to get the results you're after (in this case, a savory, meal-worthy soup), rather than spending too much time fussing over tradition; a sentiment I can definitely get behind.
Slow-Cooker Sicilian Chickpea and Escarole Soup
Ingredients
2 fennel bulbs, halved, cored, and chopped
1 tablespoon extra-virgin olive oil, plus more for drizzling
3 garlic cloves, minced
1/2 teaspoon dried oregano
2 anchovy fillets, minced
1/4 teaspoon red pepper flakes
7 cups chicken stock
8 ounces (1 1/4 cups) dried chickpeas, picked over and rinsed
1 parmesan cheese rind
Kosher salt, to taste


To finish:
1/2 head escarole (8 ounces), trimmed and coarsely chopped
Freshly-cracked black pepper
Grated parmesan cheese
Instructions
Microwave fennel, oil, garlic, oregano, anchovies, and pepper flakes in a small mixing bowl, stirring occasionally, until fennel is softened, about 5 minutes.
Transfer to the slow-cooker; stir in broth, chickpeas, and parmesan rind. Cover and cook until chickpeas are tender, 10-11 hours on low, 7-8 hours on high.
Discard parmesan rind. Season to taste with salt (it may not need it). Stir in escarole and cook on high until tender, about 15 minutes.
Ladle into bowls, drizzle with olive oil, and garnish with pepper and parmesan.
Notes
If you can't find escarole, other sturdy chicories like endive or radicchio can be substituted for a similar flavor. Or, for a milder flavor, try subbing kale. This soup freezes very well; if you choose to freeze, don't add the escarole, and instead add that when you defrost and reheat. If you don't have any parmesan rinds stashed in your freezer, or a piece of cheese it can be trimmed away from, some cheese counters sell rinds for a reasonable price.