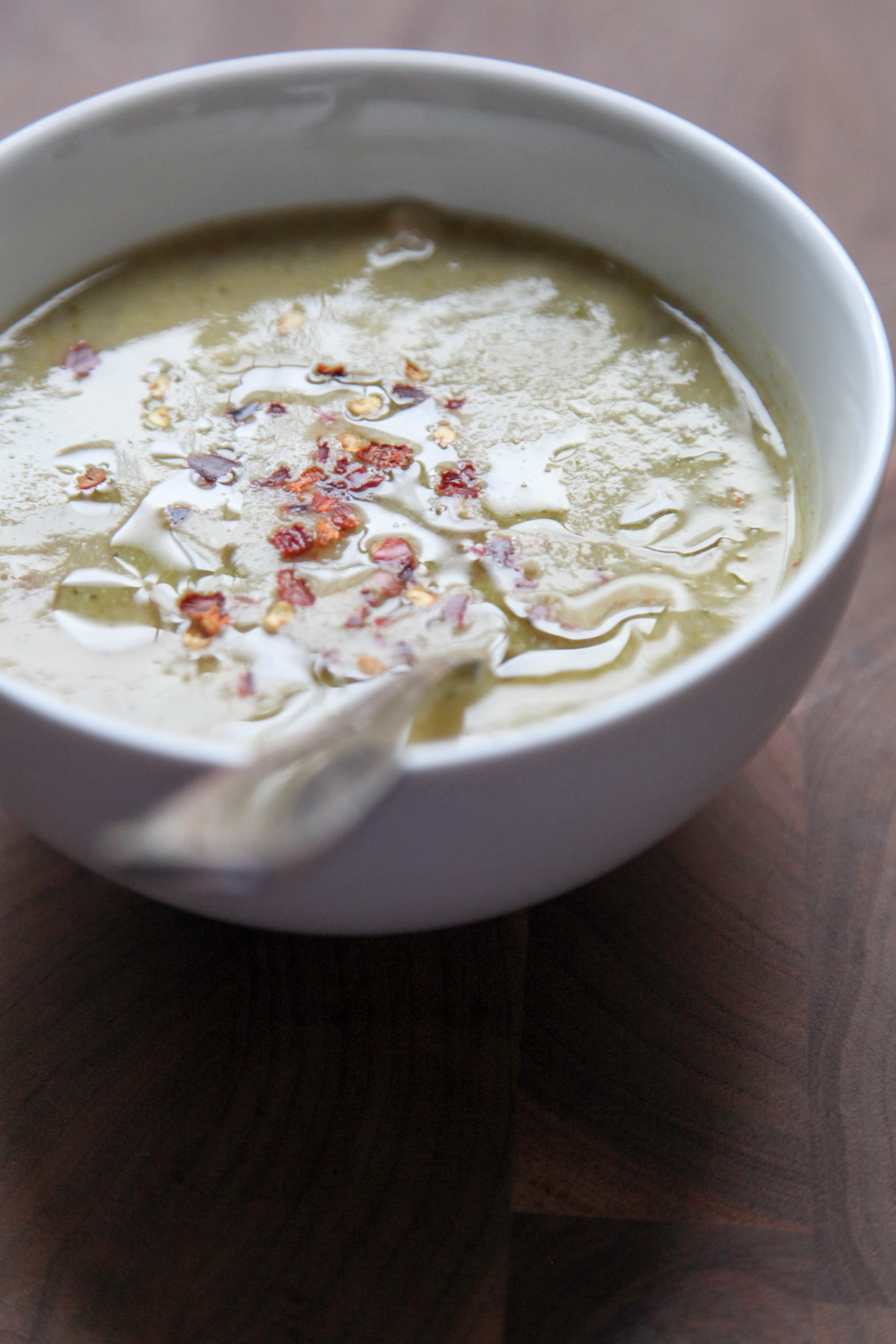 As someone who spends a lot of time reading, I find it endlessly interesting to see what titles are on the bookshelves of others. Right now, we're living in my boyfriend Andrew's dad's apartment in Manhattan — thanks, Mark! — so I've had some time to peruse his collection. Tucked in-between two photography books was a memoir that had long been on my to-read list: Heat by Bill Buford. A former New Yorker editor, Buford tells a fascinating story about leaving behind his position at the magazine to learn the ins and outs of Italian cooking, starting with months spent staging at Mario Batali's Babbo.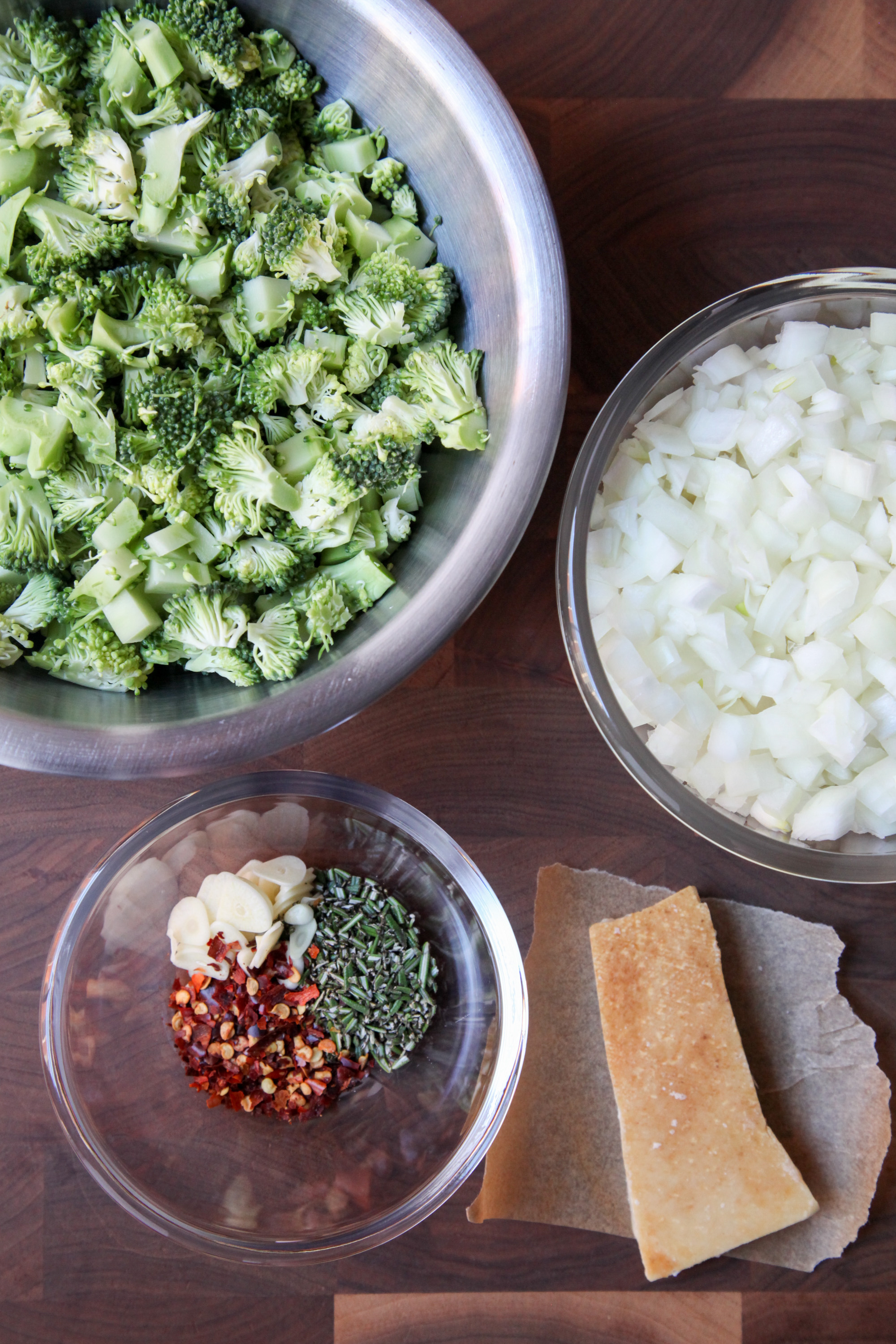 After devouring this book, I had a strong desire to try out a recipe or two from the orange-Crocs-clad chef, which is where this humble broccoli white bean soup comes into play. Sourced from Batali's home-cooking-focused Molto Batali, it is just the type of soup I love. Hearty, bean-based, and even better on day two, it can be made ahead of time and reheated throughout the week for a light dinner or brown bag lunch.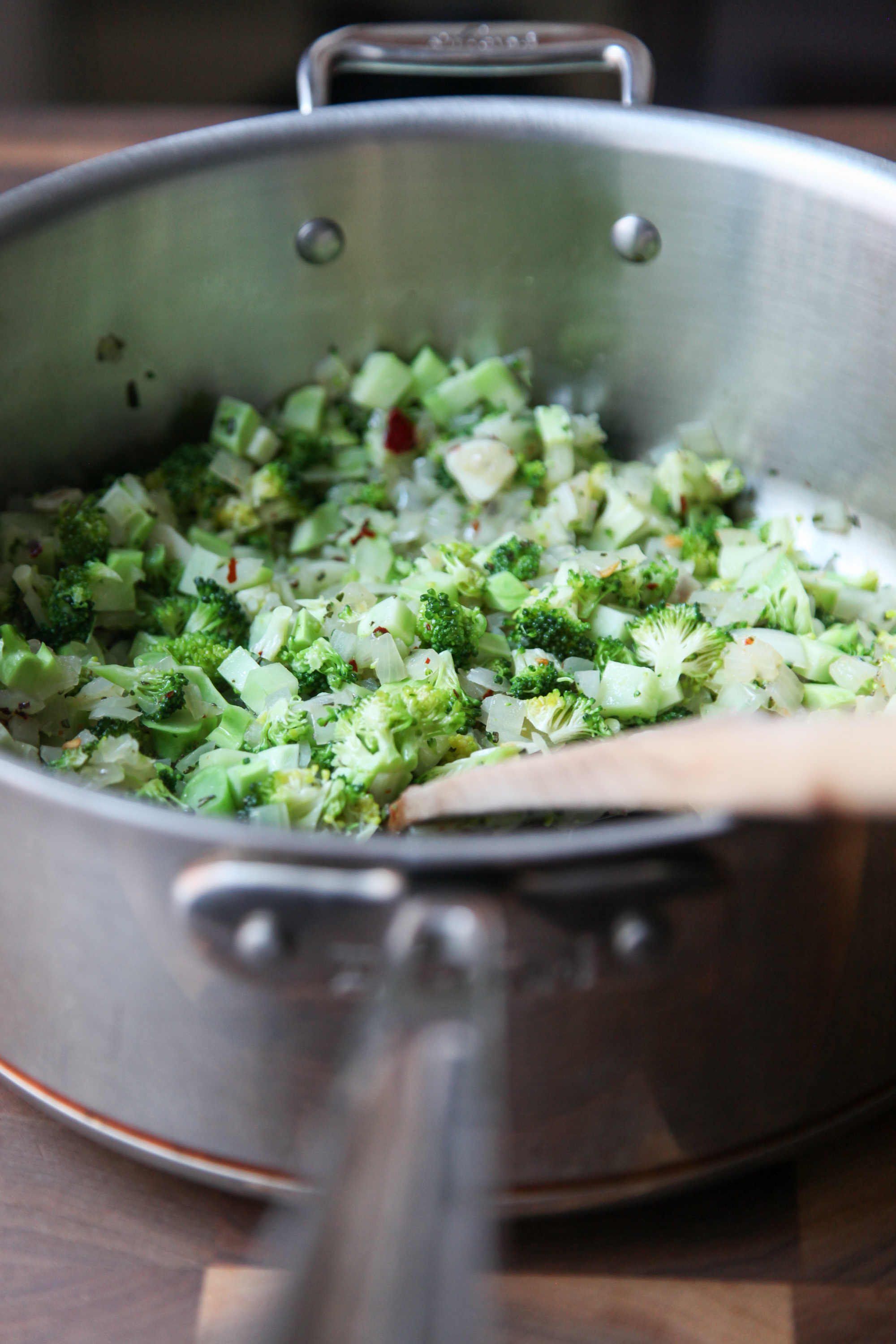 Unlike some cheffy recipes, it's made with everyday ingredients and is easy to prep, but that's not to say Batali doesn't divulge a clever trick. A parmesan cheese rind is added to the soup as it simmers, adding a generous dose of nutty, umami-rich flavor in an economical way. And he doesn't just stop there. Unlike most recipes, which employ the rind like how one uses a bay leaf, fishing it out at the end of cooking, Batali takes it one step further, chopping the softened rind into itty-bitty cubes which are then added back to the soup. As a passage in Heat describes, Batali is fanatical about reducing kitchen waste, so it's not surprising that he found such a smart way to make use of what many may view as a kitchen scrap.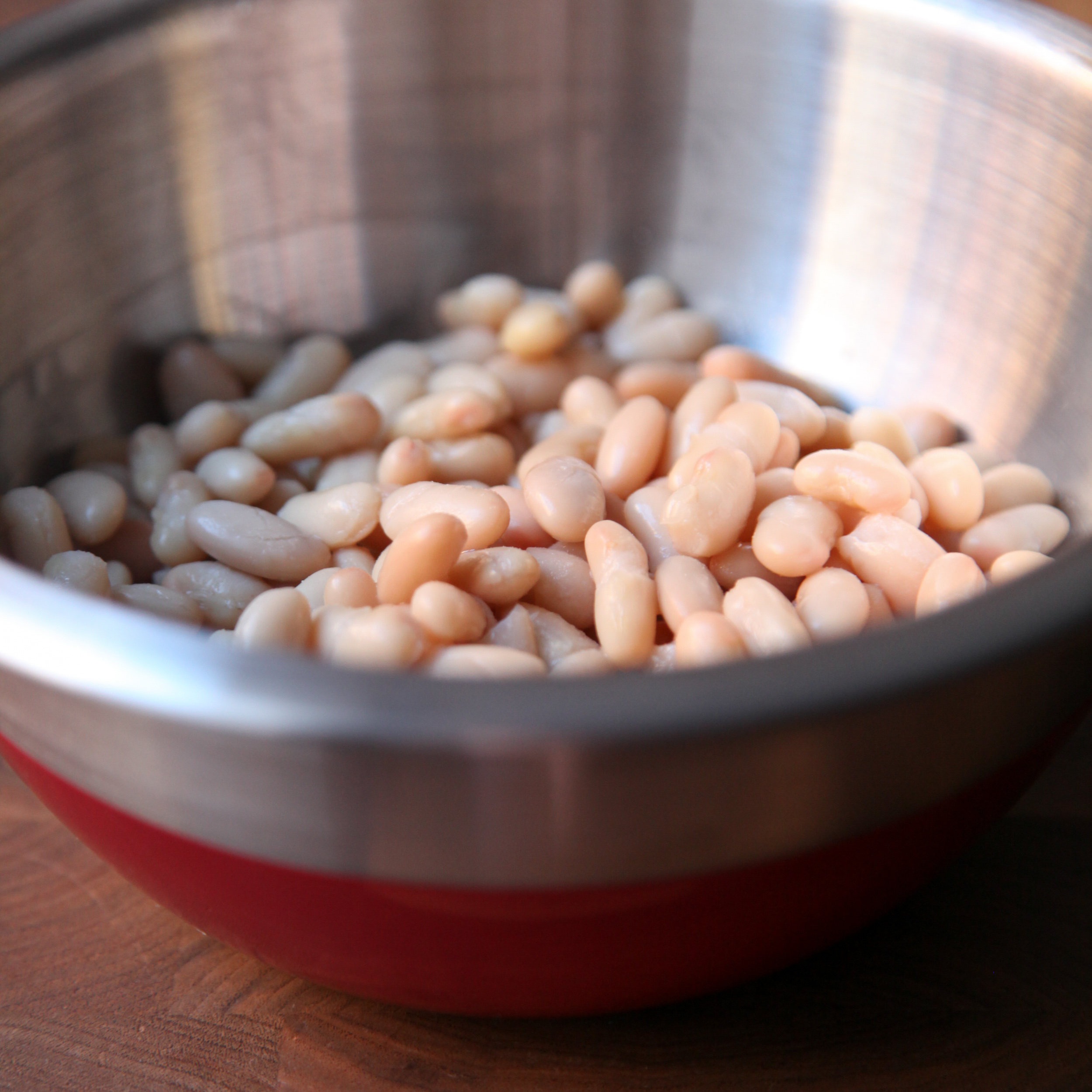 It's a great reminder that there's still magic in those hard, dried-out end pieces of parmesan. The next time you finish a wedge, don't toss it out. Instead, stash it away in your freezer, ready to be added to a pot of soup, like with this recipe, or transformed into surprisingly-versatile parmesan broth.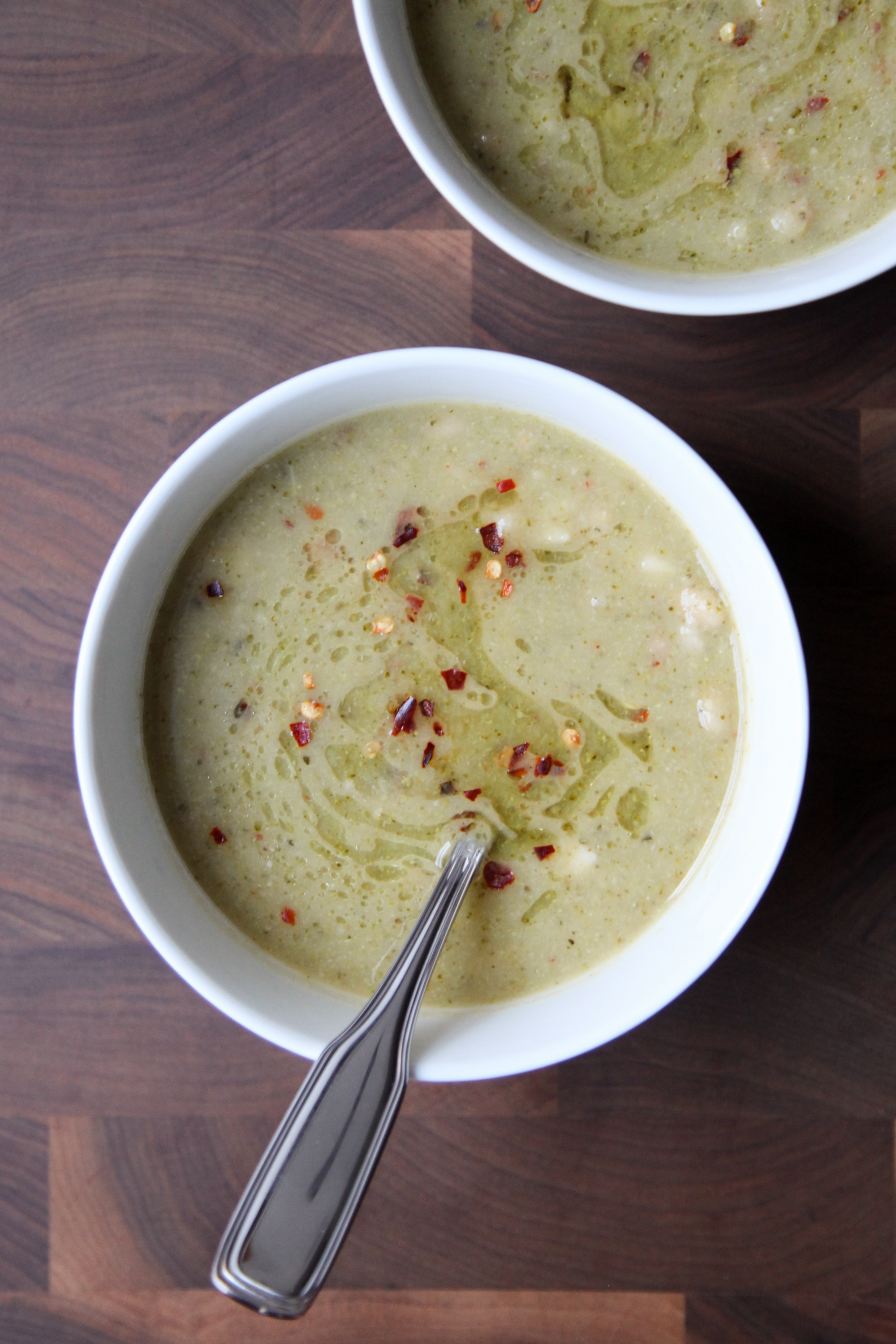 Broccoli White Bean Soup
Ingredients
1 pound broccoli
1/4 cup extra-virgin olive oil, plus more for garnish
2 yellow onions, chopped into 1/4-inch dice
1 tablespoon rosemary, minced
1 teaspoon red pepper flakes, plus more for garnish
2 cloves garlic, thinly sliced
2 1/2 teaspoons kosher salt
One 3-inch-long parmesan rind
Two 16-ounce cans cannellini or other white beans, rinsed and drained
Sherry vinegar, to taste
Instructions
Trim away the tough ends of the broccoli stems, then coarsely chop the broccoli florets and stems.
In a large straight-sided sauté pan or dutch oven, heat the olive oil over medium heat. Add the onions and salt and cook, stirring occasionally, until just beginning to turn translucent, about 5-7 minutes. Add the rosemary, red pepper flakes, and garlic; cook for 1 minute. Add the chopped broccoli; cook until bright green, about 5 minutes. Add 6 cups hot water and the parmesan rind; bring to a boil, boil for 3 minutes, then reduce the heat and simmer for 20 minutes.
Remove the cheese rind, scraping off as much of the other soup ingredients as possible. Trim away the hard outer edge and then cut into 1/4 inch cubes.
Blend until smooth with an immersion blender, or carefully transfer to a standing blender.
Return the soup to the cooking vessel if using a standing blender, then add the cheese cubes and simmer for 10 minutes. Add the beans and simmer for 10 more minutes. Season to taste with additional salt (it may not need it) and a splash or two of sherry vinegar.
Serve drizzled with olive oil and sprinkled with red pepper flakes.
Notes
If you don't have any parmesan rinds stashed in your freezer, or a piece of cheese it can be trimmed away from, some cheese counters sell rinds for a reasonable price.